Hidden Gems of the French Riviera
The world-famous French Riviera is one of the most popular tourist destinations in the entire world. Attracting over 10 million international tourists annually, it is France's second most popular tourist location after the Parisian region. And is that really any surprise? After all, the Riviera offers sights and attractions for everyone. Whether you're searching for sunny beaches, ski resorts, hiking trails, historical landmarks, charming medieval villages or wild nightlife, you're guaranteed to find exactly what you're looking for!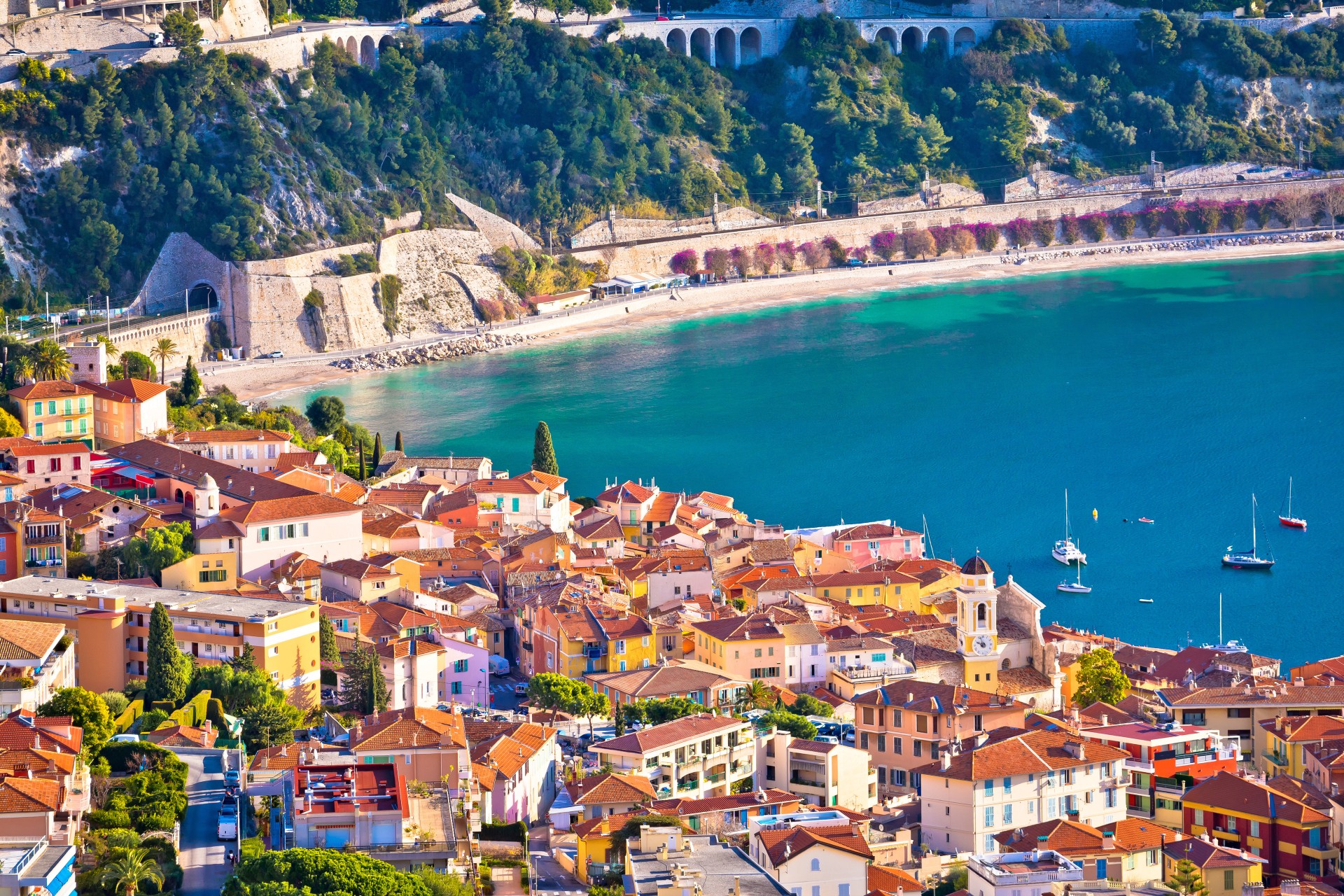 This Mediterranean coastline stretches for over 550 miles along the south-east coast of France. Though having no official boundary, it is considered by most people to range from the Cassis commune in the west, all the way over to the town of Menton which lies upon the French-Italian border. So whether you've been to the Cote d'Azur before or not, I'm sure you're already familiar with many of the cities here.
Nice, for example, is the capital city of the Riviera. Attracting 5 million of the 10 million tourists which visit the region, it is the second most popular tourist city in France. A goldmine of sights and attractions, Nice is every travelers dream destination! Also along the coast we have the famous city of Cannes, home to most prestigious Film Festival in the world. And yet another destination on our list is of course Monaco. Despite being entirely surrounded by France, Monaco is in fact its own Independent State. Monaco is the second smallest country in the world, after the Vatican. So small in fact that you could fit the country into Central Park over one and a half times. However, despite its small size, Monaco has a big reputation. Especially for its Formula One Grand Prix circuit.
Best Villages of the French Riviera
But those are just three of the many amazing cities that you'll find here along the French Riviera. However, the Cote d'Azur is more than just its spectacular towns and cities. Sure, the larger areas may have more to see and do. But that by no means suggests that you shouldn't take the time to visit some of the smaller villages. Afterall, these villages are where you'll experience the most authentic Provençal charm. What's more, many of the villages here along the south-east coast were voted the most beautiful in all of France.
Èze
The hilltop village of Èze can be found half-way between the city of Nice and the Independent State of Monaco. The village has often been described as an "eagle's nest" due to its location overlooking the rest of the surrounding Riviera. In fact, it is so high that its Light Ochre Church can be seen from afar.
Èze is home to a mesmerising medieval village, complete with rustic stone buildings and walls that will make you feel like you've stepped through time. The village is also home to a beautiful botanical garden of vibrant cacti and luscious succulents. Just be careful not to touch them!
Villefranche-sur-Mer
The commune of Villefranche-sur-Mer is situated adjoint to the region's capital city of Nice. This beautifully vibrant coastal village is a perfect escape from the hustle and bustle of the larger cities along the Riviera. Reputed for having one of the five most beautiful bays in the world, we can guarantee that visiting this small village won't be a waste of your time.
Villefranche-sur-Mer is also a centre of historical significance here on the Cote d'Azur. After losing in the Crimean War of 1856, Russia could not keep its war vessels in the Black Sea any longer. Still needing a naval base in the Mediterranean Sea, they decided to station their fleet in the harbour of Villefranche-sur-Mer. Thanks to this, Russian influence is quiet prominent here, especially in the city of Nice where you'll find not one, but three large Russian Orthodox Churches. The Church of St. Nicholas in particular is absolutely spectacular!
Beaulieu-sur-Mer
Wedged between Villefranche-sur-Mer and Èze, Beaulieu-sur-Mer rests right on the Mediterranean Sea, surrounded by a ring of craggy hills. Despite its small size, the commune has a range of fantastic attractions for its visitors. For starters, Beaulieu-sur-Mer is nestled amongst a collection of beautiful Mediterranean vegetation. With its vibrant and exotic flowers to citrus trees and sprawling grass parks, you simply can't pass up the opportunity to take a stroll through its gardens.
Another stroll you can't pass up is along the Baie des Fourmis. This enchanting bay is home to a marina of over 800 boats! Its one of the most visited along the south-east coast of France. but by far the most impressive structure in Beaulieu-sur-Mer, is the Villa Kerylos. Designed by Grecophile Théodore Reinach, this magnificent villa is a faithful rendition of a rich Athenian house from the 5th century BC. Complete with authentic furnishings and spectacular mosaics and frescoes.
Saint-Jean-Cap-Ferrat
Found on the southern peninsula alongside Beaulieu-sur-Mer and Villefranche-sur-Mer is the stunning village of Saint-Jean-Cap-Ferrat. With its opulent architecture and picturesque landscape, it's a favourite holiday destination among the European aristocracy. Home to one of the longest and most beautiful beaches along the coast, Paloma Beach is a truly unmissable spot if you're looking for a great spot to bask in the glorious Riviera sunshine.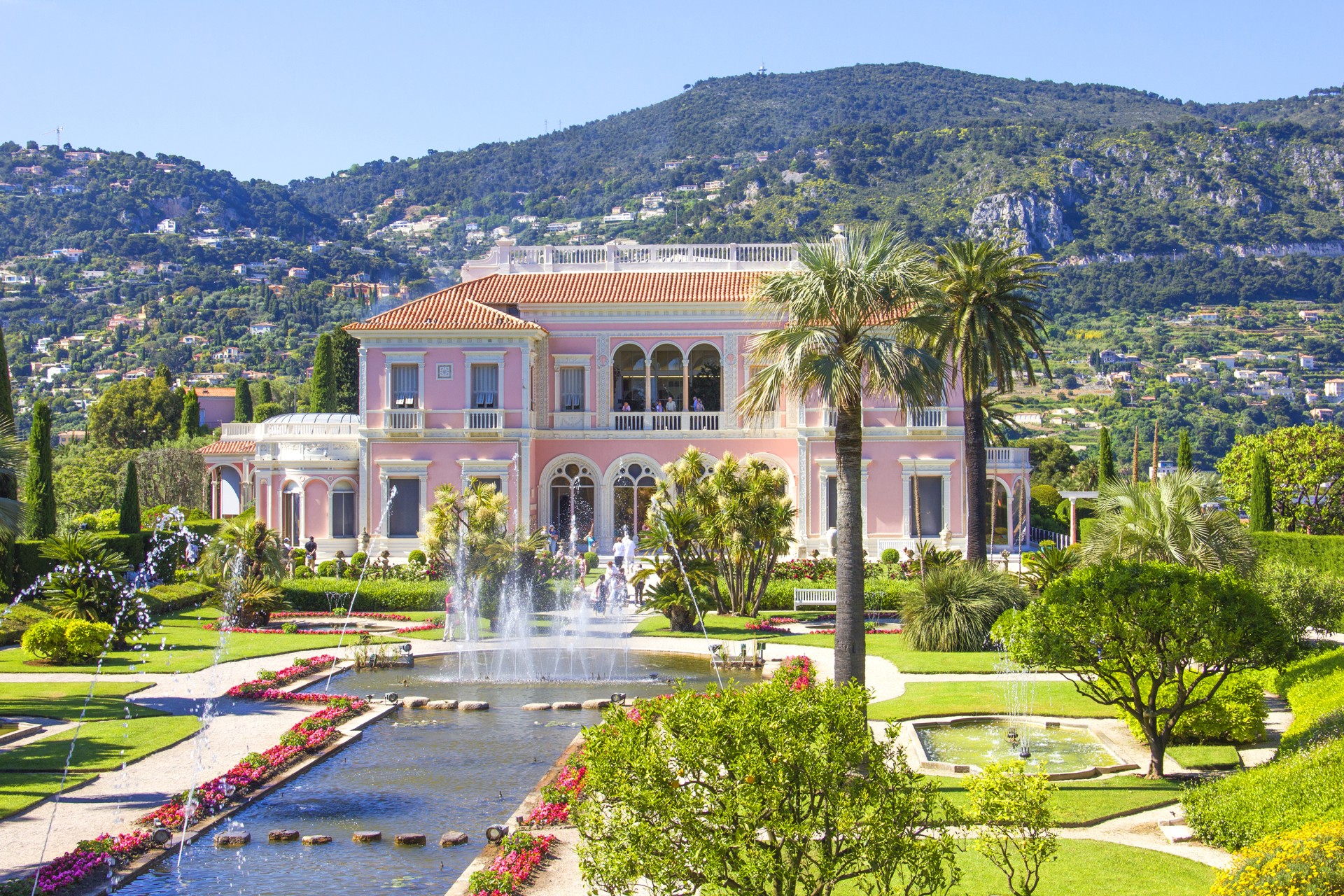 Similar to the neighbouring village of Beaulieu-sur-Mer, Saint-Jean-Cap-Ferrat is also home to a breathtaking villa, perhaps even more spectacular than that of Villa Kerylos. Villa Ephrussi de Rothschild is a faithful rendition of an Italian-style villa. Built by Baroness Beatrice de Rothschild, the villa became a place for her to store the magnificent works of art she collected over the years. All of which is can still be seen in the villa today.
But the interior of the villa isn't the only marvellous thing about it. The Villa Ephrussi de Rothschild is home to nine differently themed gardens. From traditional Japanese Gardens to Provençal garden, its possibly one of the most beautiful collection of gardens in all of Europe!
Saint-Paul-de-Vence
The hilltop commune of Saint-Paul-de-Vence is home to one of the oldest medieval villages on the French Riviera. Just a mere 19 km west of Nice, this village has been a centre of art in the Provence-Alpes-Côte d'Azur region. The unmeasurable beauty of Saint-Paul-de-Vence and its surrounding landscape has attracted many world-renowned artists and writers. Most notably have been Jacques Raverat, Gwen Raverat and Marc Chagall. Some of the most celebrated artistic figures of their generation.
As tribute to its art background, the Fondation Maeght museum of modern art was built here. Considered a world-leading cultural institution, it contains a collection of over 13,000 paintings, sculptures, ceramics and collages from the 20th century.
Cap d'Ail
Bordering the Principality of Monaco, the village of Cap d'Ail a haven for visitors. Its three white sandy beaches of Marquet, Mala and Pissarelles are some of the most beautiful along the coast. Thi village is a particular favourite of our hiking tourists. Passing through pine forest and overlooking the Mediterranean Sea, the Sentier du Littoral coastal path is extremely popular.
Or better still, take a hike up the nearby Tête de Chien and you'll find yourself with the perfect viewing point of Italy and the Var coastline.
Gourdon
Certainly one of the more minute village on our list, the hidden village of Gourdon has a population of just under 400 inhabitants. This charming village truly is like something out of a movie. Atop a collection of steep massifs, the entire village gives you a perfect 360-degree panoramic view of the surrounding region.
The village is near impossible to get to without a car. However, Gourdon is more than worth the effort. They don't get quite more beautiful than here.
Isola
Just an hour and a half bus ride from Nice, the minute mountain village of Isola is surprisingly rich in historical architecture. Its Baroque style churches and dazzling painted murals truly make for quiet the sight. But more importantly, Isola is where you'll find the local Riviera Ski Resort!
Sainte-Agnès
Near to the French-Italian border is the medieval village of Sainte-Agnès. If you're looking for breathtaking views, then it doesn't get much better than this. Sainte-Agnès prides itself on being the highest coastal village in all of Europe, resting at 780 metres of altitude.
The quaint little village is a series of cobblestone streets and hidden alleyways, all of which contribute to its Provençal charm. And of course, its authentic 14th century houses bring the entire feeling of enchantment together.

Tende
Bordering with Italy and integrated into the Mercantour National Park, the small town of Tende is absolutely enchanting. Having been Italian until after the Second World War, the culture here in Tende combines a perfect blend from both France and Italy.
Enjoy fantastic attractions such as the largest Open-Air Museum in Europe, ancient medieval ruins, vaulted passages and spectacular Churches and Chapels. There's certainly never a dull moment for visitors here.
Peillon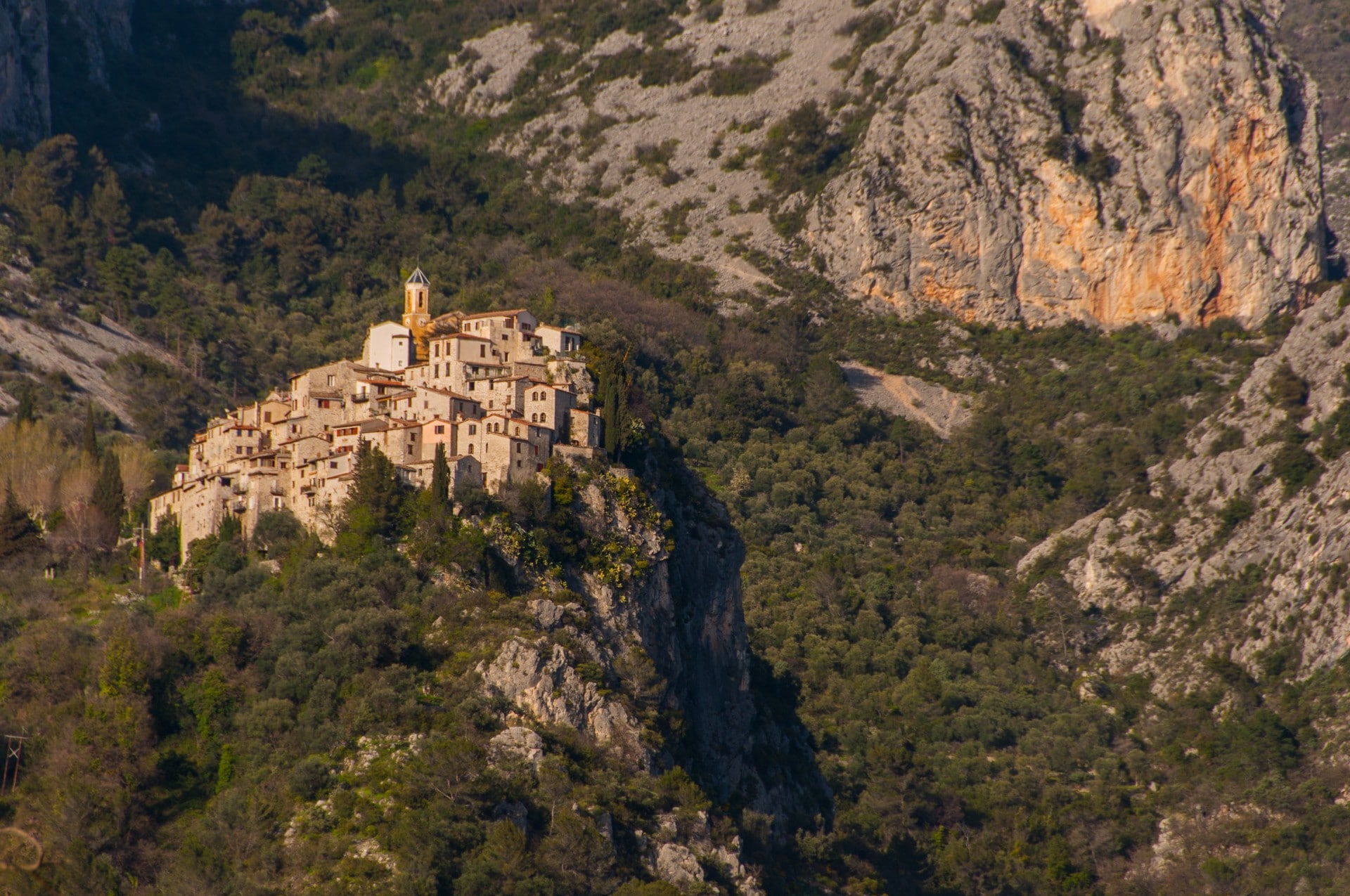 March Fischer – Flickr
The hilltop fortress of Peillon is quiet the treat for visitors of the Provence-Alpes-Côte d'Azur region. More than just its spectacular views overlooking the Paillon de l'Escarène, the small village is a piece of authentic history. Its tall stone structures, narrow winding streets and hidden passageways will make you feel like you've taken a step back in time.
Gilette
Situated within the Esteron Valley and overlooking the River Var, Gilette is one of the most enchanting little villages on our list. With its vibrantly coloured houses and vast green spaces, the village is just overflowing with character.
Lose yourself in its narrow cobblestone streets and discover attractions such as its castle ruins, 17th century church and its ancient olive trees.
Tourette-Levens
Not too far north from the city of Nice, you'll be mesmerised by the hilltop village of Tourrette-Levens. This once medieval village has since been renovated and its streets are now lined with beautiful modern stone houses.
The old castle has likewise been renovated and is now home to a unique Butterfly Museum. Definitely something worth checking out! But other than that, the commune is also home to historic Churches and Chapels from as far back as the 12th century.
Falicon
If the village of Falicon is good enough for the Queen of England to visit than its certainly has to make its way onto our list. Perched on a rocky mound facing Mont Chauve, the village has a perfect panoramic view of Nice and the coastline. With its vibrantly painted homes and surrounding Mediterranean vegetation, its never a dull day here in Falicon.
Take a stroll through its narrow streets and discover wonders such as the city's fortified gates, vaulted passageways, baroque-style bell towers, and carved fountains.
Lucéram
François Philipp – Flickr
The fortified medieval village of Lucéram will take you on a journey through time. Though no longer standing in its former glory, the ruins of the fortified village and castle remains for tourists to visit. Be warned though, the journey up to this forgotten village is a series of stairwells and criss-crossing alleyways. However, the views of the surrounding landscapes and gothic-style houses along the way make it all worth it.
The village has a rather great selection of activities and attractions for its visitors to enjoy. There are of course many walking and hiking paths throughout. But also, with its proximity to the Paillon River, it's a great spot for any water enthusiasts out there. We particularly recommend exploring the Perthus du Drac, the nearby cave along the La Foux river source.
La Turbie
Lastly, overlooking the Principality of Monaco, we have the breathtaking village of La Turbie. Once occupied by the Romans, the small town is home to the Trophee d'Auguste (or what remains of it anyway). Originally, the structure stood at 49 metres tall, and was topped by a statue of the Emperor Augustus. Though no longer in its original state, it doesn't make the grand beam any less impressive.
A particular favourite feature of this village is its panoramic view. Not only do you get a great viewpoint of the surrounding Riviera, you can also see the coastline of nearby Italy. And on a clear day if you're lucky, you'll even get a glimpse of the island of Corsica off in the distance!
Discover more of the French Riviera
But these are just a select few of the hidden gems here on the south-east coast of France. There still so much for you to discover and enjoy. So why not make the most of your trip to the Riviera and consider taking part in a Guided Walking Tour. It's a great way to explore the best bits these cities have to offer and learn about the fascinating tales that make them unique. Or better yet, why not organise your very own Private Walking Tour? Enjoy the benefit of your own personal guide and discover more than just one city at a time! It's a guaranteed way to make this one of your most memorable experiences yet.

For further quotations and bookings, please feel free to contact us via our email: info@rivierabarcrawl.com