Beaulieu-sur-Mer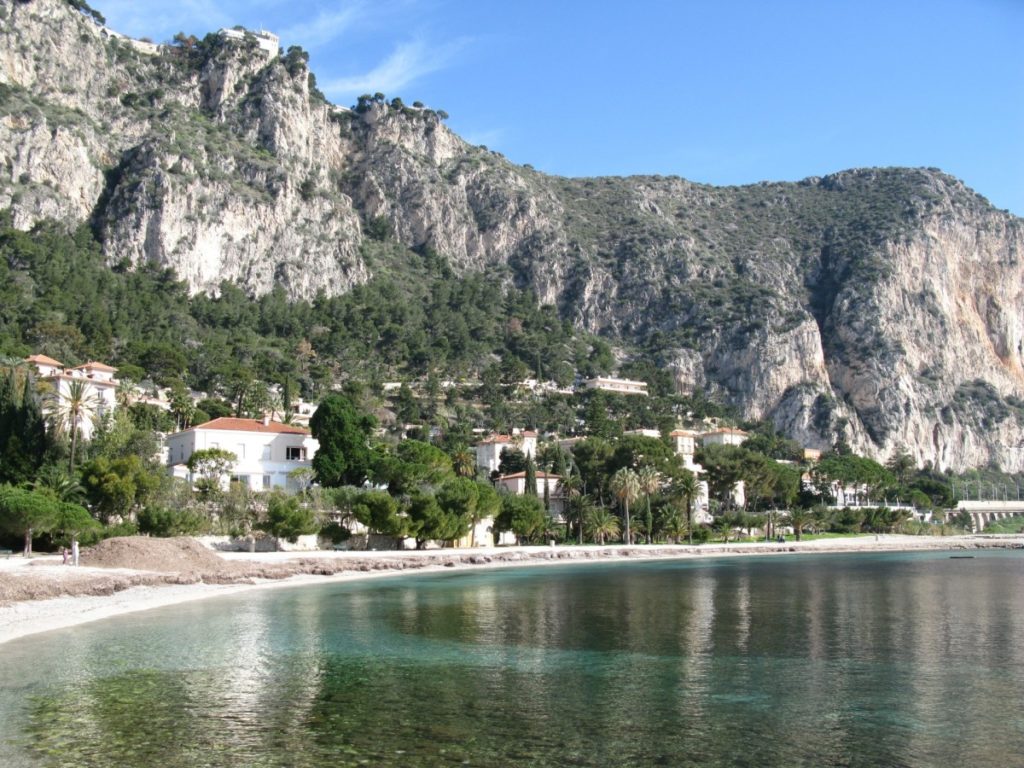 The French Riviera is filled with a number of stunning coastal towns and cities. You of course have some of the more well-known cities such as Nice, Cannes, Monaco, etc. However, along the south-east coast are many smaller communes, each just as beautiful as their larger counterparts. One such village is that of Beaulieu-sur-Mer. This beautiful village can be found wedged between Villefranche-sur-Mer and Èze. It lies just 9.5 km from the Riviera capital of Nice and 10.5 km from the Independent State of Monaco. With a population of only 3,600 inhabitants, it's the perfect little getaway for those of you looking to escape the hive of activity in some of the more populated cities.
Beaulieu-sur-Mer, despite its small size, is home to some amazing tourist attractions. For starters, the commune is entirely surrounded by luscious, green Mediterranean vegetation. Its public gardens and natural landscape are a combination of vibrant flowers and exotic citrus trees. Square Calmette and Square Verdun are particularly stunning parks. The Beaulieu Baie des Fourmis (Bay of Ants) also makes for quite the spectacular sight. What with its two large marinas of over 800 boats! But possibly the most notable attraction of the gorgeous village is its Villa Kerylos.
Villa Kerylos
The Villa Kerylos is one of two of the most famous villas along the Riviera. Ironically enough, the two villas in question were built by relatives. The other being that of Villa Ephrussi de Rothschild in the nearby town of Saint-Jean-Cap-Ferrat. Villa Kerylos itself was constructed by French archaeologist Théodore Reinach in the early 1900's. Reinach was an avid Gercophile, meaning he was obsessed with all things Greek related.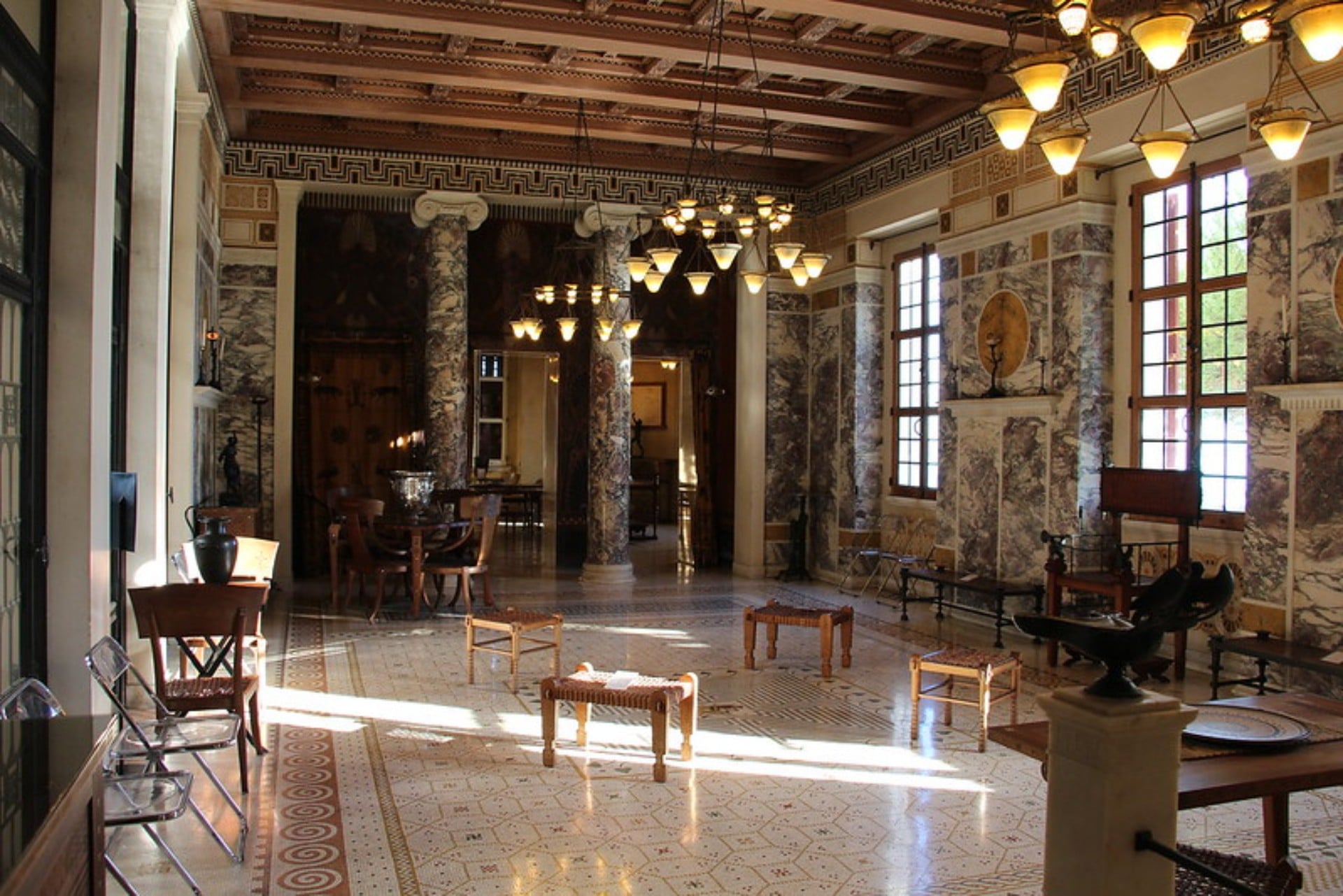 Fred Romero – Flickr
As a tribute to his passions, he wished to construct a faithful rendition of a rich Athenian house from the 5th century BC. He adorned the marbled walls and floors with beautiful frescos and mosaic pieces honouring ancient Greek tales and histories. While he decorated the interior with authentic furnishings to keep the villa as original as possible. Even the siting of the villa was deliberate. As Reinach specified that construction had to take place on a piece of land jutting out into the sea as he felt it offered a location similar to that of coastal Greek temples.
Today, the villa is open to the general public as a museum of sorts. It is open Monday to Friday from 2 pm to 6 pm. And open Saturday to Sunday from 10 am to 6 pm. Tickets are EUR 11.50 for adults or free for children under 18 years of age.
How to get to Villa Kerylos from Nice?
Nice is the capital city of the Riviera and also home to the regions only airport. So no matter where you plan on staying along the Riviera, you'll be passing through this breathtaking city one way or another. One of the great things about the Cote d'Azur is its transport lines, making every village and city super easy to get to. So no matter whether you plan on taking the train, bus or even an uber, you know there'll be no drama involved.
If you want to take the train (which is your fastest option) from any of Nice's 3 stations to that of Beaulieu-sur-Mer's. and from there, the villa is just a 10 minute walk away. Train tickets here on the south-east coast are also relatively cheap, especially compared to most other European countries. For a return ticket, it should be around EUR 5, give or take.
If you plan on taking the bus, keep an eye out for bus no. 81. You can get this bus from Promenade des Arts bus stop or from the Port. And from there, make sure to get off at bus stop Villa Kerylos. The bus is the cheapest form of transport if you're hoping to save as much money as possible. A single journey ticket costs only EUR 1.50.
Discover more of the Cote d'Azur
But there is still so much more history along the Riviera for you to discover. And what better way to do that than with a Guided Walking Tour? Our local and bilingual guides will recount tales of these ancient French cities and lead you to some of the best sights and attractions. Or better yet, customise your very own Private Tour. Enjoy the benefits of a small group and your very own personal guide. And what's more, with our full-day options, explore more than just one city at a time!
Or check out some of our other fantastic Activities. From delicious food tours to wine tasting events and even canyoning, we have everything you could want to make your vacation here on the Riviera memorable.
For quotations and bookings, feel free to check out our website or contact us via our email: info@rivierabarcrawl.com