Welcome to the French Riviera!
The French Riviera, miles of beautiful Mediterranean coastline that stretches along the south-east coast of France. The region is home to many popular and stunning tourist destinations. Nice with its unique pebble beaches and mesmerising attractions. Antibes with its large marina full of super yachts. Monaco with its fascinating history and botanical gardens. Cannes with its prestigious Film Festival and white sandy beaches. Grasse with its lavender fields as far as the eye can see. And this is just naming a select few! Certainly, wherever you go along the Cote d'Azur, you won't be disappointed. But if nothing else, one of the main destinations you couldn't possibly afford to miss is the city of Èze.
Èze – An Overview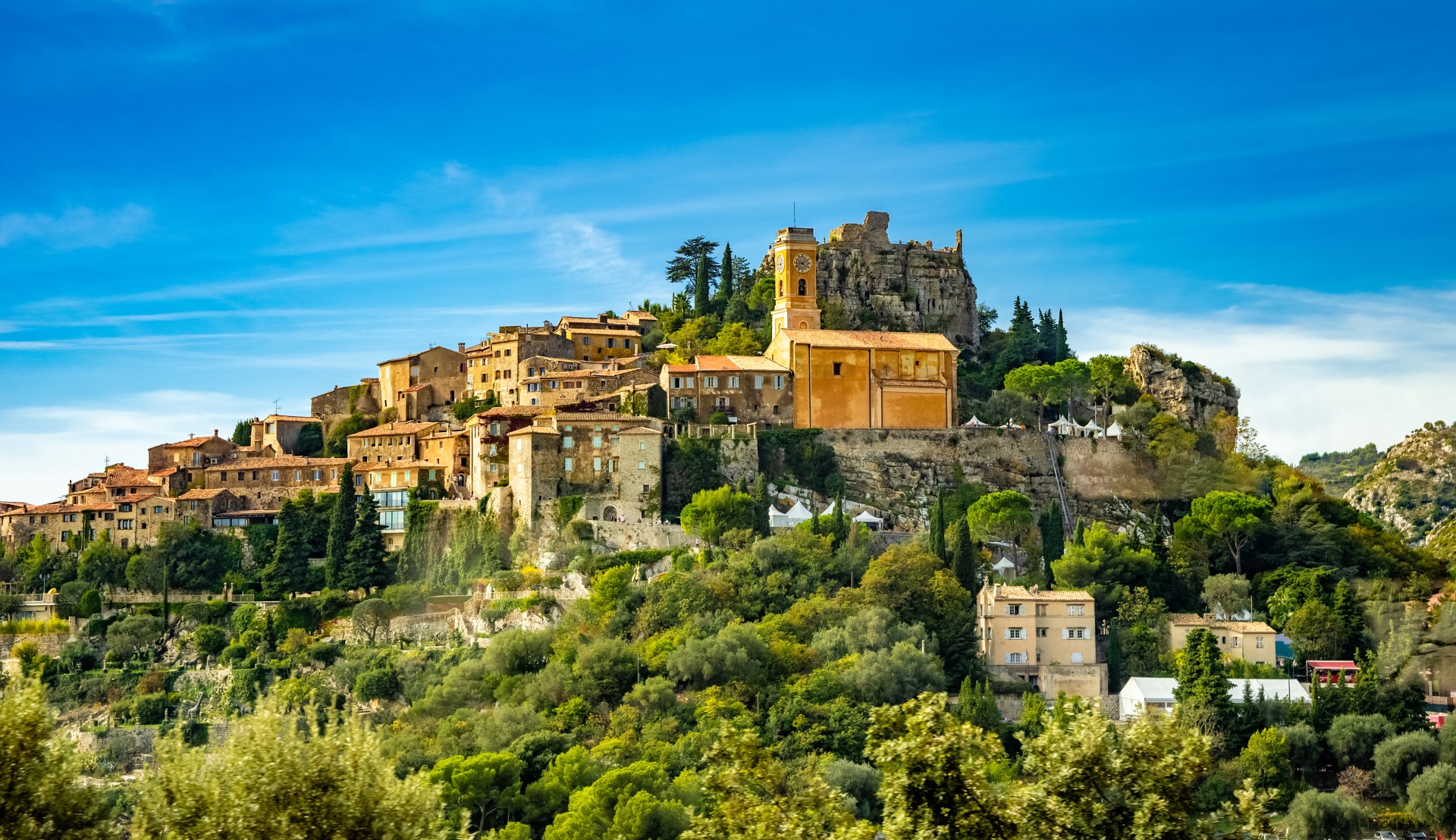 The commune of Èze can be found half-way between the region's capital city of Nice and the Independent State of Monaco. It is a relatively small village with a population of just over 2,000 inhabitants. The commune of Èze itself extends from the Mediterranean Sea (Èze-sur-Mer) to the hilltop medieval village. The village has often been described as an "eagle's nest" because of its location overlooking the rest of the surrounding Riviera. In fact, it is so high that its Light Ochre Church can be seen from afar.
Highlights of Èze
It may only be a small village, but that doesn't mean Èze doesn't have plenty to offer its tourists.
Medieval Old Town – The medieval old town which sits atop the hill of Èze is a collection of narrow streets, quaint boutiques and Provencal charm. You'll feel like you've taken a step through time. Not to mention the breathtaking 360-degree panoramic view of the surrounding landscape.
Botanical Gardens – Not the largest collection of fauna along the Riviera but still an enjoyable sight nonetheless. The botanical gardens here in Èze are home to a variety of luscious cacti and succulents. Just be careful not to touch them!
Historical Monuments – Here in the village you'll discover the Chapelle de la Sainte Croix, Èze's oldest building. Built in 1306, the Chapel originally functioned as a meeting place for the White Penitents of Èze, a society tasked with giving aid to plague victims. Another historical monument you'll come across can be found inside the Notre Dame de l'Assomption. In which there stands an Egyptian Cross, originally placed there by the Phoenicians who had erected a temple there to honour the goddess Isis.
How to get to Èze
The great thing about the south-east coast of France is how easily accessible all the cities along the French Riviera are. Whether you plan on travelling via train, bus or tram, its never too much of a hassle. The train is of course the fastest mode of transport. Plus, trains here along the Cote d'Azur are quite regular, usually leaving every 20 or so minutes. Buses are also a great option. They may take a while longer, but they usually go along the coast, taking the more scenic route. What's more, buses are usually only EUR 1.50! For timetables and lines, check out the French SNF website for trains or the Lignes Cote d'Azur website for buses.
Discover Èze
Think you might be interested in discovering all the Èze has to offer? Then we're the people to get in touch with! Usually, we operate walking tours in Nice, Cannes, Monaco and Antibes. However, if you'd be interested in taking advantage of our full-day tour options, then we could organise the ideal day trip for you and your group. Explore the amazing cities of Nice, Èze and Monaco all with your own personal guide! Just get in contact with us via our email (info@rivierabarcrawl.com) and we'll organise everything in as little as 72 hours! So what are you waiting for?! Book your memorable French Riviera experience today!