French Riviera Tours
If you aim to fully experience what the French Riviera – côte d'azur has to offer, you've come to the right place. I've set up a jam-packed week of tours and experiences that showcase the French Riviera's gems in all their glory. Each day will bring you something new. Although most of the tours are full days or half days, I've tried to vary the type of experiences. As such, some tours are food and wine related, some are walking tours, and others are fully guided or even at sea. By the end of the week, you'd be able to say that not only have you been to the French Riviera, but that you know it. Let's go for the French Riviera Tours !
This is the perfect option for those who are visiting the French Riviera for the first time. Get the opportunity to visit the beautiful small villages along the coasts of the Cote d'Azur. The full day tour goes for around 8 hours and starts in Nice. For your own benefit, it is exclusively limited to 8 individuals. Cannes is the largest city you will visit. While interesting and beautiful, it is not the highlight of the tour in my eyes.
Best of medieval French Riviera towns
The medieval towns of Gourdon, Saint Paul-de-Vence and Tourettes-sur-Loup are much more insightful and interesting. That's not to say that Cannes beauty is not also highlighted on the tour. So too does the tour include hotel pick up and drop off by your guide/driver in an air-conditioned minivan. From the galleries and local artisans of St Paul-de-Vence, to a behind the scenes look at the Grasse Fragonard perfumery. The French riviera tour is jam-packed with great sights and experiences.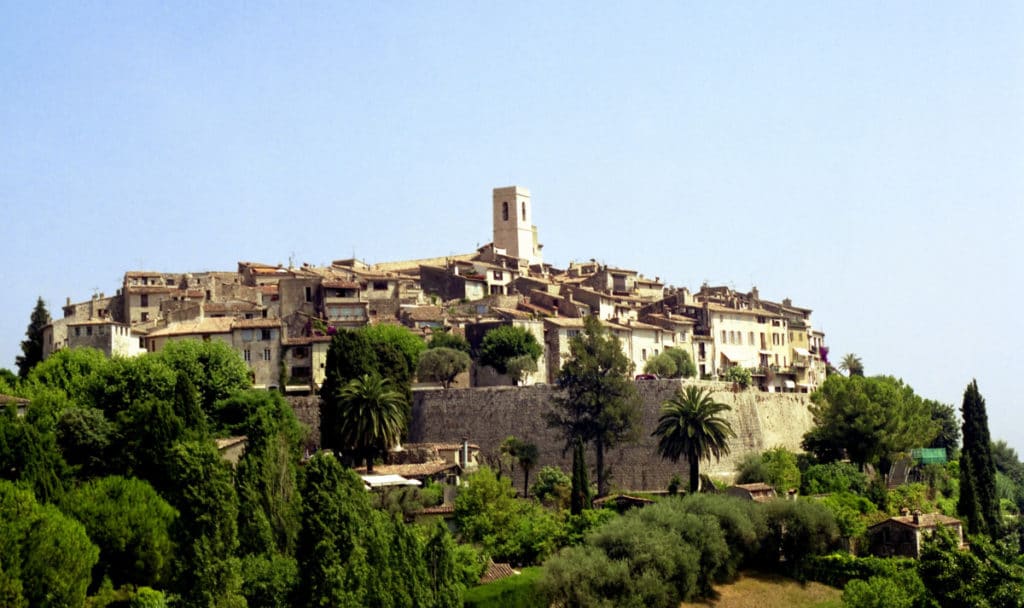 FOOD TOURS
Food as one of the best ways to fully immerse yourself in a foreign culture. That is why I highly recommend doing a food tour of some sort. The one I'm recommending is specific to Nice. However, there is also a very good one in Antibes I will discuss later. 

Explore and indulge on Nice's beautiful cuisine, led of course by a local foodie. The tour itself goes for around 4 hours and stops at 9 different places throughout Nice, all on foot. This also makes for a great opportunity to see some of Nice's more picturesque locations. Exploring Old Nice is a plus. Fortunately, the group caps at 12, so you won't need to worry about a crowd. With 3 drink stops allowing you to sample the local brews and wine, it's a great all rounded experience. Ultimately, while open to everyone, it is specifically suited to those who consider themselves honorary 'foodies.' 
As previously mentioned, there is an amazing Historical Tasting Tour in Antibes. Provided by Cedric, a local who also does free walking tours, the tour is offered on Thursday nights. For 65E, your night will consist of 3 of the best local restaurants and cafes. A chill and enjoyable atmosphere, the evening will include 2 glasses of wine, along with an arrangement of local cured meats and cheeses. A glass of absinthe will also make an appearance, as well as the finale at a 1 Michelin star restaurant. It is an amazing way to fully immerse yourself in the local culture and gastronomy. 
FREE WALKING TOURS
Cedric also provides an amazing free walking tour in Antibes most days of the week in the Summer months. Passionate and friendly, Cedric goes beyond what many paid tour guides provide. As such, he has organized exclusive access to the famous Absinthe Bar La Balade. You are allowed into the cave-like bar with archways dating back to the 10th century and traditionally served a taste of the infamous green liquid. For 2h30 tour, he will make sure you see all the best things Antibes has to offer. This includes their famous markets as well as exposing the secrets of the local artisans…
Like Antibes, there is also a Nice Free Walking Tour that begins your day at Place Massena. Place Massena is considered the city centre of Nice with the statue of Apollo looking over its inhabitants. It is available every day from Monday until Saturday inclusively throughout February, March, April, May, June, July, August, September, October. The tour goes for approximately 2h30 and is done in English, with the beautiful French and Italian architecture becoming your close companion as your local tour guide divulges it's hidden secrets. 

This day trip starts in Nice but exclusively explores Eze and Monaco. Personal in that the group limit is only 8 people, the package includes a guided tour of a famous perfumery in Eze. Additionally, key spots such as Monte Carlo's Old Town, casinos and palaces are of course included. The minivan will provide pick up and drop off at your hotel (check site for specific postal codes). I will say that although you have a professional guide, it is less scripted than other tours. I recommend this tour specifically for those who appreciate a little more breathing room to explore by yourselves. 
If you're looking for something that exclusively looks at Monaco, I recommend this Monaco guided walking tour that goes for around 3-4 hours including travel time. Beginning at the train station of Nice, the tour is 30E each, covering the train ticket and return. Your tour guide will make sure you can bask in the fortune of the country whilst learning its interesting history. Given that Monaco is roughly the size of Central Park in New York, you can be sure the tour covers a lot of ground. From the streets of the Grand Prix, the extravagant yachts of the harbour to the breathtaking Jardin Exotique botanical garden.

Almost fully customized to suit your wants and needs, this Catamaran Cruise of the French Riviera from Cannes is a dime in a dozen. The cruise itself can be either full-day or half-day. Moreover, you can choose a sunset option that is a shorter 1.5-hour cruise. If you embark on the day cruise, snorkel gear is included. So too can you also simply sit and enjoy the beautiful blue and clear sea of the Lérins Islands. Lunch is included if you so choose as well as beverages. This is featured in both the half and full day tours. Furthermore, you'll get to visit a secluded cove within the Massif de l'Esterel mountain range. Either way, the cruise is comfortable on an expansive catamaran, providing an enjoyable, unique experience for anyone visiting the Riviera. 
For something on land, I recommend looking at a tour provided by French Riviera Bar Crawls.  The Cannes walking Tour costs only 20E per person, the tour goes for 2 hours, exploring both the well and lesser known roads. Obviously, sites such as the Palais de Festivals, home to the annual Cannes Film Festival will be visited. Furthermore, you'll be able to visit places such as Cannes charming Old Town while learning about its fascinating history.

At some point in your stay, I highly recommend getting out of the city and visiting the countryside. If you're not into hiking endless hours or biking, a good option is an electronic bike tour. This bike tour specifically exploring some of the locally owned vineyards surrounding Nice. Venture through town on your way to the rolling hills of the family-run Domaine du Fogolar winery. 
Not only will you get a behind the scenes look at the production of traditional French wine, but you'll also meet the actual winemakers. A tasting of their signature Collet de Bouis is of course included. The vineyards are the perfect backdrop to enjoy a picnic. There are opportunities to buy food at local bakeries and stores. Additionally, the group size is capped at 10 individuals. The fresh air and contrast of the coastal and country atmosphere make for a memorable day. 
A full day of adventure is what you should expect when part-taking in this French riviera tour. Some of the highlights include traversing the beauty of Port Grimaud's canals. Not only this, but the coastal views as your boat from Nice to St Tropez are exquisite. The Massif de l'Esterel mountains and their astounding charm are on full display. However, the tour is not fully at sea. You will get the opportunity to explore St Tropez, its town centre, markets and beaches. It's a full day so be prepared to spend around 9-10 hours on the tour. While long, it is an amazing opportunity to gage St Tropez both from land and sea.