Stroll through the South of France with the expert eye of a Tour guide who understands the local culture and history. Whilst similar, each city in the South has something different to offer. What other way to fully experience it yourself than by foot? This article will mainly be focusing on cities in the Provence-Alpes-Côte d'Azur. From the French Riviera to the Bouches-du-Rhône. I've made sure to recommend some of the best guided walking tours for all budgets. Whether you want
private and exclusive or something for a budget, there is sure to be an option here for you.
French Riviera
The Mediterranean Sea makes for a beautiful view when exploring the French Riviera by foot. Famous for its pebble beaches, sun and coastal views, the French Riviera is home to many beautiful ancient cities. There is no official boundary of the territory, though it covers roughly 550 miles with Nice being its biggest city. This includes, of course, the famed country of Monaco, which is currently the second smallest country in the world. Also called the Cote d'Azur for the coasts amazing azure blue color, the French Riviera was one of the first modern resort areas in the world. With around 300 days of sun, it continues to draw in wanderers from across the world.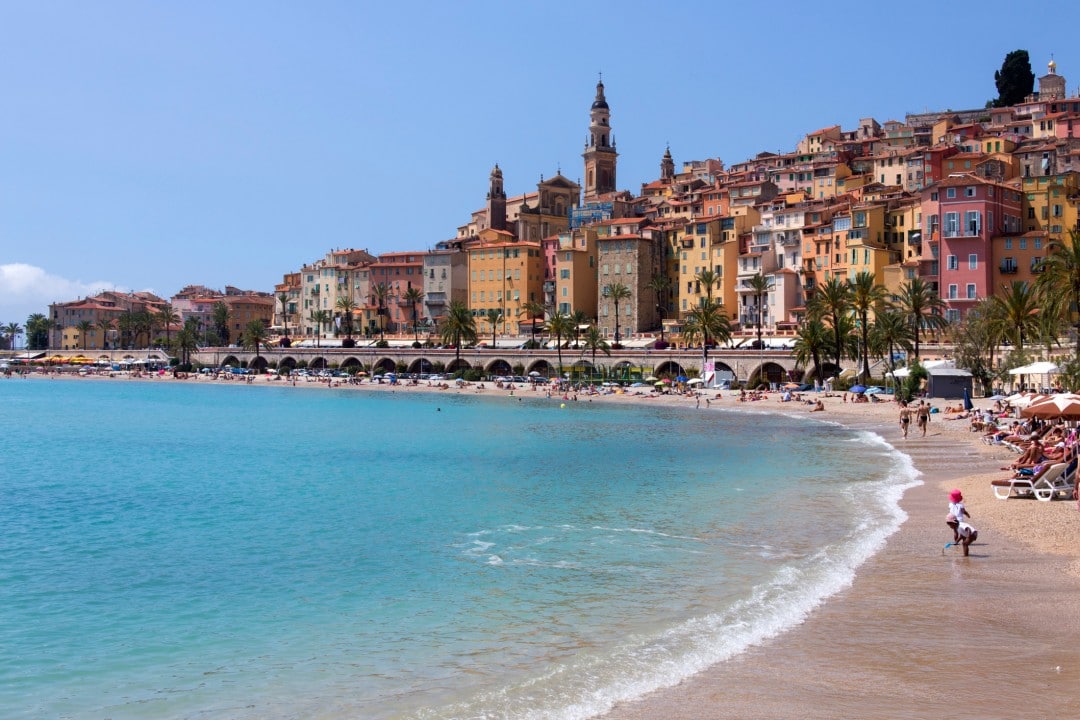 Cannes
Cannes is a well-known city on the coast of the French Riviera. With a typical Mediterranean climate and a history as the playground for the aristocracy of Europe. If you want to see Cannes as a local however, Riviera Bar Crawls & Tours provides a Cannes Walking Tour.  The tour goes for 2 hours, exploring both the well and lesser known roads. This includes, of course, the Palais des Festivals, home to the annual Cannes Film Festival, as well as the charming Old Town. In the meantime, you will be learning about Cannes fascinating history. Vibrant and glamorous, Cannes provides a true insight into how the other half lives.
Antibes
If you're looking for somewhere with a relaxed atmosphere away from the action of Cannes, Antibes is perfect. Although it is the second largest city on the French Riviera it does not lose any of its warmth. A passionate local called Cedric provides a Free Antibes Walking Tour every Monday, Wednesday, Friday and Saturday between April and September. The tour goes beyond what many paid tours provide, allowing exclusive access to the famous Absinthe Bar La Balade. You have the possibility to go into the cave-like bar with archways. It dates back to the 10th century and traditionally serves a taste of the infamous green liquid. This is only the beginning of the 2h30 tour…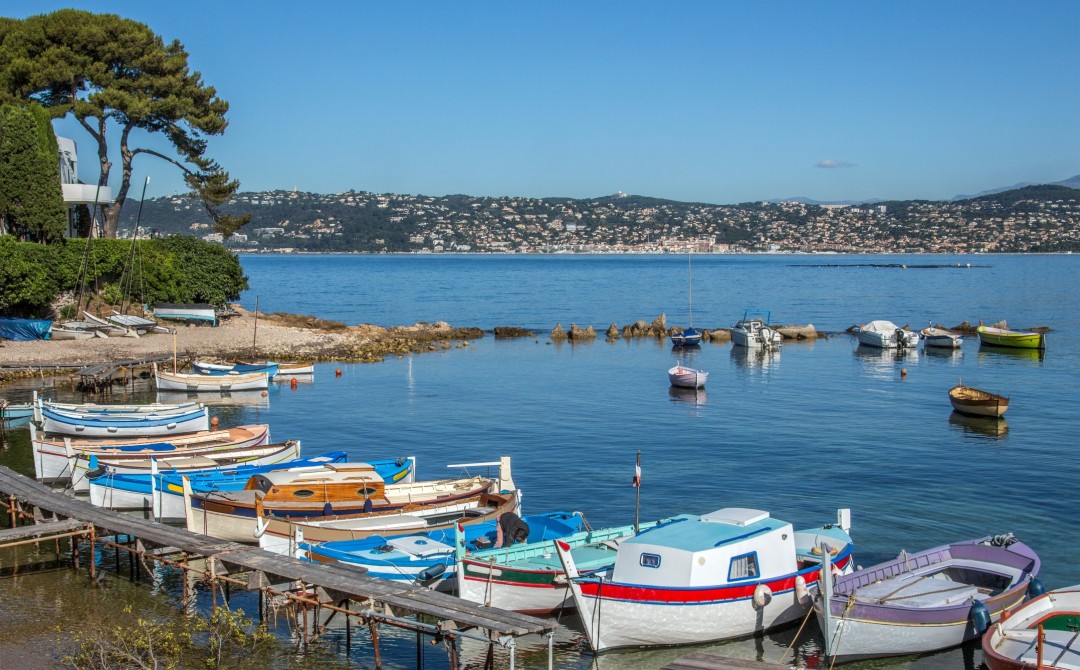 Historical Food Tour
In addition, I am also going to mention an amazing Historical Tasting Tour Cedric also provides in Antibes on Thursday nights. For 65€, your night will consist of 3 of the best local restaurants and cafes. A chill and enjoyable atmosphere, the evening will include 2 glasses of wine, along with a variety of local cured meats and cheeses. A glass of absinthe will also make an appearance. Finally, you will visit a 1 Michelin star restaurant. It is an amazing way to discover the local culture and gastronomy.
Nice
Similarly, the busy city of Nice provides a perfect example of life in the South of France. Similar yet beautiful in its own right, Nice is more removed from the glitzy life of the aristocracy. You quickly become drawn in by the simplicity of everyday life. Home to many different festivals and markets throughout the year, there is always something happening in Nice to capture your attention. Like Antibes, there is also a Nice Free Walking Tour that begins your day at Place Massena.
This is a must see in Nice! Place Massena is considered the city centre of Nice with the statue of Apollo looking over its citizens. It is available every day from Monday until Saturday inclusively, from February to October and less often from November to January. Hence, you can enjoy it throughout the whole year. The tour goes for 2h30 and is in English. The beautiful French and Italian architecture becomes your close companion as your local guide tells you about its hidden secrets.

Monaco
In short, you cannot discuss the South of France without, of course, mentioning Monaco. The guided walking tour I recommend allows you to bask in the fortune of the country whilst learning its interesting history. Given that Monaco is roughly the size of Central Park in New York, you can be sure the tour covers a lot of ground. From the streets of the Grand Prix, the extravagant yachts of the harbor to the breathtaking Jardin Exotique botanical garden. I ensure you, there is something for everyone. Beginning at the train station of Nice, the tour is 35€ per person and covers the train ticket and return. Overall, the tour is going for around 4 hours.

Toulon
Similarly to its sibling coastal cities, Toulon, of course, possesses some charming sandy and pebble beaches. It houses an impressive and notable French naval base as well as a harbor for regular fishing boats and ferries. You will find submarines and warships in its port, with the French Mediterranean Fleet being based there. Furthermore, it has an important local and nation-wide industry of naval construction, electronics, fishing, winemaking, and tobacco. Toulon is  definitely a hot spot of activity. More only 12€ each, you can experience a Toulon Guided Tour on foot, and by boat. For two hours, you'll see only the best of Toulon has to offer.
Bouches-du-Rhône
One of the original 83 'departments' of the French Revolution, Bouches-du-Rhône is the most populated area in the Provence-Alpes-Côte-d'Azur region. It is situated West of the French Riviera, still occupying the coast of the Mediterranean. Subsequently, Marseille is its biggest city. Generally, the region provides gorgeous mountain views, Romanesque monuments, and medieval villages. Although still having a Mediterranean climate, it's away from the glamour of the French Riviera. Therefore, it makes for a much more rustic experience. If walking tours in the south of France are your goal, this region provides some musts.
Marseille
Marseille is the oldest city in France and it has definitely a lot to offer. Particularly, some absolutely stunning landmarks of historical interest. It was founded 2,600 years ago and it is the European Capital of Culture in 2013. To this day, it continues to stun visitors with the range it has to offer. From art to its famous dishes such as the Bouillabaisse, to the 111 neighborhoods and quartiers, there is no shortage of things to do and see.
A free guided walk is also offered in this remarkable city. Focused primarily on the city's centre, it ensures you see some of Marseilles most famous sights, including its Cathedral. Whilst this tour is located in the main city, I encourage people visiting to venture out of the city and explore the attractive mountain villages. I recommend Cassis, a small fisherman's village East of Marseille in the Calanques National Park.
Arles
Furthermore, if you're looking for something a little bit more exclusive, there is a 2-hour Private Walking Tour.  Arles offers a number of amazing sites, including a 1st Roman amphitheatre. The tour will, of course, highlight these locations, as well as a 4th century Arles Obelisk. This includes multiple Cathedrals which are classified as UNESCO World Heritage Sites.
Given it is a private tour, a group of 8 individuals will cost roughly 232€. Keeping in mind the price, unlike other tours, if you wish to visit somewhere that isn't specified, simply let your guide know. The tour will be personalized to your wants. As well as the itinerary, the time and rhythm of the tour will be subject to your wishes.
Aix-En-Provence
Only 30km North of Marseille, Aix-en-Provence is a university city and commercial center. Home to olive groves as well as the production of almonds and grape, the Provence was founded near natural hot and cold mineral springs by the Romans in 123BC. To this day it continues to be a popular spa area. It is also known as 'the city of a thousand fountains.' Lined with superb Renaissance mansions, the town is elegant and charming. Its famous leafy boulevard Cours Mirabeaux provides some amazing cafes and local boutiques. It is the perfect mixture of quaint city and country life. Especially thanks to its surrounding mountains and vineyards providing opportunities for some picturesque hikes and bike rides.
From 110.50€, you can have a private tour that shows you only the best Aix has to offer. Follow in the footsteps of the famous painter Paul Cézanne and discover his masterpieces at Musée d'Orsay. Each tour fits exactly to you and your wishes.