The best day tours from Nice, France
Where you can Travel to from Nice ? is an incredible city to base yourself in when visiting the French Riviera. It's slap bang in the middle of the Riviera, so it's easy to visit one of the main tourist attractions along the coast in just a day, with minimal travelling time. There's also the option of going inland and visiting the real Provence with its charming small towns, hilltop villages and incredible lavender fields.  If you're here for a week (or maybe more) we're certain you won't get bored with the huge amount of day trips available to you. As well as exploring Nice itself, a city full of history, culture and art, you can venture all around the South of France and be back in time for dinner!  Read on to find out about the best day tours from Nice France.
Monaco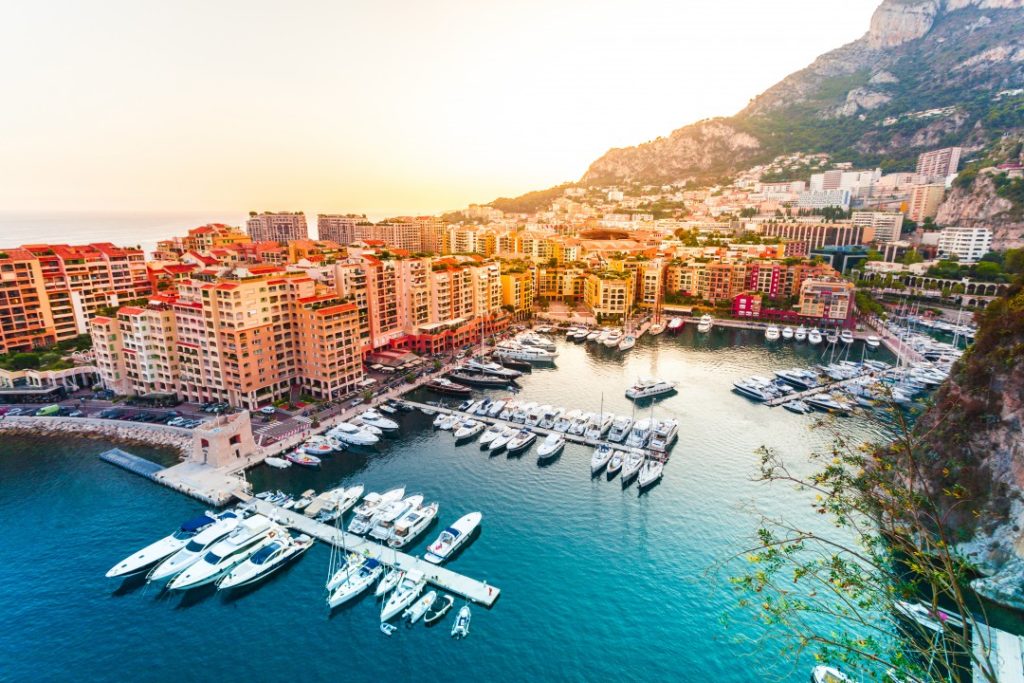 The home of the Grand Prix. The place to see and be seen! It's the city everyone wants to visit for that small taste of how the other half live. Monaco and Monte Carlo take centre stage in most films and tv shows as the place to be if you've got a few pennies in the bank. The rich guys Dad nearly always has a yacht moored in Monaco…and if you take the time to visit, you'll see why! 
Of course you'll want to visit the casino, and sip a cold glass of something at Cafe de Paris, but after that it's worth opening your eyes, looking around you and noticing the raw, natural beauty that surrounds the small city. 
Perched atop the "Rock of Monaco," the oldest part of the city, you'll find the Royal Palace (which is open to the public for visits) and the old town of Monaco. The old town is very quaint, nothing like the new city that lives below. 
Following around the coastline, you'll come across The Fontvieille district where you'll find a museum housing the HSH The Prince of Monaco's vintage car collection and a rose garden dedicated to Princess Grace (Grace Kelly). We could go on, as there's so much to do in Monaco (surprising for such a small place).
Nevertheless, it makes a great day trip from Nice! Here at Riviera Bar Crawl & Tours we offer a Day Trip from Nice to Monaco half day tour of the city, showing you all it's best bits in just four hours, leaving you with the rest of the day to do as you please (and drink as much as you please!) It would be our pleasure to show you around this incredible place.

Cannes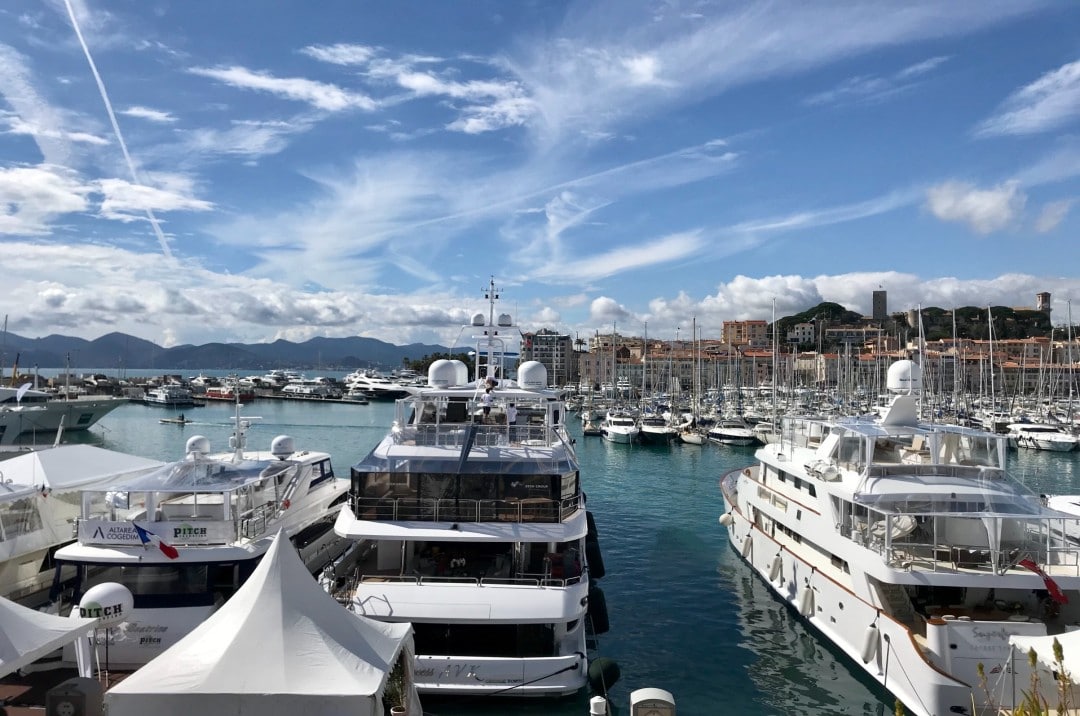 It's the home of the film festival, so you can imagine the amount of glamour this city possesses. From the elegant palm-fringed boulevards to the exquisitely detailed architecture, Cannes is a real treasure along the Cote d'Azur. 
You can spend the day exploring the high-end boutiques, private beach clubs dotted along the shore and for a sense of authenticity, take the small walk uphill to the delightful old town. 
Cannes is just a 45-minute train ride from Nice Ville and the ticket is inexpensive (around 14 euros for a return).  The trains run quite late, making it a great day trip as well as a spot for dinner in the evening! There's a bunch of rooftop bars serving excellent cocktails that are bound to take your fancy (you'll find most at the top of hotels along the La Croisette Boulevard). 
Again, we host a great walking tour of Cannes, it's only 20 euros and there will only ever be a small group of us. A great way to see the city and meet new people!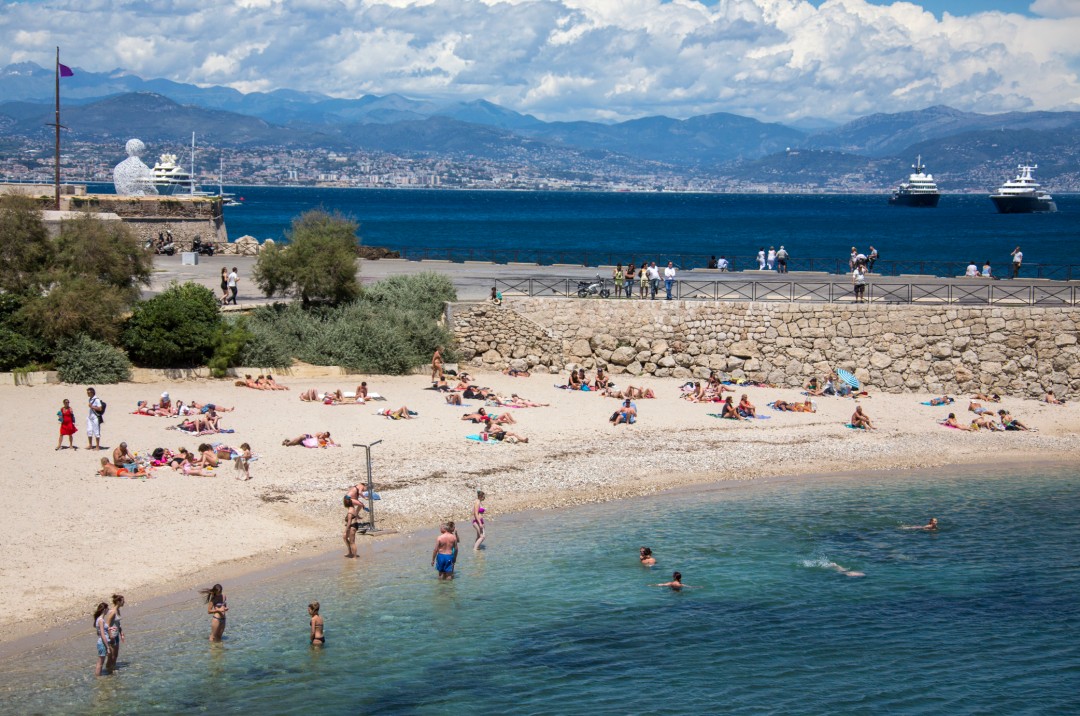 If you love sandy beaches, then get the train to Antibes! You'll have noticed by now that Nice's shores are pebbles or rock, no sand in sight. But that doesn't mean you can't get the picture perfect, holiday snap of your toes in the sand. 
Just 15 minutes on the train and you'll find yourself in Antibes. Where not only will you find sandy beaches…the sand is white! Carribean vibes anyone? The water is crystal-clear and feels like stepping into a warm bath by mid-July. 
Excellent beaches are found on the Cap d'Antibes peninsula and along the Juan-les-Pins coastline. You'll find everything you need here from parasols to rent, to beach clubs serving endless glasses of wine and cocktails. 
Walking tours are also available in Antibes, it could be a great way to spend a morning before hitting the beach and sunbathing into the evening.
Saint Tropez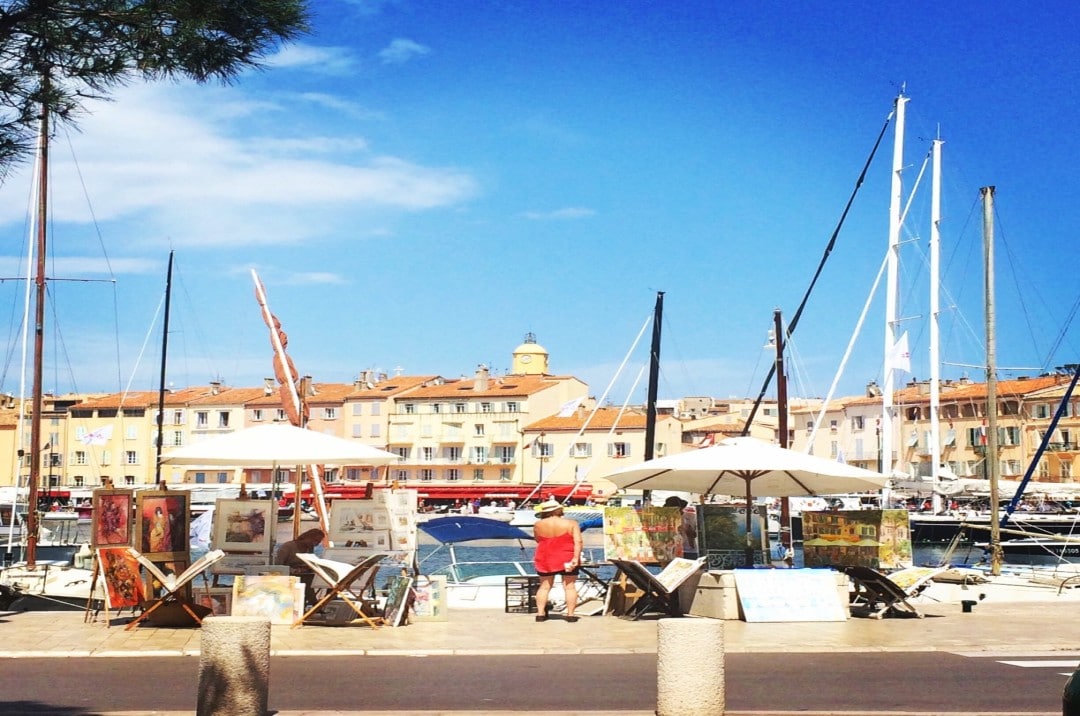 This small fishing village was transformed into an overnight success by the one and only,  Brigitte Bardot who came to St-Tropez in the 1950s to star in Et Dieu Créa la Femme. 
The French town has since thrived on its reformed sexy image: at the Vieux Port, millionaires yachts line the waterfront and many tourists travel over to admire them. The town continues to be the muse for many fashion houses, restaurants and interior designers as they become inspired by the colours, sounds and design of Saint Tropez. 
Beyonce has been known to spend a day or two down at Pampelonne beach, sipping cocktails at one of its many stylishly trendy beach clubs. 
But despite its reputation for beach club parties, and late night soirees the town is still delightfully picturesque. Take the time to meander down the cobbled lanes in the old fishing quarter of La Ponche, sip pastis at a place des Lices cafe, or walk from beach to beach along the coastal path.
Many companies offer tours of Saint Tropez, but there's also the option of taking a boat down and experiencing the town that way (depending on budget, of course).
St Paul De Vence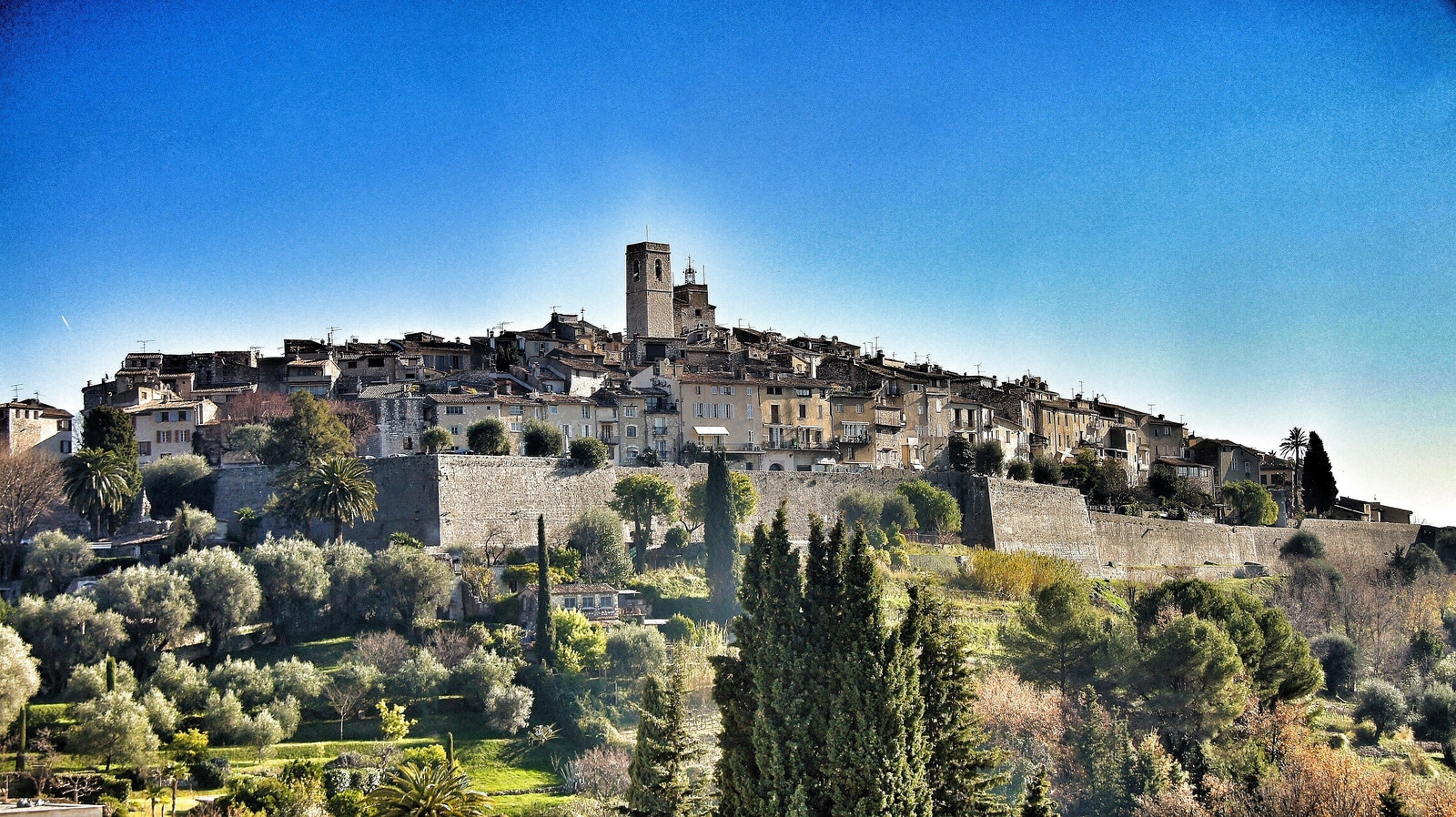 Perched at the top of a large rock that overlooks the Provence countryside, Saint-Paul de Vence is a typical Provençal village (think Beauty and the Beast). 
Being only a 30 minute drive from Nice, it's an excellent day trip if you fancy a taste of the countryside. Getting there by car (or coach if included in your day tour) is the best way, as the village is not very well connected by public transport. 
Steeped in history and elevated by the artists who discovered in the 1920s, St Paul De Vence gives tourists (and locals) a real sense of escapism from the hustle and bustle of Nice. 
Art galleries line the medieval village, from art installations to classic paintings by  
Bonnard, Chagall, Kandinsky, Léger, and Miró. Creatives will find St Paul De Vence so inspiring and ever so captivating. 
You can really capture the feeling of this well-preserved town by taking the time to wander down the narrow cobblestone streets that wind through the village. Delightful fountains, town squares, and art galleries add to its charm.
The hilltop village of Saint-Paul de Vence is often included in guided, full day tours from Nice, many combine the tour with a perfumery tour in Grasse and a visit to glamorous Cannes.
Final words
And there you have it, our favourite places to enjoy during a day trip from Nice. Whether guided, or going it on your own, you're bound to have an incredible day at any of these destinations. 
With all the main cities in the French Riviera being so close, it's easy to squeeze in more than one location in a single day. Not mentioned in our top locations, but Villefranche sur Mer and Saint Jean Cap Ferrat are an excellent choice of day tour from Nice if you fancy ticking two places off your list. 
There is an incredible coastal walk that takes around two hours from Villefranche straight to Saint Jean Cap Ferrat. Along the way you'll come across hidden beaches, as well as incredible plants and nature. You'll want to finish up at Paloma Beach that recently shone in the 50 Shades of Grey trilogy as the couples honeymoon spot (does it get anymore glam than that!?). 
We can't wait to welcome you to our Trip from Nice to Monaco   – and remember, we offer walking tours of Nice, Monaco, Antibes and Cannes. If you'd prefer a private tour, we can do that too. Just get in touch! See you soon!