The Gardens of the French Riviera
The French Riviera is without a doubt one of the most magical places in France. A collection of year-round sunshine, beautiful beaches, and fantastic attractions. And thanks to the region's amazing weather, the Riviera is also filled with luscious greenery and exotic flowers as far as the eye can see. You can visit some amazing gardens here along the Cote d'Azur. From the Jardins de Cimiez of Nice to the Botanical Gardens of Monaco and Èze, they truly are breathtaking. But, at the end of the day, none of them quite compare to that of the Villa Ephrussi Rothschild in Saint-Jean-Cap-Ferrat.
History of the Rothschild Villa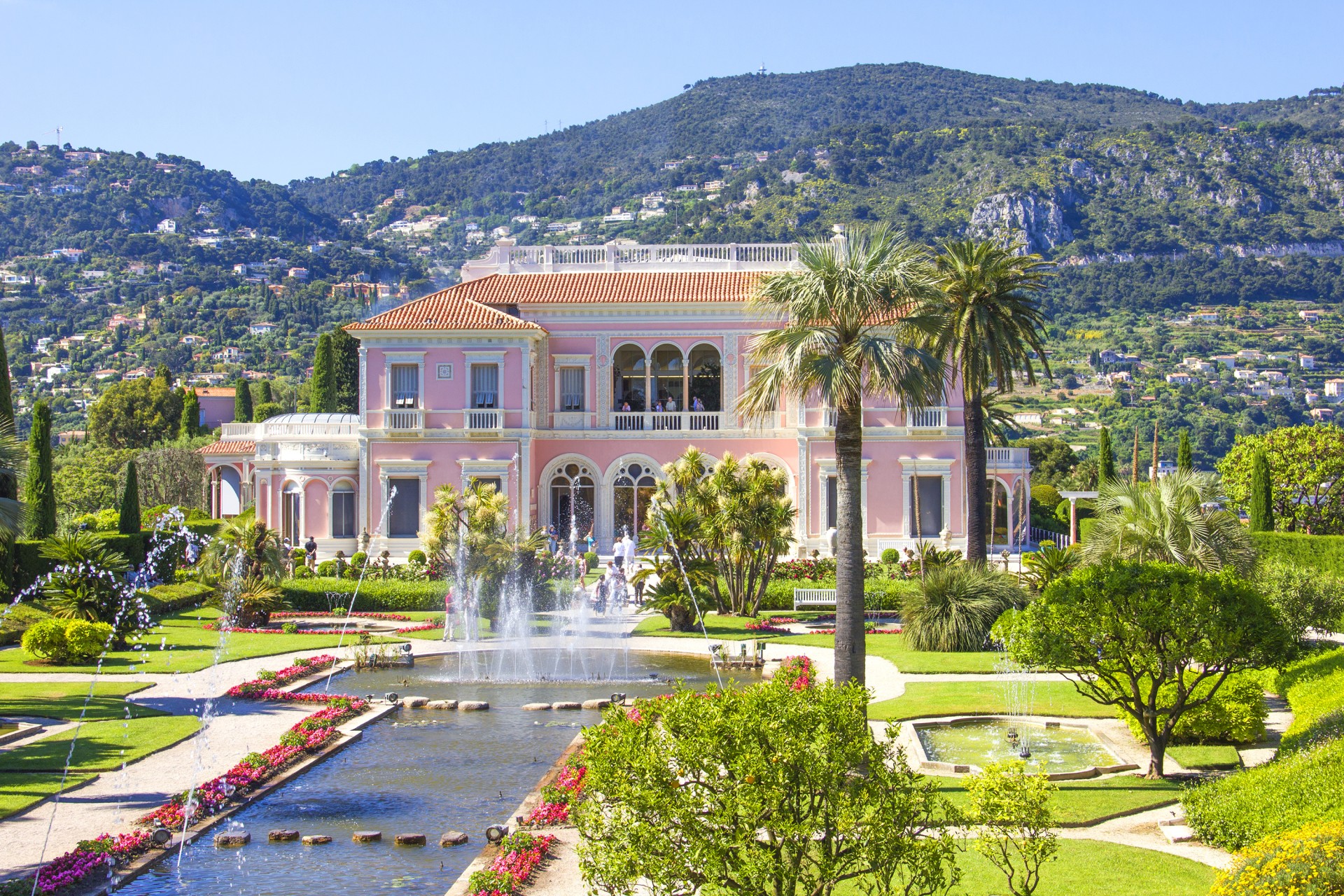 Also known as Villa Île-de-France, the Villa Ephrussi Rothschild was built by Baroness Beatrice de Rothschild in the early 1900's. Beatrice was somewhat of an art fanatic and was always looking for ways to let out her creativity. Its just so happened that Beatrice's husband had a rather well-known cousin by the name of Théodore Reinach. Reinach was what you would call a Grecophile, meaning he was obsessed with all things Greek. As a tribute to his passions, he wished to construct a faithful rendition of a rich Athenian house from the 5th century BC. Which he did. And rather magnificently at that. Today, you can visit this gorgeous Greek Kérylos Villa in Beaulieu-sur-Mer.
Inspired by his work, Beatrice too wished to construct her very own Italian-style Villa nearby. And where better to build it then atop Saint-Jean-Cap-Ferrat. Perfectly overlooking the beautiful landscape and enchanting Mediterranean Sea. Construction took a little over 5 years, but in the end, Beatrice's dreams of her flamboyant villa became a reality.
Highlights of the Villa Ephrussi de Rothschild
The Villa
Decked entirely in opaque, the villa certainly isn't something you could miss. The interior houses an impressive collection of priceless paintings and sculptures that the Baroness amassed over the years. You certainly can't doubt that she had an eye for works of art. Two floors decorated from head to toe in some of the most elegant décor imaginable. It looks like a palace fit for a King!
If you really want to sit and enjoy the villa, then why not take lunch in the tearoom? The perfect place to sit and have a light snack in a charming atmosphere. Plus, nothing beats some freshly baked French pasteries.
The Gardens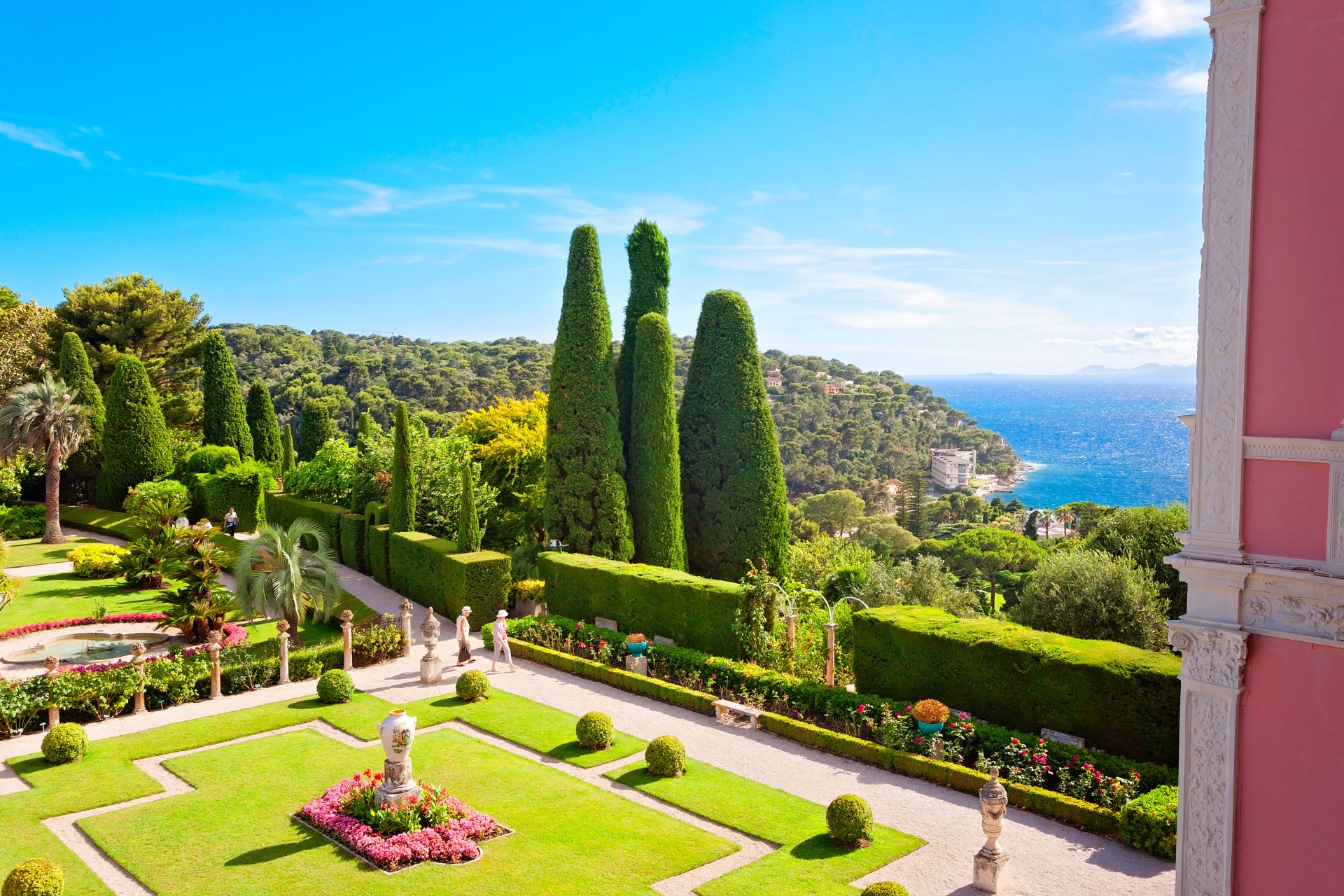 The magnificent gardens are equally as impressive. The Villa Ephrussi Rothschild houses 9 different themed gardens:
French Garden
Spanish garden
Japanese garden
Florentine garden
Exotic garden
Provençal garden
Stone garden
Rose garden
Garden de Sèvres
Each themed garden is a careful selection of some of the most beautiful flowers and trees in the world. If you're any bit into horticulture, then you'll be in heaven here. If you really want to experience the very best of the gardens, then you simply cannot miss out on the Rotchschild Rose and Plant Festival which takes place early May.
How to get into Villa Ephrussi Rothschild
Lucky for our tourists, the Villa Ephrussi Rothschild is open to the public all year round! What's more, tickets are just EUR 13 for adults and EUR 10 for students and children. You're more than welcome to tour the villa and gardens by yourself. However, if you're interested, private guided tours are also available. It's a great way to discover the entire history behind this gorgeous attraction.
And speaking of guided tours, why not consider discovering some other French cities? Consider booking a private tour of Nice, Cannes or Monaco! After all, its not everyday that you get to vacation on the Cote d'Azur. So why not make the most of it?!
How to get to Villa Ephrussi Rothschild from Nice
The great thing about Villa Ephrussi Rothschild is that its only a stone's throw away from Nice. The two most convenient modes of transport is of course by either bus or train. If you're considering taking the bus, then we recommend taking Bus No. 81. You can get this bus either from the Promenade des Arts or the Port bus stops. From there, you simply hop off at the Plage de Passable/Rothschild stop and there you are. And what's more, bus tickets are only EUR 1.50! That's so cheap!