THE ESSENTIAL GASTRONOMY OF NICE AND THE COTE D'AZUR –
A real culinary art exists in Nice and it does largely contribute to the art of living on the Cote d'Azur. If we speak of the "bouana couina nissarda", this is all about the "good niçoise cuisine". It is good to know and respect it. The locally fresh traditional cuisine is the product of an original story, consisting of multiple contributions of many different cultures.
For the basics, you should not accept green beans or potatoes in the real and original salad niçoise., and also, do not fall in the cross an all too common mistake to put tomato in the pissaladière … However, niçoise cuisine must not remain fixed, under penalty of disappearing … It has evolved continuously over the centuries.
For sure, you need to try and taste fresh locally produced fruist and vegetables, nd you need to discover the local cuisine with the Label "Cuisine nissarde". You have to discover the real flavors of the local traditional cuisine which is part of France food culture, with the famous "soupe au pistou", the "petits farcis", or the "daube niçoise" … But do not hesitate to innovate, to evolve this culinary tradition Nice.
Of course, no question of making "new for no reason": do not mix pineapple with skewered anchovies; do not add Chantilly cream on the socca! And what does the biomolecular add to the tapenade? Let's leave these desperate attempts of our supposed Grand Chiefs. Let's keep it simple.
Niçoise Cuisine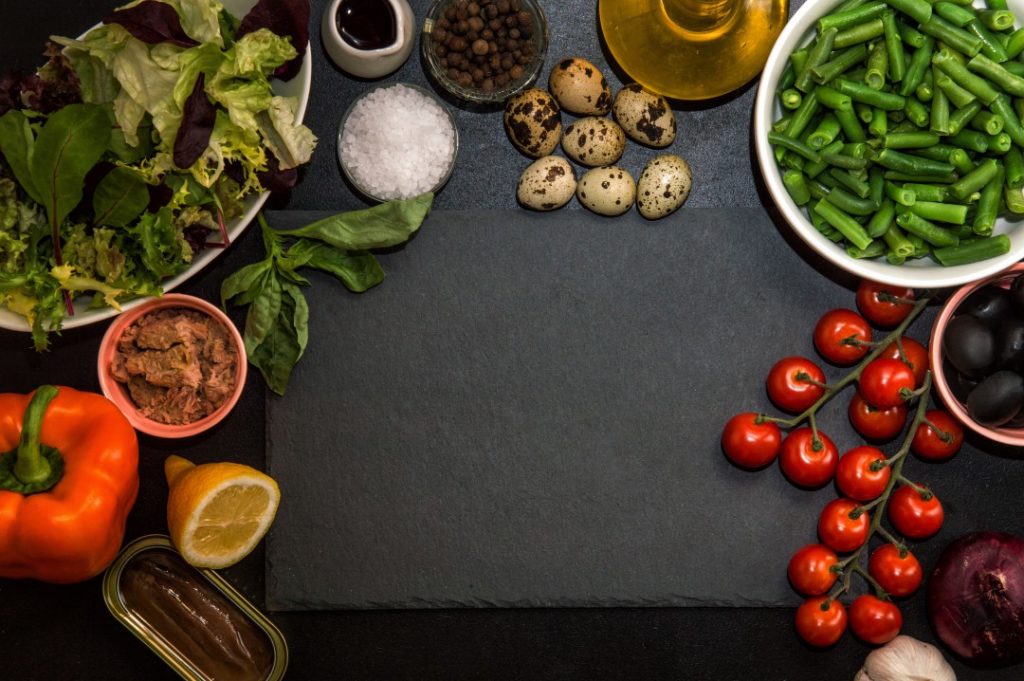 France, the Cote d'Azur and Nice offer us a wide choice of local dishes. Come discover with us the emblematic gastronomy of the Côte d'Azur …
The Tapenade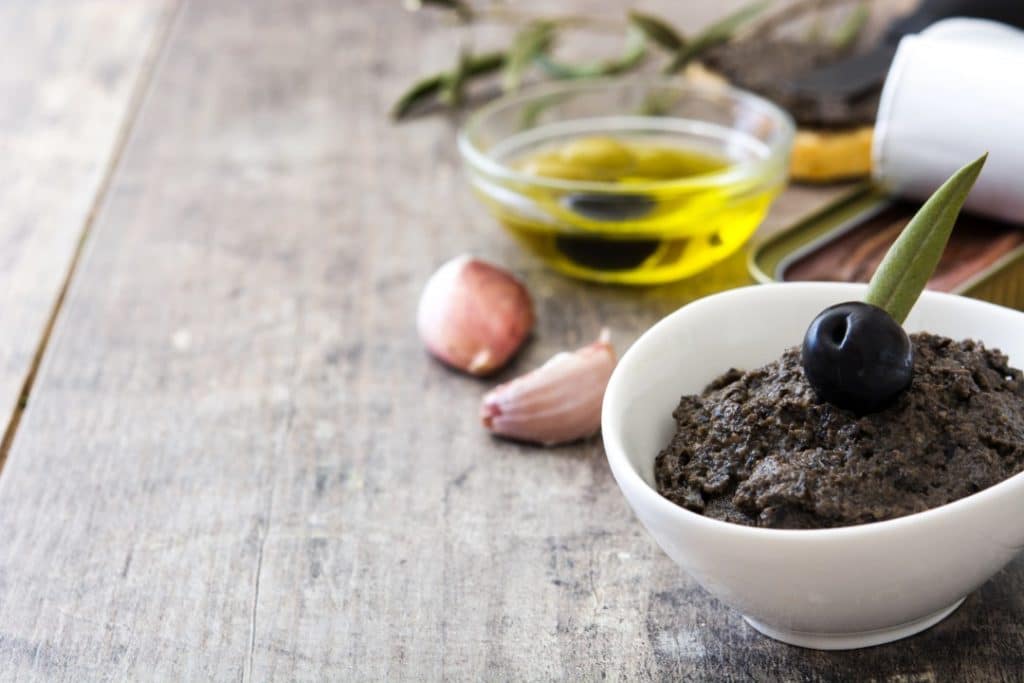 Typically Provençal, tapenade was invented in Marseille in 1880. It is a mixture of olives, green or black, capers, anchovy fillets, garlic, and olive oil.
You can enjoy it as an aperitif or as a starter, on toast or with vegetable sticks to dip!
Socca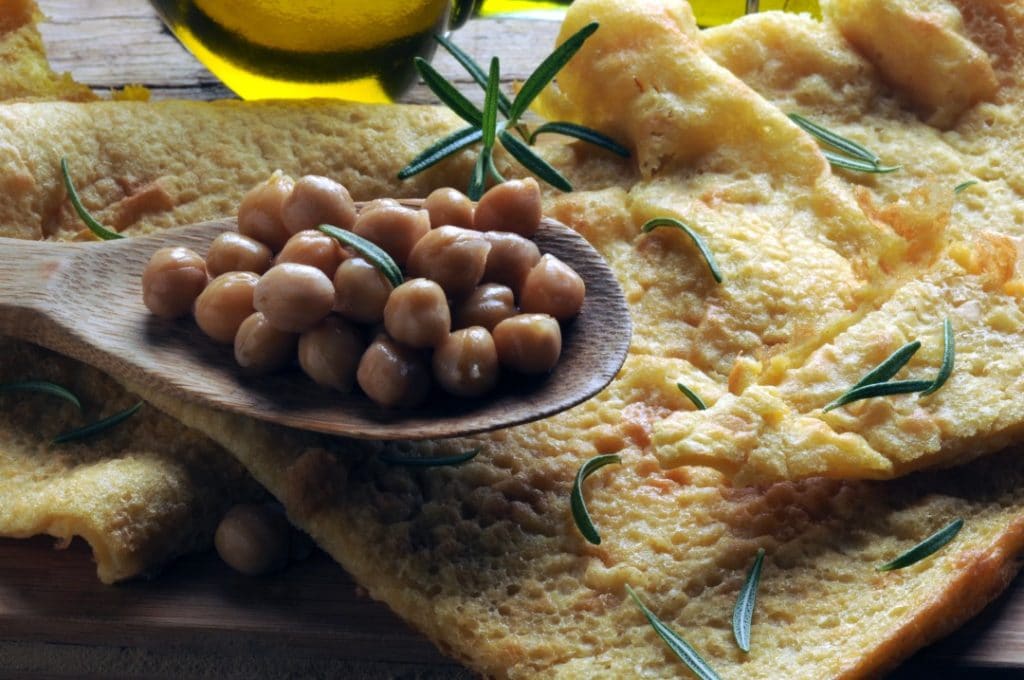 Socca is a very rich Mediterranean cake. It is made from chickpea flour, and it is eaten as a hot aperitif!
The Famous Niçoise Salad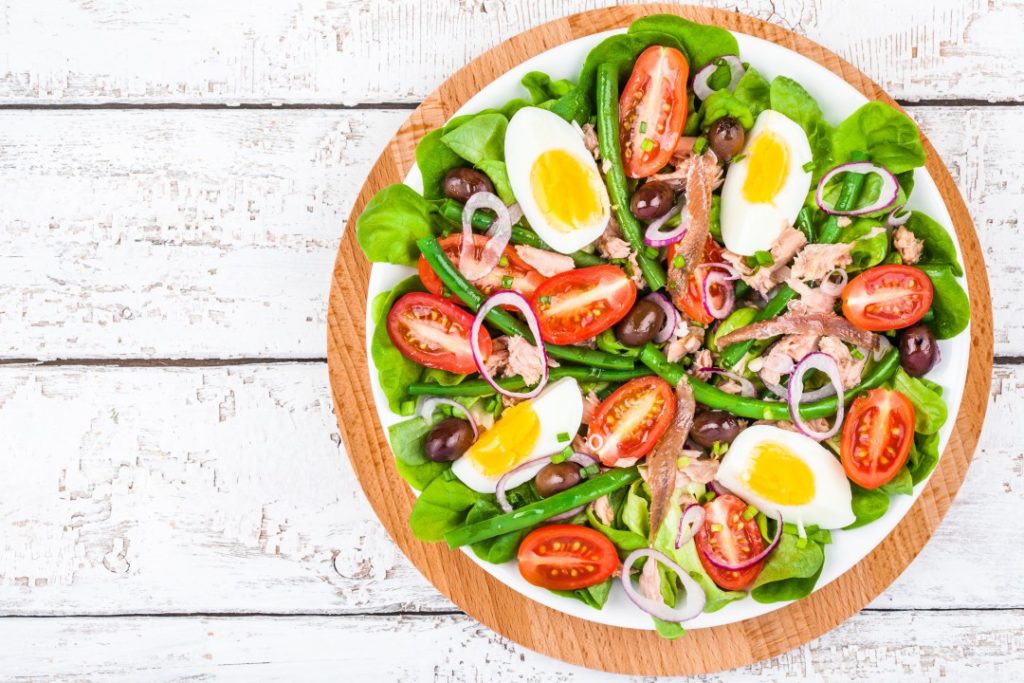 This salad contains tuna and a multitude of raw vegetables: tomatoes, cucumber, boiled eggs, green peppers, onions, artichokes as well as olive oil.
The recipe can vary according to the tastes of each and the adaptations of the restaurants.
Ratatouille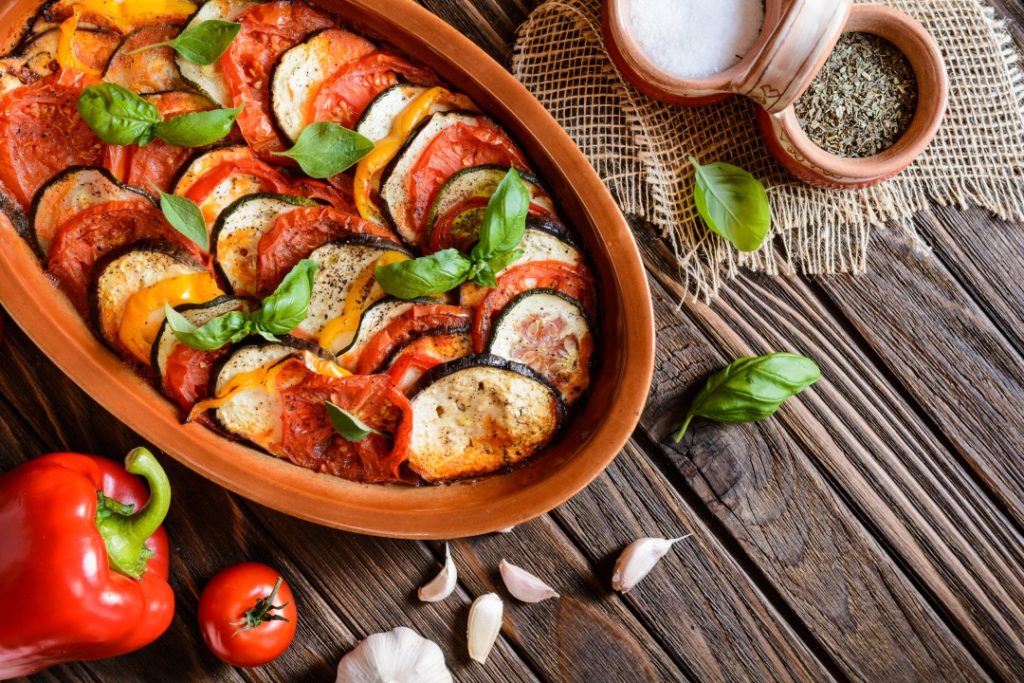 This very healthy dish is often used as a side dish. It is cooked with several vegetables diced or sliced: tomatoes, zucchini, eggplant and sometimes even peppers. It is associated with a little garlic or onions as well as herbs from Provence.
Aioli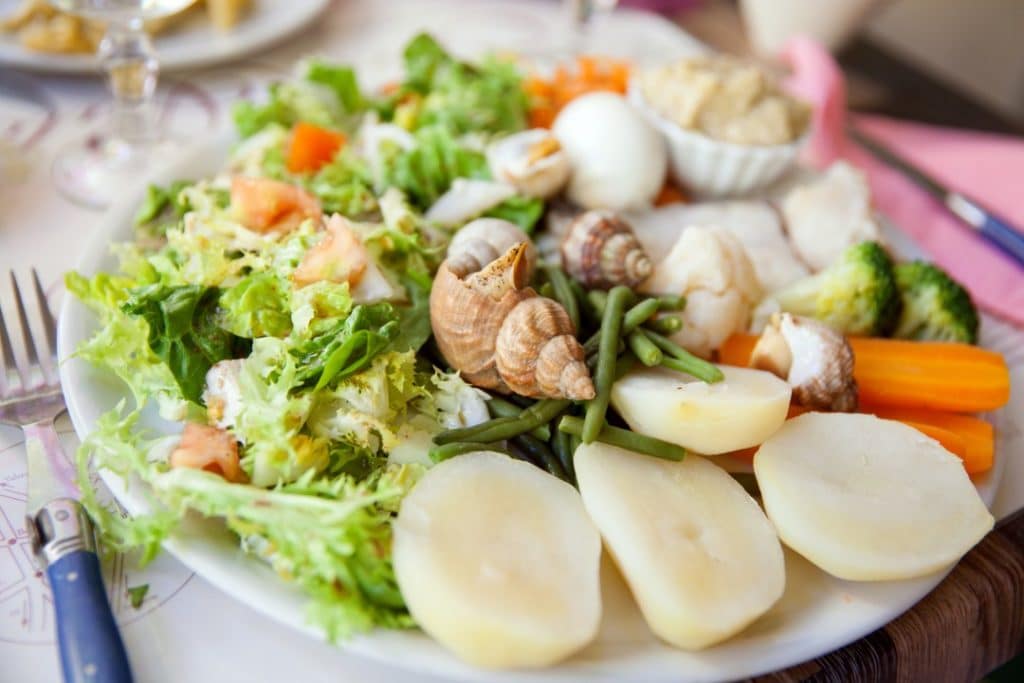 Aioli is a very typical Provençal dish. It is composed of either cod or cod and accompanied by boiled vegetables. Most often the selected vegetables are carrots, green beans, and potatoes.
It takes its name from the sauce that accompanies it: the aioli, with olive oil and garlic.
Bouillabaisse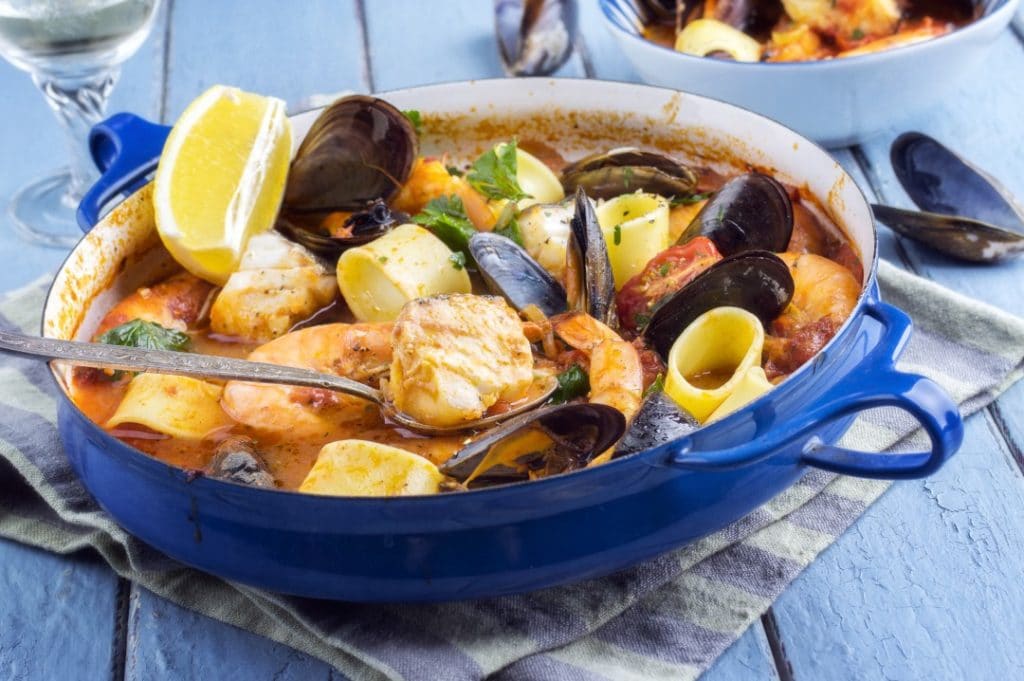 This traditional dish from Marseille also has Niçoise version. The Bouillabaisse consists of a fish soup with. Racasse, Saint-Pierre, conger, sea bream, whiting, monkfish, gurnard ad more, and it is accompanied by croutons and "rouille", the typical sauce of the region. The fishes are cooked with garlic, olive oil or saffron to get a flavorful soup.
Pistou Soup / La Soupe Au Pistou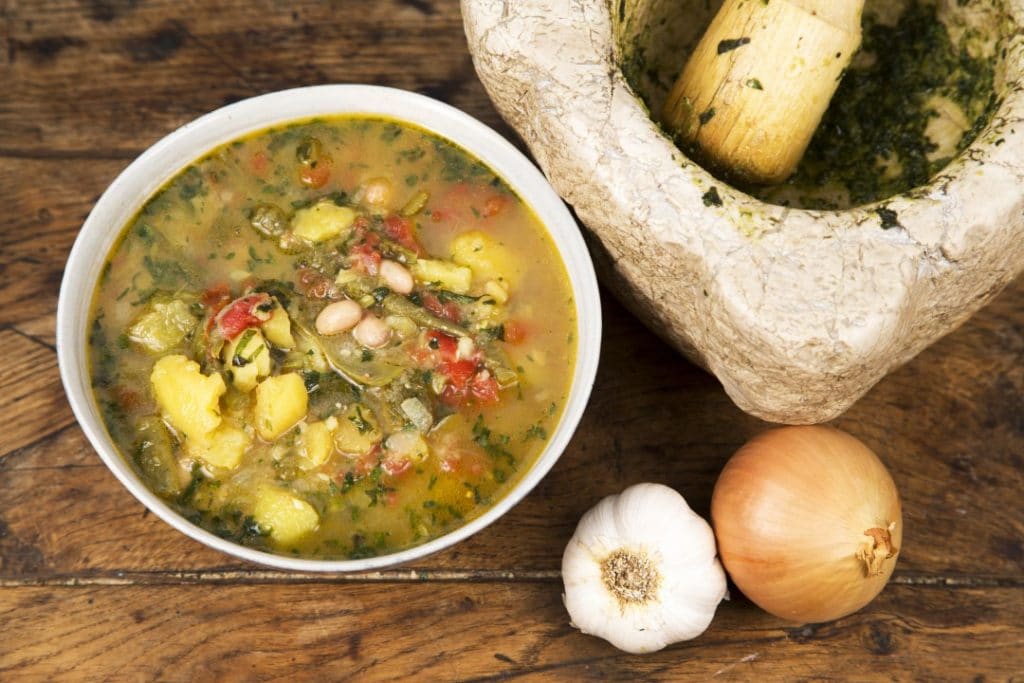 She is a great classic of Provencal cuisine. It's a vegetable soup with red, white and green beans, zucchini and potatoes. It is eaten with a sauce made of basil, the pesto, garlic, olive oil, and tomato.
Daube / La Daube Niçoise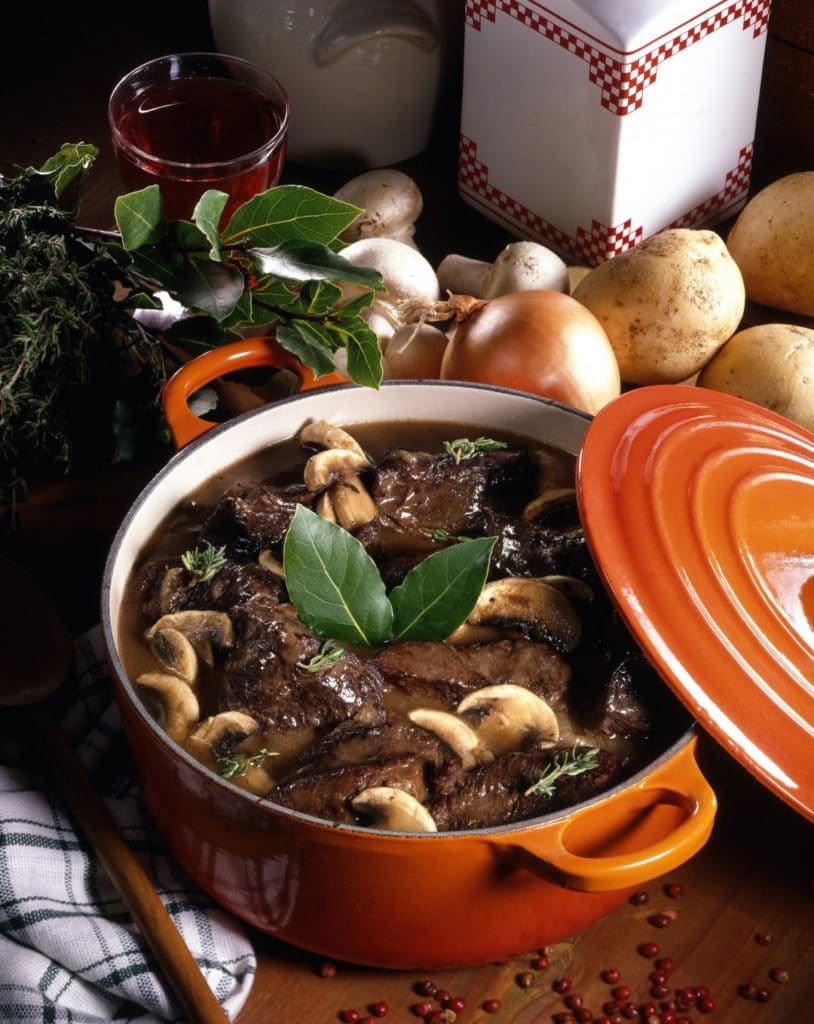 The stew is a Provencal specialty. This dish is based on beef most often but it can also be prepared with mutton, lamb, bull or wild boar. The meat is marinated in red wine or white wine and then topped with olive oil, herbs, onions, and garlic. This dish goes very well with cooked vegetables, most often carrots.
"Tripes a la Niçoise" / Guts Niçoise style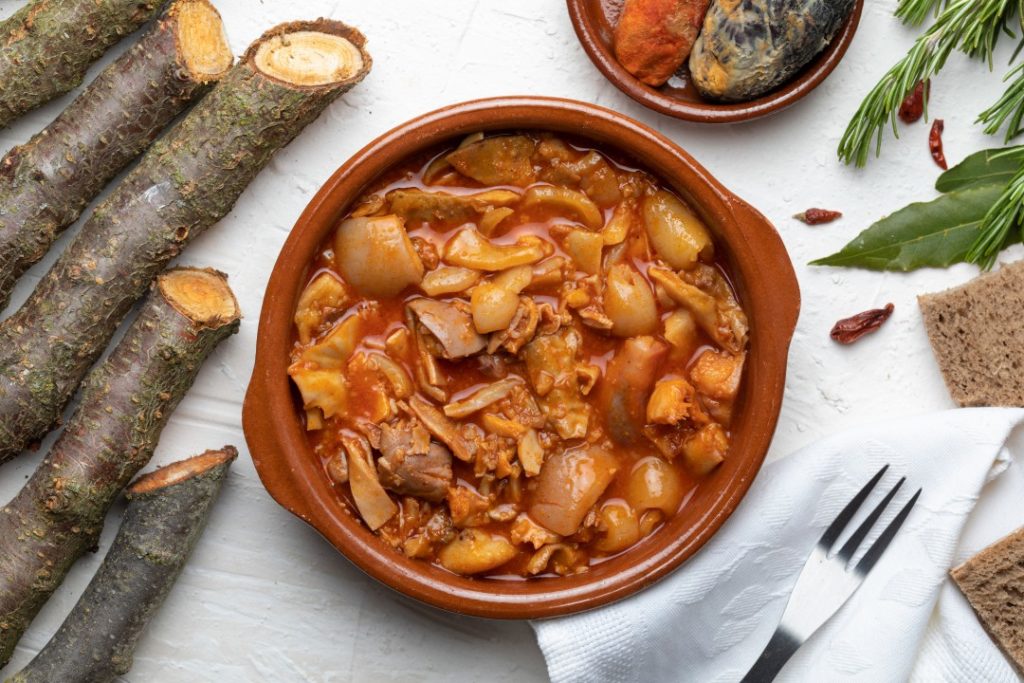 This dish is made with tripes and mixed with tomatoes, onion, white wine, and olive oil. This is a simple and tasteful dish, so don't be afraid to try it.
Pissaladière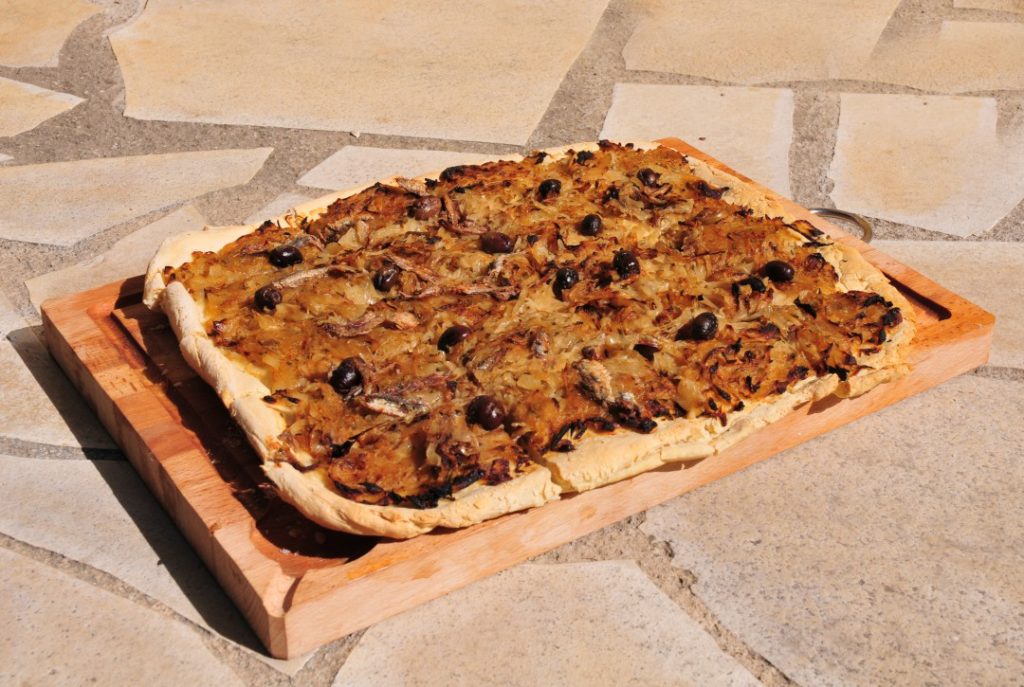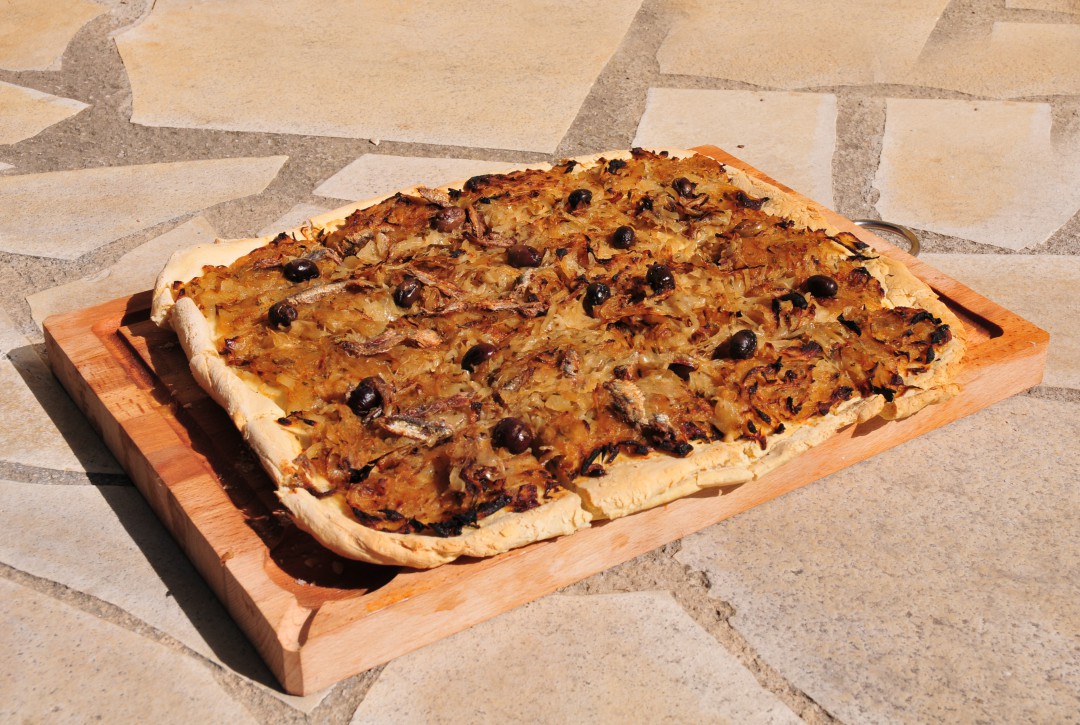 The pissaladière comes from Nice. It is a pie made of onions and mashed anchovies and salted sardines (pissala). It is most often covered with black olives.
Fougasse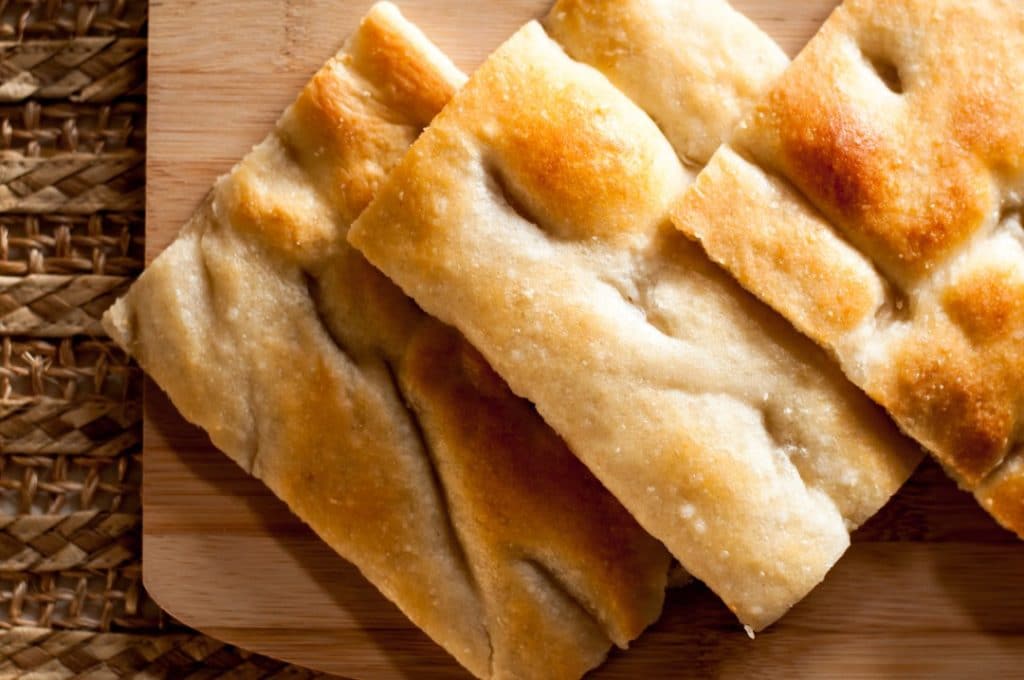 The fougasse is a soft crust bread with a thick and very soft crumb. Most salty and are embellished with various ingredients: olives, anchovies, bacon, cheese … And many other compositions according to taste! There is also the sweet fougasse, perfumed with orange blossom.
Pan Bagnat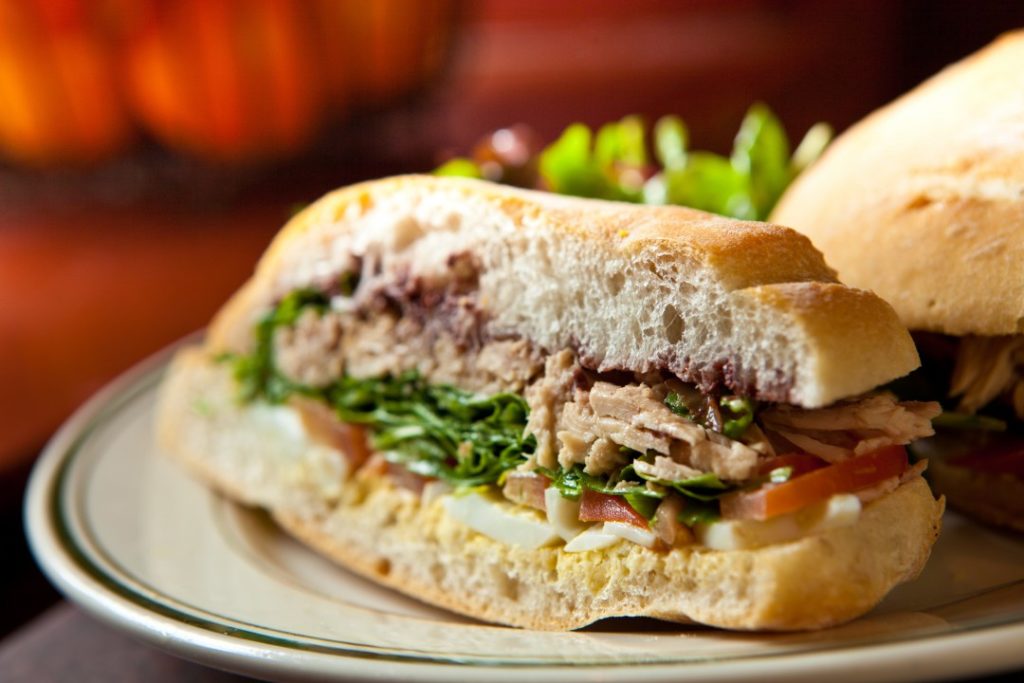 It is emblematic of the region of Nice and it is also found throughout Provence. It's a sandwich of tuna and raw vegetables. His bread is soaked with olive oil before being garnished. It is left to soak to get all its flavor and softness.
For Dessert: Calisson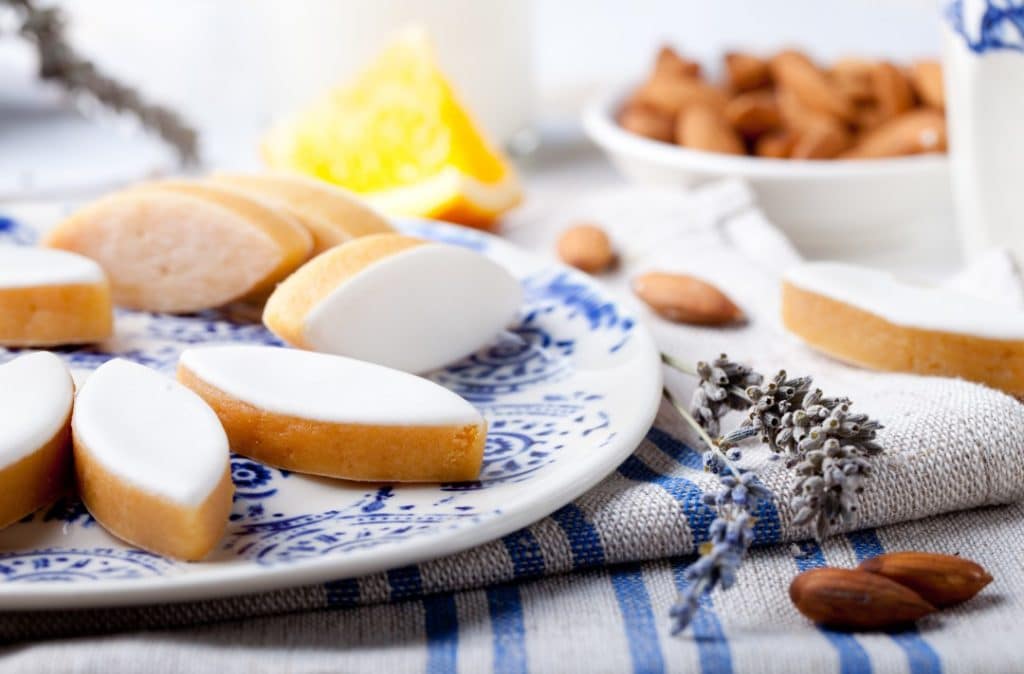 Calisson has been a specialty of Aix-en-Provence for centuries. It is a confectionery made with candied melon and almonds, topped with royal icing. It is often scented with orange blossom. Perfect as a dessert.
But we cannot close this blog without talking about olives and olive oil …

Full of sunshine, the local olives are succulent and world-famous. This variety, named Cailletier, gives a sweet oil, beautifully colored, unctuous and tasteful, which illuminates the Provençal flavors.
This typical olive tree of Nice delivers three products: the olive, the oil, and the olive paste, all united under the name "Olive of Nice", a denomination of controlled origin. Some of the best olive oils in Nice are still made out of an oil mill is still in operation in Nice manufacture.
If you want to know more about Nice…