Provence – Alpes – Cote d'Azur – Cannes- Region Sud
Cannes is a city characteristic for its glamour and provincial charm. It is part of the inviting and picturesque PACA (Provance-Alpes-Cote d'Azur) region. This region is considered by many the most beautiful region in France. Here you can find medieval cities, picturesque villages, antique Roman ruins, natural beauties and many more. Read more about it here.
As you can see from the pictures below, Cannes is extremely well positioned.  It's located on the French coast of the Mediterranean sea, on the area called Cote d'Azur. Once you visit it you will quickly understand why it's called like that – the sea colour is just extraordinary. The proximity to other tourist hotspots such as Nice (35 km), Monaco (54 km) and Saint Tropez (86km) is another plus of Cannes tourist asset.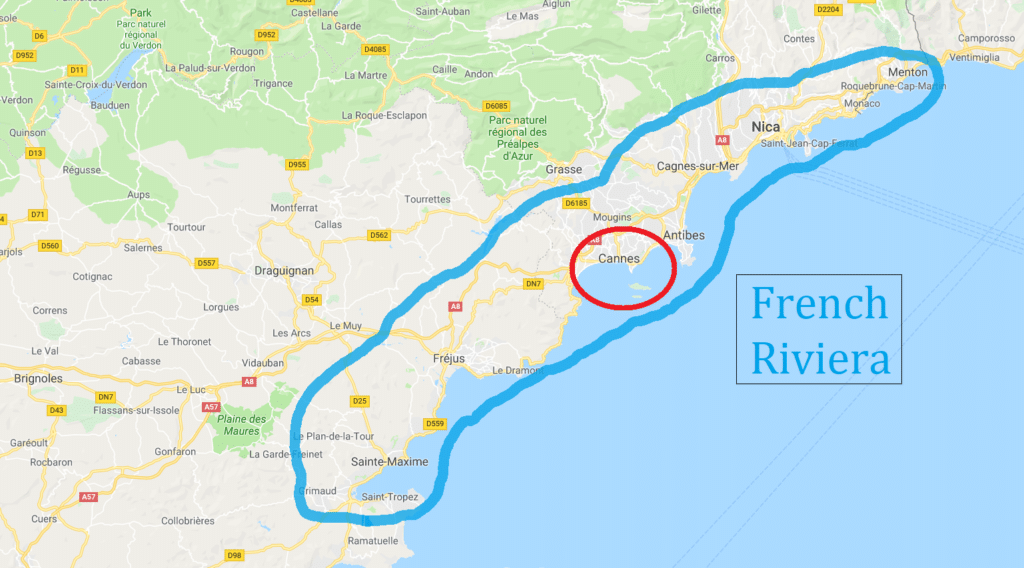 Cannes Map – a Brief Overview
On the map below you can see the complete city of Cannes. It is divided into several quartiers – Cannes La Bocca, La Croix Gardes, Californie Pezou and the inner city of Cannes. Also, here you can find one of the symbols of Cannes – Lerins islands; Saint Marguerite and Saint Honorat.
Map of the best areas to visit in Cannes
We will concentrate on the inner city of Cannes. On this Cannes map, everything you see is in the walking distance.
Using my incredible photoshop skills, I have sketched the best places to visit in Cannes, according to my personal preferences. You can visit all of those marked places in just a couple of hours. If you want to learn more about the vibrant history of Cannes, perks of its festival and many more – sign up for our walking tour of Cannes!
On this map of Cannes, you can see the following 5 areas.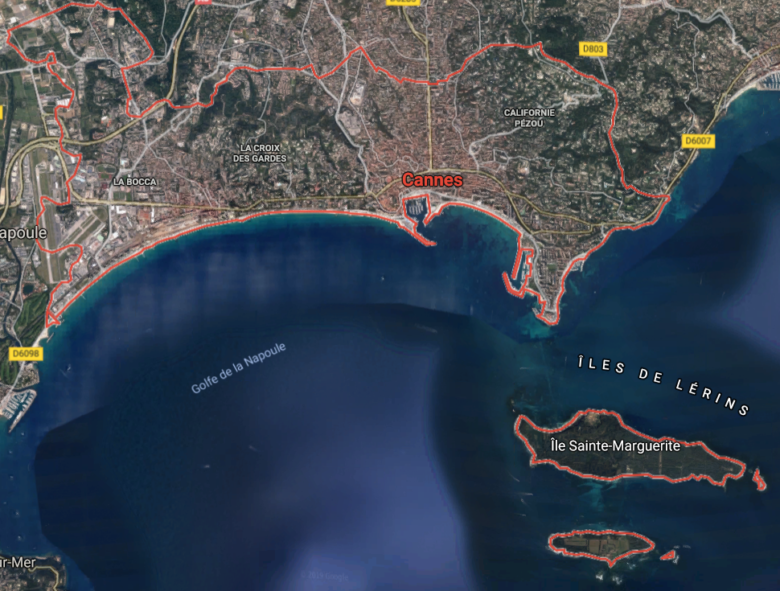 Boulevard de la Croisette – Definitely the highlight in Cannes. This 3-kilometers long promenade is one of the most beautiful in the world. On one side there are white sandy beaches. And on the other, you can find a 5-star hotel after 5-star hotel, casinos and famous retail stores. Visit la Croisette in the evening – when it is illuminated – for the full experience.
Cannes Old Town 

– Old Town in Cannes is a superb example of a Provencal charm. Be sure to check out the following spots:

Rue Meynadier – most popular shopping street in the Old town
Marché Forville – biggest market in Cannes
Le Suquet – The oldest district in the Old Town
Notre Dame d'Esperance – most important church in Cannes
Musée de la Castre – medieval castle of Cannes that is nowadays a museum

The old port of Cannes: visit Lerins islands

 – a more popular island for tourists is Saint Marguerite, the bigger of the two islands. Saint Honorat is inhabited only by 40 Cistercian monks who divide their time to praying, studying and producing red and white wine. Another must-do is boarding a boat and visiting the blue lagoon in between two islands.
Rue d'Antibes – Upon your stay in Cannes, don't miss out on the most famous shopping street in Cannes. Here you will find more than 70 top world brands, making Cannes prime shopping destination.
Palace of Festival and Congress 

– 

Glorious postmodern-looking palace with a glass facade that hosts several festivals and numerous congresses every year. The most famous festival is for sure the International Cannes Film Festival, where, next to other things, movies compete for the famous Palme d'Or.  This "Festival International du Film" is being held every year in May.