Flight to The French Riviera Capital – Nissa la Bella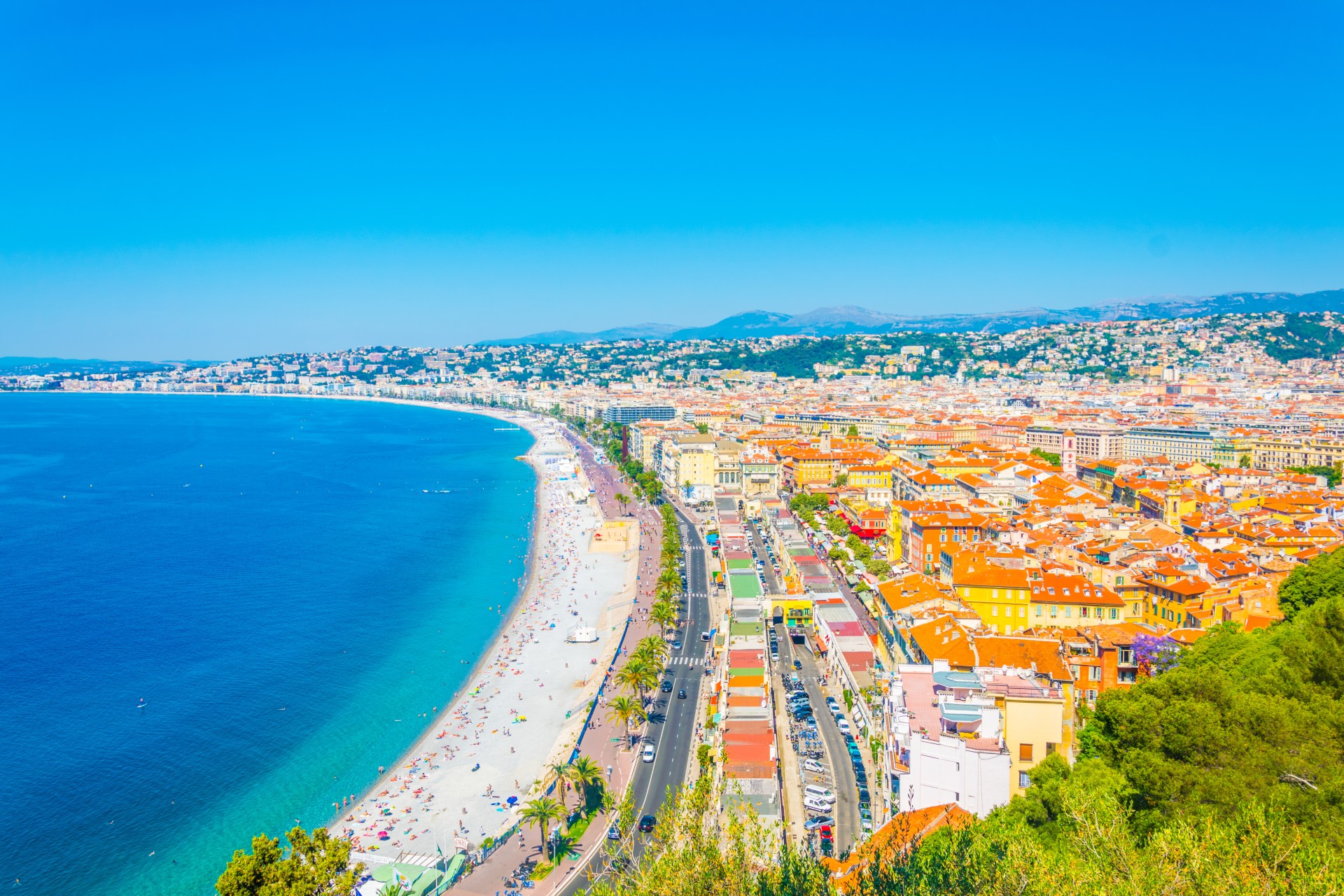 Down along France's south-east coast is where you'll find the famous French Riviera. With miles of Mediterranean coastline, year-round sunshine and breathtaking picturesque landscapes, it's considered the most beautiful region in all of France. And right at the heart of the Riviera is its capital city of Nice. Also sometimes referred to as Nissa la Bella or Nice the Beautiful.
Nice is France's fifth largest city and has a population of about 340,000 inhabitants. However, despite its relatively small size, Nice attracts over 5 million visitors annually, making it France's second most popular tourist destination. And quite frankly, its no real surprise that so many people decide to visit the south of France. After all, the city is full of so many wonderful attractions and opportunities!
What is Nice Airport called?
The airport here in Nice is called the Nice Côte d'Azur Airport. It is the second busiest airport in France after Paris with almost 15 million passengers annually. Airlines connect Nice with over 114 destinations in 40 countries. The Nice Côte d'Azur Airport is also the only airport catering to the entire Riviera region. However, with how fantastic the Cote d'Azur transport networks are, getting anywhere along the coast couldn't be easier!
What time does Nice Airport open?
As with most airports, the Nice Côte d'Azur Airport does not remain open through the night. The airport itself opens from 6 am until the last flight, which is usually at midnight. Something else to be aware of is that stores and restaurants within the airport close earlier than the airport itself, usually at about 10 pm at the very latest.
Which airports fly to Nice?
Booking flights to Nice is never too much of a hassle. However, its important to be aware that not every airport has a direct flight to the south of France, and that your airport options can be limited depending on which airline you plan of flying with.
For example:
Ryanair:
Ryanair is a personal favourite for all us travelers hoping to save a little extra cash on our plane tickets. And while Ryanair certainly have the most affordable prices around, their flight to Nice only go from Dublin, Stuttgart and London Stansted. So if you're within reach of any of these three airport then great! If not, you'll unfortunately have to try with a different airline.
EasyJet is another rather popular airline amongst frequent travelers. Not quite as cheap as Ryanair, however, they do provide flights to Nice from over 45 different international airports. So you certainly don't have to worry about being limited to your options.
How long is the flight from Paris to Nice?
On average, a flight from Paris to Nice will be about an hour and a half. That goes for either of its two airports of Roissy Charles de Gaulle or Orly.
How long is the flight from Bristol to Nice?
For a flight from Bristol to Nice, you should expect for the flight to last just over 2 hours. Provided it's a direct flight of course
How long is the flight from Manchester to Nice?
Similarly, from Manchester to Nice, you're looking at a 2.5 hour flight.
How long is the flight from London to Nice?
In London itself, you have 6 airports. That of London City, London Gatwick, London Heathrow, London Luton, London Stansted and London Southend. A flight from London to Nice from any of these airports will take you just over 2 hours.
What to do in Nice
Lucky for our tourists, there's never a boring day in Nice. The city has plenty of attractions to keep its guests busy from morning 'til night. So whether you're spending your vacation right here or just passing through, there's more than enough activities for you to enjoy!
For starters, you may notice a particularly unique atmosphere as soon as you arrive to Nice. Having been influenced by centuries of different civilisations, Nice has cultivated its own perfect blend of French and Italian culture, while adding its own little touches to the mix. And what better way to discover all about this unique and fascinating culture than with a Guided Nice Walking Tour?! Allow our expert local guides to take you on a journey through time as you discover some of the best sights and hidden gems the city has to offer. Or go that step further and organize your very own Private Nice Guided Tour. Enjoy the benefits of having your very own personal guide and being able to customize the tour to suit you and your group!

Even explore the culture of Nice in an even more unique way by taking part in a Food Tasting or Wine Tasting tour. Combine the thrill of exploring this beautiful city with the mouthwatering joy of trying some of the best flavours of the Cote d'Azur. Discover the great taste of Nice one bite at a time!
Looking for something a bit more out there and adventurous? Well then get your swimsuits ready because nothing screams adventure like Canyoning down the riptides of Nice's Gorges du Loup. Or even try your hand at some Stand-Up Paddling out on the Mediterranean Ocean. After all, when you're this close to so many bodies of water, it would be a waste not to take advantage of it.
And of course, one of the best features about Nice it that here, you really get the best of both worlds. Want to visit the snow-capped mountains of the Alps and go on a ski trip? Well the ski resort of Isola is no more than an hour's bus ride from Nice! And after you've enjoyed your time playing in the snow? Well come right back down to Nice and warm yourself up on the beautiful pebbled beach! Where else can you do that?!
Want to organise the perfect vacation for you and your entourage? Well then don't hesitate to contact us via our email (info@rivierabarcrawl.com)!