Discover the South-East Coast of France!
The French Riviera, 550 miles of breath-taking Mediterranean coastline that stretches along the south-east corner of France. Within the Cote d'Azur region, you'll find many beautiful and well-known cities: Cannes, Monaco, Antibes, Saint Tropez. But none of them quiet compare to Nice. The pebble stone beaches, the quaint streets of the Old Town, the historical monuments, there's just so much to discover. And what better way to do that than by taking part in one of our fantastic Nice city tours?!
Nissa La Bella
Before getting into the amazing tours offered by our company, I suppose I'll start with a little introductory to Nice itself. Nice, is France's fifth largest city with a population of just over 340,000 people. However, it is the second most popular tourist destination. The first of course being Paris. The French Riviera attracts over 10 million tourists annually. Yet the city of Nice alone attracts 5 million of them. Whether its sun searchers or art fanatics or history buffs, they all flock right here to this amazing city.
Nice's history is a rather interesting one. From a Greek colony to Roman settlements to having been under the control of the Kingdom of Sardinia. As a result of all this, the city truly has developed a culture unlike any other French city. Some people even comment that the atmosphere here in Nice doesn't even feel French at all! That of course is even further influenced by the international population we have here. The city is practically a cultural mixing pot.
Our Tours
Here at Riviera Bar Crawl & Tours, we have years of experience in the tourism industry. We know just how amazing Nice is, and we want to share that with all the fantastic tourists that visit every year. Leaving you with the most memorable experience possible is our top priority! And we like to think we've been succeeding in this regard so far. Our local and bilingual guides know the city like the back of their hand. Follow them and they'll lead you to some of the most fantastic attraction on offer. And the best part about our Nice tours? They're free! Yes, you heard correctly, FREE! So it would be a waste not to check it out.

Day Tour
Our day tour begins at the main plaza, Masséna Square. Be sure to keep an eye out for the guide with the red umbrella! From here you'll discover some of that many quirky little features we have here in Nice. Ever seen building covered in painted windows? Well you're about to. A particular favourite for our tourists is the Cours Saleya flower market. We never get tired of all the vibrant colours and the hustle and bustle of the market. And don't worry, we'll even give you some time to go and explore Cours Saleya for yourself! Maybe grab some scented bag of lavenders. Or perhaps even some fresh fruit to take for the road. We highly recommend grabbing some Socca at one of the nearby stands. It's a local specialty here in Nice. And a rather delicious local specialty at that!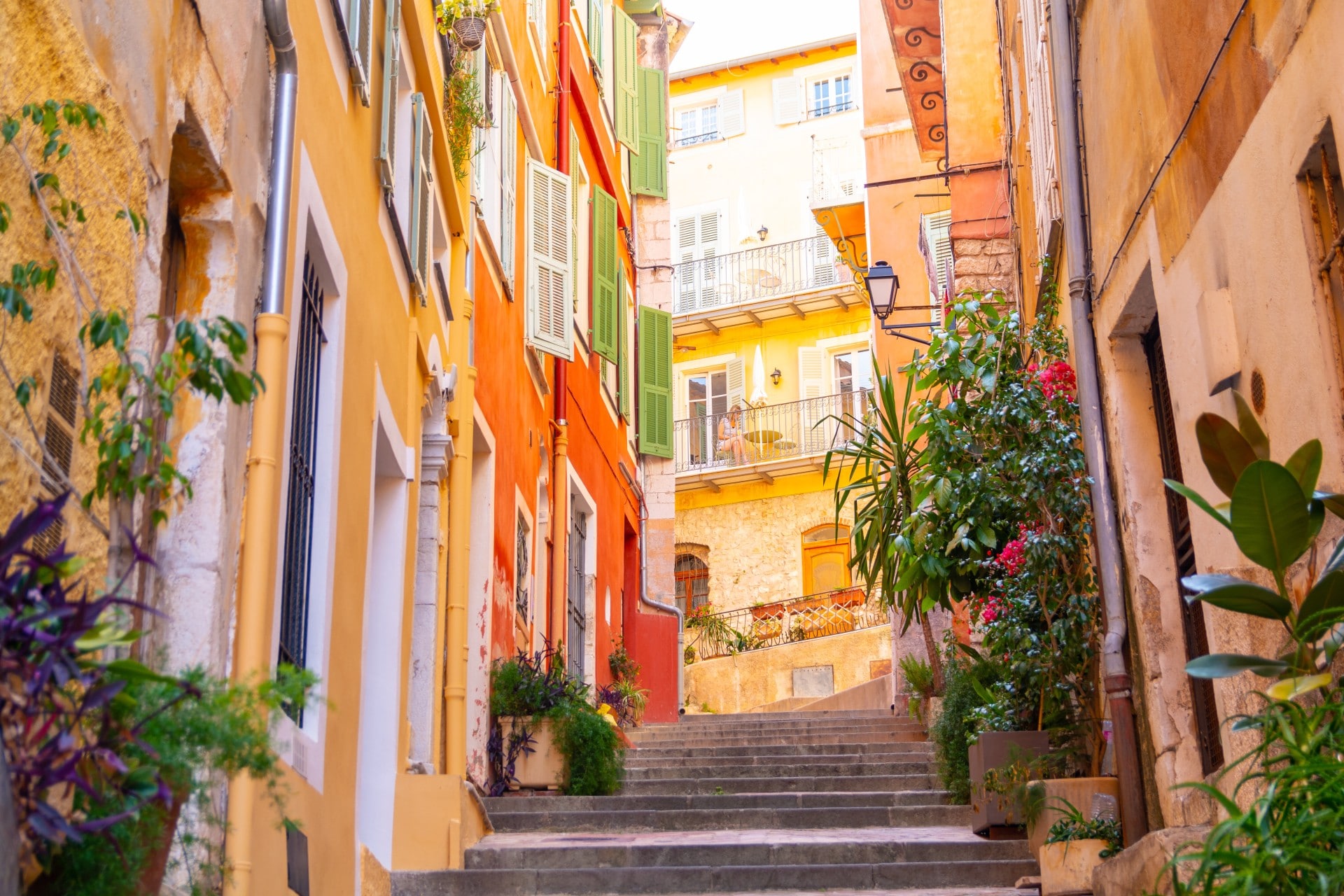 From here, we'll weave our way through the narrow streets of Old Town Nice. The cobblestone streets and the tall stone building truly make for an enchanting sight. You'll almost feel like you've gone back in time. Its then onto the top of Castle Hill. And its here where the real magic is. The top of Castle Hill is where you'll find some of the best 360 panoramic view of the city. Also where you'll get a terrific view of Nice's famous Promenade des Anglais. Ever wondered how the walkway received its name? Well its your guides job to tell you!
Night Tour
Unlike our day tour, our Night Tour takes more of a look at contemporary Nice. Together we'll take a more insightful look into Nice customs and traditions and how it's been influenced by many different cultures. You never know, you may even discover features of your own culture here too! Taking a different route to that of the day tour, we'll a stroll through the gorgeous Promenade de Paillon before heading out onto the Promenade des Anglais. The sunset doing down, the sound of the waves in the background and the cool ocean breeze. You truly won't ever want to leave. And we don't blame you.
Other Tours on Offer:
There's more than one way to explore Nice. Yes, our walking tours are a fantastic option for people of all ages. But why not spice it up a little bit by joining one of our Food & Wine Tasting tours?! A great way to discover Nice one bite/sip at a time. We have plenty of delicious local specialties just waiting to delight your taste-buds.
If you'd like to get out of Nice for a bit, then we also offer our fantastic walking tours in Cannes, Monaco and Antibes. Want to make it a private event? Then don't hesitate to contact us via our email (info@rivierabarcrawl.com) and we'll organise the ideal tour for you and your group.
And if you're looking for something to do during the evenings then our Nice Bar Crawls are a great option! Meet fun-loving internationals such as yourself and discover the very best of Nice's nightlife. Enjoy free shots, drink discounts, wild games and free entry into each venue! What more could you ask for.
Other Great Articles:
Want to learn more about Nice? Then check out some of our other fantastic articles!