Nice Walking Tours Explore Nice by Foot
Looking to discover just how Nice received the nickname 'Nice La Belle' or 'Nice the Beautiful'? Well look no further! Our walking tours offer riveting tours of Nice for individuals of all ages. Whether your interests lie in Sightseeing tours, Historical tours, etc, our Nice walking tours will have something for you.
Perhaps even take part in one of our popular Nice Food Tours! A great way to explore this beautiful city and also try some of the local cuisine. You'll be taken to the hidden gems of Nice's food scene, where you'll have the opportunity to taste many unique Niçoise specialties. You simply cannot come to Nice without trying some Pan Bagnat. And lucky for you, we know exactly where to get the best ones! And of course, it wouldn't be France if you didn't enjoy a glass of true French wine with your meal. So that's yet another added bonus to look forward to during your trip!
What do our tours include?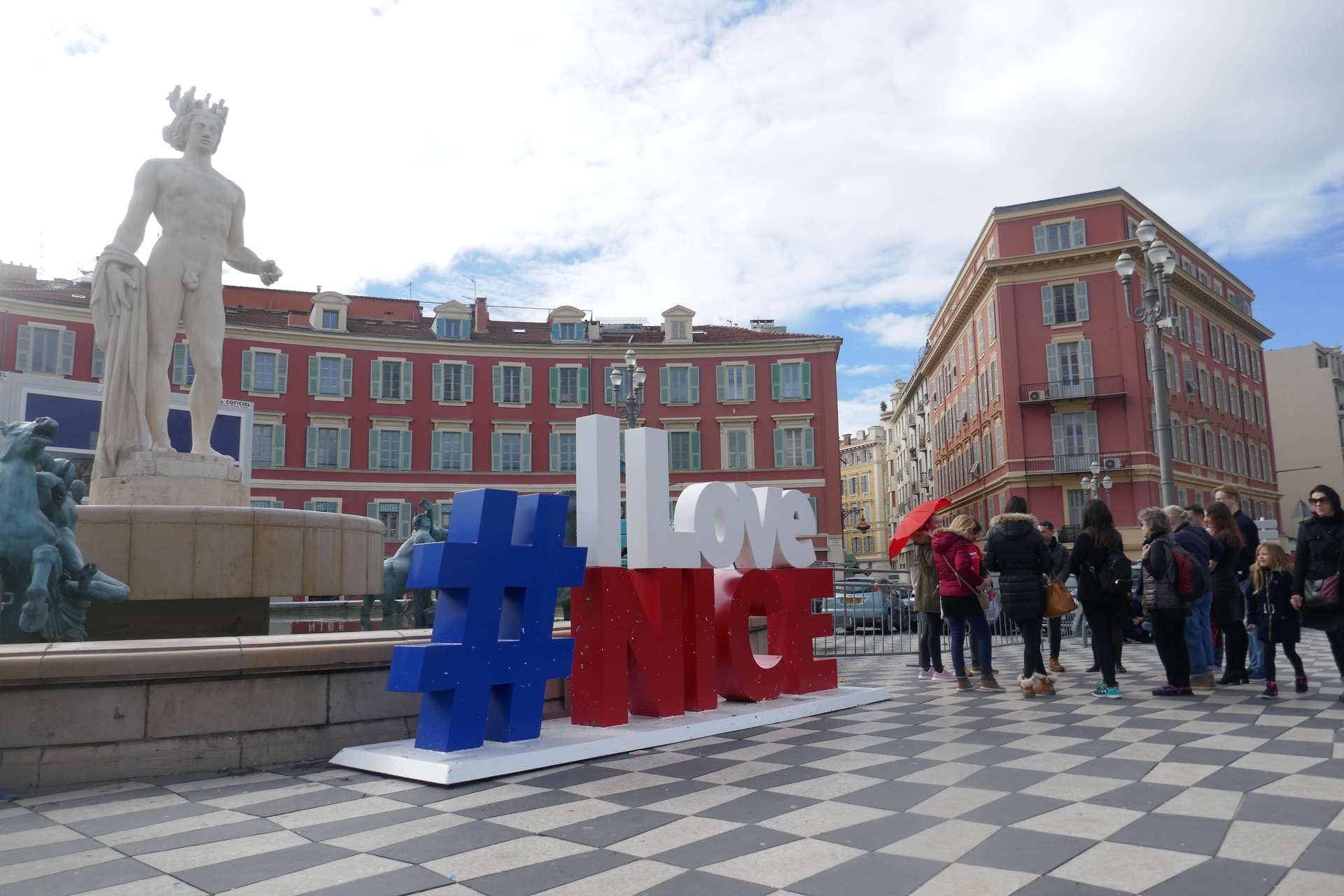 Starting at 10:55 a.m. by the city's Massena Square Fountain, our local tour guides will offer you a fun and interactive introduction to the city of Nice, before taking you along the famous 'Promenade des Anglais'. From there, you'll be taken through the square's colourful 'Cours Saleya' market, where you'll notice a hive of buzzing activity. Feel free to explore the market for yourselves while we take a short break. Maybe even try some of the local specialties (the Socca is a highly recommended local favourite). Next, allow us to lead you down towards the city's historic old town, passing by notable landmarks such as the Opera House, the Rossetti Square and the Place du Palais de la Justice, all of which have their own interesting stories to be shared with you along the way.
Vieux Nice – Nice old Town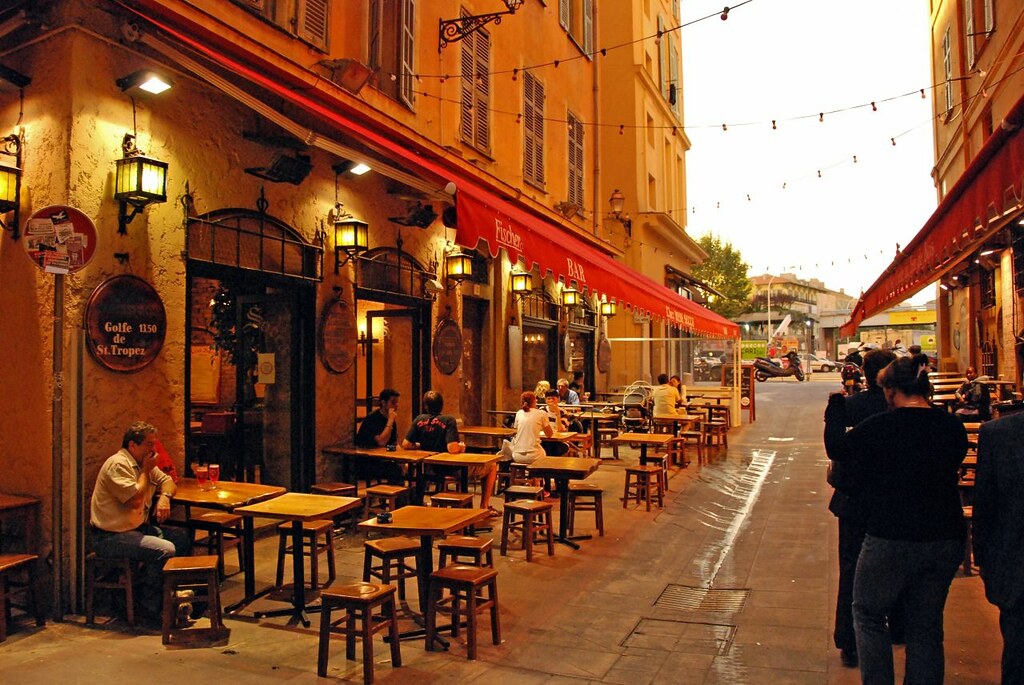 Taking in Nice's charming old quarter, you'd never believe it was once labelled the 'Babazouk' or 'Monster's Lair' by locals. Its boisterous ambiance is all thanks to its collection of chic boutiques, souvenir shops, Baroque churches and delicious restaurants. If you manage to avoid becoming distracted by the appetising smell wafting through the streets, you'll soon find yourself approaching the steps of the castle hill, so named for the castle that once stood there. From here, you'll be brought to one of the highest points in Nice, overlooking the city in its entirety. You'll even get a clear view of the French Riviera as it stretches all the way through the beautiful port town of Antibes and onto the home of the most famous film festival in the world, Cannes.
With its unique and astounding beauty, you can be sure to capture the perfect pic for your Instagram story. We'll even take a group photo at the top of the hill that we'll send to everyone's emails! What a perfect way to commemorate your time taking part in our free Nice walking tour.
Nice Night Walking Tours
Offering other activities here in Nice, we welcome you to join one of our night tours of the city. Our night tours provide more of an insight into the features of contemporary art located around the city, while of course still giving a fascinating and in-dept account of Nice's history through the centuries.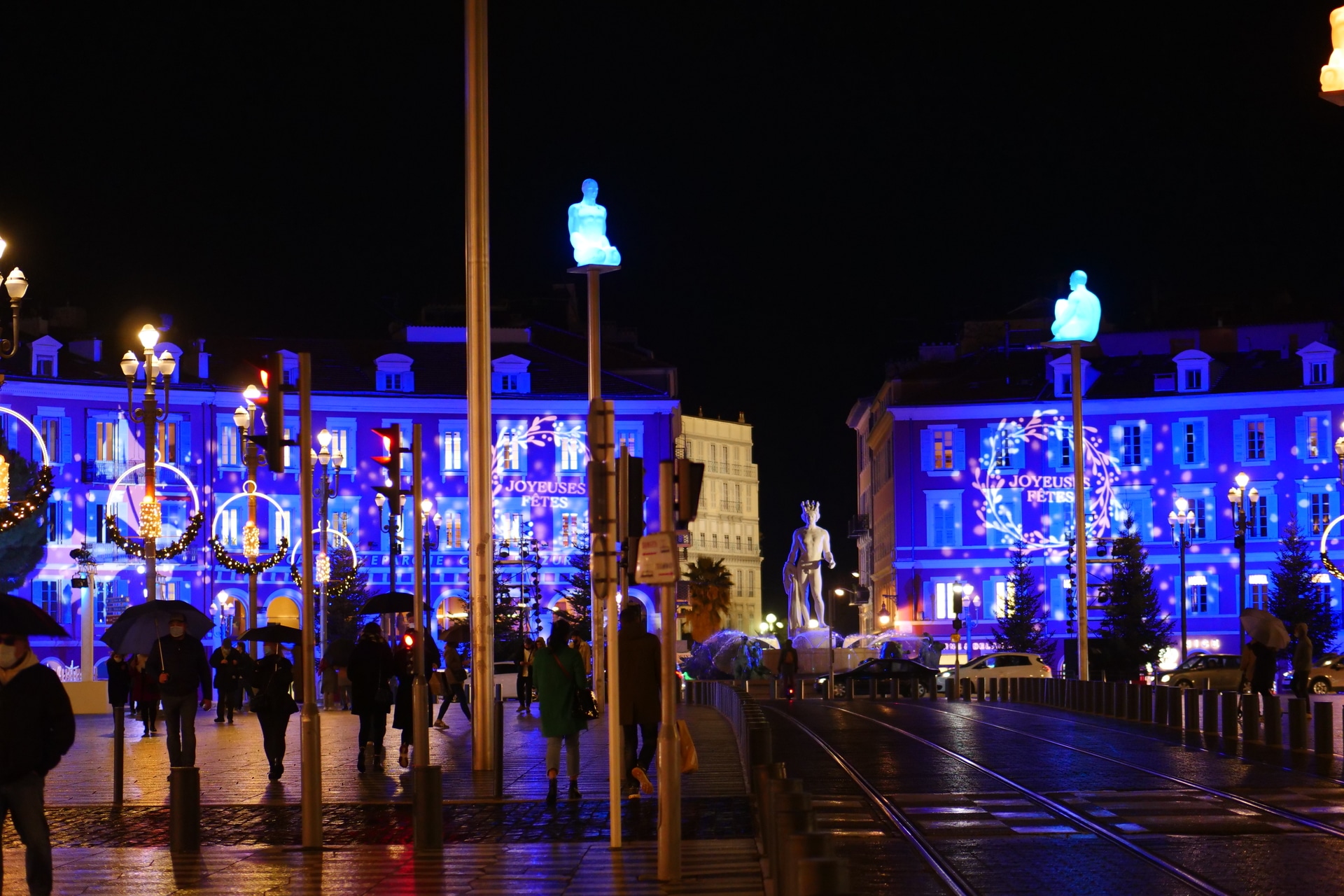 Starting at 7:55 p.m. in front of the Garibaldi statue, let us show you some of the most wonderful features of Nice's Open Sky Art Museum. And the best part about it all? Its entirely FREE! No charge, just an opportunity for you to bask in the beauty of this great French city.
For access to ticket sales and a google maps location of the tour's starting point, please reference the following page on our website here Nice Night walking tours Tickets.
Our Helpful Tips!
Though our tour may end there, our tour guides are by no means finished. We welcome you to ask your tour guide any questions that you may have about the Nice area. Be it in relation to train/bus schedules, the best local bars, or the most highly recommended restaurants, you can be sure that our local guides will do their absolute best to help you in any way. It is our goal to make sure you enjoy your stay here in Bella Nissa.
We hope you understand that tour groups may be quiet large during peak season. However, we in the French Riviera Bar Crawls & Tours company always aim to give the best possible service to our customers. If you would however prefer to explore Nice in a smaller group, the Nice walking tour is available as a private tour also upon request. Access to our free tickets and a google maps location of the tour's meeting point can all be found on our website.