What is a Crepe?
If you've never indulged in the joyful bliss that is a crepe, then quite frankly you've been missing out! Not to be confused with a pancake (although somewhat similar), crepes are a much thinner and lighter dessert. And more often than not you'll order them with a mouth-watering selection of fillings. Crepes can usually be sweet or savoury depending on your personal preference. But then again, nothing beats a chocolate coated, fresh berry filled crepe on a hot summer's day in Nice!
What are Crepes made of?
Crepes are a perfect treat to have at any stage during the day. Especially since they're so quick and easy to make!
Much as one would make a pancake (minus the baking powder), all you'll need is some flour, sugar, eggs, salt and vanilla extract. With milk being added in fragments and butter to be added last.
Mix your items into a bowl and allow to sit for one hour before straining.
Preheat your frying pan and add a small amount of your batter inside (Make sure your batter coats the pan evenly!)
Once both sides of your crepe are cooked, serve them up and enjoy!
How to Pronounce Crepe?
Although the spelling might throw you for a little bit of a loop, the pronunciation is pretty straightforward. Here in France, you will hear people refer to it as a 'K-R-E-P' (/kreɪp/). Although, in American-English you may often hear it referred to as a          'K-R-A-P-E'.
Where to get the Best Crepes in Nice?
Located right in the centre of Place Saint-François, this quaint little Creperie lives up to the French's high expectations when it comes to their pastries. And the best part? You get to enjoy their high-quality taste for an affordable price! Something which certainly doesn't happen often here in the South of France. Order your crepes smothered in whipped cream and chocolate syrup or order something a little more filling enjoy your crepe encasing a fried egg or ham.
Pôp-ô-Thym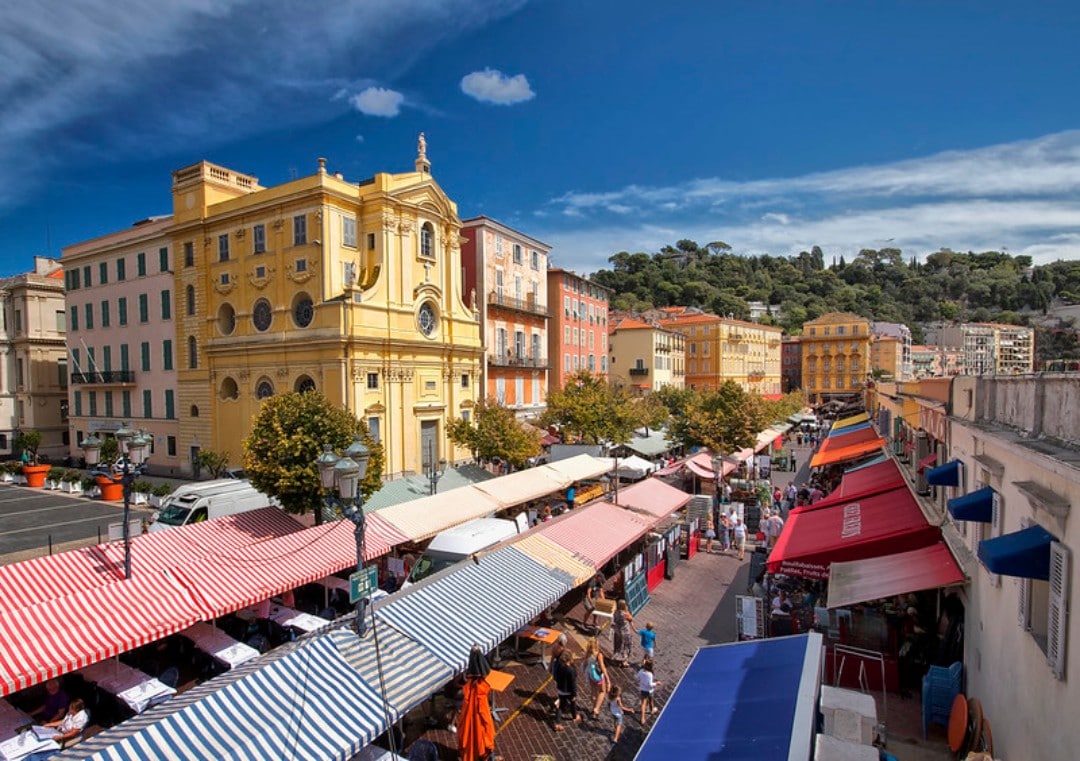 Found right in the heart of Nice's popular Cours Saleya Market, the Pôp-ô-Thym creperie is an unmissable find! With such big portions, you're bound to have more than your fill in this bustling restaurant. And one of their best features? Their menu isn't limited to just their amazing crepes. Help yourself to a selection of fluffy pancakes, freshly made guacamole and all your typical breakfast bits. If there's one thing for certain, its that you'll be walking away satisfied with your experience.
Crêperie Corentin – Restaurant Nice
The Corentin truly is a treat for anyone visiting the French Riviera capital of Nice. Within a sweet old timey restaurant, everything about this restaurant makes for a memorable experience. Possibly the most expensive of our three options. However, it's worth every penny. Order your crepes with a range of mouth-watering fillings. From sweet desserts and berries to a hefty filling of bacon, eggs and mushrooms, the possibilities are endless.
Other Great Activities in Nice
But our delightful and delicious crepes aren't the only thing Nice has to offer. Enjoy even more of your stay on the French Riviera by taking part in some of our amazing tours and activities! During the day, explore the ancient city of Nice with a Guided Walking Tour. Led by local and knowledgeable guides, there truly is no better way to uncover all that the city has to offer.

Or, if you're looking to stay on track with your love for all things food, then our Nice Food Tasting Tours are just for you! Not only a great opportunity to explore Nice's Old Town, you'll also get to enjoy up to 15 samplings of the best local dishes around. From Socca to Pan Bagnat to Pissaladiere and much more, your taste buds won't be able to keep up with all the delicious flavours! And, of course, it wouldn't really be an authentic French Tasting experience without a refreshing glass of wine of two to accompany your food.
Interested in more of our tours and activities here in Nice? Then be sure to check out our website or get in contact with us via our email: info@rivierabarcrawl.com