Welcome to Place Masséna!
Located right in the heart of the city, Place Masséna is the main square here in Nice. The plaza was named after local Niçoise general, André Masséna, who served in the Napoleanic Wars. It sits at a crossroads of several main boulevards. Particularly with the seafront to the south and the main avenue of Jean Médecin jutting off to the north.
Place Masséna, due to its central location, is quite often bustling with activity. It is the meeting point for our Nice Walking Tours. It is where our annual Nice Carnival is held. And also where we host many of concerts and music festivals!
Highlights of Place Masséna
Luscious Gardens
Masséna Square is surrounded by many weird and wonderful attractions. On one side, you'll find the Promenade de Paillon, a large open green recreational park. It's a deceivingly long park, taking about 10 minutes or so to walk the entire length of it. However, a very beautiful park nonetheless. Its filled with beautiful shrubs and palm trees, offering the locals a little shade from the beating sunshine. The park is also home to nice little features such as large play areas for children, water dispensers, park benches and our beloved Mirror Fountain.
Opposite to the Promenade de Paillon is yet another garden, the Jardin Albert 1er. This garden is covered in a stunning collection of vibrant and exotic flowers from all over the world. but most notably is the Arc Monumental de Venet which sits proudly in the centre of the park.
Open Sky Art Museum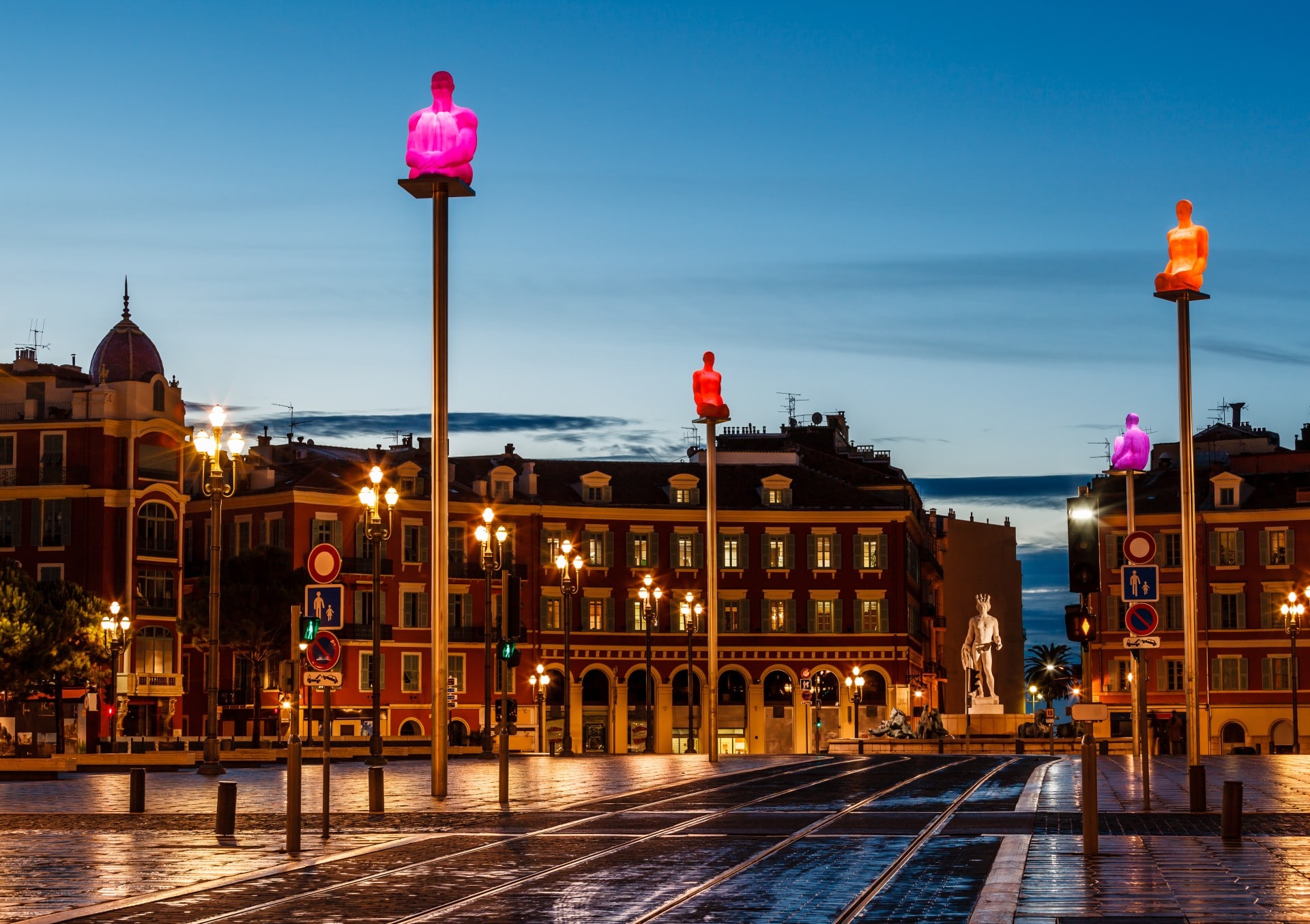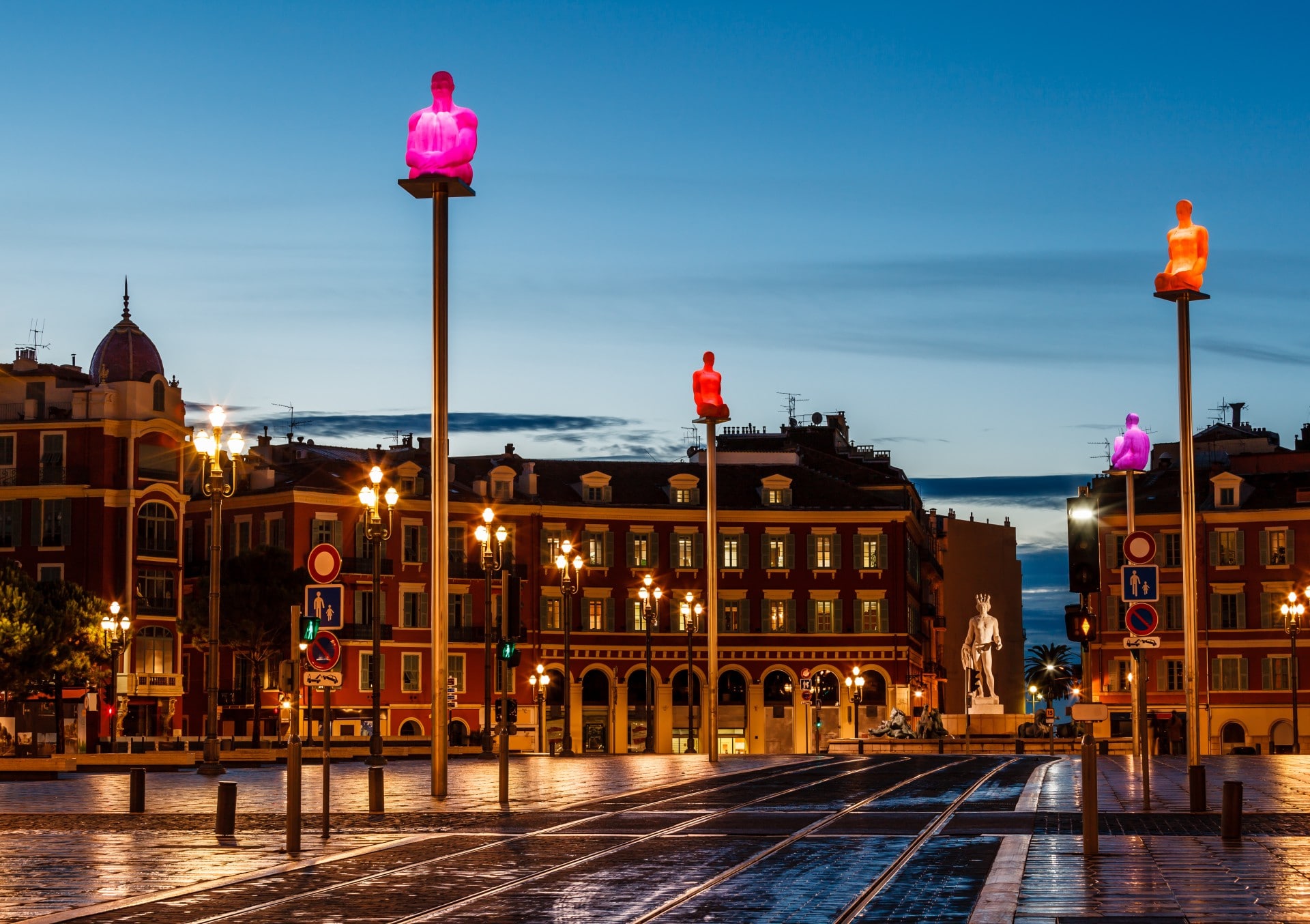 Here in Nice we have what is known as an Open Sky Art Museum. A collection of quirky and unique sculptures littered all over the city. Once such feature of this Open Sky Art Museum is right smack-dab in the centre of Place Masséna. The 7 Buddhists which sit atop tall stilts, symbolise the 7 continents, representing our international population here in Nice. At night, these Buddhas light up Place Masséna in an array of colours. As the colours pass from one Buddha to the next, it almost symbolises a unified dialog between all of them.
If you look down towards Jean Médecin you'll notice another feature of our Open Sky Art Museum. A series of green and blue fairy lights hanging above the street, symbolising a poem in Morse code. One which references the beautiful azure blue ocean that we have here in Nice.
And turning around the opposite way, you'll spot our Neufs Lignes Obliques or Nine Diagonal Lines. This sculpture was placed here in 2010 in commemoration of Nice being a part of France for 150 years. It was commissioned by the Mayor of Nice, Christian Estrosi, and the ex-president of France Nicolas Sarkozy.

Italian-Style Architecture
If you take a quick glance around Place Masséna, you'll quickly notice that the buildings don't seem very French. The reason for this is that Nice has only actually been French since 1860! Before this, it belonged to the House of Savoy, which was the ruling family of Sardinia at the time. As a result, most of the buildings in Nice's Old Town resemble that of Italian-style architecture. You'll also find quite a lot of Italian restaurants here too. There are two rather fun little fact about these particular buildings surrounding Place Masséna. For one, they have to always remain to same deep beautiful rich red colour that they are today. And two, you are not allowed to walk around in your apartment naked if the windows are open. I'm sure that goes without saying for most apartments of course, but that's just a particularly emphasised rule here.
Fontaine du Soleil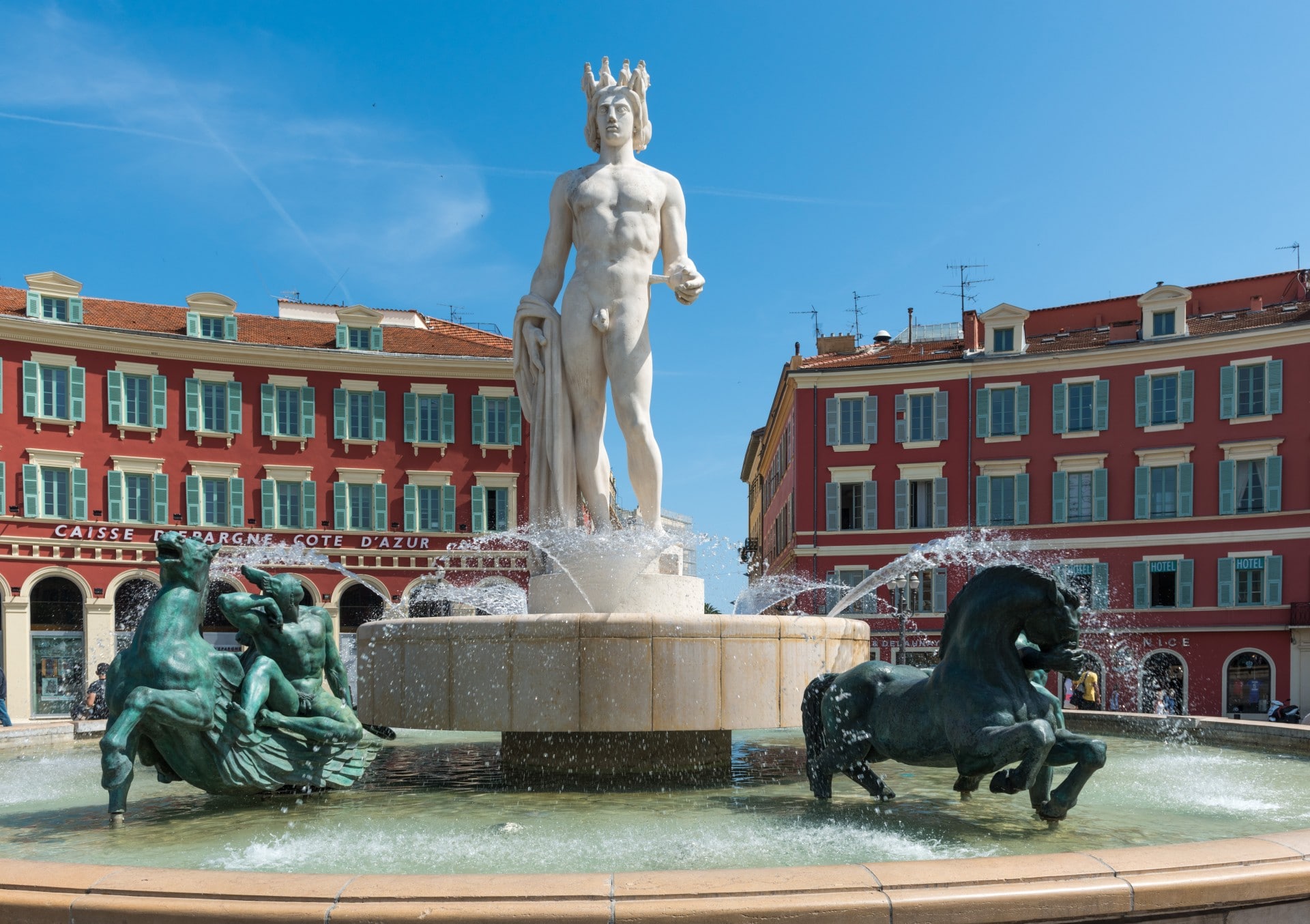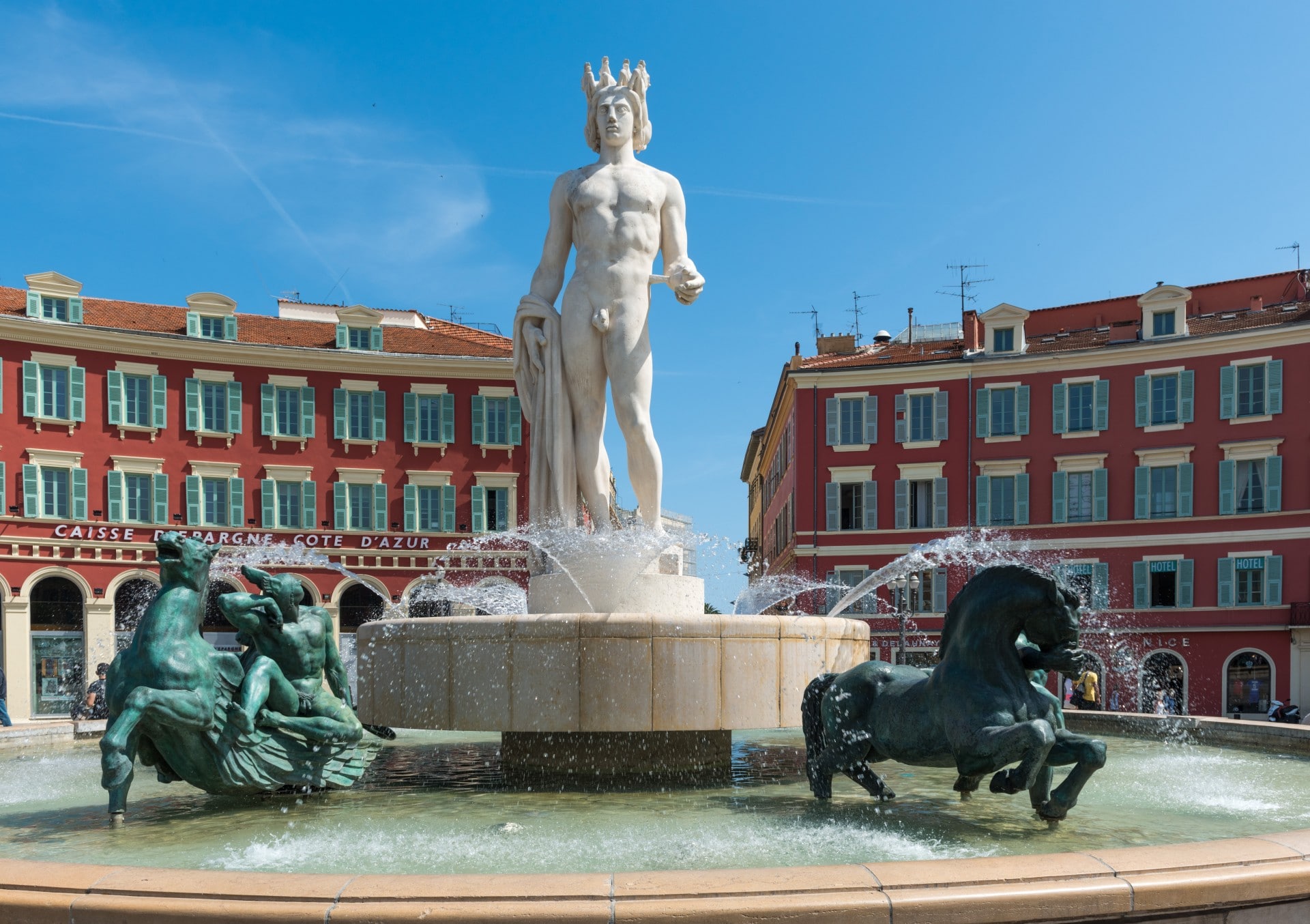 And most notably in Place Masséna is our Fontaine du Soleil or Sun Fountain. This fountain pays tribute to Nice's ancestry as a Greek and Roman colony. The statue which stands in the centre of the fountain is the Greek God Apollo. In Greek mythology, its Apollo's duty to carry the sun up into the sky every morning. A rather fitting choice of Deity given Nice's year-round sunshine. The slightly smaller characters which surrounded Apollo are the Roman Deities: Earth, Jupiter, Mars, Mercury and Venus.