Patong is the most famous place on the island of Phuket and is known for its nightlife. It attracts tens of thousands of visitors every year. 
During the day, especially in high season, there are many tourists on Patong Beach every day. At night, Patong turns around the famous Bangla Road into an Eldorado for party-hungry holidaymakers and promises the most spectacular nightlife on the island.
Do you want to discover the city of Phuket? Once the sun sets, the shopping streets and the party street in Patong called Bangla road, turns into a colossal nightlife scene near Patong beach.
With Riviera Bar Crawl & Tours, you can join the best Patong Phuket bar crawl, and our local party expert will guide you through the best bodega Phuket pub crawl ever.
The night starts at some of the most iconic and fun spots, such as Smiley bar, where you will receive your pub crawl shirt. 
Then it is time for drinking games and in each bar: 1 free shot! It is a great way to flip a cup, play, drink, and get free shots at each bar, and dance with a free entry at the club to finish the night till the early hours!
Phuket Pub Crawl– What to do in Phuket at night?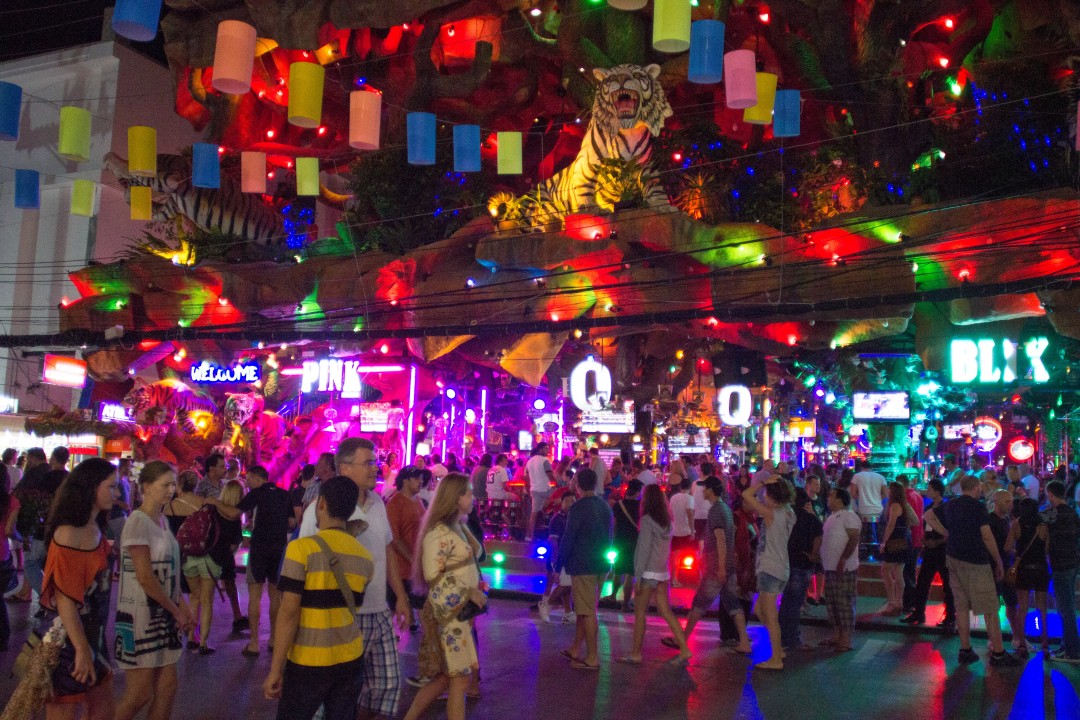 When the sun goes down on Phuket in the evening, beer bars and restaurants open their doors. The center of nightlife on Phuket is likely to be Patong with Bangla Road.
But there is also no shortage of beer bars and restaurants in other districts, such as Karon, Kata, or Chalong, and it's a bit quieter there than in lively Patong. The entertainment in Phuket is so great in the evening that there should be something for everyone.
Phuket Bangla Road, Patong
The center of nightlife on Phuket is in the tourist stronghold of Patong. In the evening, Bangla Road is closed to traffic and converted into a pedestrian zone. Numerous bars, discos, and restaurants are then very busy. Since the competition for bars on Bangla Road is very high, you will notice the many pretty ladies standing in front of the bars with a drink menu in hand to attract customers.
But Patong is also a costly place, if not the most expensive place in Thailand. 
A beer in a go-go bar costs between 150-220 baht. In the beer bars, you pay 100-120 baht. Even for dinner in a simple restaurant, you can count on 180 baht for a typical Thai dish. 
Nightlife Karon / Kata
There are a few small bar centers and many restaurants in Karon, which I like better than lively Patong. In Kata, there are many small, cozy, and cheap restaurants/beer bars, which is no comparison to the expensive Patong. 
The Kata Walking Street, a huge bar street that only consists of large and small bars, is also recommended for party vacationers. 
Nightlife in Phuket – Where to party in Phuket? 
There are plenty of places to party and have fun in Phuket. However, it can difficult to find the best spots and make sure to do not spend our night out walking around the streets to find the right bars and clubs.
Our local guides and Phuket pub crawls experts give you some of the best addresses and information to maximize your evenings in town.
Entry to the clubs is free if you join one of the Riviera Bar Crawl & Tours pub crawl. 
The Red Hot in Patong – Live Music Bar
The Red Hot is on the corner of Bangla Road and Rat U Thit and is very easy to find. Just follow the loudest live music, and you will reach your destination without any detours. The Red Hot offers excellent music by talented artists every evening in a very nice atmosphere. From around 11 pm, the Red Hot Band will play rock music, including some Metallica covers.
Tai-Pan – One of the best clubs in Patong
If all the bars in Patong are closed, and you're not tired yet, this is where you should be! 
Everyone who doesn't have enough to party with club music can be found here. The atmosphere is tremendous, and now and then, there are spectacular shows on stage.
The club is often packed. However, you should not go to the Tai Pan before midnight. A visit is worth it, in any case, due to the lack of alternatives at late hours!
The Tiger Disco – location for parties until the early hours of the morning!
If you are walking down Bangla Road, you cannot miss the Tiger Complex. A huge tiger adorns the building. In the basement, the "Welcome" calls from the young women cannot be overheard. A lot of bars cavort here in the smallest space next to each other with loud music. But you don't want to go here, because that's the place where people try to pull money out of your pocket with small games and the waiters openly demand tips.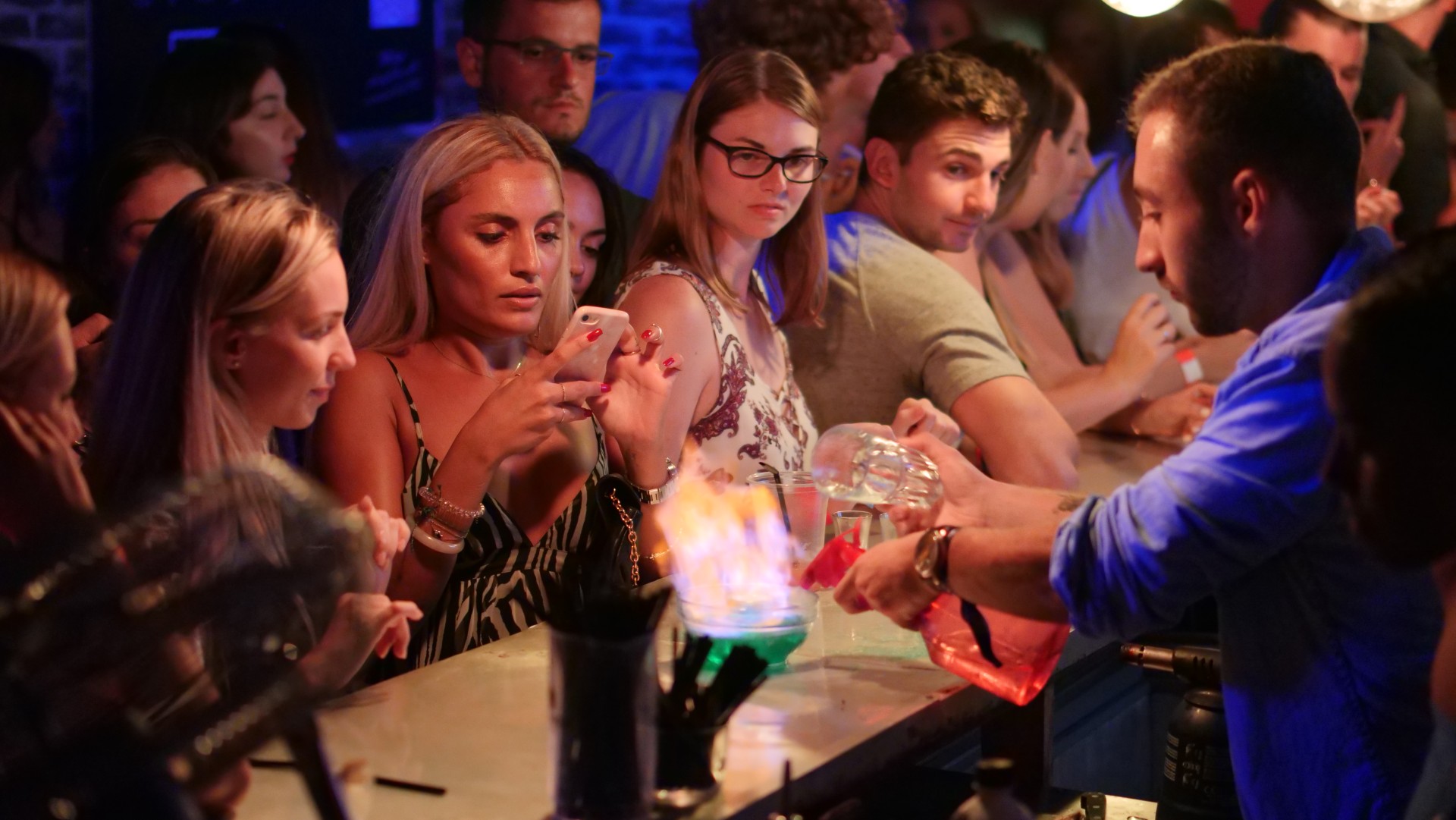 Riviera Bar Crawl and Tours is a vast network of local guides, party experts, and local inhabitants worldwide who know all about the city's best party spots.
If you want to discover and experience Phuket fully, join our local team members for private and group tours around the city or join the best pub crawls in Phuket and find out about the best bars, pubs, and clubs in Phuket to party with locals and other travelers and be part of the local nightlife and party scene in Phuket.
Join our local tour guides and nightlife experts, party all night long with fellow travelers and locals in some of the best bars and clubs in town, and create unique and unforgettable memories while meeting new people and local party-goers!
Book your pub crawl in Phuket now and get a full refund if you can't make it on time or if you need to reschedule!
For further enquires and information, don't hesitate to get in contact with us via our email: info@rivierabarcrawltours.com