A pub crawl is a great idea for spending a fun night out with friends. It appeals to young and old alike as the concept is simple and straightforward. It is inexpensive and if organized well, can be very fun and memorable. As a business, organizing pub crawls is also rapidly gaining popularity, not only in huge cosmopolitan cities with a student crowd but even in mid-size, up and coming locales. It is also easy to create a great business model for a pub crawl – one that is both viable and requires less capital investment.
Check-out our 3 steps to having your own pub crawl business and start organizing those fabulous bar crawls that will become the talk of the town wherever you may be.
Your Route Can Make or Break Your Pub Crawl – Plan Smartly
The bar crawl route is actually your product. A disorganized pub crawl, with customers stuck in crowded bars and getting lost from one bar to another are not the things you want your customers to take away from your pub crawl. Choose a selection of bars for your pub crawl. You can go up to 5 bars but beyond that might be too much for your customers. Pick bars that are within walking distance from each other, with well-lit paths that have pedestrian access.
For the first bar on the route, always go for a spacious one where you can welcome your customers with ease and allow them to mingle and get to know the other pub crawl participants. Consider adding the night club or a bar with a dancing area for the last stop in the route. This way when your customers will have the opportunity to end the pub crawl on a happy note dancing the booze away!
Cultivate a good, long-term partnership with the bars in your route. It is customary for bars in a pub crawl to offer drink specials for participants. Go for bars where you customers are prioritized for service and are looked after by the bar staff, especially by the bouncer and bar tenders. Ensure that the participating bar is given a heads-up of your schedule so they can anticipate the arrival of your guests and prepare for the customary welcome drinks. As customers might be coming directly from work or other commitments and will not have had a chance to grab a bite, plan to have food available in the first bar on the route. The same is true for the last stop of the pub crawl as customers might be hungry.
Specials Pub Crawls Events :
For a truly fun and memorable pub crawl, include a theme and/or group games along the way. Themed pub crawls like those celebrating holidays like Halloween, New Year's Eve or even after popular books and movie franchises. Popular pub crawl games include fun Games for entertainement.
A Comprehensive Budget is Crucial to Determining Your Selling Price – Consider Everything
To be profitable like any business, a pub crawl's ticket price has to take into consideration all costs associated in organizing it plus a margin. The usual contributors are costs associated with digital platforms like websites, online selling, social media and other digital marketing campaigns. A bar crawl may seem simple but there is a great deal of logistics behind it. Be sure to include costs associated with decorations, marketing collaterals like caps, t-shirts worn by the staff, bracelets identifying the customers, card readers and payment collection devices for walk-in customers as well as game and activity props.
Another significant source of cost is for staff doing the actual pub crawl.Remember that the crowd can get rowdy and tipsy from one bar to another. One you have these numbers plus your desired profit margin, you are good to set your ticket price. Note that the price has to match the quality and value of your pub crawl. It should also target your target demographics. A high price that does not match the quality and value will only give you a bad reputation and poor reviews. The best advertisement is still word of mouth. This is particularly true for pub crawls.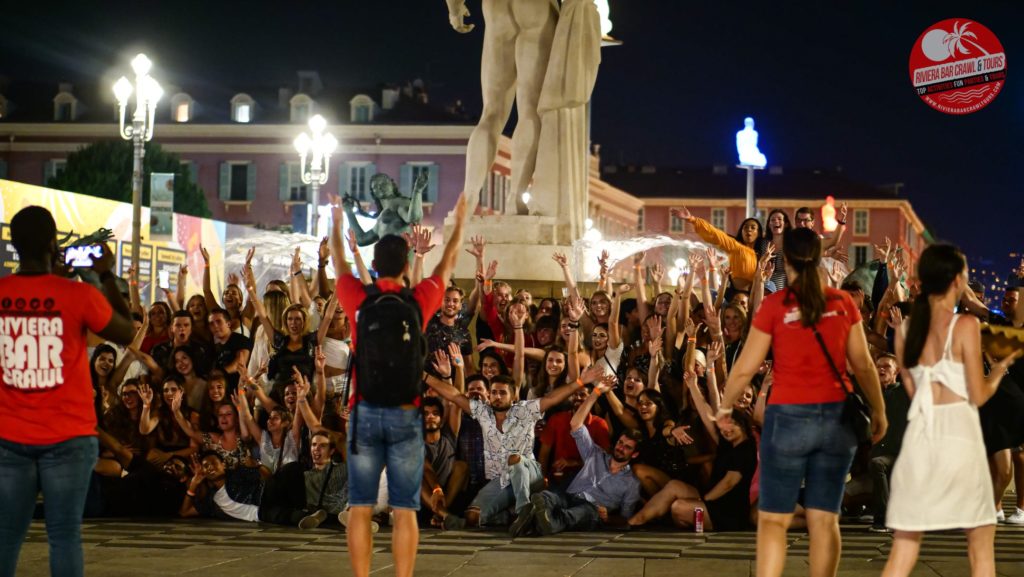 Promote and Market Your Pub Crawl – Like a Pro
As bar crawls appeal to both locals and tourists alike, make sure you have a solid online presence as online search is the first thing potential customers do when looking for a great pub crawl. Start with a great website that is easy to navigate. And ensure that ticket buying experience for customers is smooth and uncomplicated; displaying the "buy tickets" button prominently. Your website must be search engine optimized and rank well in online searches. Create an event page on social media platforms like Facebook where over 40% of people browsing look for events in their vicinity. Have a social media strategy to reach your targeted customers through regular posting of relevant and exciting content via popular platforms like Instagram, Facebook, YouTube, LinkedIn, Snapchat etc. Make use of hashtags, live feed features, geotags and filters to engage your potential customers.
Also find other event platforms to get your pub crawl marketed online. Third-party travel sites like Eventeus.com ,TripAdvisor, Booking.com, etc. are great way to reach potential customers. Ensure you have and proactive way of reaching customers via mailing campaigns, prompt and polite response to online reviews and comments. Cross-promote with other services and products.
Become a Riviera Bar Crawl and Tours Franchise Owner
Riviera Bar Crawl & Tours bring the Riviera experience to life, to any city! We specialize in great activities, super-fun parties and fast paced tours. Our team has been doing it since 2012 across Nice, Cannes, Monaco and recently, Paris. We aim to share our passions for travel, life and all things Riviera through our eclectic mix of exclusive tours, great-fun day trips and very memorable parties. We bring many different and exciting ways to experience the best of your city – the Riviera Way!
Created by a local Niçois in 2012 who decided to share his passion for the French riviera – an amazing region, travel destination and a way of life. We are now a team of passionate people who provide exciting ways to experience the best of the Riviera, not just in the French Riviera but anywhere in the world.
If you'd love to start your own business as an independent guide in the city where you live and share the local history with tourists, we are here to help you on your way to become part of our ever expanding family.
Why to franchise your pub crawl business with Riviera bar crawl & Tours :
Our franchise system will provide you with all the support, training, marketing and all the information you might need in order to start a successful branch. Benefit from our franchise and organization's:
Strong brand and concept, the French Riviera is already a brand on its own, the fun and eclectic mix of tours and bar crawls adds an extra level of brand recall
Best practices and operating procedures in running tours and bar crawls for people from around the world and locals as well
Digital marketing and promotions that use the best and most efficient practices to get your local tours and bar crawls visible and rank well in online searches
Support for recruiting, training and retaining tour and bar crawl guides
Best practices to get partners and third-party platforms and providers
A network of tour and bar crawl providers across France and soon, worldwide
With us lending you our brand and platform it will be only a matter of time before you'll succeed! Now, You Are Ready to Start Get ! Get in Tuch on How To Become a Franchise Owner ! Contact us business@rivierabarcrawltours.com