The nightlife in Paris has a lot to offer. Many tourists wish to experience the night in the City of Lights like a local and that's why we're here! Let us help you find the best place according to your taste! We gathered together a selection of the finest places to grab a drink, listen to some music and dance. As a bonus, we've also included a few quirky you can visit to spice up your evening!
Listen to Some Music
Supersonic
Supersonic is a concert venue in the Bastille district. If you like rock-oriented music, as well as electronic and alternative, this place is for you. With drinks for reasonable prices, you can visit this place with your friends. The best part? Almost every day, they have gigs that you can see for free!
However, the capacity is about 250 people, so make sure to come early, to even get inside. See the program on their website.
La Gare
Would you fancy some Indie music? La Gare des Mines is a multipurpose multicultural center, that offers a good time to everyone who joins. The area houses three rooms, outdoor stage as well as two indoor stages and exterior with bars and seating areas. The venue is sometimes also used for some contemporary art exhibitions, which gives you well rounded cultural experience.
We definitely recommend La Gare for its amazing atmosphere and all the budget-friendly prices. Its open accordingly to the planned events and you can check them out here.
Get some drinks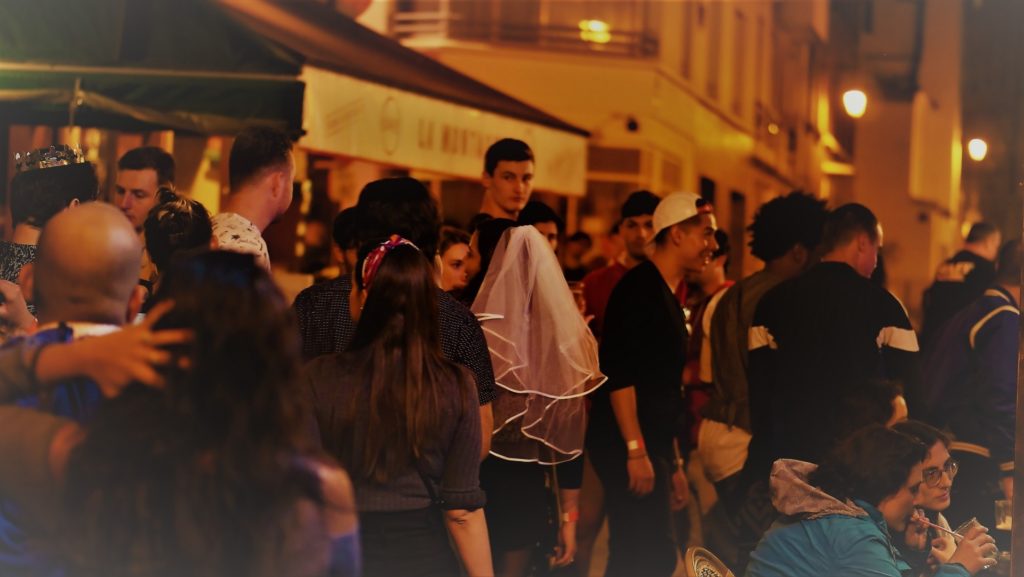 Little Red Door
Scrawling down the rue Charlot you might easily walk past the Little Red Door without even realizing it. The unsuspicious red entrance is hiding one of the best bars in the world. In 2017, the Little Red Door came 11th on the list of World's Best Bars and we can only agree. The prices per drink start at 13€ and go only higher. However, we cannot stress enough, that every sip of the cocktail will be worth it.
The opening times go as follows: Sunday through Thursday 6:00 pm – 2:00 am; Friday through Saturday 6:00 pm – 3:00 am.
The Lions
The Lions will offer you the typical English pub atmosphere. Favorite for many bankers who work in the area as well as amateur beer lovers, Brits, or sports fans. They broadcast everything from football matches to rugby matches. You can also get some tasteful burger with your beer. However, be aware that on Monday the bar turns to Quiz bar and on Wednesdays into a Shot bar.
You will recognize The Lions by its typical blue facade. However, be sure to make it up in time. Otherwise, you might just as well end up without a seat for the match. The Lions opens every day from 11 am until 2 am.
Willi's Wine Bar
Established by Englishman Mark Williamson, the bar was meant to be a place that offers the simple pleasures of life – art and a glass of wine, shared amongst good company. Nowadays known for expat meetups, Willi's Wine Bar is beloved by many for its wide selection of wines. They not only offer wine but also lunch and dinner menu.
The Bar is open from Monday to Saturday from noon to midnight. The Restaurant is open from Monday until Saturday 12:00pm – 02:30pm & 07:00pm – 11:00pm.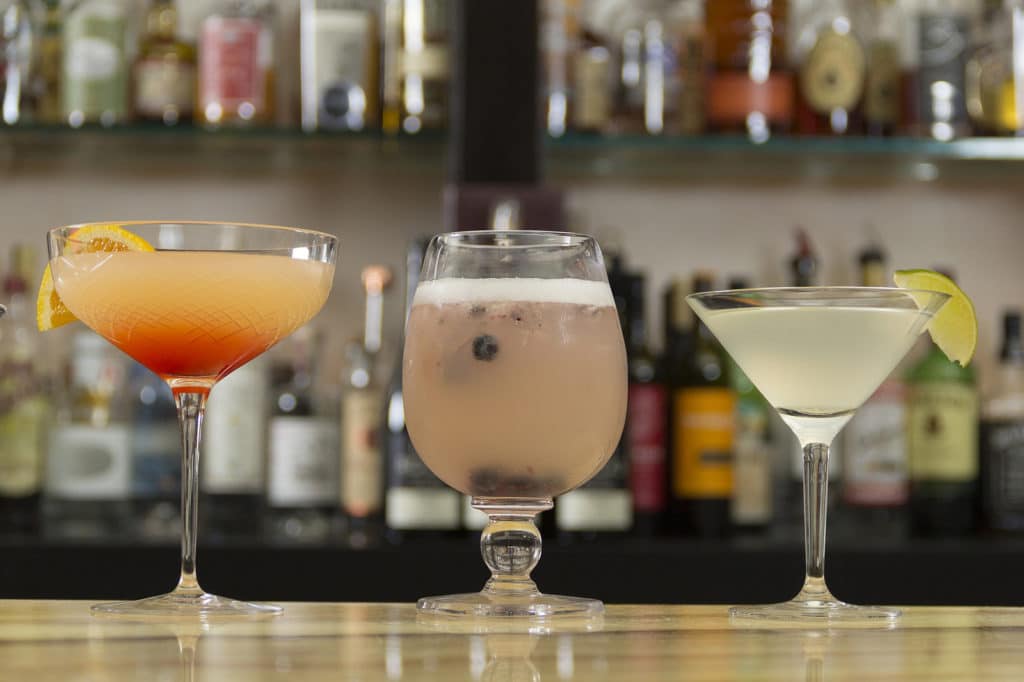 Dance Whole Night Away
Péniche Concrete
24-hour nightclub? Péniche Concrete is a nightclub that floats on water – more specifically is on a barge that floats. Luring people from Paris as well as from around the world, this place is a symbol of Paris' nightlife renaissance. It wildly resembles the Berlin nightlife with techno, electronic and dance music. The club hosts world renown DJs as well as rising stars of the Parisian scene.
The opening days vary based on a program. Be aware! Some of the bouncers might be a little bit picky when it comes to dress-code. At the end of the day, a lot of people want to get in. Dress nicely and adequately to the occasion. Visit the Concretes webpage here.
La Mano
La Mano is a neo-futuristic Latino club/ restaurant, where you can dance the night away. Located in the 9th district, this club used to be Mexican café, that was later transformed into this Latin-American-futuristic fusion. The music merges between salsa and new-disco as it compels you to stay and dance until the sun comes up.
La Mano opens up from Wednesday to Saturday, from 9 pm to 5 am.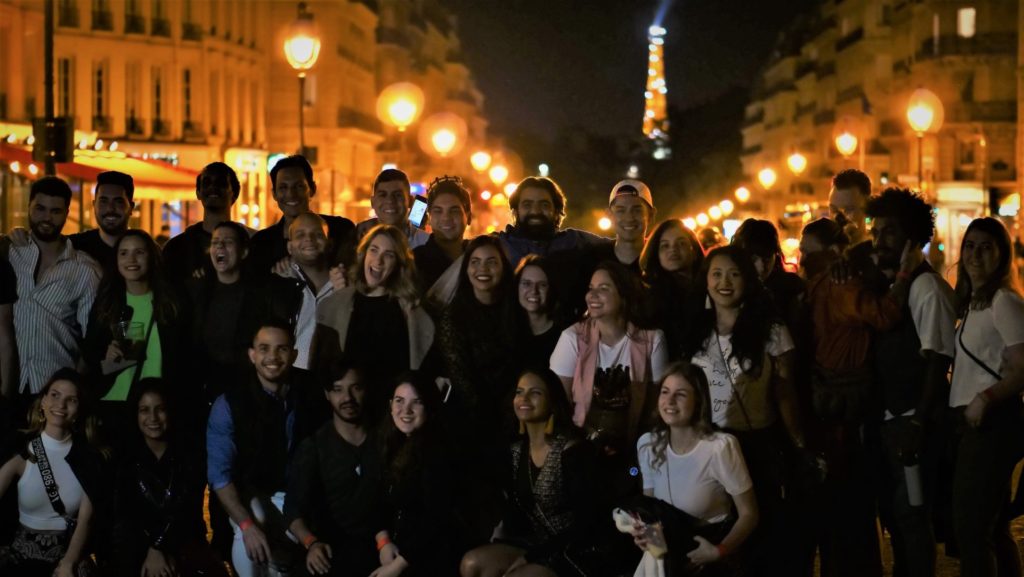 What About an Alternative Evening?
The Ice Kube Bar
Apart from accommodation, the Kube Hotel offers two very interesting experiences. The Restaurant & Bar Après and the Ice Kube Bar. The Ice Kube Bar is exactly what it sounds like. Remaining in the apocalyptic scenario, you will be offered this out of the ordinary experience. As this is the one and only ice bar in the whole Paris, you are in for a treat! Professional mixologists will make you delicious and carefully mixed drinks.
If you wish to visit the Ice Kube Bar, be sure to make a reservation. The bar is open from 6:30 pm until 1:00 am.
La Lucha Libre
Would you like to watch a wrestling match while sipping on a nice drink or eating a delicious meal? Only in La Lucha Libre, you can do both of those things at once! The Mexican inspired restaurant & bar offers a unique experience with its own wrestling ring, located in the basement. The décor is typical Mexican style – bright colors, skull designs, and authentic paintings and frescos.
The wrestling room can accommodate more up to 80 people and is regularly used for so-called clashes. La Lucha Libre is making sure to offer its guests the best entertainment with organizing the fights.
The bar opens Wednesday, Thursday, Friday, Saturday: 6 pm to 2 am. However, if you book for at least 40 people you can get them open on Sunday, Monday or Tuesday. La Lucha Libre makes personalized offers by adapting to the budget of the group.
La Belle Hortense
Are you not exactly party person and you prefer a calm evening with a good book and a glass of wine? La Belle Hortense's concept is to combine people's love for books and wine. The bar hosts regular readings and literary events and offers new releases, rare volumes, independent poetry but also classic collections. The décor is filled with books and bottles.
The thing you should watch out for is the fact that after 10 pm, the prices of glasses go up by 0,50€. Otherwise, the prices for meals are more or less regular for the area.
Maybe you wonder, how long can such a place be open? Well, the answer is from 5 pm to 2 am, every day of the week.
Paris Pub Crawl
Still not sure what places to visit in Paris by night? Don't you worry, we have prepared a special bar hopping experience just for YOU! With our Paris bar crawl, you will visit 4 bars/club, get shots for free and special drink deals! Most importantly, you will meet a bunch of locals and other tourists who came to see the City of Lights. So, what are you waiting for? Do not hesitate and book your tickets before it is too late!