– How is Paris Nightlife? –
A glass of wine in the Latin quarter, cocktails with friends at Le Caveau de la Huchette, happy hour in Saint Germain des Pres, hip hop or international DJs in the bars and clubs around the Champs Elysees, gay and lesbian parties, or a night out to meet new people, Paris nightlife has it all.
Organizing your night out in Paris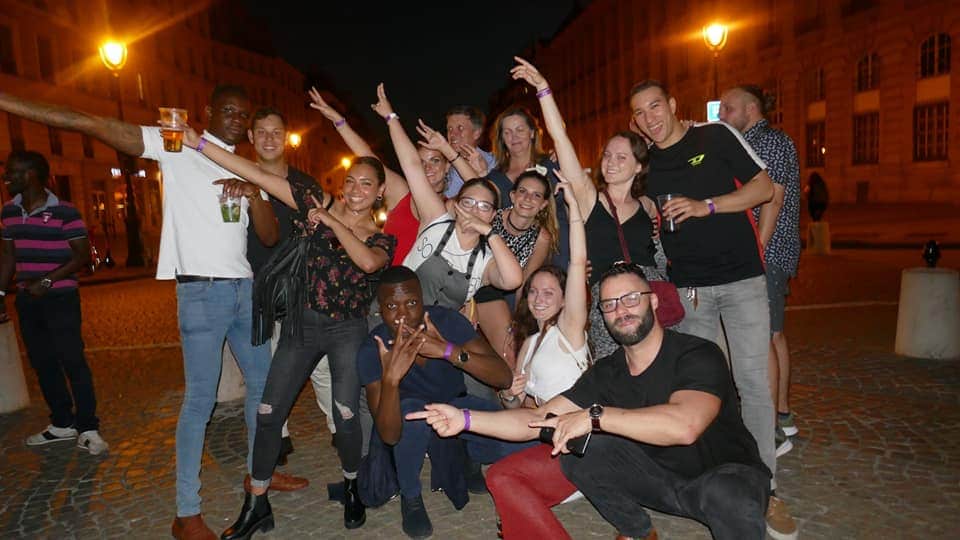 A Pub Crawl, known as a "barathon" in France, is a bar and club tour in which the organizers have negotiated for you some free drinks and shots, as well as preferential rates and free entries. The evening of your pub crawl, the guide will meet you at the first bar and will take you around some of the best pubs in town. 
This a great way to get to enjoy some of the best places to have a drink in Paris as you are sure to hit the right bar and have a lot of people with you. And be sure that each participant wants to party as hard as you.
The goal of a pub crawl is not to move a crowd of party-goers from bars to bars but to finish the night in one of the best clubs in Paris.
Finding the right Pub Crawl in Paris
I would highly advise opting for one of the best Pub crawl specialists when looking at having the best Pub Crawl in Paris. 
With companies such as Riviera Bar Crawl & Tours, your Pub Crawl will start on the early evening at the Long Hop bar. Then, situated right in the centre, around the "Île de la Cité" area, you will discover some of the best bars and clubs in Paris.
Get yourself ready for a lot of free drinks and shots, and get ready to meet and cheer with many other people coming from all around the world.

A selection of the best bars to test in Paris
To seat at a corner of famous French zinc bar, an egg-mayo with a glass of red old fashion wine, or to talk with your neighbour about sports results, laugh out loud or talk literature and kill some drinks … Paris is full of places where conviviality rhymes with simplicity. 
Here are some of the best bars to have fun and discover some of the Parisian nightlife.
Within the 12th arrondissement, barrels are all around, some jazz notes and many, many people going around with a drink in hand, the Baron Rouge serves as a reference. A red glass at 1.50 €, a Côte du Rhône at 3 €, or a Chateau de Bordeaux at 8 €, there is something for all. And this beautiful wine is going down with a slice of bread and cheeses, or fresh oysters, according to your appetite. It is simple, and it is just a happy mess.
O P'ti Paris, with its very popular terrace in the 10th arrondissement, is one of the best bars in Paris. Grabbing a beer, especially during happy hour, in front of the tv screens playing a football game, this is the usual here. No fuss at O P'ti Paris, stuck in the yard of Petites Ecuries it is a great place to meet new people and spend hours of fun.
La Pointe du Grouin
A bit of Brittany in Paris. With the good smell of hot fresh bread, made directly in the basement, La Pointe du Grouin is a great place to have a drink and it offers breathtaking gastronomy. Get ready for some good food and snacks, accompanied by red or white wine, or a blonde or amber beer at a very low price. If you are looking for something typically French, with a great atmosphere, and where you can feel at home, this is one of the best pubs in Paris.
In a comfortable place, we toast, we cheer, we drink glasses and we meet new friends. In the middle of the aisles of bottles, right in the centre of the 19th arrondissement, in the district of Belleville, La Cave de Belleville is waiting for you. This is what we like in this luxury bar/troquet. The atmosphere and products, and a great place to chill.
Nestled behind Montmartre, in the 18th arrondissement, head to this fantastic bar, located along the Rue du Ruisseau. Natural wines and a good choice of drinks, here we stay, so don't look for anything else. Jazz concert behind a back door, you can dance in the bar. And if it's too early to spend a phenomenal night, you can stay at the counter and read the newspaper.
The best bars for students in Paris
If you want to meet some students from all around the world and don't spend half a month in a night out in Paris, here are some of the best bars on budget.
Located in the of Strasbourg Saint-Denis area, Le Mauri7 is a bar that you should experience when in Paris and the right place to end the night. It's dark, warm and easy-going, and you are sure to have a good time and meet new friends.
With regular movies, exhibitions, and concerts, La Bellevilloise became the perfect place to get to know the underground and arty culture, as well as the artists in Ménilmontant. The restaurant above is also a great place to have a meal, and the whole place is well frequented by locals and tourists.
Tourist or local, you can take one of the riverboats to sail on the Seine … Or, you can choose to hop on this unique bar, located on a boat in the 13th arrondissement. This boat does not cruise, but it has a beautiful view and a pretty cool student population. With the long nights of the party at the weekend, coming here is a great option. Also drinks a pretty cheap and the atmosphere on its best from Thursday to Sunday. 
Nested along the banks of the Canal Saint-Martin, this bar with a large outdoor terrace is one of the best bars in Paris. Offering artistic showcase and events, as well as live music and great concerts, it is a great choice if you want to meet interesting people, and take the pulse of the creative scene of the city.
Here, you are forced to try the good old game of "boule". It is a must. So yes, many older people are playing boules in various parks around Paris, but the question is whether you have the level and if you are ready for the challenge. Enter Chez Bouboule, a small chain of three "petanque" bars in Paris. You can even play indoors and enjoy great drinks at the same time. My favourite is the one located in the district of Pigalle.
Remembering a Sunday late afternoon a few years ago. I was the one to push the door of this tiny bar and be surprised by the spectacle that is held there: twenty people pushing the song, accompanied by a guitarist. This kind of small friendly sweets that only La Cinquante can offer. In addition to a friendly atmosphere the rest of the week, and prices as friendly as the tenant this is one of the best bars in la Republique area.
Discover our Paris guide ?