There are so many things to see and do during a night in Paris you will be overwhelmed. However, that isn't a bad thing! At least you have some great options that just wait for you to pick them. You will find there is something for everyone from sunset to sunrise and all times in-between.
You Will Never Run Out Of Things To Do At Night In Paris!
Paris is the City Of Lights and has quite an after-dark distinction from most cities. You can enjoy the lights of the city on foot or take a quaint carriage ride. If the water is more suitable for you, there are many after-dark boat tours you can take. If you get thirsty sign up for a Pub Crawl – enjoy your favorite drink, and socialize with the locals at their favorite spots.
A fancy dinner with some typical delicious French cuisine – you won't find a better place. The arts in the many theaters and museums are another attraction the City of Lights has to offer. And if you don't want to spend any extra money, simply take a leisurely stroll along the banks of the Seine river. The French capital offers it all! In this article, we are going to explore the many things to do in Paris at night. Let's just hope, you get the opportunity to try them all out.
Let's discuss the most obvious first. The beauty of the Eiffel Tower alone will make sure you remember city's nickname "City of Lights". It's a most impressive sight not only during the day but also after dark – and 'Ooh La La!' – it is definitely worth it! Just imagine its famous silhouette against a nighttime sky illuminated with 20,000 light bulbs on almost 25 miles of wire. Simply breathtaking!
The Louvre Palace and Museum is incredibly beautiful in the light of the moon. The glow of its glass pyramid dominates the Cour Napoléon. The Louvre is opened until 9:45 pm to satisfy all the eager art lovers. That means that you can admire the Masters' paintings, samples of art deco, and fabulous sculptures even after the nightfall.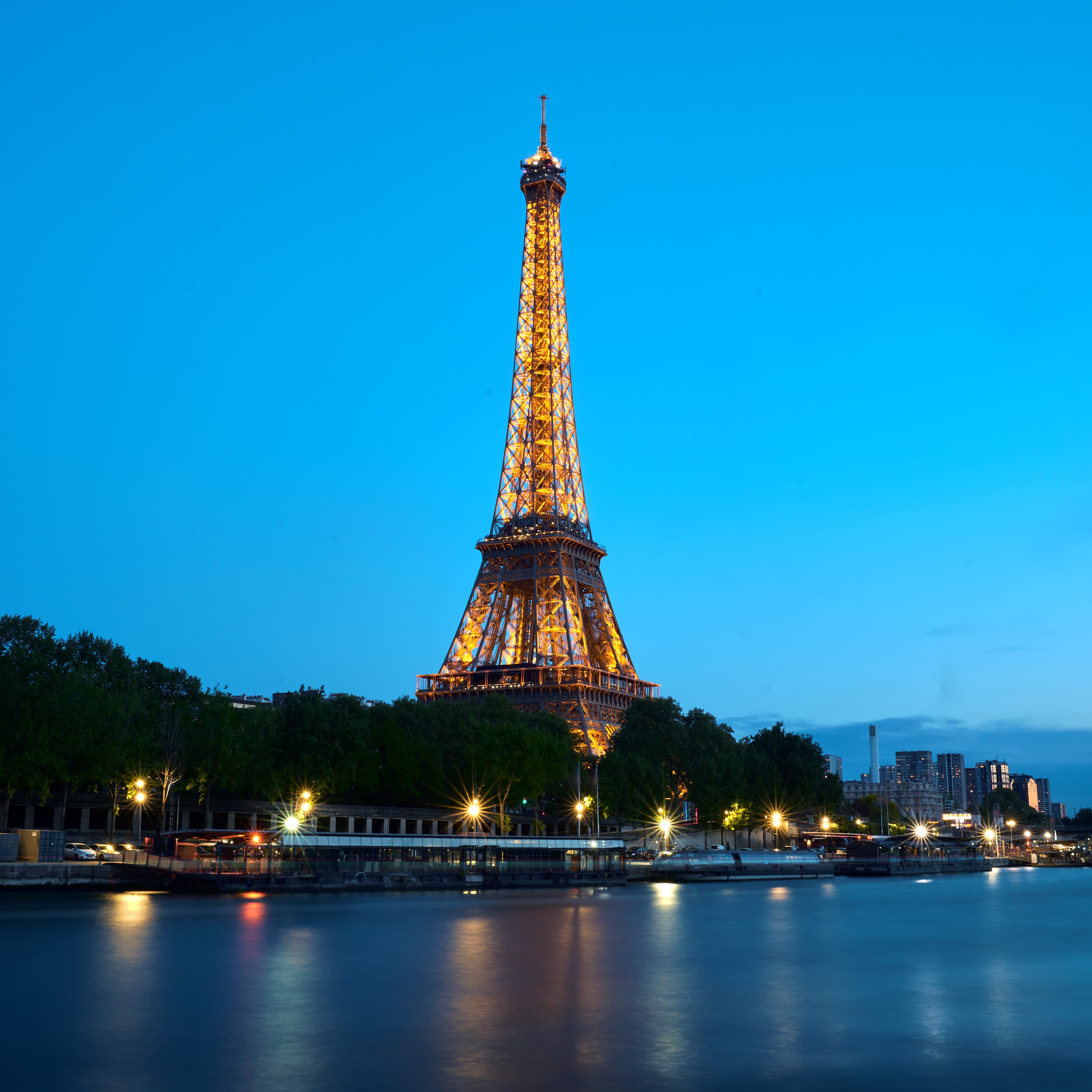 A nighttime stroll along the Seine is breathtaking particularly on the Pont Neuf, Pont des Arts. The Ile de la Cité area is where the dramatic facades of the Notre-Dame de Paris Cathedral fill the sky with awe-inspiring beauty. It's illuminated sights are definitely a MUST to see during the night.
You've seen it in the movies and on postcards, but there is nothing like seeing it in person. The Avenue des Champs-Elysées is one of the most memorable sights. It's lined with luxury hotels, five-star restaurants and designer boutiques that give it its glow after dark. Almost 1,5 miles of radiant lights from the Place de la Concorde to the Arc de Triomphe will leave you breathless. And that doesn't even include some 450 lighted trees that line the avenue.
Are you up for a unique experience? Take a ride in a vintage Citroën 2CV and discover the after dark beauty of illuminated Parisian streets and avenues. The Vintage Car Tours include an informative and fun driver as your personal guide. So, sit back and enjoy a glass of wine while exploring the city at night.
Do you not know what a Bar crawl is, or you haven't experienced one? You are missing out on a unique experience! It's a fun-filled night that lets you meet new people and socialize with the locals in their hang-out spots. This bar-hopping tour will take you through several bars and club and who knows… Maybe will even lead to new and long-lasting friendships.
If you think that paying for a bar tour might not be worth it, look up the events in the city but remember that drinks are expensive. Check it for yourself and note that bar crawls include drink specials and discounts, free admissions, and other perks.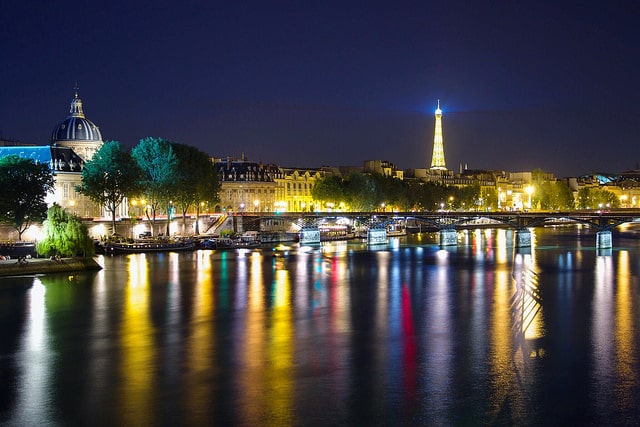 Now that we have generalized a few main things to do in Paris, let's check out some exciting opportunities to make your visit even more memorable.
Looking to acquire a little art and culture? Paris will keep you busy throughout the day, evening, and night. The Palais de Tokyo recently reopened after extensive remodeling and almost doubling in size from its former glory. Its contemporary arts center is the largest in Europe and displays the ideas and works of young contemporary artists. That might be a welcomed change compared to the more traditional museums such as the Louvre and the Musée d'Orsay.
Another stop is L'Olympia – 28 Boulevard des Capucines. This 1893 concert hall was the focal spot for Edith Piaf's finest performances between 1955 and 1962. Many of her legendary performances were recorded here, therefore, preserving her legacy for all time.
Ladies – Paris is the fashion capital of the world. You will hopefully acquiree some of the latest fashion statements, however, don't forget that you also need to travel in style.
The whole Latin Quarter comes to life after the sun goes down. It's here, you can visit the most unique swimming pool at the Piscine Pontoise. The swimming pool is designed in art deco style with 3 floors of unique cabins you can rent. Why are we listing a pool here? Because it's open almost until midnight! If you're a fan of swimming or you just want to relax for a while,  check it out here.
This coolest section of the Capital is famous for Mai 68 and it's still regarded as the biggest upheaval in modern French society. Jean-Paul Sartre engaged the spirit of doctors, students, teachers, and nurses to protest their rights in that historic rebellion.
The Latin Quarter has it all so be sure to visit and enjoy the real deal. Take a night bike tour, visit a great restaurant and enjoy true French food. Do a pub crawl or visit the famous Latin show at the Cabaret Le Paradis Latin on the Left Bank.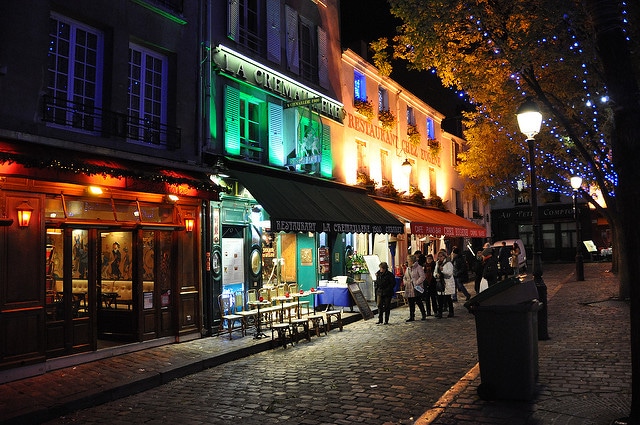 Here are some ideas and places you can visit at your leisure and enjoy every moment.
Take a most unique garden walk on the La Promenade Plantée that's set above street level on an abandon railway line. It is truly a hidden treasure from the more well-known attractions. The walk is beautiful, however, don't forget to also visit the many shops and cafes along the way that once belonged to the railway.
Are you in the Montmartre neighborhood? Be sure to visit Place Du Tertre, a small square to take in the true culture of Paris. Watch the local artists as you have a glass of wine or traditional meal at one of the small cafes. If you have a little time why not have your portrait done as a remembrance of your trip.
Are You visiting Paris with you're better half? You're sure to enjoy a wonderful museum focused on romantic art and literature. The Musée de la Vie Romantique primarily shows the works of Delacroix and writer George Sand and was the studio of painter Ary Scheffer.
Riviera Bar Crawl Paris is considered by many the best site to book your pub crawl. Some say they offer the best packages but you'll have to be the judge.
As we mentioned before, there are countless activities you can enjoy in Paris – during day or night. We tried our best and listed some of our favorite things to do in Paris at night.  However, there are always more places to see. That's why we also linked to different websites, that will help you plan and enjoy your stay to the fullest!
When you do some more research online, read on some blogs to find out what's other people's experience. Another advice we have for you is not to overlook the smaller websites and blogs that can offer amazing inside look and knowledge.
Most importantly, we wish you a great stay in the City of Lights and a lot of great experiences.