The Afterwork in Paris is the meeting place downright essential for all those who want to have fun, nibble, meet new people, flirt, etc., and all without having to go to bed late really late. Because it is an innovative concept, and 100% fun, that since its birth a few years ago, is attracting a huge number of people and a large scene of many followers … You should really look at the after-work parties in Paris.
What is an Afterwork in Paris 
In general, Afterwork on Paris begin at 6.30 / 7.00 PM, to finish around 1.00AM, and target a clientele that comes out of work, but not only! 
Yes, as its name suggests, we find ourselves in joy and good humor after work, to decompress and relax with friends or colleagues. And the best is obviously to choose a place ultra-trendy to party and blow a little bit of steam. A dose of good humor and relaxation in your daily life in the heart of the French capital, in some of the best bars in Paris, and the trendiest places in France.
The best after-work parties in Paris
This new Afterwork concept is getting bigger and bigger in Paris and throughout France.  under the same name After Work (after work for non-English speakers).
 The after-work Paris are parties organized in restaurants, terraces, barges, nightclubs, club and even ephemeral places in the capital almost every night of the week but the biggest evenings after work Paris take place on Wednesday, Thursday, and Friday.
Pub crawl for fun Afterwork in Paris
The pub crawl in Paris is one of the best after-work party to meet new people, discover some of the best bars and clubs in the French capital and to relax a bit after a long day at work. With some of the best pub crawl in Paris, such as the ones proposed by Riviera Bar Crawl & Tours,  you are sure to get some of the best Afterwork in town.
It is a walk between inside paris Latin quarter including 4 or 5 stops in some of the best pubs in Paris, with the visit of Top Bars and Clubs Paris. During these 5 stops, some drinks and shots will be offered to you for free, as well as preferential rates on the other drinks. 
This is also a great opportunity to discover the best party districts in Paris. 
A local guide will help you create your party group made up of internationals and Parisians. In short, a fun evening guaranteed, as well as an opportunity to meet people and have a good time with them. No more impersonal evenings, you will have fun in a group, and you will meet new faces.

An after-work in Paris to fit your style
The concept is simple. You arrive early around 7.00 PM, a cocktail dinner and drinks are usually offered for an affordable price, and when the night falls, the DJ starts to play, and everyone moves on the dancefloor, to swing on the last hits of the moment. 
In Paris, the number of evenings after work has exploded, you will find a little everywhere and for all tastes. Afterwork in Paris also exists for evenings for different age groups so you are sure to meet the right crowd on your party nights in Paris.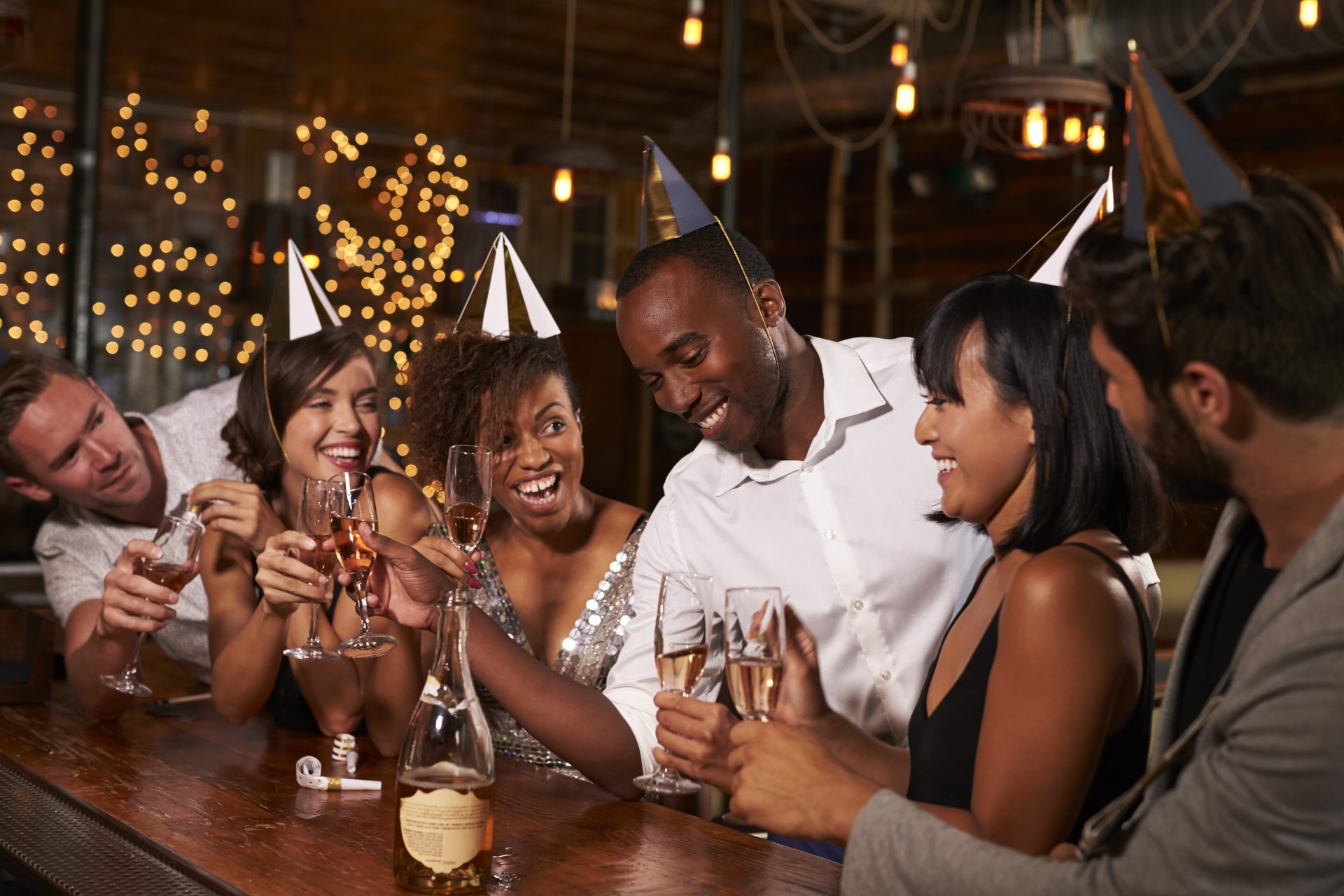 Paris after-work parties' best locations 
On Wednesdays and Thursdays, in different districts of Paris, the biggest after-work places of the capital will be open for you. Champs-Elysées, Bourse, Opera, Montparnasse, etc., those are some of the best party districts of the French capital.
Afterwork parties are also an essential showcase of the Parisian life, and a certain dress code is required. Indeed, if you decide to come in shorts, tee-shirt and flip-flops; you are pretty sure that the physiognomist at the after-work party entrance refuses you the right of access, and will ask you to come back with at least a pair of jeans and a shirt. It is not that the after-work in Paris are stilted evenings, but a minimum effort is appreciable, after all, it's still more pleasing to the eye, and to the high standard of the venues.
Aperitif after-work party in Paris
It's the new trend for after-work in Paris at the moment. A concept of a festive night in a bar where you can also dance, and with a much better-quality service. In this after-work, you will find a real buffet, where many good dishes are offered to you, such as French cheeses platter and cold cuts, snacks, and other hot dishes. And, it is the same for the open bar, with a large choice of drinks: spritz, sparkling wine, beer, wine, and soft drinks. Add up a DJ and some great music to dance and you have the perfect set up for an Afterwork in Paris!