Hong Kong lives 24/7, day and night. Hardly any other city offers such nighttime entertainment as the former crown colony of Great Britain. It is not for nothing that the Hong Kong Tourism Board rightly calls the metropolis "Asia's cosmopolitan city." 
Even after returning the 99-year leased area and the former colonial islands, it has lost none of its exotic touches. When the sidewalks in other metropolises have long been folded up, and the streets are recovering from the daily traffic collapse, night owls in Hong Kong will still find clubs, karaoke bars, and spectacular rooftop bars open.
Hong Kong Pub Crawl– What to do in Hong Kong at night?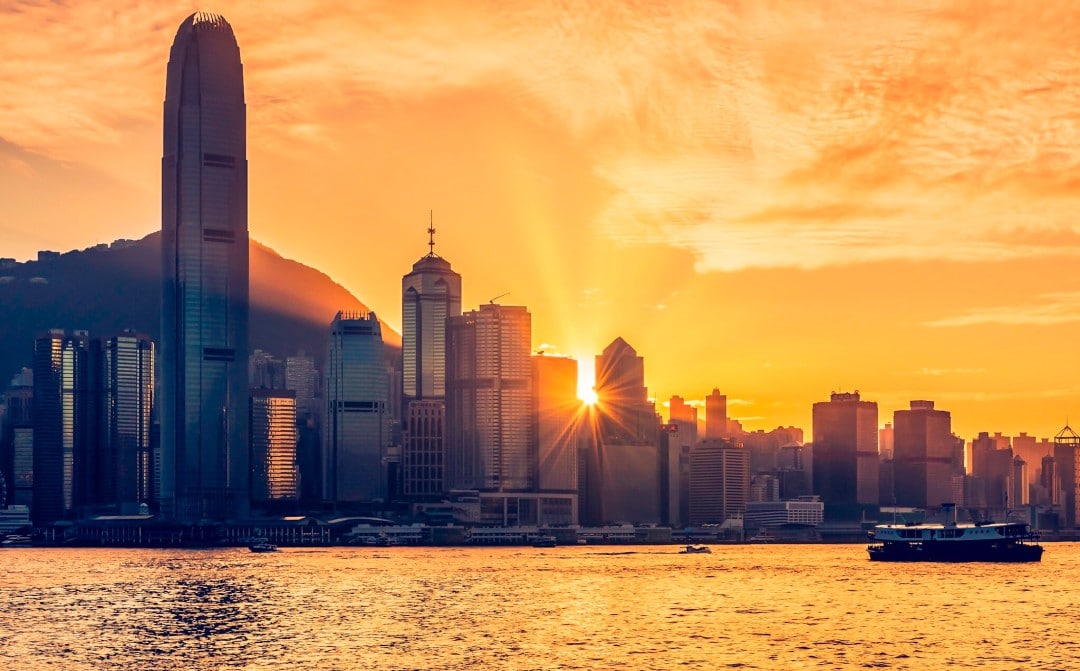 Nightlife is more exclusive in Hong Kong's entertainment clubs. Wealthy Chinese businesspeople usually come and go here – most visitors will hardly be able or willing to afford a visit. A small beer price starts a bit high, but stimulating stage entertainment is included in the price. 
Hong Kong is located in Asia, which is otherwise relatively cheap, but the immense entertainment offer of the world metropolis has its price – in the already not affordable city.
Join one of the Riviera Bar Crawl & Tours Hong Kong pub crawl and get the best drink deals and free entrance to the best bars, pubs, and Lan Kwai Fong clubs: LKF bar districts and places such as the Jockey Club and the Valley Racecourse!
Lan Kwai Fong is now one of the most popular trendy districts and inspires expats, visitors, and students alike with its unique atmosphere from around 100 different establishments. 
This district was created in the 1980s with the opening of a burger bar, the Original California Restaurant. 
The range of delicious food, trendy music, and the opportunity to dance late into the night quickly established itself on L-shaped Lan Kwai Fong Street. Today, posh restaurants and casual bars line up, and designer boutiques coexist with hip western clubs. 
In the evening at the latest, there will be a huge selection of different types of beer and live music on site. Even during the day, employees from the surrounding office complexes like to visit the area for lunch. But the real partying here is after work and especially on the weekends.  Via the MTR you can reach Lan Kwai Fong
Lan Kwai Fong is one of ten things Hong Kong does better than other cities. The wide range of offers and the unusual surroundings with their vibrant atmosphere is very popular with visitors.
Nightlife in Hong Kong – Where to party in Hong Kong?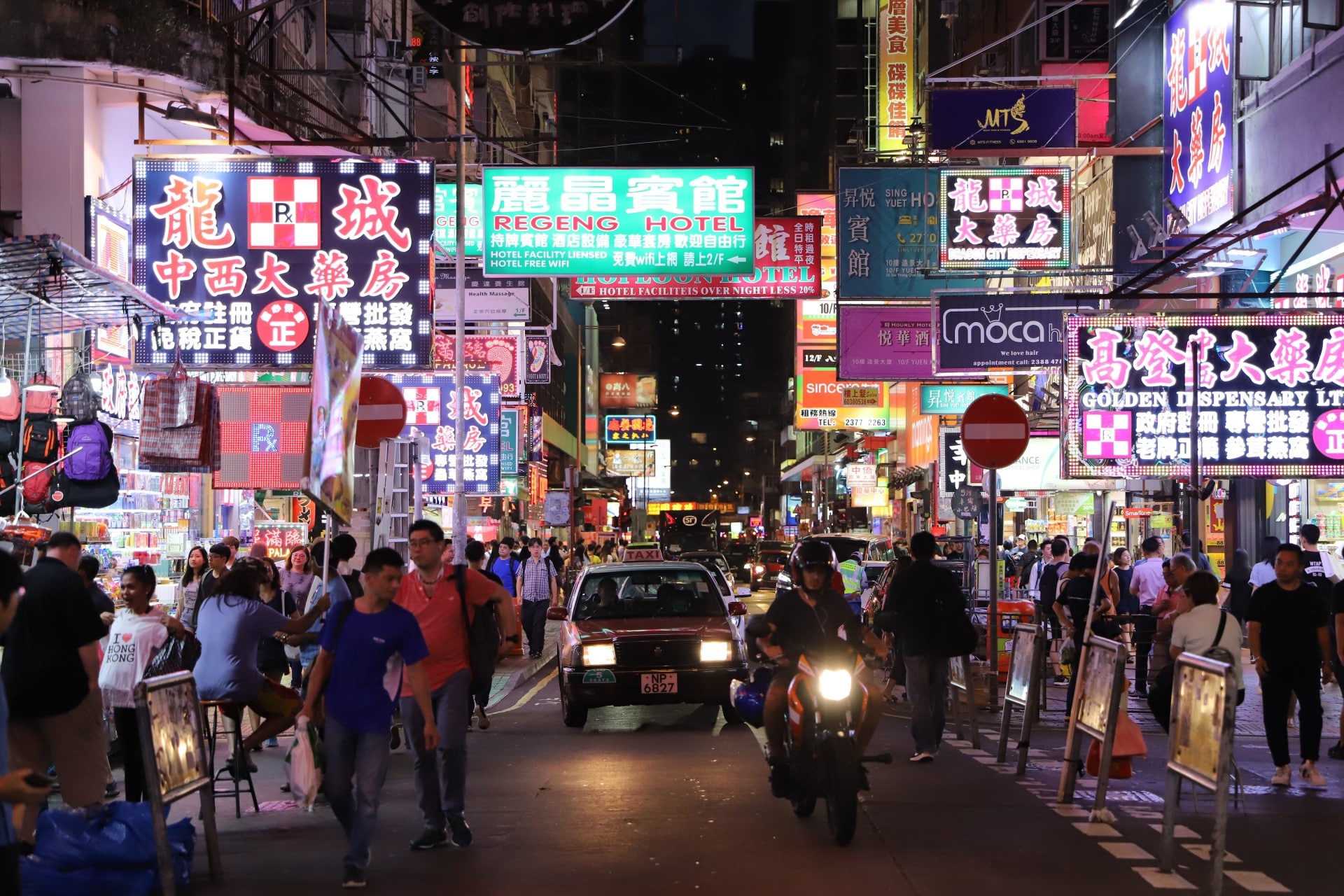 The locals like to end an evening in cozy pubs, stylish clubs, trendy discos, or night bars.
The selection of bars, clubs, and pubs seems inexhaustible in the city, where there is a shortage of housing and some people have to get by with just two square meters of living space. Space has always been the shortcoming of this big city. 
Therefore, the enormously high rental and lease costs are not surprising, which positively also contributes to the fact that the Asian financial metropolis' price level is definitely on a western level. 
But don't worry, there is usually a happy hour from 4 pm to 6 pm, sometimes until 8 or 9 pm, with drinks at half price. There, the 2-4-1 offers predominate: "two drinks for one" – there is one free drink for every drink ordered.
Besides, you can head to SoHo. The neighborhood is just a few minutes' walk from Lan Kwai Fong. 
It's located a little further west on Hong Kong Island, just south of Hollywood Road. Hence the name: "South of Hollywood" – SoHo. You will find Art galleries, antique shops, fashion boutiques, and trendy restaurants throughout the district. 
In SoHo, you can also dine very well and party until late into the night. The more than 120 locations in the narrow, sloping streets on the slope are challenging to see. But if you are not in a hurry, you can get an overview of the trendy bars from above. The mid-level escalator takes you to Elgin Street – there is a good view of SoHo.
Here are some of the best places and party spots in Hong Kong:
Insomnia: Certainly one of the most popular places in Lan Kwai Fong with an Italian-style facade. Filipino bands play here too.
Dragon-I: Its peculiarity is that the interior of the premises is decorated in a traditional style, which is very popular with designers and architects worldwide. All the walls, floors, and furniture inside are made of exclusive materials that in many ways repeat either the color or the skin of the dragon. That is why red-colored leather items predominate here.
Yuma: At first, this club was nothing more than a small institution where visitors could knock over a few glasses of alcohol. However, over time it has seen a number of changes and modernizations, which has rightly made it one of the most popular nightclubs in Hong Kong.
The Wanch: The Rock Club at Jaffe Road No. 54 is one of the most popular clubs in Wan Chai. The music of the lesser-known live bands is very popular with the guests—likewise, the numerous beers from different countries are available at relatively fair prices.
Carnegie in Wan Chai: The price-performance ratio for drinks and food is excellent. The pub, which opened in 1994, has long been an institution in Hong Kong. Live bands play here again and again.
Bahama Mama's Caribbean Bar in Tsim Sha Tsui: One of Hong Kong's classic party bars. Open until the early hours with good service and friendly staff.
Happy Valley Racecourse: The racecourse on Hong Kong Island lies in the Happy Valley, a small valley. It is surrounded by the tallest skyscrapers in the city and the winding road leading up to Hong Kong's world-famous viewpoint, The Peak. 
Happy Wednesday is very popular with tourists and locals alike. Employees from the nearby business district come here once a week for a kind of after-work party. It is a cozy get-together, thrilling horse races, and the extraordinary ambiance under floodlights in the middle of the pulsating metropolis.
Stockton: If you are looking for a sweatshop in Hong Kong, Stockton is the place to be. This whiskey bar, similar to a British speakeasy, serves premium cocktails and spirits. In a cozy and chic atmosphere, with vintage furniture and leather armchairs, enjoy yourself by a 10-year-old whiskey, which we gladly accompany with scotch eggs: the absolute dream of the Scots!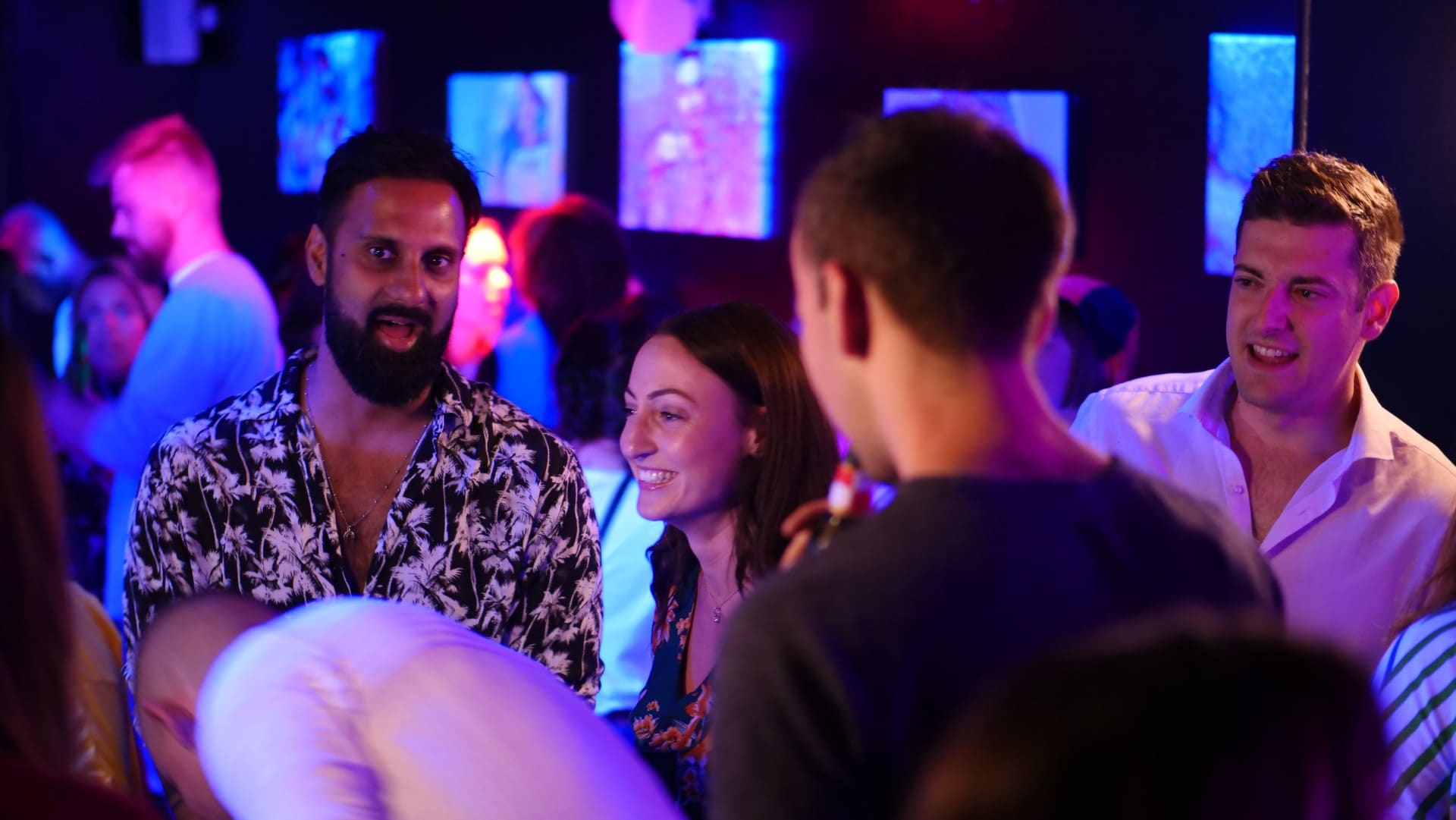 Start your Hong Kong pub crawl tours. 
Are you looking for the best bars and clubs in Hong Kong? With Riviera Bar Crawl & Tours, you will get all the insiders' tips, head to the best places, get free drinks and shots, party with other travelers and locals, and find the best addresses to enjoy the real Hong Kong's nightlife.
With a massive network of local guides and local inhabitants, you can finally get to know the city like a local and skip the usual tourist spots. 
You will also find a full selection of walking tours, private city tours, and other day trips around town and many other cities worldwide.
For further enquires and information, don't hesitate to get in contact with us via our email: info@rivierabarcrawltours.com