The cooking classes and food tours trend is now a true social phenomenon. With cooking schools which are opening everywhere in Paris, you can finally fill like a contestant from the famous "Master Chef" show, and get to cook a 4-course meal in one of the best cooking classes in Paris.
If you want to discover recipes from great French chefs, know how to work with new products, or even learn from foreign culinary practices while visiting the French capital, then, cooking classes are waiting for you in Paris.
Learn about French gastronomy with a cooking class in Paris
We are going to give you the best tips about Paris, which are the best cooking classes on the market, and where to find them.
The History of Cooking Classes
For a very long time, cooking tips and techniques have existed in paper format, with recipes for some of the most famous French dishes, that were only found in cookbooks! Remember those huge recipe books in your grandmother's kitchen.
For the people keen on the history of cooking, know that it was around the 19th century that cooking classes began to professionalize, with cooking training workshops, culinary workshops, as well as gastronomy contests … and we are not talking about hot-dogs eating contest from the U.S.
All the big names in the kitchen and Michelin-starred chefs, whose restaurants are listed in the Michelin Guide, now offer cooking classes for amateurs and beginners, bringing the French food culture to all food lovers.
When in Paris, you have the chance to join the cooking classes, set up by some of the most famous chefs in France such as Alain Ducasse, Ritz Escoffier, Cyril Lignac or Philippe Etchebest, but also some baking course such as the one proposed by Gaston Lenôtre.
Different Types of Cooking Classes
Today, you can find different types of cooking classes in Paris. Often organized within small groups, you will learn how to prepare and cook appetizers, hot and cold dishes, desserts, and pastries. Rates vary greatly depending on the fame of the chef, the number of participants, etc.
The French cooking classes around a great leader
You will find classes for daily cooking, wellness cooking, and traditional cuisine. Unfortunately, you will not often have the chance to have the chef himself, since these big names of the French gastronomy are very busy. However, you will be hosted by one of the key sous-chefs from the celebrity chef's team.
The Vegetarian cooking class
Increasingly "a la mode", the veggie kitchen gives a new and contemporary taste to the French cuisine, with the use of plenty of ancient vegetables. 
You will also be sensitized to gluten-free cooking classes, interesting for those who develop an intolerance.
The pastry cooking classes
Who has not dreamed of offering sweets or desserts to accompany a gourmet coffee? Have you always loved profiteroles or the classic "baba au rhum"? Learn to do them yourself, so you can treat and amaze your friends! 
The Parisian cooking course of Lenôtre has in 3 locations in Paris, and they offer classes for adults and even children.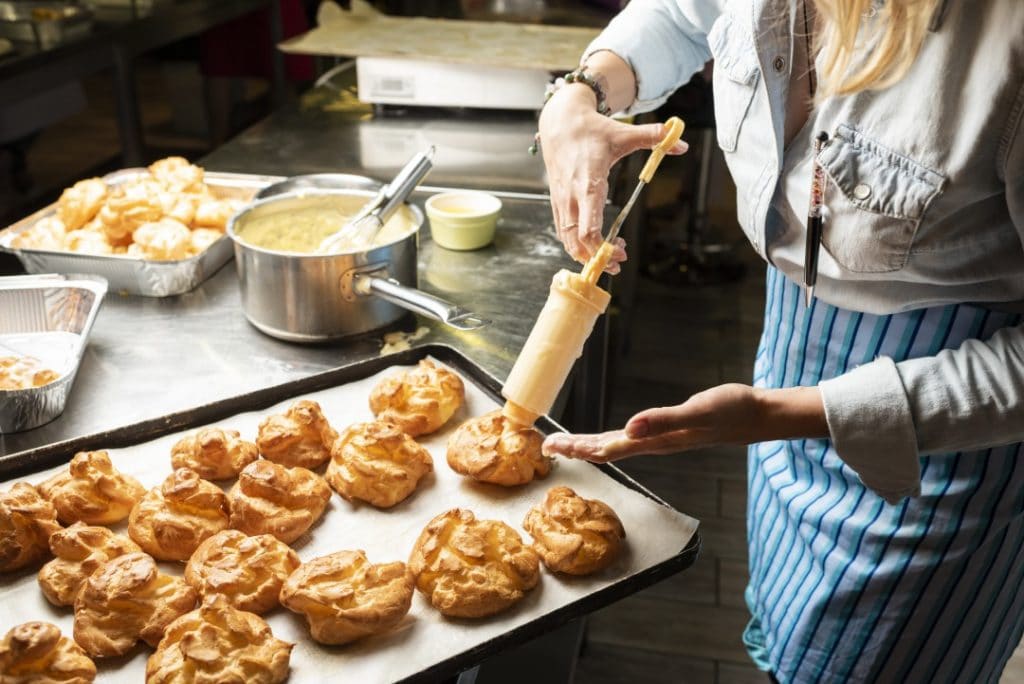 Cooking class in Paris: French gastronomy at its best
French gastronomy is famous all over the world. If you are still wondering on which workshop to choose from a long list of cooking classes in Paris, then take a look at some of the best cooking schools we have listed for you.
The Most Prestigious Cooking Classes in France
You will find many good food tours and cooking classes with renowned chefs. Here is the list of the most prestigious cooking classes in Paris, to learn from the best:
Cuisine Attitude
Located in the heart of Paris, the 3rd arrondissement, the cooking school of Cyril Lignac offers cooking classes open to 12 students maximum. On the menu, get ready for a 3-hour-cooking class, including 2 hours for cooking, and 1 hour to taste your creations.
L'Institut Paul Bocuse
It is logical to find this school in the heart of Lyon, the birthplace of the world-famous chef. You will learn the basics of cheese tasting, as well as an introduction to enology. Prices for the Lyon cooking class start from 70 €.
L'Atelier des Sens 
 Since 2004, it has been offering a wide choice of French and world cuisine courses, as well as pastry and enology for the ones looking for some wine tasting in Paris. Classes are set up in Paris, but you will also find it in Lyon. Different formulas exist, with a daily "à la carte" menu to be cooked with a professional chef.
Le Chef Martial 
Get ready for some "home cooking class"! Founded by Chef Martial, the cooking class is all about the real French food, with simple recipes with a "wow" effect. The idea is to desacralize the kitchen and to bring it to the people. The Chef's cooking workshop is located at Place des Vosges, near the Saint-Paul metro station in the 3rd arrondissement. You can also accompany the chef in his shopping run before the class. 
The Alain Ducasse Cooking School
Who does not know the Gascon chef, three times awarded three Michelin stars? Coming from a modest family, this chef has built a true restaurant empire with more than 700 establishments worldwide.
Chef Ducasse's school is located in Paris in the 16th arrondissement. Here, many cooking classes are available, so, if you feel inspired, and your wallet can follow, the cooking course will teach you all the secrets of refined gourmet dishes.