Did someone say breakfast? Here's our favourite places in Nice
The breakfast scene is evolving in Nice. Find your perfect place for brunch from our list of the best cafes and restaurants in town. Did someone say coffee?
With new cafes popping up around the city, there's a diverse selection to choose from. You can indulge in the traditional french pastries or go a little more modern and tuck into a smoothie bowl – the choice is yours! 
Here's a list of our top spots in the city.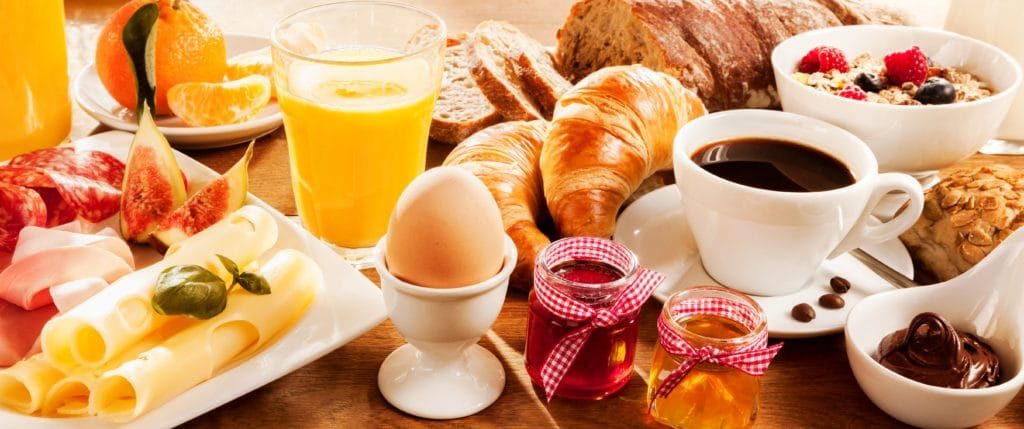 Paper Plane – 14 rue Gubernatis Nice, France
La Popote d'Ondine – 18 rue Gioffredo Nice, France
Another 'Insta-friendly' brunch spot, but this time for the meat-eaters too as well as the vegetarians amongst us. 
The food ranges from super-healthy bowls to pancakes with bacon and cheese; there's something for everyone! One of the best things about La Popote d'Ondine is the variation of treats available, you can snack on raw chocolate balls or feast upon a large slab of carrot cake. 
The drinks menu is unique and varied, ranging from fresh juices to an elaborate menu of hot drinks which includes a Maple Latte (yum!). 
The Wi-Fi here is free and fast, making a great spot to catch up on some work whilst sipping a warming cup of coffee.
Clay –  3 Rue Bonaparte Nice, France
A new restaurant on the scene, Clay is bringing the brunch culture to Nice in full force. Everything is natural, fresh and delicious. From freshly squeezed juices to smoothie bowls; it's the perfect spot to get that sought after Instagram shot. 
The interiors are dreamy – picture rustic wooden benches combined with dried flowers and straw highlights. The breakfast formula is only 23 and includes a hot drink, fresh juice, pancakes and blue smoothie bowl. 
One downfall is a lack of outdoor seating, but if you're there early you can nab the table for two which is just outside the cafe – the ideal spot for a day time brunch date. It's adorable! 
Pain & Cie – Rue St François de Paule Nice, France
Let's go to traditional France and enjoy petit dejeuner at Pain & Cie. Nestled in the heart of Nice on the Cours Saleya, you'll find this rustic cafe which is also a bakery serving the freshest breads and pastries. 
The decor is authentic with dark woods being prominent in its design. The seating is communal inside, where you share large oak tables with other diners. If you manage to grab a seat outside, you'll have the table all to yourself. The Cours Saleya benefits from having the sunshine almost all day, so you're almost certain to enjoy your croissant and hot coffee in the early morning sun.  
Like most places, Pain & Cie does a breakfast formula. Here you can tuck into a real French breakfast of fresh baguettes, croissants, fresh jams and butters, cheese, ham, a coffee and freshly squeezed orange juice. How very continental! 
Café Marché – 2 rue barillerie Nice, France
Known for serving its customers a top notch cup of coffee. The best way to wake up in the morning and get yourself ready for a day of exploring. 
Café Marché is nested away down a side street in the Old Town, not far from the Cours Saleya. The breakfast menu here varies, serving both sweet and savoury dishes that are all homemade using the freshest seasonal produce.
The dishes here are traditional but with a slight modern twist – making eating her a unique experience. A true hidden gem.

Le Bistroy Cafe – 37 rue du Marechal Joffre Nice, France 
Let's take it toward the Promenade des Anglais and have breakfast near the sea. Le Bistroy is a cosy, rustic restaurant playing towards its Provencal routes with the decor. 
The best time to come here for brunch is on a Saturday morning where the team behind Le Bistroy creates an incredible selection for you to enjoy. You can gorge on sweet crepes, one hot plate of your choice and an unlimited buffet! Yes, we did say unlimited. 
The brunch on offer is much more traditional, but one of the best in Nice for quantity and quality. A great place to come to fill up your belly before a day of sightseeing…maybe not the best place to come before a day of sunbathing!
Le Makassar – 5 Rue Alexandre Mari Nice, France
Le Makassar is in the centre of Nice, situation close by to Place Massena . The brunch is only available to weekends, but it's definitely work squeezing into your diary if you like a breakfast with a bit of an edge. 
There are lots of different brunch menus, ranging from an all-you-can-eat donut menu with coffee and orange juice to a deluxe menu that includes eggs, sausages, salmon, fresh fruit, pastries, cheese and pancakes, all of which can be paired with a glass of champagne. The prices start from 10€, so brunch here is very reasonable. Of course the price increases if you fancy a glass of bubbles with your breakfast, but that is to be expected. 
So there you have it, our favourite breakfast spots in the city, from the traditional to the Instagram friendly for the millenials out there!