The wide and partly shaded by trees (tamarind and palm trees), Playa Tamarindo, and the village are part of the Marino Las Baulas de Guanacaste National Park, so that turtle watchers and other nature lovers, in particular, are drawn here.
In the north, it borders through the estuary of the Rio Matapalo on Playa Grande, where one of the most important nesting sites for leatherback turtles is on the entire Pacific coast.
The beach has also long been popular for its white sand, surf, and crystal clear waters. Many emigrants from Europe and North America attracted good transport connections from Liberia and its status as one of the best surfing areas in Costa Rica. Due to a large number of North American investors here, the place is often called "Tamagringo".
Do you want to plan the best pub crawl night in Tamarindo? It is simple with the online booking and within the region in the drop-down menu. It is a unique website addressed to speakers of English from all countries in the area and for the resident of another country or region.
Tamarindo Pub Crawl– What to do in Tamarindo at night?
The village of Tamarindo is ideal for those who wish to party. There is always a good atmosphere on site. We recommend the bar "Chriringuito" on the beach where very nice evenings are organized regularly. Many tour agencies are also present on-site for your on-site activities: you can surf, paddle, quad, snorkel, horseback, and many more!
Are you with friends and want to party? Tamarindo offers plenty of options for going out, having a drink, doing karaoke with the locals, attending a concert, or swinging your hips on the dance floor of a nightclub. You will be spoiled for choice in Tamarindo but also on the coast of the Pacific Ocean.
In Tamarindo, there are nice beach bars, in the evening and at night you can have fun in the discos or one of the bars with live music. The place even has a casino.
Tamarindo has long been known for its nightlife and has a casual and fun atmosphere. Many hotels, restaurants, tour operators, and shops are practically on the main street.
There are also several providers among them who rent out scooters, mountain bikes, or beach cruisers. You can use it to explore the area on your own. But multi-day mountain bike tours or horse riding trips can also be organized.
For friends of sailing, sunset tours by sailing boat are recommended. There are, of course, also day trips and trips that can be combined with snorkeling.
On the outskirts of Tamarindo, there is a newer residential complex with one of the most beautiful golf courses in the country, designed by the well-known architect Mike Young.
There is a skate park behind the "Voodoo Lounge" bar for skateboarders with their own skateboards. In addition to sport fishing.
Tamarindo is also known for surfing, and many surf schools along the main street offer beginners a good start. Many surf beginners willing to learn, make surfing professionals prefer to go to less frequented beaches such as Playa Langosta, Playa Negra, and Playa Junquillal in the south and Playa Grande in the north. There you will find bigger, faster, and less crowded waves.
It must also be pointed out that tourists' rush increases the problems with drugs, prostitution, and theft. Sometimes the dealers are open on the main street and offer their "goods".
Ask your Riviera Bar Crawl & Tours local guides for more information about things to do and where to go out in these areas!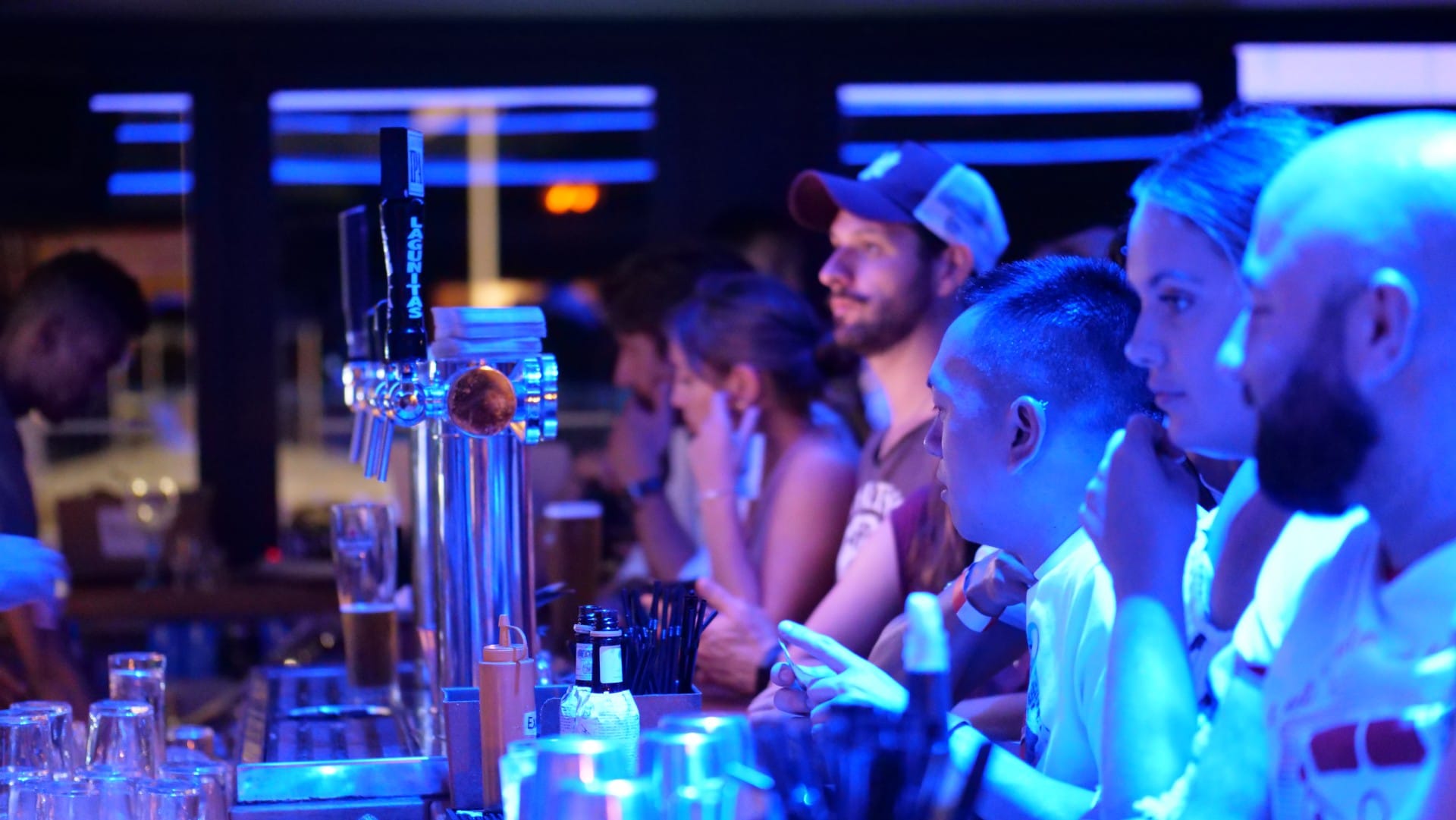 Nightlife in Tamarindo – Where to party in Tamarindo? 
Tamarindo on the Pacific coast of Costa Rica is a great place for partying and for surfing. The city is very lively, the sunsets magnificent and the waves at the top for surfing.
People say that the party in Costa Rica is in Jaco that it happens. Still, the party in Tamarindo is not what is missing with his Friday night parties at Monkey, an outdoor nightclub, which ends at daybreak and many other evenings on other days of the week.
Wild panda
Crazy Monkey Bar
Tamarindo is an extremely popular tourist spot that attracts many surfers, yogis, and young people. The place is on the Pacific, on the Nicoya Peninsula.
The region's beaches are stunning, and many people are particularly drawn to Nicoya when they travel through Costa Rica. Tamarindo has quite a few casinos, small clubs, and bars where you can have fun and have a good time.
The following places you should check in Tamarindo to party with locals and fellow travelers:
Sharky's is a great sports bar with a fantastic staff!
El Garito is well known for being a very fun club with great music. It is probably the best bar/night club in Tamarindo!
Pacifico Resto-Bar: is one of the best clubs with great people (both locals and travelers).
Here are some other venues, bars, pubs, and clubs you can also check for a great night out:
Higher ground
The Loose Moose Garage
Boogaloo Salsa Club
…
Start your Tamarindo pub crawl tours 
What a better way to discover a city through its nightlife and party places?
At Riviera Bar Crawl & Tours, you can easily join some of the best pubs crawls in Tamarindo. It is an excellent opportunity to discover the best party districts and party venues in Tamarindo.
Riviera Bar Crawl and Tours is a huge network of local tour guides and local party experts who love showing their culture, showing you the city inside out, and taking you to the best travel and party spots around the city, such as in Tamarindo.
In case that the website may not display because of an unsupported browser in your country or region, please select the appropriate version for Riviera Bar Crawl & Tours (we support the following browsers: Explorer, Chrome, Firefox …).
Our website operates such as the TripAdvisor website for your country, and you will be ready for the majestic pub crawl Beijing and fun based on your travel dates and expectations.
What are you waiting for? Check out all the options you will find with Riviera Bar Crawl and Tours and plan the most unique and original city trips and holidays!
For further enquires and information, don't hesitate to get in contact with us via our email: info@rivierabarcrawltours.com