During a vacation trip through Taiwan, one would, of course, not only want to get to know the breathtaking nature, the culture, and the shopping streets, but also the nightlife of the vacation country.
In any case, the most exciting thing is to immerse yourself in Taipei's pulsating nightlife. It offers a perfect combination of the latest clubs and typical Asian entertainment. Taipei's nightlife is different from the other metropolises measure. Experts even claim the Taipei scene is hotter and more exciting than the nightlife of New York.
Besides, the offer is colorful and multi-faceted. It has everything from small pubs and karaoke bars to stylish clubs and bustling night markets.
Are you ready to take drinks such as Taiwanese to do? Join the fun night of Riviera's Bar Crawl & Tours pub crawl and discover Taipei nightlife!
It is highly recommended to fully discover the city after a day around the Longshan temple and other touristic sites in the city.
Our local tour guides will take you on a unique Taipei pub crawl to taste specialty drinks (drinks include Taiwanese beers, gaoliang liquor, Taiwanese jager …). It is also a great chance to exchange stories with locals and fellow travelers!
Taipei Pub Crawl– What to do in Taipei at night?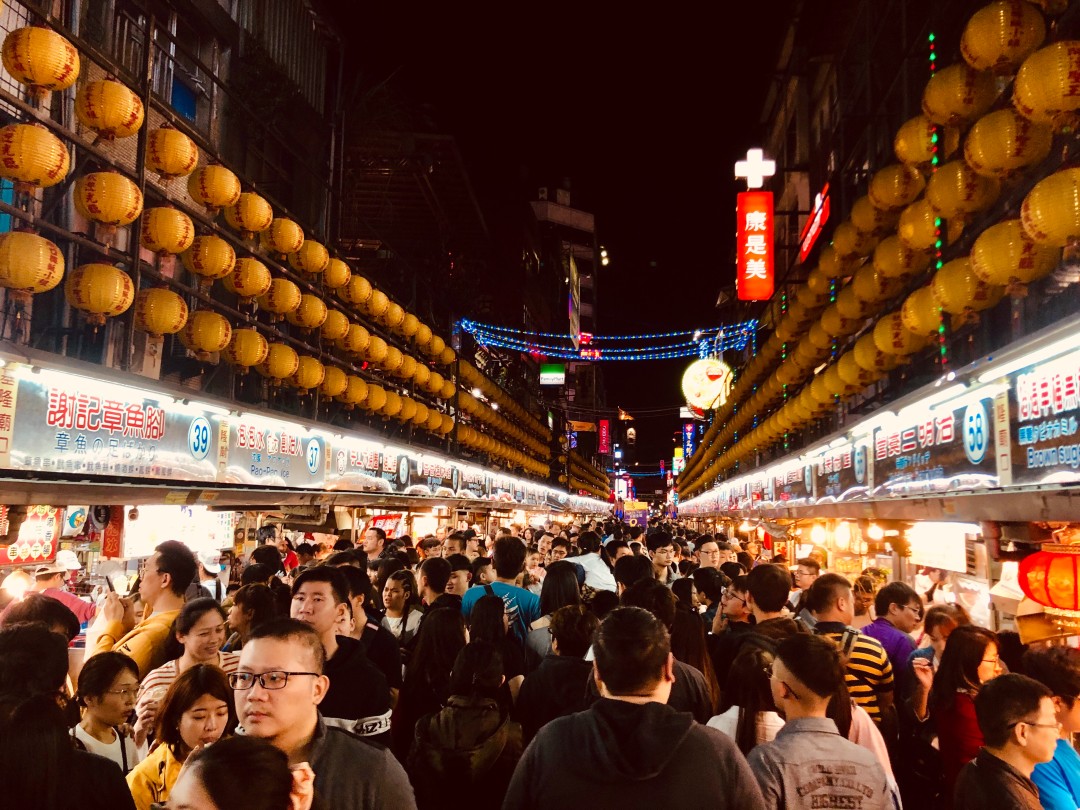 The city's most popular night market, the Shilin Night Market, is within easy walking distance of the Jiantan MRT station in the north of the metropolis. The Shilin night market consists of thousands of small streets and alleys, which are overloaded with food stalls, stalls, karaoke bars, massage parlors, shops, and bars.
The best time to visit this market is between 9 pm and midnight. Here you can not only buy great souvenirs but also watch the hustle and bustle of the market with a good cocktail or a cool Taiwanese beer.
Besides the hustle and bustle on Taiwan's markets, numerous modern clubs lure with fat beats and rock music. The night club scene in Taipei is lively and varied. Most of these hip clubs charge entry fees but always include one or more free drinks.
Nightlife in Taipei – Where to party in Taipei? 
Many bars and clubs have special offers on different days, whether ladies' night or entry with special clothing. On these occasions, admission is free, and you can even enjoy special promotions, cocktails, or small snacks.
There are also unique sports bars for sports fans, where you can follow the current sports events on large-screen TVs with like-minded people in a great atmosphere. Of course, an absolute must-see is the rooftop bars, which enchant you with their wonderful panorama over the brightly lit city. 
Countless live music bars provide entertainment, and metal and rock fans will also get their money's worth in Taipei. Whether jazz or R&B, karaoke for singing yourself, hip hop, or dance hall, Taipei is guaranteed to be a metropolis where you can turn night into day.
Many clubs, such as Underworld, are even open until 6 am. It is also immense fun to watch the Asian young people and the entire party crowd and make the night a little less colorful with unusual clothes and futuristic accessories. 
Taipei is a metropolis where you can party, shop, and enjoy the pure life around the clock. It is a cosmopolitan city that has its finger on the pulse, yet skilfully and charmingly shows its old traditions and roots, also in terms of nightlife.
Are you looking for the best bars and clubs in Taipei? Find out all about the best party districts and maximize your night out with Riviera Bar Crawl & Tours' pub crawls in Taipei.
With a unique and comprehensive network of local guides and local party experts worldwide, Riviera Bar Crawl & Tours brings you unique private guided tours, walking city tours, and other pub crawl options in Taipei and other cities worldwide!
Find out about the best bars and the best clubs in Taipei, meet new people, locals, and fellow travelers while partying in the best venues and the best party districts in town.
For further enquires and information, don't hesitate to get in contact with us via our email: info@rivierabarcrawltours.com