You will quickly find that the generally very positive attitude towards life also affects you, anywhere in Brazil, at any time of the day. On the beach, while walking, in bars and cafés, you can test your first attempts at meeting new people, wildly when dancing in and in front of you the many bars & cafes or in the clubs and discos.
Forget the stress of travel and all everyday worries – enjoy the time and let the people, the music, the rhythm, and the high temperatures at night affect you. The Brazilian way of life can be infectious!
The Brazilians invite you to participate in this attitude to life. Let yourself be invited to whatever individual program you choose.
The best way to have a first look at the Rio nightlife and shake up your Rio visit is to join Riviera Bar Crawl & Tours local guides (nightlife tour and day tour) for a Rio de Janeiro pub crawl. It is also an excellent way to save money, have lots of fun at the street of Lapa parties to learn some samba, find the best bars, clubs, and pubs with free shots and drinking games, VIP entrance, drink discounts … The perfect bat hopping and parties till the early hours, as you felt safe all night (please bring your ID to make sure to enter all our favorite party spots) partying with fellow travelers and locals!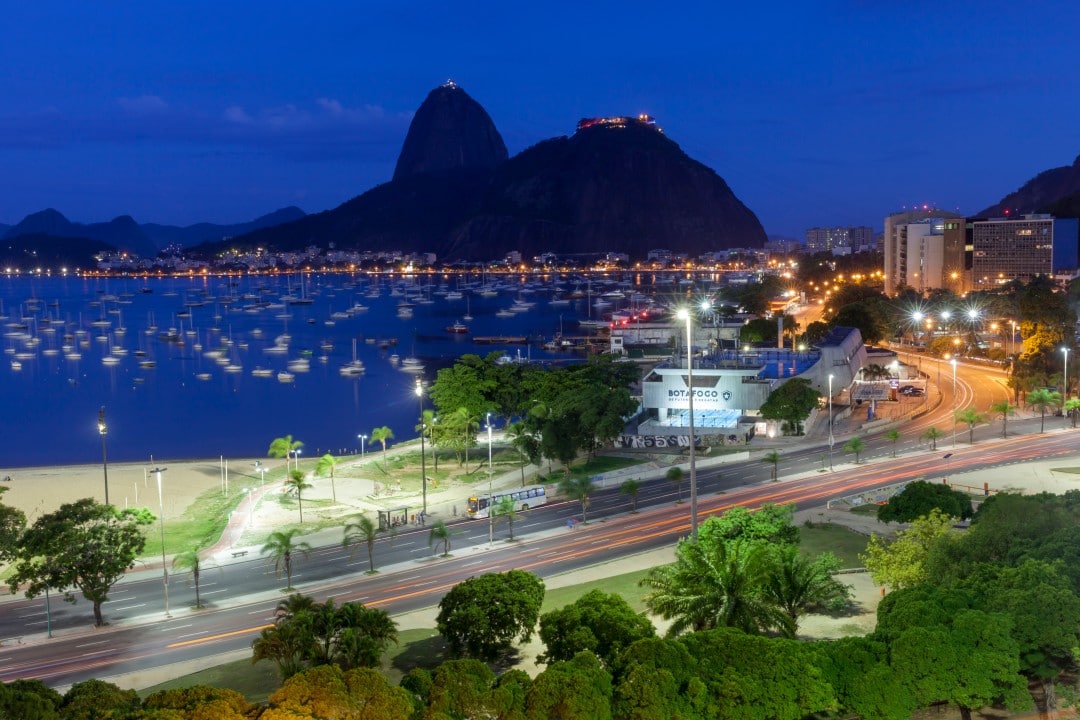 There is something for everyone in the nightlife of Rio de Janeiro. From culture such as exhibitions, theater or opera to nice cafés and bars – with the possibility to dance to Rio's clubbing scene with countless clubs and discos.
No matter whether single or married, whether young or old, whether straight or gay, whether alone or in a group, you will all find it in Rio de Janeiro.
We recommend starting your evening program with a cozy dinner, so you are well strengthened to immerse yourself in the nightlife of Rio de Janeiro. Order yourself a delicious Galao – a kind of white coffee – in one of the bars and cafés before heading to the many discos and clubs in the club scene.
Clubbing and discos in Rio de Janeiro:
In principle, it is permissible to point out that the evening does not start until much later than in most western countries in Brazil.
It is not unusual to have a long meal in a restaurant until 9 p.m. and then sit in one of the many bars and cafés before going to the clubs or discos until well after midnight. The party scene's zenith in the clubs and discos is around two o'clock in the morning, and the party goes on until four or five o'clock – even on weekdays.
Live music in Rio:
Live music and live shows can be found everywhere. These live shows are offered in many bars and cafés or a few clubs and discos. There are opportunities for dancing are everywhere, even for beginners—Latin-American dance styles such as Samba, Salsa, Tango, Zouk, or Bossa Nova. For dancing in Rio De Janeiro.
Discos and nightclubs:
The party scene usually begins with the "pre-glow" in bars and cafés before visiting the small or large clubs and discos.
You will find something for every type of music: techno, trance, house, indie rock, or rap. You should go to two o'clock for the best party atmosphere in the club or discos of your choice. T
Nightlife in Rio de Janeiro – Where to party in Rio de Janeiro? 
Between the beautiful coastline and huge skyscrapers, the local "Cariocas" starts the best parties after dark. Throw yourself into the nightlife of Rio de Janeiro and explore the sleepless city of Rio.
A hot spot to celebrate is Santa Teresa, just above Lapa. There is also dancing and partying on the street with a lot of live music and great weather:
We recommend Samba in the Simplesmente on Wednesdays.
In Lapa you will find the party scene, especially in Avenida Mem de Sa you will find many clubs and discos.
Bar do Mineiro: This bar is a must if you want to experience Rio nightlife. Due to its lively and warm atmosphere, you should stop for a visit to Santa Teresa. The room's walls are covered in a wild mix of old photos, traditional saucepans, and other decorative items, and the diners are just as colorful as the wall decorations – you'll find locals and travelers of all ages here.
Circo Voador: An evening at Circo Voador is right on the pulse of the Lapa district. The club opened in 1982 and is one of the premiers live music venues in Rio. Here you can experience the Brazilian legends and big bands from abroad and the party "Eu Amo Baile Funk," which is all about Brazilian radio. The audience is loud, enthusiastic, and knows how to have fun. So get in the front row!
Baixo Gávea: the neighborhood is full of bars and eateries filled to the brim with young student night owls. Mingle with the exuberant crowd that buys cheap beer and caipirinhas in the streets. There, you will enjoy a typical evening entertainment among the Cariocas, so grab a drink, join in, and in no time, you'll be talking to a few new friends.
Night clubs have now also settled in the favelas. On the subject of security in bars, cafes, clubs or discos, especially on arrival and departure, please contact your reception in the hotel.
The clubs and discos in Latin America usually fill up much later:. Her are some places you should check in Rio de Janeiro from 2 am:
Bombar
JBar
00 – Zero Zero
Miroir
Fosfobox
Melt
Nuth
Espaço Acústica
Leviano
Start your Rio de Janero pub crawl tours 
With Riviera Bar Crawl & Tours, you will enjoy one of the best international pub crawls and tour experts with years of experience providing unique and original pub crawl around cities in Europe and worldwide (Asia, USA, Australia, South America, and more).
Our local guides and arty experts worldwide are the best way to experience the local nightlife in Rio de Janeiro fully. You can either join our pub crawls in Rio de Janeiro or design your own night out for a stag party, a bachelorette evening, or a private party with friends guided by our local tour and party guides.
Check out our options, tours, and pub crawls and designs a unique holiday and an original way to discover the city of Rio de Janeiro!
For further enquires and information, don't hesitate to get in contact with us via our email: info@rivierabarcrawltours.com