Pub Crawls in Seattle
Seattle is an important center of commerce, culture, and advanced technology in North-West America and a significant port city overlooking the Pacific. Found on a strip of land between the Pacific Ocean and Lake Washington, the city is nicknamed the Emerald City because of the lush evergreen trees surrounding the urban area.
Seattle was also the centerpiece of the grunge scene in the nineties: historical bands like Nirvana, the Foo Fighters, Pearl Jam, and Alice in Chains came to life right here.
Book your Seattle bar and pub crawl with Riviera Bar Crawl & Tours and embark on a fun night out in Seattle with our local party experts!
Seattle Pub Crawl- What to do in Seattle at night?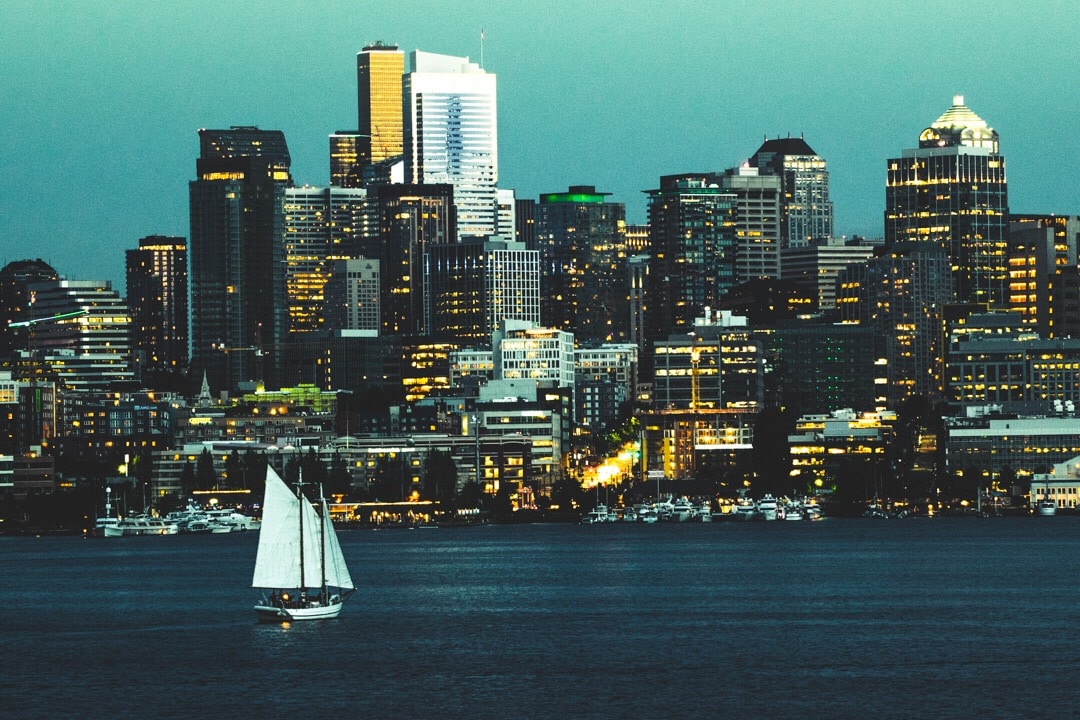 After dark, Seattle is the place to go to party, but you won't be looking for good food here either.
Plunge into the colorful nightlife of Seattle in Belltown. Immediately north of the city center (a mixture of high-rise buildings with condominiums, trendy restaurants, and shops), you will find the district of Belltown. It is guaranteed never to get boring. It's all about from morning to night – from cafés for early risers to clubs for night owls.
On the Elliott Bay shores, the paths of Olympic Sculpture Park meander past quirky works of art, such as the typewriter Eraser, Scale X. After nightfall, you can experience live music at The Crocodile, a kind of rock club.
Nightlife in Seattle – Where to party in Seattle? 
Seattle nightlife: a selection of clubs, pubs, and bars with locals and fellow travelers:
Go to the Seattle Tractor Tavern to hear live American music and rock bands. You can enjoy a delicious American barbecue and round it off with a refreshing beer.
Watching a Seattle Mariners game on one of the 30 or so televisions at the Sluggers Sports Bar makes men's hearts beat faster. And when the home team throws a home run, this bar really gets going.
Travel back in time to England at Smith, a traditional English pub with deer heads and traditional portraits on the wall. The pint tastes as good here as it does in London itself.
Let's go underground … In Seattle's Underground Comedy Club! The perfect place to have a fun evening with friends. This place is trendy among students.
The Re-Bar is also popular with students. There is a ton of fun entertainment here, from costume nights to quiz nights and movie screenings.
For an unforgettable night in Seattle, you should choose the
Trinity Club: Dance to the hottest DJs' hot rhythms and experience the club's lavish light show. The special offer is particularly good: $ 1 for shots! 🙂
Optimism Brewing Company is also a great place to party in Seattle.
The Nest Rooftop is a real insider tip with a great view.
The Taproom at Pike Place has a good selection of beers. It is rustic, and it attracts a lot of people!
Stoup Brewing is another excellent place for beers and fun in town.
Seattle Beer Co.has great beers, and you will be pleasantly surprised by its fun parties.
Reuben's Brews: Nice atmosphere and great beers … Reuben doesn't disappoint!
Columbia City Ale House is again a great beer place with a lot of friendly locals.
Geo's Cuban Bar & Grill: Go there … it is simply excellent!
Easy Joe's American Pub is a typical American bar with all you need to start your evening.
Mulleady's Irish Pub is one of the best pub/beer bars in town.
74th Street Ale House: once again, a safe bet for good beers and great fun.
Magnolia Village Pub is also an excellent place to visit when you are bar hopping in Seattle.
Start your Seattle pub crawl tours 
Are you looking for the best bars and clubs in Seattle? Find out all about the best party districts and maximize your night out with Riviera Bar Crawl & Tours' pub crawls in Seattle.
With a unique and comprehensive network of local guides and local party experts worldwide, Riviera Bar Crawl & Tours brings you unique private guided tours, walking city tours, and other pub crawls options in Seattle and other cities worldwide!
Find out about the best bars and the best clubs in Seattle, meet new people, locals, and fellow travelers while partying in the best venues and the best party districts in town.
For further enquires and information, don't hesitate to get in contact with us via our email: info@rivierabarcrawltours.com