Nice travel guide: Places to Stay and ways to get around
In this article, we present you a nice Nice travel guide for:
accommodation – hostels on a budget as well as luxurious hotels
transportation – trains, trams, buses & bikes
Best Hostels
First on my list is Meyerbeer Hostel. This is the best hostel for couples as reported by the Broke Backpacker online and the best hostel in France of 2019 on Hostel World. Location wise, it is the closest hostel from the beach, only a minute walk or so. It's even a shorter distance to the Promenade des Anglais. It is also around a 10-minute walk from Place Massena which is the main square of Nice, and 15 minutes from Old Town. All rooms have private bathrooms, 24/7 hot showers, additional common showers, free towels, beach mats, guide books, and luggage storage. Additionally, you'll be given individual security lockers and safes with air conditioning in all the dorms. With a range of different utilities with friendly staff and prices starting at 25E a night, it's a backpacker's heaven!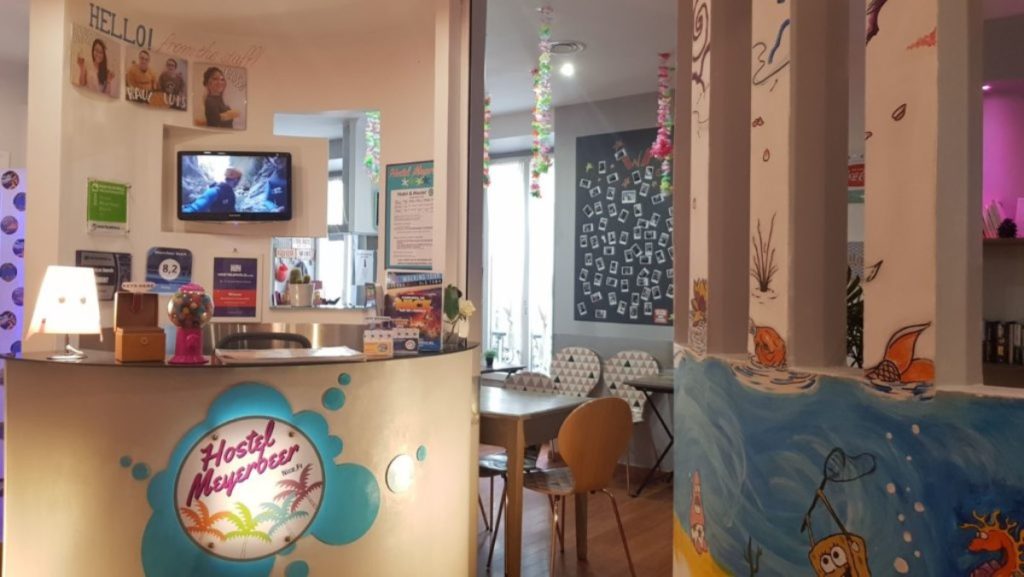 Villa Saint Exupery Beach
My second choice will have to be Villa Saint Exupery Beach hostel. Similarly to Hostel Meyerbeer, its location is one of its main attractions, being only a 50 meters walk from the Main Square. So too is it only 5 minutes from Old Town (Vieux Nice) and a 10 minutes walk to the beach. Known for its bar with great happy hour deals, the hostel has no curfew and 24hr security. The hostel provides luggage storage and security lockers, free Wi-Fi and great connections to activities around Nice and the Cote d'Azur. A 24/7 gym and sauna are definitely pluses. The prices can be around 20E, but in peak season they average around 30E.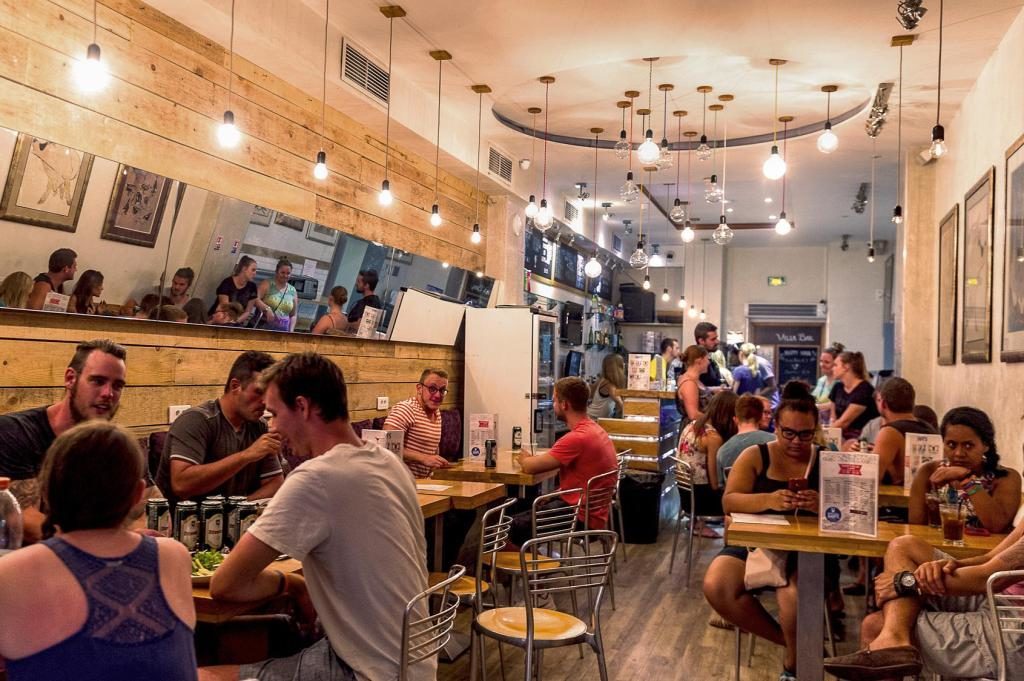 Hostel OZZ by Happyculture
Finally, my last pick is Hostel OZZ by Happyculture. With its modern and fresh rooms, this is definitely the pick for the more aesthetically concerned traveller that's still on a budget. The modern and sleek hostel boasts a 9.2/10 rating on Hostel World. All bedrooms have private bathrooms, private lockers as well as free unlimited Wi-Fi. Extra luggage room is of course available. All the common rooms are gorgeous, including the outdoor patio. It is a bit further from the beach, probably a 20 minutes walk. However, it is only 2 minutes from the central train station in Nice. Prices start at 15E.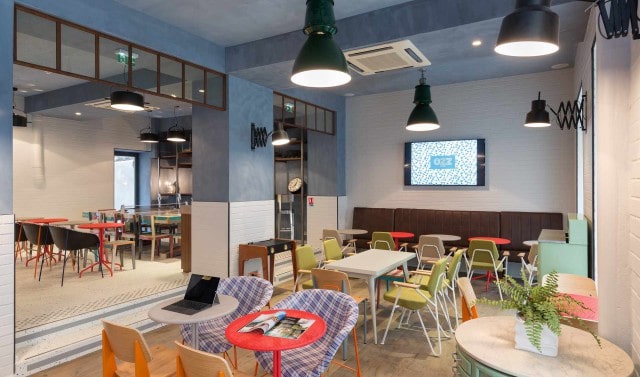 Economic Friendly Hotels
The three hotels I am going to recommend in this Nice Travel Guide: Places to Stay and ways to get around, have not only been personally mentioned to me but are listed by the Telegraph as some of the best hotels in Nice. These hotels are more along with the mid-range in terms of expense but can differ quite drastically due to the season.
This hotel is on the cheaper side, at 37E a night on the off season. There is no in-house restaurant, however, with stylish, comfortable rooms, it's rated a 9/10 by the Telegraph on value for money. The location is central which allows you to wander around the town and explore the various options of cuisine. It does, however, offer breakfast!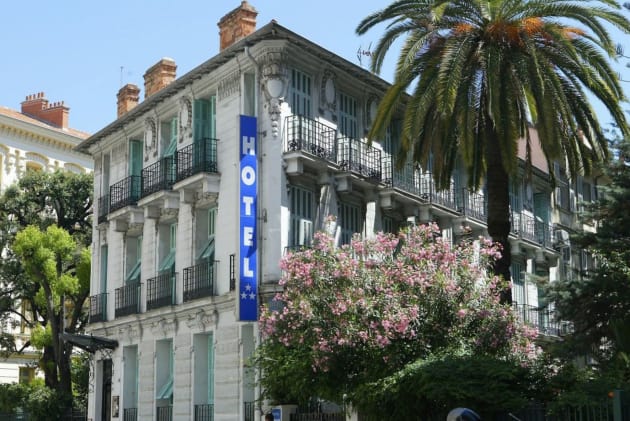 Best Western Plus Hôtel Brice Garden Nice
Classical yet "modern, minimal and colourfully fresh," this Best Western has recently been renovated but still possesses a French chic. The hotel is only 4 minutes away from the beach and starts at around 54E a room and can get up to 150E in the high season. Furthermore, the hotel allows access to an in-house bar, laundry facilities, as well as room service and free Wi-Fi of course. This Best Western also provides breakfast to its residents from 16E.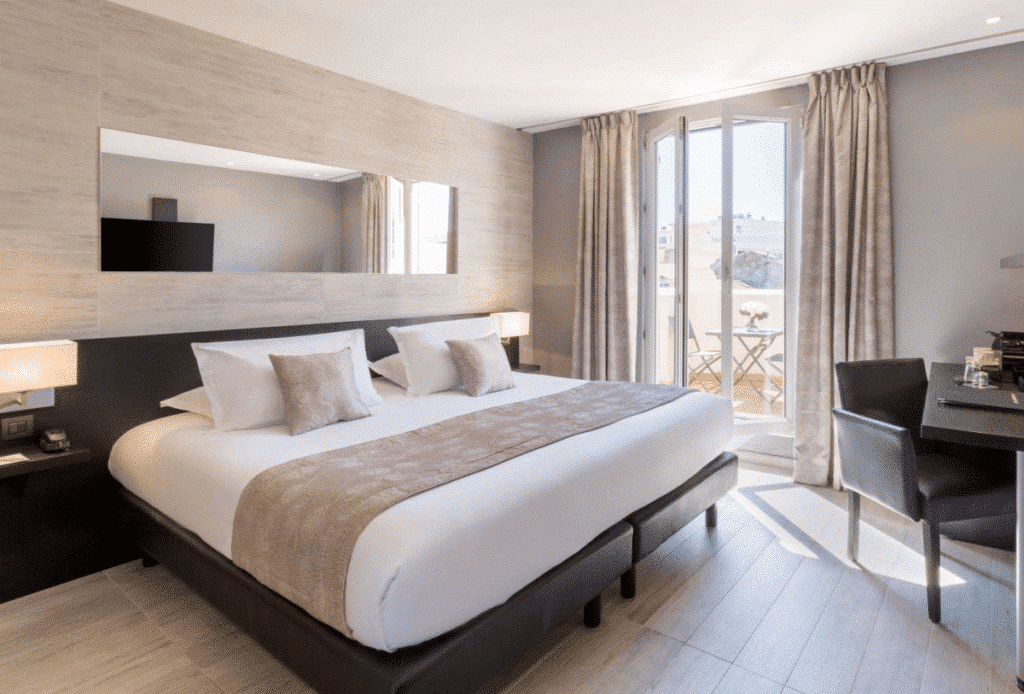 Mercure Nice Centre – Notre Dame Hotel 
The Notre Dame Hotel is right in the middle of town. It is central to rue Jean Medecin, the shopping district as well as Massena Square. The rooms start around 66E and can range up to 160E in peak season for a double room. The rooms, as reported by the Telegraph, are "neat, chic and businesslike," yet defined as very family friendly. It has the same commodities as the other hotels, as well as a pool, gym and sauna. Another plus is that it's only a 10 minutes walk from the beach!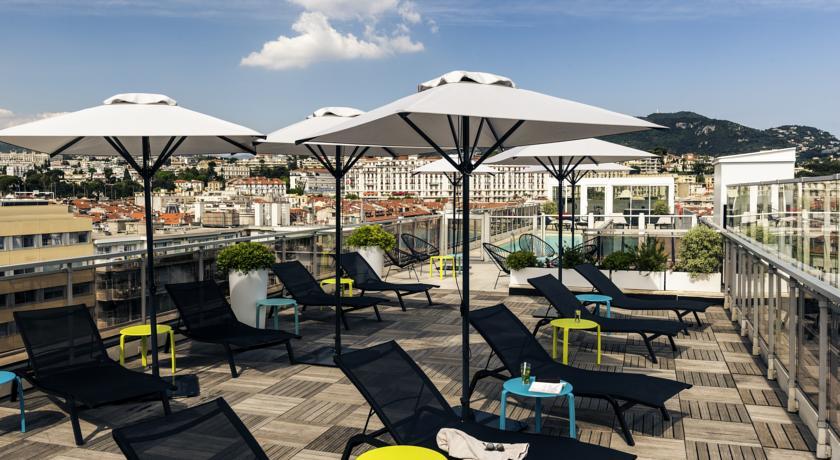 Luxurious experience
Hyatt Regency Nice Palais de la Mediterranean
Like most in its chain, the Hyatt Regency is a first-class hotel. With 5 stars, the Hyatt is for those who are comfortable spending a bit extra for the luxury it provides. A Queen room in the offseason can start anywhere around 140E and can get easily up to 399E a room in the Summer months. Your stay, of course,
includes free Wi-Fi, but as a bonus, breakfast is included. Moreover, the Hyatt experience includes a Bar, a fitness centre golf course, laundry, pool, room service, sauna, steam room, and a Gourmet Restaurant. With an iconic 1920's façade and chic modern 21 st century interior, it is also a beautiful building. Right on the
Promenade des Anglais with beautiful sweeping panoramic view on the sea, it is definitely a luxurious hotel.
The most famous of Nice hotels would have to be the Negresco. With a 5-star rating, Hotel Negresco is also a National Historic Monument with a seaside view. It is definitely on the pricier side. Double rooms start at 195E and I would recommend booking around 6 months in advance. If you are passionate about art, I would
recommend at least visiting this hotel which has become a Nicois institution. It houses pieces from Chagall and Matisse, thanks to its art collecting owner Dame Jeanne Augier. With a 2 Michelin star restaurant, the Negresco offers more than the basic hotel experience. I had to include this in our Nice tour guide.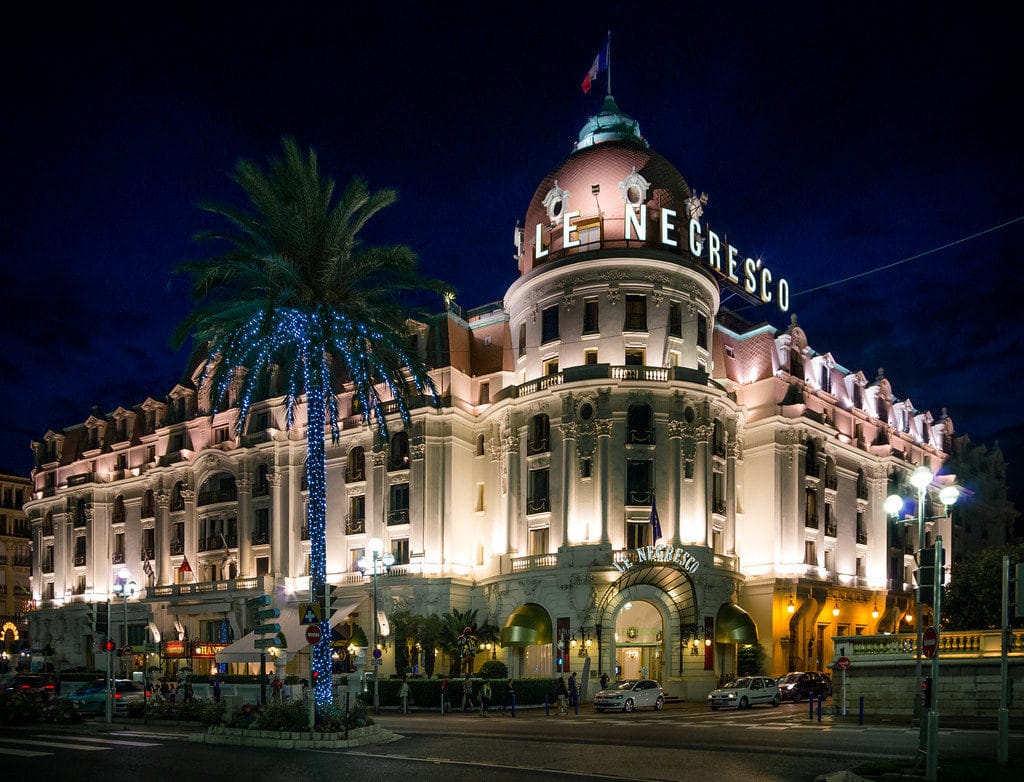 Nice travel guide: Transport
It is reasonably easy to get around Nice and the rest of the French Riviera. There's no real need for taxis or Ubers due to how good the public transport routes are. The prices are relatively cheap as well, from buses to trains. I'll include a few ways to get the cheapest fares. The Trams and Buses work on the same ticket system. It's around 1.50E for one fare, but it is cheaper if you buy a week pass for 15E. You can then use it as many times as you want within those 7 days on both the buses and trams.
There is also an option for a multi-10 ticket, which allows 10 rides over a decent period of time. You can buy single tickets on the buses. However, at most tram stops are machines for single tickets, 7 day passes and other options. To find out more about the Transport within Nice check out our article on the subject.
BUS:
There is a consistent timetable for buses which go anywhere from Cannes to Monaco to 5 minutes down the road. There is a bus stop right outside the Train station, so travel is easy when you first arrive. I've also included a link to the timetable for you to reference locations and times. Generally, bus 100 goes to Monaco from the port as well as 112, which goes to Eze. Bus 200 goes to Cannes from Albert 1ere, and 400 to St Paul de Vence. In terms of the airport, there are official airport buses you can take into town that cost 6E which are 99 and 98. However, 52 is a public bus that only charges 1.50E that can also operate as an airport bus. In terms of the Matisse Museum, you can catch either bus 15, 17 or 20, and get off at 'Arenes/Musee Matisse' stop.
TRAM: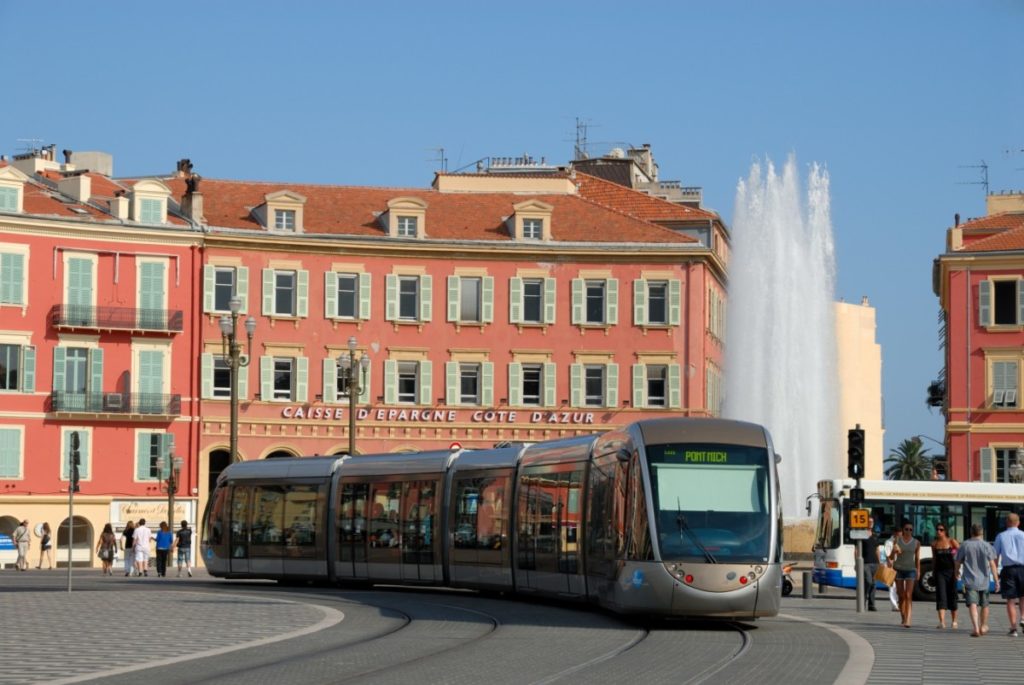 The tram system is currently being renovated, but the active areas are still quite expansive. There is a tram stop directly in front of the Airport which can take you towards the Promenade des Anglais and finishes in Magnas. Line one goes straight through Rue Jean Medecin which is the shopping district of the city. It connects directly to Old Town which is a 10-minute tram ride and is right next to Place Massena, the main square.
TRAIN:
Trains operate like most in the region. There are trains that go inter-regionally as well as interstate. You have the option to either book online or at the station. Here's a link, though a simple search in google should give your other options as well.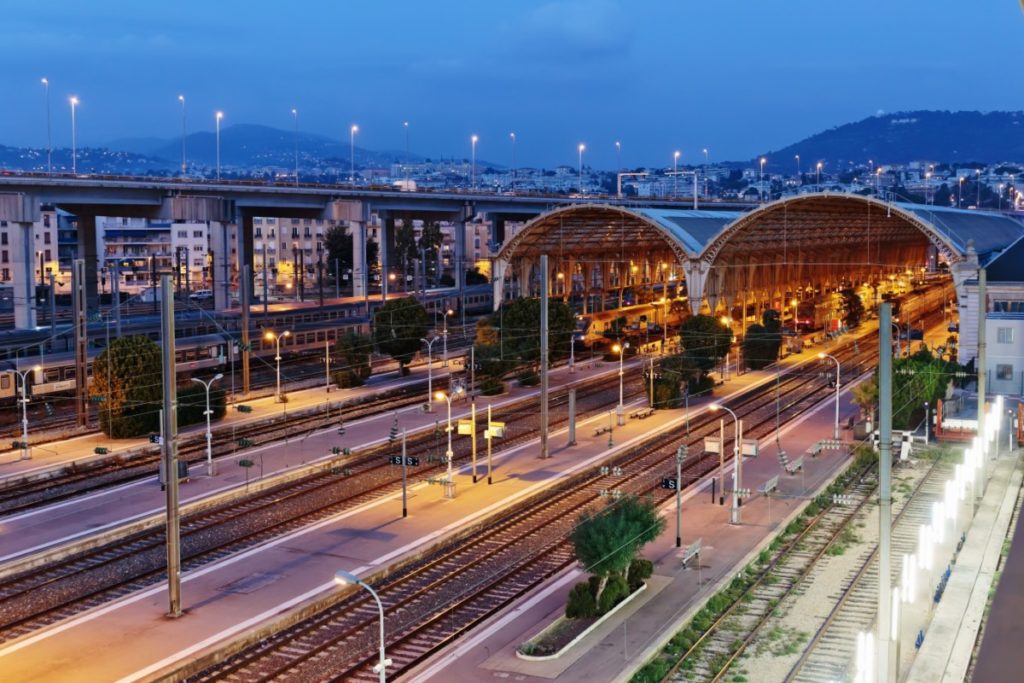 By Bike: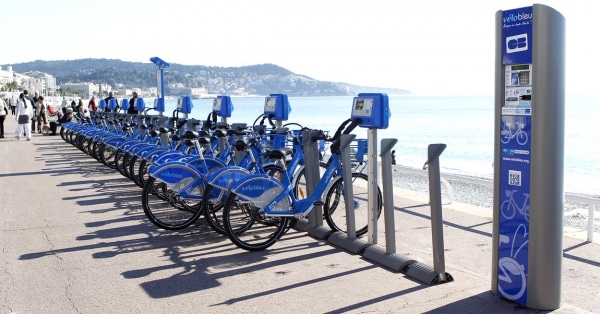 I thought I'd also mention Velo Bleu, which is a bike service. Around the city, you'll often find a bunch of blue bikes altogether. For a small price, you can have access to these bikes and their ports all across Nice. I've included the link in case you'd like to look into it. I will recommend it because it's cheap and a good way to explore the city on your own time, as well as get almost anywhere else on French Riviera.
By Foot:
Besides the bike, the best way to experience the city is by foot. You can join our walking tour in Nice – it is free after all. And our 2-3h Nice tour guide will be worth every minute.

I hope this article, Nice Travel Guide: Places to Stay and ways to get around, was useful and that you get the most out of your vacations in the beautiful Nice! If you found this article helpful, maybe you might want to consider joining one of our tours, where you can find out much more about Nice and the whole Côte d'Azur!