Nice – Capital of the French Riviera
The French Riviera refers to miles of stunning Mediterranean coastline which runs along the south-east coast of France. Many people consider to be the most picturesque and beautiful region in all of France. And is that really any surprise? After all, the region benefits from up to 330 days of annual sunshine, 150 kilometres of coastline, ancient medieval villages, and monumental landmarks. Along the Riviera, you'll find many famous tourist hotspots such as Cannes, Monaco, Antibes and Saint-Tropez. But most notably, you'll find the regions capital city, Nice. Of all the 10 million tourists that the Cote d'Azur attracts annually, 5 million of them come for Nice alone. And for good reason.
Nice is a cultural mixing pot. Not just thanks to its diverse multicultural population today. But also for its complex historical roots. From prehistoric settlements, to Greek colonies and Roman civilisations, to Sardinian and then French rule, Nice's culture has been influenced by so many different factors. Which makes it truly one of a kind. All this aside, the city is also home to beautiful pebbled beaches and clear blue oceans that attracts visitors even in the winter months.
Nice Map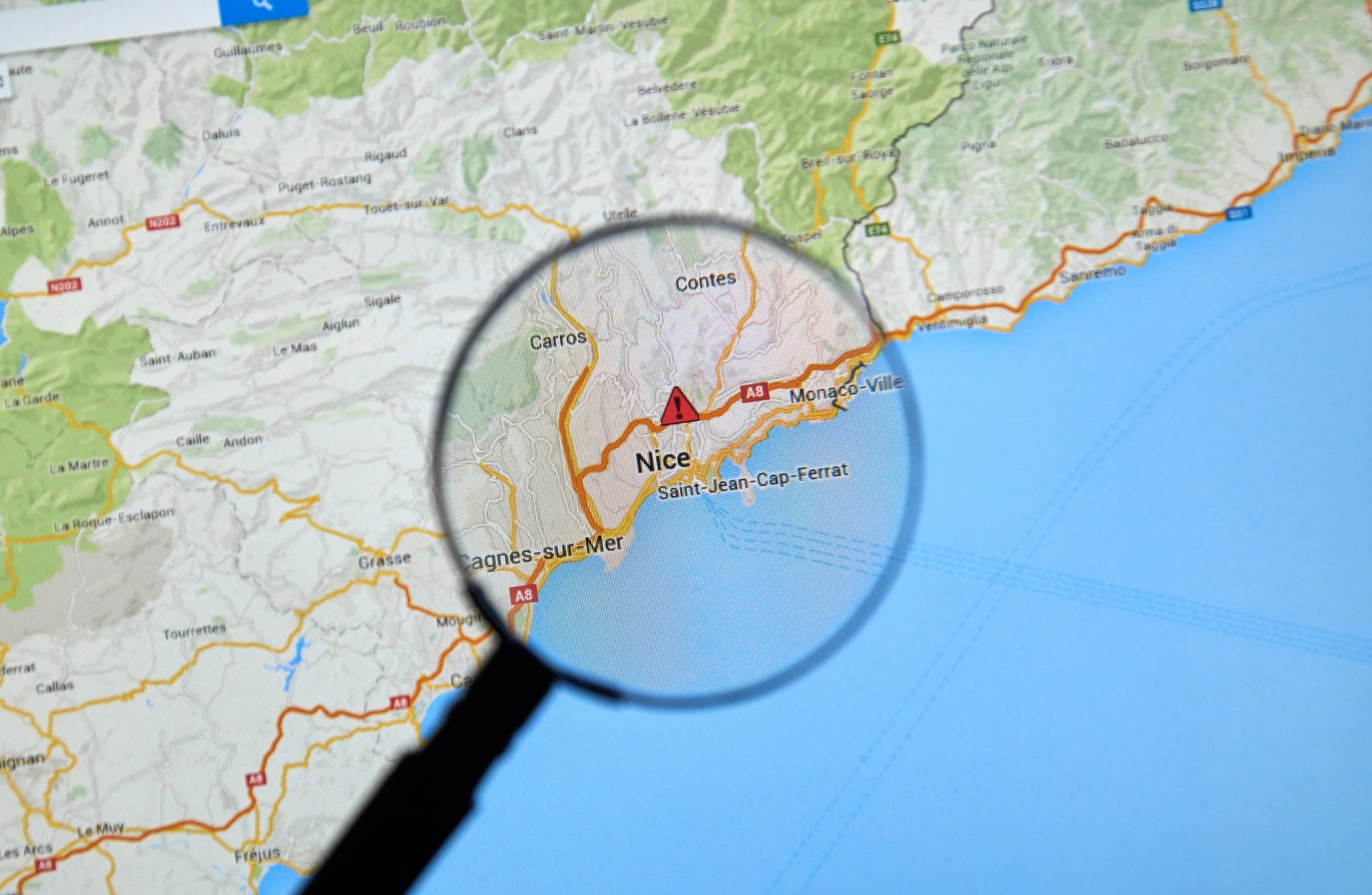 As you can see via the above map, Nice is right in the south-eastern corner of the country, bordering the Mediterranean Ocean. Nice is just a mere 20km from the City State of Monaco. Only 33km to Cannes, home of the worlds most prestigious Film Festival. 45 km to Grasse, the perfume capital of France (which is saying a lot since France is known for its perfume). And lastly, Nice is just 40km from Italy. That's just a 45-minute train ride away!
Highlights of Nice
Despite all the great cities nearby, many of our tourists don't even bother leaving the vicinity of Nice. And why would they? After all, the city is full of fantastic attractions.
Promenade des Anglais – This famous walkway was constricted in 1822 by British aristocrats who had taken to spending the winter months in beautiful sunny Nice. An escape from their own dreary weather back home in the UK. This promenade goes entirely along the coast, all the way to the neighbouring town of Antibes. The walkway has even been fitted with a bicycle lane. So it's a great option if you looking for a safe path to take a nice leisurely cycle in the sunshine.
Port Lympia – The Old Port here in Nice, it's a great spot to take a stroll and admire the collection of small traditional fishing boats and yachts that sit in the harbour. The area around the port is also a great place check out if you're looking for some delicious restaurants!
Castle Hill – Despite its name, La Colline du Château is unfortunately no longer home to a magnificent castle. You have Kind Louis XIV to thank for that. But what is does have is a gorgeous park and fantastic 360-degree panoramic views of the entire city.
Nice Old Town – The Old Town of Nice is without a doubt the gem of the city. A collection of narrow, cobblestone streets interwoven between one another, it truly is mesmerising. It owes its charming ambiance to the chic boutiques and family run restaurants that can be found at every corner. You'll fell like you've taken a step through time.
Discover Nice
Interested in discovering just what Nice really has to offer? Then our Nice Walking Tours are right up your alley! Follow our local and knowledgeable guides as they lead you on an adventure through the city. Recounting tales from both recent and historic events. A guaranteed great experience for all our tourists!