Medellin has made a name for itself, and it is now recognized as a fun and lively Colombian city. Travelers can enjoy what the second-largest town offers in terms of nightlife, bars, and clubs!
Join the unique pub crawl in Medellin with Riviera Bar Crawl & Tours local guides and party experts and meet Colombia's friendliest people and fellow travelers along the way. Head to the best rooftop bars, clubs, and other trendy venues. Visit Medellin and meet new people while playing beer pong and other drinking games. Get free shots and a free entrance fee to the best venues in town.
There are many amazing venues to spend an evening out, and our local party exerts are giving you useful tips to enjoy and discover Medellin fully.
What makes Medellin such a wonderful city are above all the residents, whose friendliness puts a smile on your face every day. The unique local lifestyle is palpable here every day as I have never felt it so intensely in any other cities worldwide.
Medellin Pub Crawl- What to do in Medellin at night?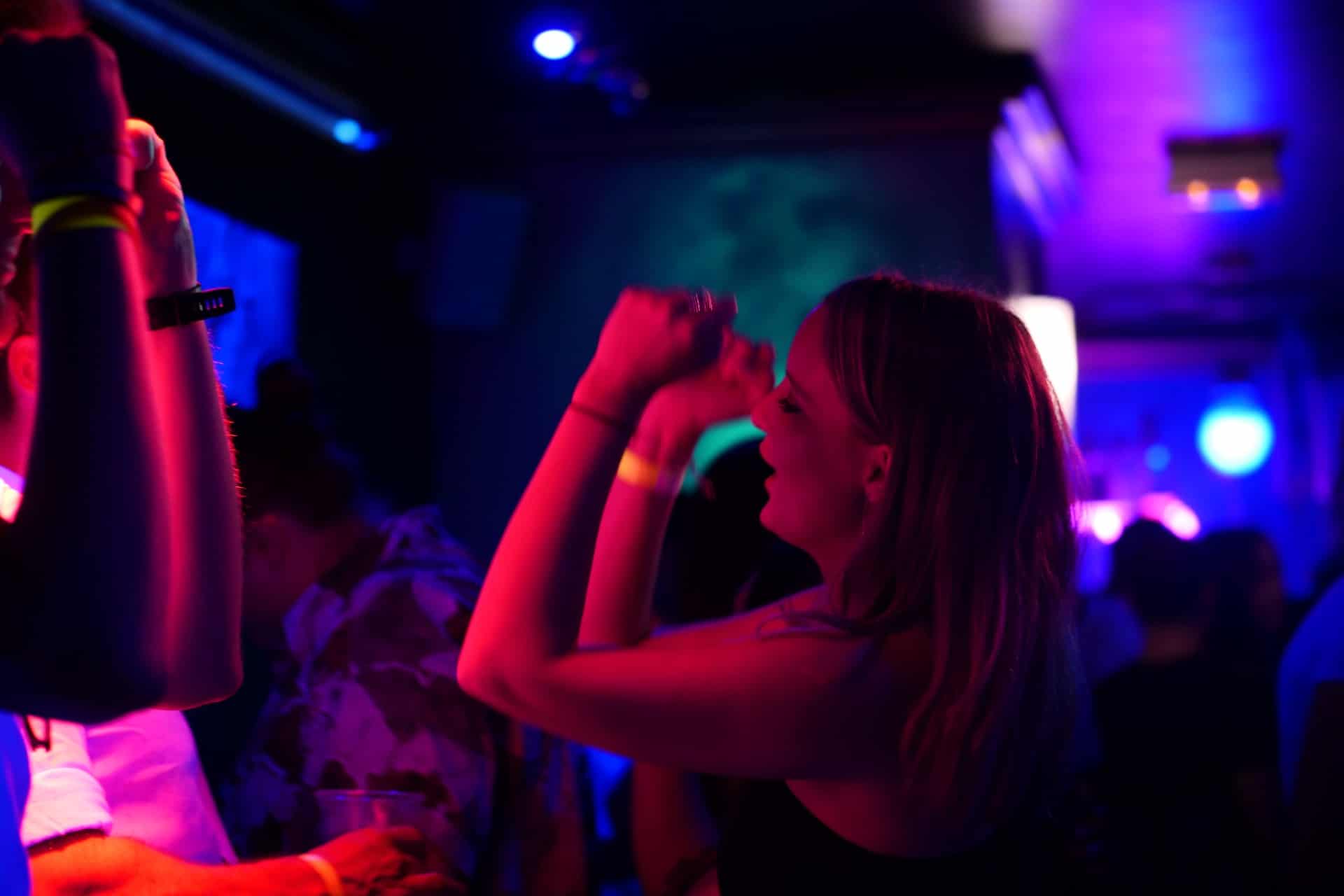 The nightlife here is exuberant, happy, carefree, and of course, quite hot. In Medellin, the hips are circled excessively to reggaeton, salsa, merengue, bachata, and of course, vallenato rhythms.
There is a lot of Aguardiente and Ron de Medellin flowing with friends or family while preferably moving on the dance floor with a dance partner.
Medellin is known for being an innovative city and for the warmth of its people, the beauty of its landscapes, and its history of development. The city has a wide variety of establishments with different atmospheres (there is something for everyone), at different prices and plans.
The "pink zone" is the party area in Medellín. It is located in the El Poblado district.
It is the city's biggest party benchmark and is well known because you will find everything from clubs and bars to cafes and restaurants here. Its landmark is Lleras Park, and you will find the party places around it and in its many streets.
There, you will find some very cheap places as well as some quite expensive. If you go up to 10th street, you will come to Sector Provenza, where you will find a catering area, and if you go down, you will find Parque El Poblado, popularly known as "el PP. "
Barrio Colombia is the perfect area for an exclusive party.
An area specially dedicated to nightlife near Industrial metro station and several of Medellín's most exclusive nightclubs is quite large as there is much more space than in some of Lleras' nightclubs.
It can be a lot more expensive, and the venue is a bit more remote, but it is an option for those looking for a different experience in larger nightclubs. You will also find bars and a few restaurants.
Nightlife in Medellin – Where to party in Medellin? 
Nightlife in Medellin is famous for impressing tourists as there is an impressive number of restaurants, bars, and nightclubs spread all over the city. Moreover, some events and activities occur in these places, attracting more and more tourists year after year.
To enjoy Medellin's nightlife, go out for a walk or go "party," as they say in Colombia. It is best to head to Lleras Park, the point with the most significant number of recognized bars. Although many people visit the area on weekdays, most of the bars are full of people on the weekends.
This area is open to both workers for lunch and visitors who want to go out at night because Medellin's nightlife is friendly. The weather is nice, and you can display the latest fashion trends and skin, very comfortable for women of Medellin.
Many of these bars have professional dancers with programs and choreographed spectacular dance sets, worth going just to see the dancers.
At the events held in the city, the bars are filled with tourists, who enjoy food and alcohol with friends.
Some sites also do their own nightlife activities to invite people out at night. For example, there are dance performances, concerts or Caribbean music in the streets, etc. These events are advertised in local newspapers and on websites.
Other activities are planned directly by the local government to encourage culture, attract tourists' attention, and make them feel safe to go out at night in Medellin.
Most bars open at 6 or 7 p.m. And many of them are open until the middle of the night. There are only a few bars and clubs that are open until dawn.
Other nightlife places are for shopping, as the Via Primavera, a street near Lleras Park, where you can see the windows, buy clothes for fashion, and eat sandwiches.
This street is open until the middle of the night on weekends.
Nightlife in Medellin is also popular in parks throughout the city, during religious festivals and traditional festivals such as the Feria de Los Flores.
Colombians like to party often and for a long time. Preferably with lots of aguardiente and rum, salsa and vallenato.
Here you can find everything to do with nightlife in Medellin and Colombia with some of the best bars and clubs at a glance:
Calle 9: One of the local's favorite clubs. Especially good on Thursdays, as not that crowded. It's mostly electro. There is also live music on Saturdays.
Blue: Mostly alternative music plays here. Always 80s on the last Saturday of the month.
Envy is located on the 17th floor. There is a pool in the middle of the club. Unfortunately, there is little space to dance, and drink prices are high.
Cuchitril club: Close to the airport with a small backyard and live music. Definitely a highlight on Fridays
Fahrenheit: Mixed music from reggaeton to hip hop. WARNING, don't be fooled. Most of the young women here are "easy" girls.
Barlovento: Relaxed atmosphere with live performances between the regular clubs
Sixttina: On the 7th floor of the shopping mall. Good club music but relatively expensive.
La Sagrada: Basically, Colombian music is playing here. Enjoyable atmosphere. Gringos are rarely seen here.
La Puerta: A nice club with a little back yard. Great atmosphere
Start your Medellin pub crawl tours 
Are you looking for the best bars and clubs in Medellin? Find out all about the best party districts and maximize your night out with Riviera Bar Crawl & Tours' pub crawls in Medellin.
With a unique and comprehensive network of local guides and local party experts worldwide, Riviera Bar Crawl & Tours brings you unique private guided tours, walking city tours, and other pub crawls options in Medellin and other cities worldwide!
Find out about the best bars and the best clubs in Medellin, meet new people, locals, and fellow travelers while partying in the best venues and the best party districts in town.
For further enquires and information, don't hesitate to get in contact with us via our email: info@rivierabarcrawltours.com