Lucerne – Switzerland's mountain lifestyle
Are you looking for the best tips for Lucerne? Perfect! In our walking tour series, we interviewed some local guides and asked for insider tips for their city. This article will give you the best sights, activities, and some information about local food and much more in Lucerne.
With almost 81,000 inhabitants, Lucerne's Swiss city ​​is wonderfully manageable, and yet there is a lot to see. The town, located between mountains and lakes, combines everything for a successful weekend trip.
Here you can see numerous sights, hike in the mountains or by the lake or just let your mind wander.
Have you ever tried the typical Birnenweggen? No, then it's time for a trip to Lucerne. The city also has a lot to offer in terms of things to do and see and some great culinary experiences. 
Lucerne Walking
Tour
Lucerne is a cozy, manageable city embedded in the middle of Switzerland's mountains and water world.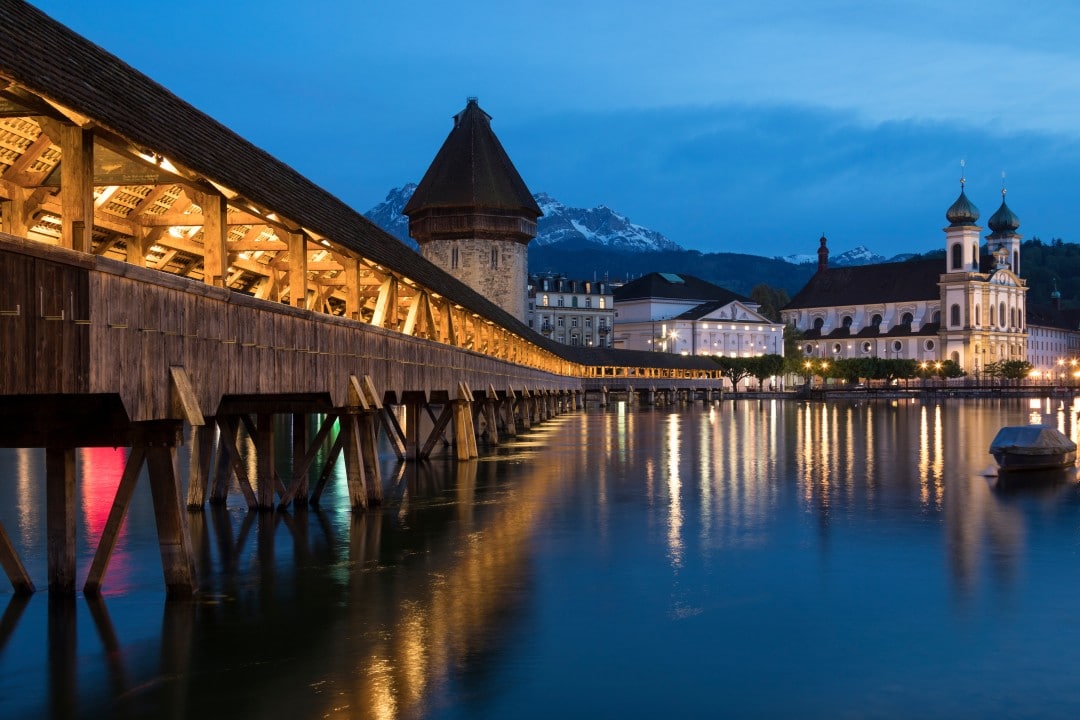 Here you will find trendy cafes, hipster shops, and well-known brand shops, and you can still be in the middle of the alpine mountains within a short time to switch off.
Lucerne is simply an excellent starting point to explore various places. You can reach famous tourist hotspots such as the Rigibahn or the Pilatus within an hour.
Even those who want to make a day trip to Zurich or Bern can reach both cities by train within an hour. 
If you wish to discover the city and get a real understanding of the people and their lifestyle, you should meet some of the local tour guides in Lucerne and organize your own Lucerne city walking tours and Old Town Lucerne walking tour.
Here are some of the best things to see during your Lucerne city walking tour:
The Chapel Bridge and the water tower: The bridge is made of wood and completely covered. With almost 700 years, it is the oldest wooden bridge in Europe.
There is also the Chaff Bridge. It was built in 1408 and has been preserved ever since. Both bridges are stunning structures and offer fantastic photo opportunities.
Those who love sculptures will love the Lion Monument. It is over 200 years old and shows a lion lying dying because of a spear in its back. It is intended to commemorate the fallen Swiss guardsmen during the French Revolution.
Otherwise, we can only recommend strolling through the old town with a Lucerne walking tour and a local guide. Especially those who like ancient architecture will probably not be amazed anymore.
But even those who do not know what to do with it will indeed discover one or two nice cafés or exciting specialty shops in the sometimes narrow streets.
Insider tips: Don't buy anything in all the tourist shops that you keep finding. You can recognize them very quickly by the fact that they are covered with Swiss crosses. They only sell cliché products that hardly anyone from Switzerland has at home.
There are also various museums, cafes, and a few cinemas. 
Those who like art house cinema go to Bourbaki: the circular building used to be a revolving parking garage. There is now a restaurant on the middle floor, and it turns from time to time thanks to the rotating mechanism that is still in place.
Those who like paintings will find a huge 360-degree panoramic painting from the 19th century on the Bourbaki's upper floor. It is ten meters high and has a circumference of 112 meters.
Anyone who likes airplanes, trains, construction machinery, cars, ships, or space travel should go to the Verkehrshaus Luzern. The English term is perhaps a little more understandable; it is the Museum of Transport.
Otherwise, there are also a lot of adventure rooms in Lucerne and the surrounding area. In the last few years, they have sprung up like mushrooms here.
Or you can go on an unforgettable boat trip, which is also possible in bad weather. 
Finally, there are also some great wine tastings on an old steamship. However, you usually have to reserve in advance.
Tours in Lucerne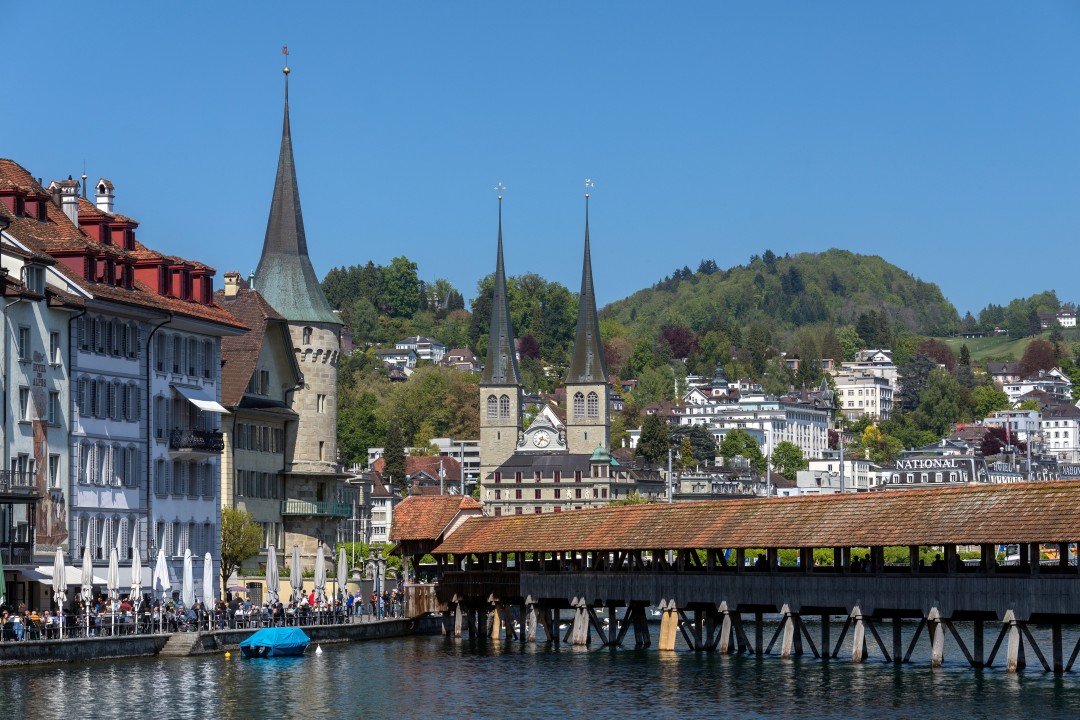 Here are some other ideas that you can add to your free walking tour Lucerne:
If you want to discover the city with your children, you can also go on a Foxtrail or a scavenger hunt. There are special ones for children. For example, you can also explore the old city walls of Lucerne.
There is a historical night watchman city tour. It begins when it gets dark. Maybe that's crazy enough for some.
There is also someone who drives you through Lucerne and the surrounding area in a rickshaw. A vehicle that is not part of everyday life in Lucerne.
You can also do a beer tour. A local guide will show you the secret places in Lucerne and make sure that you always have a cold beer in hand. 
And if you are looking for some beautiful viewpoint in Lucerne, you have to go up to Gütsch Castle. You will have the best view of the city of Lucerne, with the characteristic wooden bridge.
If you prefer nature and the lake, you have to go from Lucerne to the Bireggwald and then cross it once so that you can look towards Bürgenstock. There you have a wonderful panorama.
The very easy hiking trail from Lucerne to the Sonnenberg or the Dietschiberg also offers breathtaking views.
Start your Lucerne Walking Tours
At Riviera Bar Crawls & Tours, we love discovering new places, and we now that only locals can explain their city and give you the unique details and tips that will make your walking tour perfect.
That is the reason why we are developing unique guided tours in Lucerne and other cities for you to choose from. We connect local guides to travelers to share their passion for the cities such as Lucerne, Switzerland.
For further enquires and information, don't hesitate to get in contact with us via our email: info@rivierabarcrawl.com