With Nice, France being such a destination, you can only begin to imagine the vast number of hotels in the city. 
It bodes well for one hoping to holiday in Nice as it's likely you'll be able to find a hotel to suit your tastes and needs, with so many being on offer. 
Of course, you'll find a hotel or two that suit only those with the huge wallets, but there are some reasonable little places that still have that je ne sais quoi associated with the Côte d'Azur. 
To help you book the hotel of your dreams (and budget) here's a list of our favourites in the city…and you can't go wrong taking the advice of local experts now, can you? Let's find you your hôtels à Nice!
This sublime location is one of the best in Nice. You'll find this gem of a hotel carved into a steep limestone cliff, situated between the old town (Vieux Nice) and the port, and with the most stunning view overlooking the Baie des Anges. The hotel is nestled below the 'colline du Château', Castle Hill which offers incredible, panoramic views of the city. 
Not only is everything within walking distance, including the central Place Masséna and the Promenade des Anglais, but the hotel also boasts an incredible swimming pool! The pool is carved into the cliff and heated to 25 degrees. 
On one side is the sauna, on the other, the bar, with inventive cocktails (happy hour is 5-7pm). You'll gaze out over the ocean whilst feeling completely zen knowing you've bagged yourself one hell of a hotel! You can thank us later…
Prices start from around €174 per night. 
The delightful 18th-century townhouse is nestled in the heart of Old Town. It's boutique fashion is a real hit with the young and trendy as it's super quirky but still has the elegance of the French Riviera. 
The hotel has self-catering apartments which are becoming top choice for many travellers who like to combine convenience with luxury.
A major pull for this boutique hotel is its location in the pedestrianised centre of Nice Old Town. The main entrance lies on a busy sidestreet, but there is a side entrance that is much more tranquil. Many attractions are within a five-minute walk, including the opera house, the Cours Saleya flower market, Jean Médecin (the main shopping high street), Place Masséna and the beach.
Although advertised as self-catered apartments, there is the option of having petit déjeuner brought to your room, with prices starting at €9 per person. 
Double rooms start from €150, depending on which season you're visiting. 
One of the only hotels located in the centre 'Ville de Nice' that serves up real luxury, as most are found on the promenade. It deserves its five-star rating as luxury decor combines with all-day dining options, a spa and a plush new rooftop pool terrace.
Hotel Boscolo is set back from the main road of Jean Medicin on a leafy boulevard called Boulevard Victor Hugo, giving visitors real space and a grand entrance to arrive in style and comfort. 
The hotel is a mere 10-minute walk to gare de Nice, perfect for those hoping to explore more of the French Riviera. Monaco is just 20 minutes away on the train, and Cannes is around 40-45 minutes, you can see many major cities along the coast in just a long weekend trip. 
Luckily for those staying here, the new tram line has now opened, which stops right outside this hotel! You can be at the airport in around 15minutes with absolutely no fuss and a guarantee of arriving. 
Double rooms start from Double rooms from €150, depending on the season.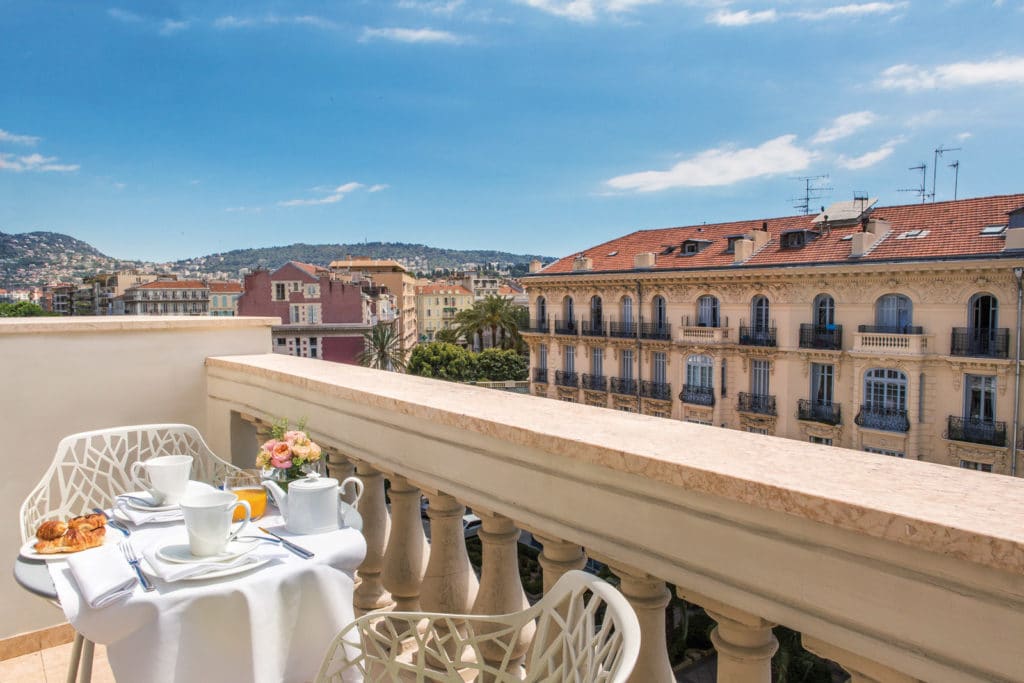 This exquisite little hôtels 4 étoiles is another boutique-style hotel and a favourite in the city. Being slightly away from the main tourist attractions (but still within walking distance) the prices are more reasonable but you still get to enjoy the luxuries of a four-star hotel. 
The 19th-century cream facade combined with delicate, details set you up for an elegantly French stay. The interiors have been transformed by the talented Parisian interior designer Sandrine Alouf. Inspired by travel, you'll find Hermès-style leather trunks in rich orange, blue and olive hues as well as travel-diary quotes and pencil-drawing wall murals. 
It could be argued that the staff are somewhat more attentive here at this slightly off the beaten track hotel.  Staff are ready and willing to answer any questions whilst In the reception area, you'll find complimentary candies and cucumber-infused water on tap: such small touches that make customers feel special.
There's also a spa on-site offering a range of treatments and a comfy lounge for those who wish to chill out with a glass in hand before hitting the city. 
Double rooms start from €71, a very well priced hotel for its star rating and design! 
As soon as you arrive, you'll be bowled over by its design and character. You'll feel like you've stepped straight into a French period drama than a hotel! 
This elegant white villa was built in 1890, and the interiors have been designed to pay homage to its theme whilst still looking modern and clean. 
You'll find the latest edition of the local paper, Nice Matin, as well as editions from the past. Again truly captivating the era of the building and hotel. 
If you believe that good things come in small packages, then you'll love these stylish bedrooms. All 24 bedrooms are spotlessly clean and feature wooden floors and expensive Toile-de-Jouy fabrics reminiscent of traditional French countryside châteaux. 
The cheapest Entresol rooms are on the lower ground floor, while Traditional rooms are higher up. If you're looking for more space and a view, we'd recommend booking a Superior room, which also comes with its own balcony. 
Plenty of restaurants and shops surrounds Hotel Villa Rivoli, but there isn't a restaurant on-site…which is not always a bad thing as it encourages you to explore the local area. The hotel is just a couple of blocks from the seafront, and within a 10-minute walk to the pedestrianised shopping district and Old Town. 
Double rooms start from €69. 
Now we cannot talk about hotels in Nice and not mention the creme de la creme of hospitality, Hotel Le Negresco. 
One of the most iconic buildings lining the Promenade des Anglais: the Negresco. Built in the early 19th century, and designed by Édouard-Jean Niermans, the hotel has remained an icon of Nice for many years. And it's said that the flamboyant pink dome that tops off the building was inspired by the architect's mistress! Nothing screams early 19th-century than a bit of debauchery! 
The rooms with their Louis XIII-style furnishings, art deco-inspired art and modern class really brings the hotel to life. It seems the team are attempting to capture five centuries of French history in one space. 
Nearly all bathrooms come with bathtubs (except for Rivoli rooms with showers only). Which is perfect for those who love a long soak before dinner! It's worth looking into the rooms and taking your time to choose as they all vary. 
The Negresco is home to Michelin-starred restaurant Le Chantecler. An unbelievably fancy affair, with extravagant food and oil paintings to match. The menu will set you back a few hundred euros…so it may be worth saving this gastronomic adventure for a special occasion.   
If you'd like to experience dining at the Negresco, there is a better-value option at La Rotonde where you can dine on a lunchtime Dish of the Day for just €20 (£18). But let's hope the dish of the day is something you like, as the prices are still quite expensive.
Discover more of Nice
So there you have it, a list of our favourite hotels in the city, all varying in price to suit every traveller. We recommend booking in advance, especially in the summer months, to make sure you get the hotel you'd really love to stay at. Booking in advance also ensures better prices, it's always nice to stay somewhere for a little cheaper than expected. 
Whilst you're in the city, why not join us on a walking tour of Nice? As said, we are local experts and know everything there is to know about this city, from its history to the best place for ice-cream or the traditional Nicoise dish of socca. 
We love nothing more than taking new people around our city and showing them the delights Nice has to offer. There's a lot about Nice's history many don't know about, and we love to unveil these facts to a new crowd.

Discover our French Riviera Guides :