Only in big cities like Delhi, the young middle and upper classes are increasingly orienting themselves towards the western lifestyle and are therefore not opposed to nightly party fun.
With Riviera Bar Crawl & Tours, you can now experience the best of a new city worldwide with an original food tour, special discounted walking tours, a fun Delhi bar crawl, and a good time with live music, fun games, local crowds, and party experts! 
So, let's discover Delhi by night, where the party crowd flocks to the clubs!
Delhi Pub Crawl– What to do in Delhi at night?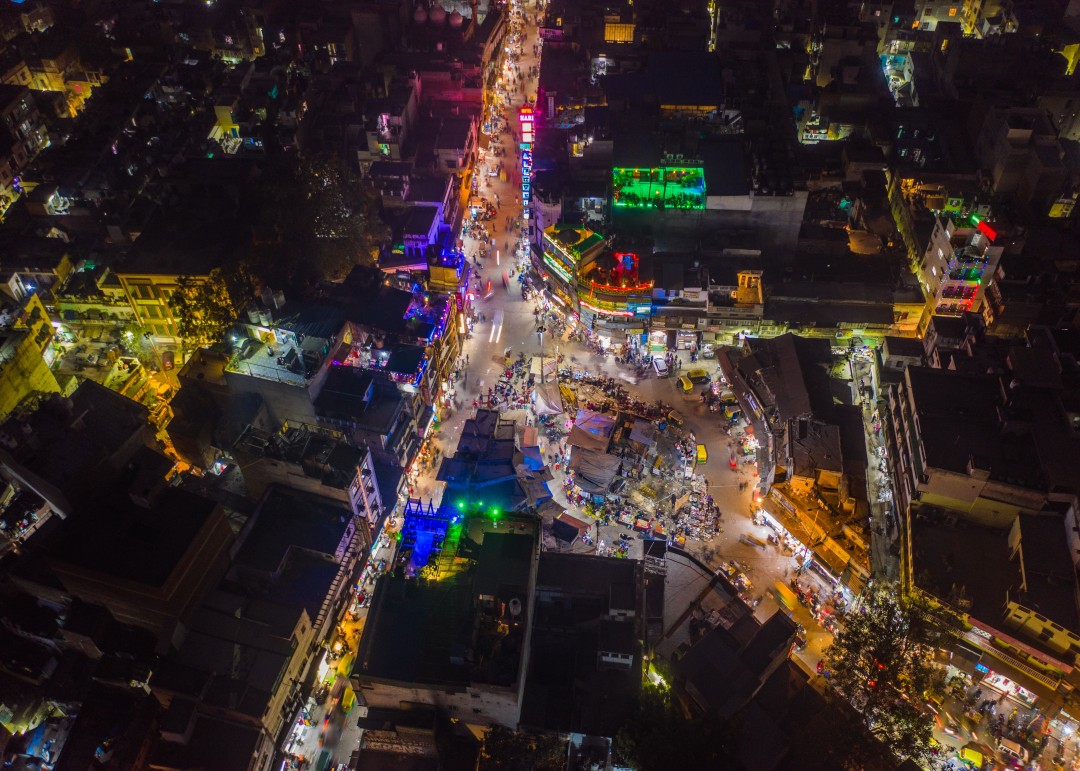 Women in high heels and miniskirts, men have sunglasses in their gelled hair. The nightlife areas show a completely different picture of Delhi. 
In the last years, in particular, cultural life in Delhi has changed completely, in terms of people's clothes, the music that is now being heard here. 
Our Riviera Bar Crawl & Tours local guides say that this has mainly to do with the fact that people here have only had such strong access to the internet in recent years. 
Globalization is hitting the city much harder than ever before, and we see the trends from the west to arrive here with more parties, fun, and excellent bars, pubs, and clubs in Delhi.
Nightlife in Delhi – Where to party in Delhi? 
In Delhi, India's capital, the nightlife is not quite as spectacular as in Bombay, but there are also numerous bars and discos, especially in the area around Connaught Place. 
Town Hall bar: After a shopping trip, treat yourself to a beer and a shisha on the roof terrace of the recent Town Hall. At the bar, everyone talks to each other with pleasure.
Social is a cafe and concert hall that is well hidden but offers a view of Hauz Khas Lake and its old ruins. Trendy young people meet there.
Smoke House: It's a chain of affordable coffee shops designed by The Busride studio. In most places, designers draw on the walls. It is often about the history of the neighborhood.
Olive's Bar: it is recognized as one of the best addresses in the city. Olive's Bar is nothing new… But it has managed to keep a real good vibe and a great party spot in Dehli.
Start your Delhi pub crawl tours 
What a better way to discover a city through its nightlife and party places?
At Riviera Bar Crawl & Tours, you can easily join some of the best pub-crawls in Delhi and discover the best party districts, the best pubs, bars, and clubs in Delhi and other cities, as well as other party and nights out in the region.
Riviera Bar Crawl and Tours is a huge network of local tour guides and local party experts who love showing their culture, offering you the city inside out and taking you to the best travel and party spots around the city, such as in Delhi.
What are you waiting for? Check out all the options you will find with Riviera Bar Crawl and Tours and plan the most unique and original city trips and holidays!
For further enquires and information, don't hesitate to get in contact with us via our email: info@rivierabarcrawltours.com