Cordoba – The Ancient Empire
The city of Cordoba can be found in the breathtaking Andalusian region of Southern Spain. This ancient city is known for being a global leading centre of education and learning. But more importantly, the city is revered for it prominent Roman and Muslim influence. Much of which can be seen rather evidently throughout the city today.
In relation to both of these time periods in Cordoba's history, each has left behind a number of remarkable landmarks that attract tourists from far and wide. During the Roman's rule, the famous 1st century BC Roman Bridge was constructed across the Guadalquivir River. Apart from this, the city is also home to an impressive Roman Temple, a Mausoleum, Amphitheatre and the remains of an ancient archaeological site.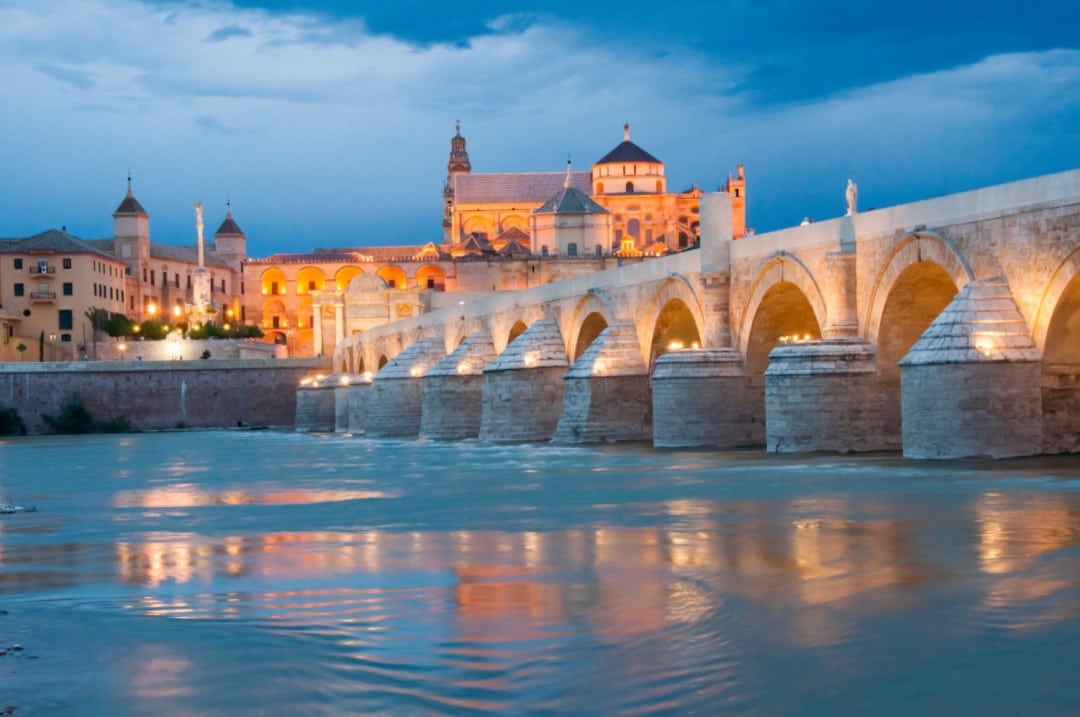 However, it is the Islamic culture which has left the most distinguishable mark of the city. There are a number of examples of Moorish architecture littered throughout the city. From medieval Thermal Baths to magnificent towers and fortresses. But certainly the most spectacular has to be that of the city's Mosques. The most notable of which is that of the Mezquita, which just so happens to be a UNESCO World Heritage Site.
But the city's architecture isn't the only amazing feature the city has to offer visitors. Uncover some of the Cordoba's many enchanting memorials and sculptures. Such as for example the beloved statue of the Archangel Raphael.
For a real treat, visit one of the city's many Museums. Of which explore an interesting variety of topics. The Archaeological and Ethnological Museum of Córdoba is an absolute must! As is the Diocesan Museum which was built upon a former Arabic Castle.
Cordoba Walking Tour
There truly is no better way to discover a city than with a Guided Cordoba Walking Tour. Of course, exploring a city at your own pace is always a great option. But you miss out on some of those hidden gems tucked away in the city's secret corners. So how better to uncover the city's secrets than with a local and knowledgeable guide?! Someone who knows the city like the back of their hand. Also, someone who can give you all the best tips and recommendations to making the most out of your stay! It's one thing to visit the wonderful attractions a city has to offer. And it's another thing to understand the fascinating tales and history behind them. And believe me, this city has plenty of fascinating stories to share.
But a Cordoba Walking Tour isn't the only way to discover this breathtaking city. Explore Cordoba in a new light (literally) with a Cordoba Bar Crawl. Experience the city's wild night scene and visit some of the best venues in town. Not only will you enjoy a fun and unforgettable night, you'll even get to enjoy great benefits. From free shots to drink discounts and even free entry into the club, having a great night for an inexpensive price has never been easier!
Tours in Cordoba
The possibility of tours in Cordoba is endless. From Walking Tours that will explore the city's ancient historical roots to Evening Tours that explore the religious conflict throughout the city's history. Or take the tour on wheels by operating Bike or Segway tours upon request. And if you really want to spice up the options, then a Cordoba Food Tour would be a great hit! Not only is it a unique way to explore the city, participants also get to enjoy samplings of delicious local cuisine.
And of course, most importantly as with any tour is to offer Private Bookings. Providing tourists with customisable private tour packages encourages groups to book, wanting to avoid the swarms of other tourists. And this is in regards to all tours and activities, even pub crawls for those looking to celebrate special occasions.
Start your Cordoba Walking Tours
At Riviera Bar Crawl & Tours, we have years of experience in providing our visitors with some of the best and most memorable experiences of their lives. While primarily stationed in France, we hope to branch out into as many European cities as possible! With all of the success we've experienced and the great feedback we've gotten from our clients, we want to share this with even more of the world's travellers. In regards to both Guided Walking Tours and Pub Crawls.
But who better to run Cordoba Tours & Activities than someone who knows the very best of what the city and its culture has to offer! Think that might relate to you? Well get in contact with us and send us your Application Form! We're always looking for Franchising partners to help us make our dream a reality. Not only will you enjoy the liberty of working as your own boss, but you'll also get to experience some of the unforgettable experiences for yourself! Along with the satisfaction of knowing you've been able to share your culture with more of the world.
For further enquires and information, don't hesitate to get in contact with us via our email: info@rivierabarcrawl.com