The small town in tropical north Queensland is one of the most popular with Australian tourists. Its popularity is based in particular on its proximity to the Great Barrier Reef and the variety of excursion options because the city is not "pretty". But it is extremely hot and humid, especially in the Australian summer. For this reason, Cairns winter is the high season between June and September.
Are you tired of gourmet pizza for dinner and watch TV at night? Let's look at Cairns' ultimate party with Riviera Bar Crawl & Tours and the best pub crawl in town. 
Join our local guides and party experts in Cairns for a great night out with live music, local beers, free VIP entry to every bar, drinking games such as beer pong
During our Cairns pub crawl, you will get the opportunity to join the best parties. It is a unique chance to meet new people, locals, and fellow travelers and enjoy the best bar all night, such as at PJ o' Briens. You will also have access to the discounts all over town with real value activity for beauty, food, entertainment discounts, and more with the excellent deal discount booklet with over 500 real opportunities and offers and over 100 prize and rewards.
Cairns Pub Crawl– What to do in Cairns at night?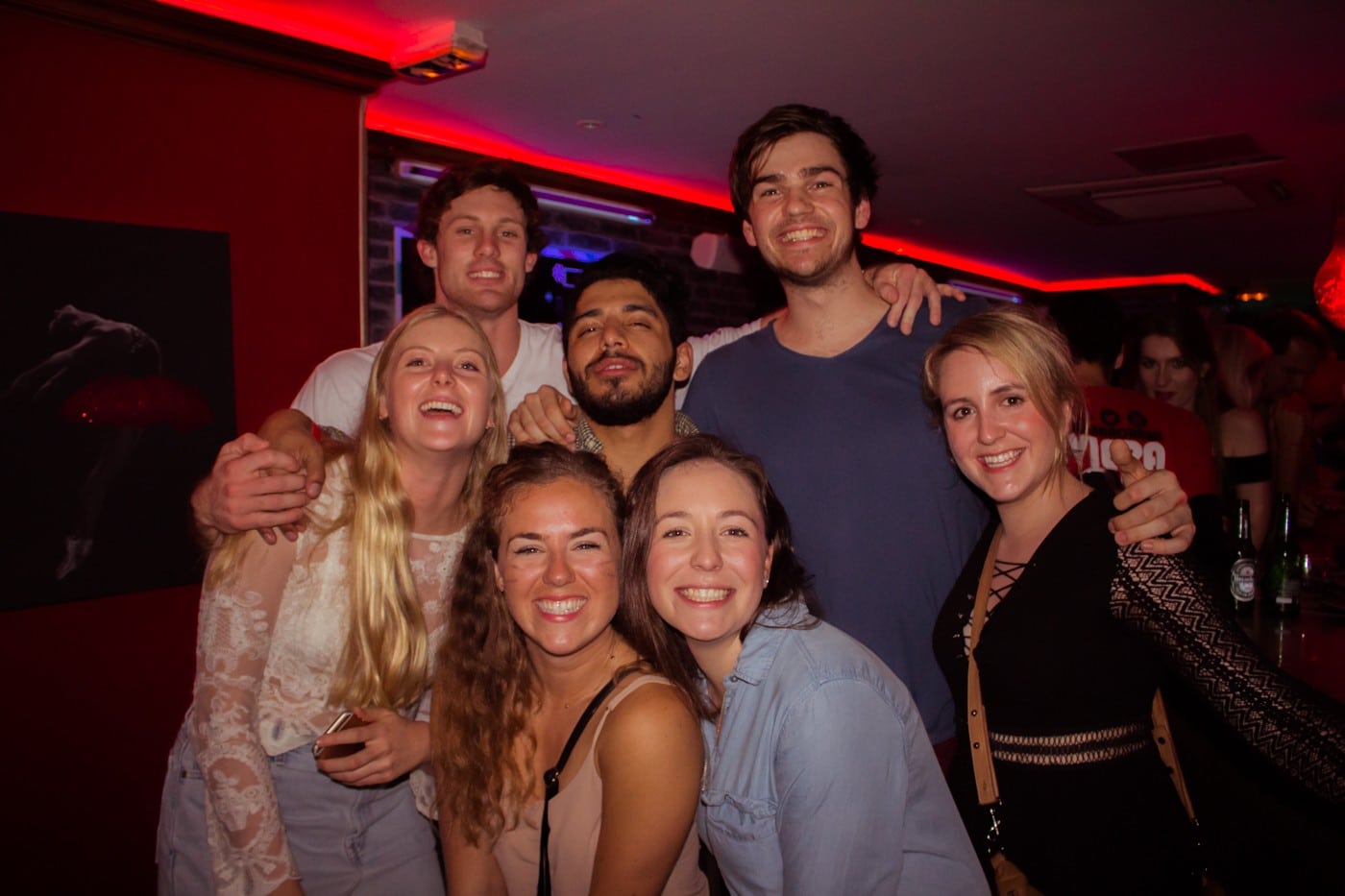 As a vacation paradise and backpacker Mecca, Cairns can boast an energetic nightlife. Well-attended theme parties take place every day in well-known pubs and clubs. The atmosphere is exuberant, and the audience is mixed. The celebrations usually take place in strikingly tight clothing and until the early hours of the morning.
For backpackers, Cairns is the ideal party city where you can let off steam. Besides, one of the most prominent queer scenes in Australia has established itself on the shores of Trinity Bay with a great and varied range of activities. 
The streets of Alpine Street, The Esplanade, Spence Street, and Sheridan Street in the CBD form a square with lots of nightclubs and pubs, which are open every evening of the week, sometimes even until 5:00 a.m. 
Many restaurants act simultaneously as restaurants with inexpensive menus in the evening and a disco at night. You can dance on the tables with young people from all over the world at The Woolshed (Shields Street) and take part in the wet t-shirt competition or similar competitions. 
For live music and other evening events, such as the Australian bikini beauty contest, the best pole dancer or the most talented karaoke singer, the Gilligans (Grafton Street), The Jack (corner of Spence Street and Sheridan Street), and the PJ O'Briens ( Lake Street). 
Other popular locations are the Rhino Bar (Spence Street), The Velvet Underground (Wharf Street), and The Reef Hotel Casino Complex (Wharf Street)
Nightlife in Cairns – Where to party in Cairns? 
Among the events, Cairns include plenty of music, sports, art, and cultural festivals. Traditional events, such as Australia Day or ANZAC Day, are celebrated extensively in the city. 
Here is our local guides and pub crawl experts selection of some of the best places to party in Cairns:
The Salt House, located next to the Cairns Yacht Club, is one of the hippest bars in town. In addition to delicious cocktails, there is also typical Australian food such as fresh fish and steaks. Sometimes live bands play in the evenings or DJ's set.
Heritage Nightclub is a party place where a great night out is guaranteed. The dancing is mainly to R'n'B.
Gilligan's is a backpacker hostel with beds for around 400 international young people offers a vast beer garden with live bands and a cocktail bar. Well-known DJs from Australia also play.
Vibe Bar & Lounge offers an n exciting mix of restaurant and bar with a dance area. The food is okay, but most visitors come for the cocktails and the dance floor, where you can shake off your legs from 9 p.m.
What a better way to discover a city through its nightlife and party places?
At Riviera Bar Crawl & Tours, you can easily join some of the best pubs crawl in Cairns and discover the best party districts, the best pubs, bars, and clubs in Cairns and other cities, as well as other party and nights out in the region.
Riviera Bar Crawl and Tours is a huge network of local tour guides and local party experts who love showing their culture, offering you the city inside out and taking you to the best travel and party spots around the city, such as in Cairns.
Don't wait to look for the best bar on arrival. Book your pub crawl in Cairns with Ribirea Bar Crawl & Touts and discover the best pubs, clubs, and bars all night with the party bus nights.
What are you waiting for? Check out all the options you will find with Riviera Bar Crawl and Tours and plan the most unique and original city trips and holidays!
For further enquires and information, don't hesitate to get in contact with us via our email: info@rivierabarcrawltours.com