In the evening, Buenos Aires is changing face, and the party is raging in the Palermo Viejo district. Especially in the parts of Palermo Hollywood and Palermo Soho, a lot is going on at the weekend.
Where many small boutiques offer shoes and clothes during the day, later on in the "Plaza Catazar," the restaurants, bars, and clubs are flirting, partying, and drinking.
The lively nightlife continues into the morning hours. It's loud, energetic, and in-between times, an old VW bus with a surfboard on the roof whizzes past. Buenos Aires is everything – just not a quiet city.
To best discover Buenos Aires' nightlife with a group of people, you can join Riviera Bar Crawl & Tours Saturday night Buenos Aires pub crawl with our local guides and party experts.
You'll visit the city another way, and it is a great way to meet other pub crawlers with free shots, free pizza, and beers, drink discounts, free admission to the clubs … the perfect Buenos Aires nightlife!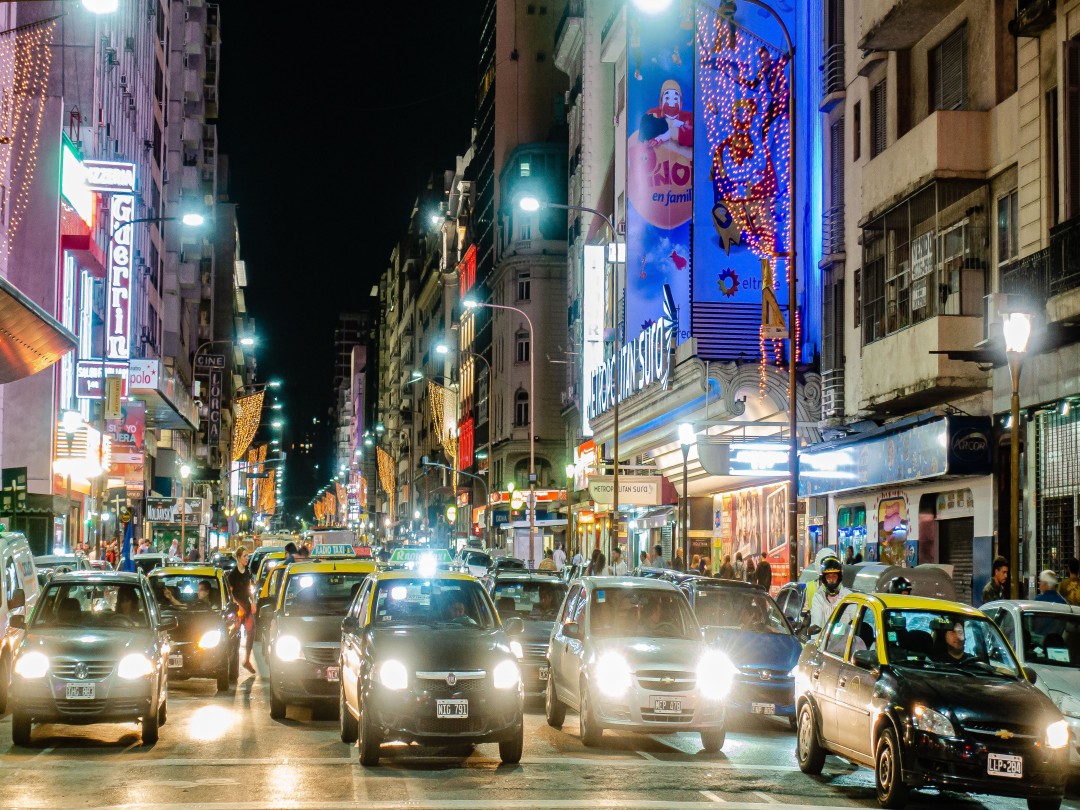 Buenos Aires Pub Crawl– What to do in Buenos Aires at night?
Buenos Aires wakes up when the sun goes down. You can expect nothing more and nothing less from a city that invented tango.
The city center's big streets filled with people on their way to some restaurant or one of the many theatrical performances, especially in Palermo, Puerto Madero, and Recoleta.
Most people are very smartly dressed and stay out until early in the morning. Before 2 a.m., most clubs are sparsely crowded. Palermo and Belgrano attract large crowds of young people as there are many clubs and discos there.
But there is something for everyone. All visitors to the city must have seen a tango show at least once or danced in a milonga themselves. There is an infinite number of tango sites, but most of them are probably in San Telmo. The night owls gather in one of the many cafes early in the morning.
The nightlife in Buenos Aires is one of the liveliest in the world. Nightlife really means nightlife for the young and wealthy Portenos because they usually only start their evening entertainment in the city after they have eaten around 10 p.m.
They initially enjoy themselves for hours in bars or cafes and never go to the clubs before 2 a.m. when the parties are just starting. Drunk people are very rare because the Portenos only drink moderate amounts of alcohol.
Palermo area is popular with fashion-conscious people. It is especially true in the Las Canitas and Palermo Hollywood areas, dotted with chic cafes, bars, and restaurants.
The streets around Recoleta Cemetery are also very popular with night owls. It is especially the case on weekends when the bars and cafes with street terraces are full until everyone moves on to the clubs.
Several pubs, including English and Irish pubs, can be found around Calle Reconquista and Avenida 25 de Mayo.
San Telmo is a hub for funky bars and tango shows. Puerto Madero is attracting more and more people who want to watch the sunset over dinner and a drink.
The nightlife peaks from Thursday to Saturday. Nevertheless, there is always something going on during the rest of the week. The bars and clubs offer a wide range of musical styles and entertainment to suit all tastes – from tango performances to techno nightclubs.
Nightlife in Buenos Aires – Where to party in Buenos Aires? 
Popular areas for drinking are often the T zone and around the 93 park. At La Candelaria, you will also find several options. We recommend you :
El mono Bandido: This craft beer bar is also recommended. The decor is cool and modern. Concerts and events are also organized there regularly. There are two addresses in Bogota.
Bogota Beer Company: It is also a craft beer bar with lots of different choices. The atmosphere is pleasant, and there are always a lot of people. It is also possible to eat.
There are several bars all over the city, go to the one in Zona T and the one in Usaquen. Both are nice, and those who like craft beers will find a good choice.
If you go to Bogota and are looking to party, you will undoubtedly hear about Andres Carne de Res, a rather unusual place located north of Bogota.
Theatron: This colossal club is one of the most famous and famous in Bogota. Gay-friendly disco. It is a 5-storey building divided into 14 rooms with different atmospheres and music. Party-goers will find what they are looking for! Take care of your belongings and yourself because it really is a huge place full of people!
Galeria Café Libro: Ideal place for lovers of salsa and Caribbean music. Great artists such as Toto la Momposina (a very famous singer from Colombia, our Diva of traditional Caribbean music) regularly perform at this place. Paid entry. Possibility to book online.
Casa Quiebra Canto: Another option for salsa lovers in the Candelaria district. It is quite a well-known and famous place in Bogota. They organize traditional Colombian music concerts too—Electro evening on Wednesdays.
Start your Buenos Aires pub crawl tours 
With Riviera Bar Crawl & Tours, you will enjoy one of the best international pub crawls and tours expert with years of experience in providing unique and original pub crawls around cities in Europe and worldwide (Asia, USA, Australia, South America, and more).
Our unique pub crawls in Bogota are a lot of fun. Join your local guide at the meeting time, start with a free beer and wine and discover the party areas with free shooters and drinking games to share with fellow travelers and locals!
Our local guides and arty experts worldwide are the best way to experience the local nightlife in Buenos Aires fully. You can either join our pub crawls in Buenos Aires or design your own night out for a stag party, a bachelorette evening, or a private party with friends guided by our local tour and party guides.
Check out all the options available. You can join the best city tours and pub crawls and designs a unique holiday and an original way to discover Buenos Aires' city!
Our local guides are dedicated to showing you the best and most unique spots and places in town. They will take you away from the touristic sites, to discover the real, local lifestyle and parties.
For further enquires and information, don't hesitate to get in contact with us via our email: info@rivierabarcrawltours.com