Boracay has a lot to offer, especially for young people. Many pubs and bars or club-like bars on Boracay have entirely adapted to the younger crowd.
There, people from all kinds of nations celebrate together with the locals. What would be less conceivable in Thailand, for example, is quite normal here. A mixed crowd of Filipinos, Filipinas, and tourists.
As a rule, there is no trouble. Everyone just wants to have a good time.
Are you looking for the best Boracay pub crawl? With Riviera Bar Crawl & Tours, you can now meet the best local tour guides and party experts to enjoy a unique Boracay pub crawl and discover what the real Boracay nightlife with the best bar-hopping experience is.
Pub crawls are a great way to meet the local people, have fun and get some memorable time I a new place such as Boracay island. It is highly recommended to both the solo traveler and groups. It is a unique opportunity to party like a local without struggling to find the party spots and trendy bars.
Boracay Pub Crawl- What to do in Boracay at night?
First of all, there is the main beach, White Beach, the one that stretches for more than 3 kilometers on the west coast of the island, and that instantly amazes you when you start walking there. It is the one you see on most of Boracay's postcards!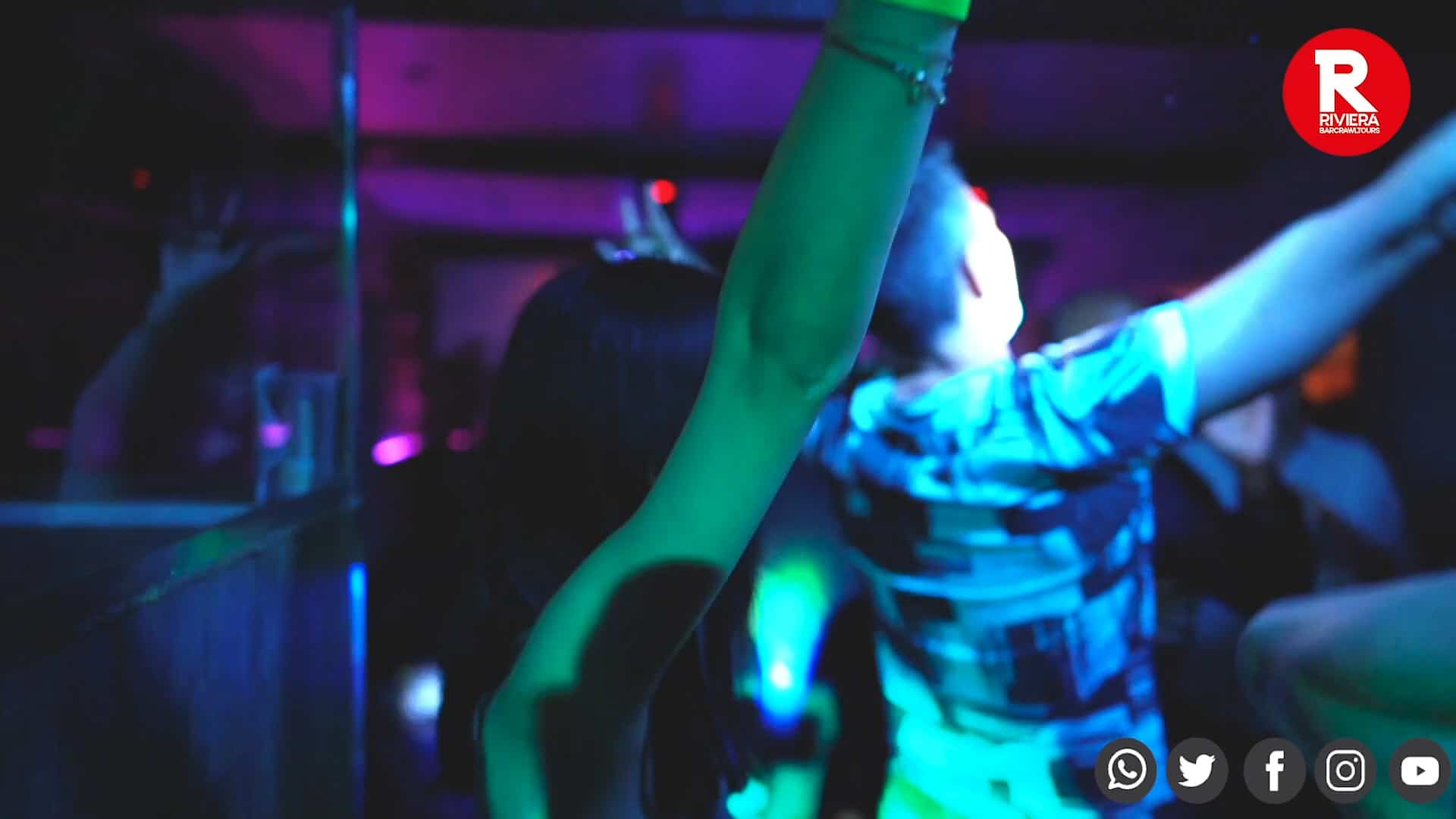 It has an incredible and unique atmosphere that does not only reside in its sand's whiteness or the color and temperature of its water. White Sand is also the center of the party and parties in Boracay!
A cozy beer at the beach bar, good food and then to the cinema, bar hopping … There are many ways to spend the evening in Boracay and the Philippines: good restaurants, clubs, bars, cinemas, discos, exotic nightclubs, casinos, karaoke bars … or have a beer with friends at the resort or the nearest beach bar and talk about how good you are in the Philippines …
Live bands start playing in many bars between 6:00 p.m. and 8:00 p.m. From quiet folk singers to local reggae music and classic pop bands, everything is represented on Boracay. If you head to the beach-walk, a different band plays about every 50 meters, so there is sure to be something for everyone.
Besides, you will always find a large selection of bars, pubs, and locals spots offering happy hours. There are often two drinks for the price of one, and you can get in the mood for the evening or look back over the day with a cocktail.
Boracay has among the most beautiful beaches globally, entertainment and activities in chaos without it being too concrete and not distorting the site too much… 
What more can we say? Ah yes, the tropical temperatures (air and water) and the sympathy of the Filipino people …
Now you know one of the best islands in the world a little better! But keep I mind that as with any new place you are discovering, it is easy to waste time looking for the best spots and the best places to meet locals and get to know the local culture.
With Riviera Bar Crawl & Tours, you can finally maximize your night out and discover what the Boracay nightlife is all about!
Nightlife in Boracay – Where to party in Boracay? 
Boracay has many bars and restaurants on the white beach promenade. It is the right place for party tigers. 
Some bars have live music or DJs. But there are also plenty of cozy beer bars.
The pub crawl, known as bar-hopping, is particularly popular, in which all participants visit the bars on Boracay together and get to know each other better. Nobody stays alone here for long! However, the pub crawl is purely a tourist thing.
Here are some of the trendy locations on Boracay from our Riviera Bar Crawl and Tours guides:
Coconut manga

Club Summer Place

EPIC bar

Club Paraw

Juice bar
If you like crowded clubs playing summer hits… (at the same time, in the Philippines, most clubs work with that), you will probably enjoy Summer Place and Palaw Club. 
There is also the classier and more renowned version: Epic. However, don't expect an avant-garde scene, but this an important party place!
If you still appreciate electronic music a bit more polished and selective, you will have to exile yourself to the other side of the island, to the Jungle Bar. It is located on a magnificent private beach, far from the crowds, with a beautiful play of lights, a great atmosphere, and attentive service. Not to be missed: the full-moon parties!
If you don't really feel like joining the raving crowds, maybe try Pat's Creek or Bom Bom Bar. Close to each other, they share a group of enthusiastic musicians whose repertoire juggles between old school rock and Filipino reggae.
If you want to understand what a city is about fully, you need to discover its nightlife and party scene through locals' eyes.
With Riviera Bar Crawl & Tours, you can now join the best pub crawls in Boracay with our local party experts and local inhabitants that will take you to the best pubs, bars, and clubs in Boracay and show you what in Boracay's nightlife!
Besides, you can also join private guided tours, group tours around the city of Boracay, and even custom and organize your own private pub crawls and tours in Boracay.
With a comprehensive network of local tour guides and party experts around the world, you are sure to enjoy the best pub crawls and tours in major cities worldwide.
For further enquires and information, don't hesitate to get in contact with us via our email: info@rivierabarcrawltours.com