And voila, you've made it to Cannes on the famous French Riviera. Whilst you reveal in its harbourside glamour of designer stores, the tall palm trees that line the promenade of La Croisette and enjoy a glass of Rosé or two;  we'll find you the best restaurants in town!
Being host to the film festival, you can imagine there's many a swanky spot to spend an evening and try your hand at a bit of celebrity-spotting. But, despite Cannes glamourous reputation, there's still a sense of authenticity to this city.
Here we've narrowed down a list of high end to authentic restaurants in Cannes, for you to try during your trip.
La Cave – 9 boulevard de la République, Cannes
You haven't eaten in Cannes if you don't spend at least one evening here. This gastronomical institution is one of traditional French cuisine made with love. Don't expect a spec of pomp at this laid-back local restaurant.
The homemade dishes included on the menu ooze French tradition with starters of escargot, foie gras and mains of duck or veal, just to name a few. The in house wine menu is equally as traditional and equally as pleasing.
You can enjoy a three-course meal from as little as 32 €
If you want to find something more trendy rather than glamorous, Bobo Bistro is for you. Attracting a stylish crowd adorning that 'I just threw this on but I still look great' vibe, you'll find a laid-back but enjoyable atmosphere at Bobo.
With its floral wallpaper, stylish retro highlights and fantastic organic food, this is a fashionable haunt for both locals and tourists. The cuisine is local but changes depending on the season. Expect to find artichoke salad, tuna carpaccio with passion fruit, or roasted cod with mash on the menu.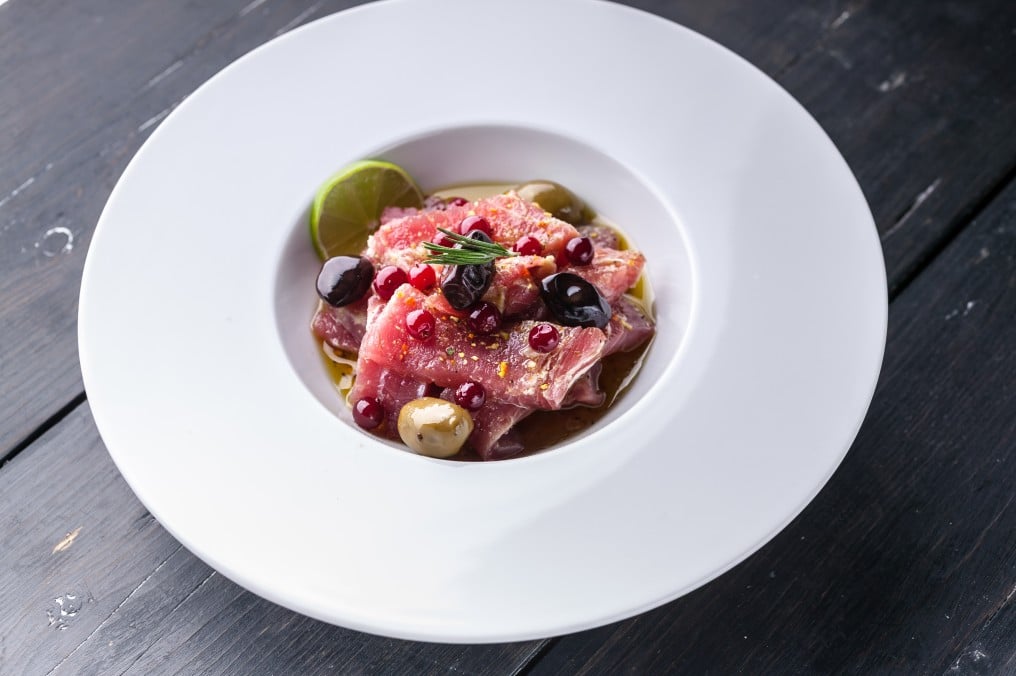 We know, eating Italian when in France may seem a little odd…but not if it's a real Italian at the helm. Native to Turin,  Laura Merlo has been gracing Cannes with her rustic Italian cuisine since 1992.
Filling the menu with dishes she grew up with, diners can experience a new range of Italian food as well as the traditional. Of course, you'll find those beloved dishes such as spaghetti vongole but also a few that'll excite your taste buds as you delve into the lesser know cuisine of Laura's home.
Located near the train station, it's in a central spot that's super easy to find.
Le Grain de Sel captures the cosmopolitan nature of Cannes, but at prices, most can afford. Offering a contemporary twist to the French cuisine, this bistro is reminiscent of those found in larger cities such as London or Paris.
The design of the restaurant is very contemporary and clean. Pristine white tablecloths and sparkling cutlery sit beside contemporary art, white walls and dark parquet flooring.
The restaurant also benefits from the bar lounge area that serves its customers afternoon tea and tapas from 6 pm as an 'after work' treat.
Cannes born, and ambassador of the French and Provençal gastronomy, Chef Christian Sinicropi takes the lead in this kitchen. La Palme d'Or within the Hotel Martinez delights its customers daily offering an unforgettable fine dining experience one would expect in a city such as Cannes, France. Being awarded 2 Michelin stars, the food you taste here is one of real talent and refinement.
Sinicropi is known for his daring cuisine, elevating his dishes with finesse and passion.
Overlooking La Croisette, the dining room opens onto a superb panoramic terrace. Taking inspiration from the Cannes Film Festival, the decor is inspired by the world of cinema.
Eating here is a real experience. A culinary journey highlighted by a magical view of the Bay of Cannes.
Table 22 by Noël Mantel – 22 rue St-Antoine, Cannes
A restaurant that really understands its flavours. Taking inspiration from the sea, land and mountains, the food here focuses on good produce and elevating those produce with passion and care.
With dishes like Lobster Ravioli and Filet of Beef taking centre stage. This small, but exquisite menu serves up some of the most delectable food in town.
What is lovely to see is that the restaurant does cater to dietary requirements. The chef will create a gluten-free or vegan menu upon request.
Le Caveau 30 – 45 rue Felix Faure Proche Palais des Festivals, Cannes
You can't eat in Cannes and not experience the glamour of the art deco era. Capturing this perfectly is Le Caveau 30 with its interior design.
Mirrors are dotted around the restaurant, decorated with golden shapes reminiscent of the art deco era. Black and white photographs of actors and actresses fill the restaurant as a tribute to the cities famous film festival.
With a sea view, the restaurant is known for serving excellent, fresh seafood in large portions. The wine list is varied and prices range from reasonable to expensive depending on your budget.
This is an excellent place for enjoying fresh oysters in the sun, washed down with a cold glass of wine whilst enjoying a view of the Mediterranean sea.
A delightfully cosy restaurant perfect for a romantic dinner with your love. La Table du Chef has just 20 covers, making it one of the smallest restaurants in the city.
The menu changes with the seasons, meaning the food is fresh and tasting it's best. It also allows the restaurant to charge reasonable prices (for Cannes).
The food is always served with a smile and a friendly chat. It's an idyllic restaurant for a date night on the French Riviera. Remember to book ahead to avoid disappointment.
Looking for breathtaking views of Cannes? Get yourself to Le Roof, on the 5th floor of the Five Seas Hotel for panoramic views of the city.
It's the perfect place for a light lunch in the sun. You can tell the team do their research as the new menu is jumping on the health-conscious trend and the rise of the street food.
The lunchtime 'roofbowls' (as they call them) consist of fresh veggies, rice, nuts and fresh fish, very much reminiscent of Hawaiian poke bowls which are currently taking Instagram by storm.
The after-work street-food platters are perfect for social eating and sharing with friends, all washed down with a glass of Provençal rosé.
A taste of Paris in the South of France.
Come here for a slice of Parisian charm, with decor that reminds one of the traditional Parisian brasserie and the food to match.
Located a stone's throw from the Palais des Festivals, Le Petit Paris is open from 8.30am to 12.30am from Monday to Saturday. A perfect place for breakfast, lunch or dinner. This spot is famous for its excellent French fries and a good selection of wines. They also have Happy Hour from 6 – 8 pm and a deal on oysters and champagne every Monday – Saturday between 6 -8pm…how very French!
Voila, your restaurant guide for eating in Cannes! If you're looking to learn more about the city, why not join us on our Walking Tour of Cannes? We'll show you the sights and enlighten you with its history.