Besides being the city of the largest carnival in Colombia, Barranquilla is a must-see destination for those who love parties and the nightlife where you will meet locals and travelers.
This article takes you on a tour with our local party experts and local guides in Barranquilla. It will also list some of the best places in the city for those who would like to dance salsa, cumbia, vallenato, or even reggaeton on the Caribbean Coast.
Today, our Riviera Bar Crawl & Tours local guides and party experts are taking you to the best bars, pubs, and clubs in Barranquilla.
Barranquilla Pub Crawl– What to do in Barranquilla at night?
Going out at night in Barranquilla, one of the capitals, if not the cosmopolitan city of Rumba, is undoubtedly an unforgettable experience not to be missed.
When it comes to nightlife in Barranquilla, most nightclubs are in the El Prado district, around Santo Domingo Place, or in the north of the city. In the city center are mainly the wine bars.
So, if you settle in this part of the city and want to go out every evening, you have to be prepared for a little further trip.
Barranquilla is a very safe city, and you should never have a problem going out to dance or have a drink.
However, we must remain vigilant and not take risks (as everywhere). Carnival time is a bit crazy, and many streets turn into open-air discos. Always keep an eye on your belongings and your friends too!
Our local guides' tips: Do not carry valuables that may attract lust. You will need cash to buy your possible drinks, but no need to carry millions of pesos with you. Also, avoid letting yourself be drawn into strangers under the influence of emotion; you never know.
Finally, we sincerely believe that you should always designate one of the team members during group outings in a foreign country so that he keeps control over the evening and his party colleagues.
It is a reason why you should join our Riviera Bar Crawl & Tours pub crawls in Barranquilla for your first night out in the city. It can avoid many disappointments.
Colombia is a wonderful place, Barranquilla one of its most beautiful pearls… and the risks are not more prominent than in any other city all over the world.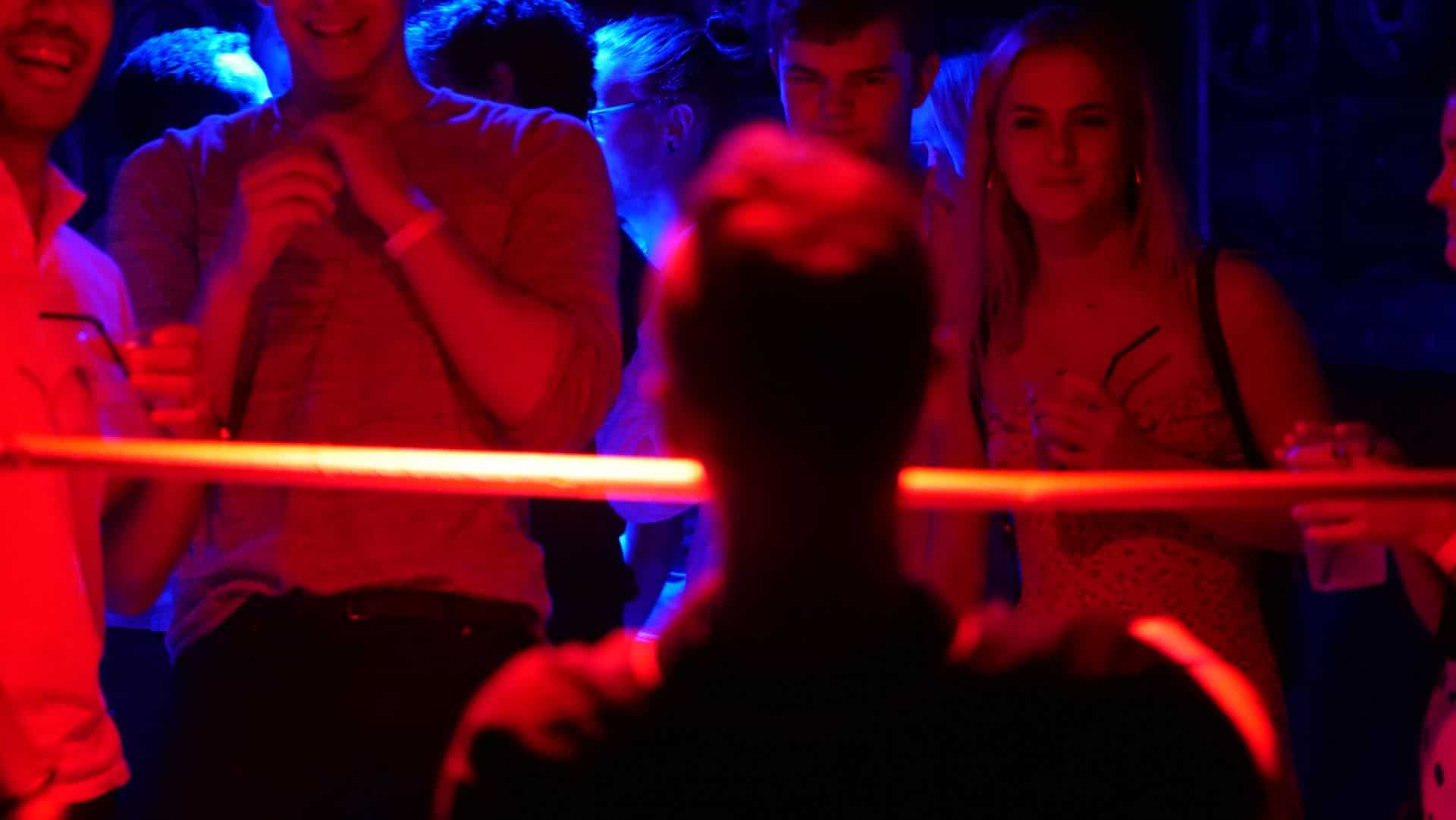 Nightlife in Barranquilla – Where to party in Barranquilla? 
You will find plenty of trendy bars and pubs to party in Barranquilla. Here are some of the best party spots in the city:
The Troja: It is undoubtedly the most emblematic place in Barranquilla. Both an open-air bar and the city's most famous Latin nightclub, you can't ignore La Troja. It is also one of the best places during the carnival season to end your evenings and dance the night away.
Calle 84: The busiest street in the whole city. The "calle 84" has many bars and restaurants and you will be spoiled for choice.
Right next door: "Calle 82" is also very lively. It is north of the city, with no particular risk if you walk late in this area (unless you do something stupid).
Our advice is to tell your taxi to take you "Calle 84" to the Windsor hotel corner. You can then walk down the street and get an idea of ​​the options available to have a good evening.
El Parque Washington: Near the "Villa Country" shopping center, this is undoubtedly the city's corner with the coolest (and also the most expensive) bars. We recommend going for a walk to Bourbon St. if you like the rock atmosphere.
You will also find a large selection of live concerts in Barranquilla:
Hotel del Prado: In addition to offering an idyllic setting for staying for a few days in the heart of Barranquilla, this establishment also provides concerts every Thursday evening. Its bar and swimming pool are also very pleasant if you want to have a drink in a quiet place away from the city's noise.
La Cueva: It is one of the most touristic places in the city. La Cueva organizes concerts every Thursday. The restaurant is also of outstanding quality (prices a bit high). This establishment is much more than just a bar/restaurant. It is also a museum whose central themes are the most emblematic Colombian author's works: Gabo (the affectionate nickname given to Gabriel Garcia Márquez).
You should also go to some of the best Barranquilleras clubs as the city has many nightclubs. Here are a few that get good press:
Discolo
Miramar Shopping Center
Trucupey
Centro Comercial Portal del Prado
Frogg Leggs
La Fabrica
Esquina
A word of advice if you are thinking of going clubbing in Colombia: dress well. It is the Caribbean Coast rule, and Colombians pay great attention to their look when they go dancing. No flip flops or holiday clothes if you want to try your hand at the dance floors of the night clubs in Barranquilla.
Latin music and fun: if you already know La Troja (mentioned above), here are some other options to try out Colombian and Latino rhythms:
The Popular: a very nice, it is also possible to eat there. The prices may be a bit high, but the experience is worth taking.
La Oficina de Checo: this establishment is not touristy. We are talking about a bar that is relatively well placed but does not look pretty. It is undoubtedly a good plan if you want to see something different and dance while enjoying a beer without crossing all the strangers in the city. It's not a must-see, but I like the atmosphere.
Although Barranquilla is a city whose essence is deeply carnival, it is still possible to find some "underground" addresses to get out and get away from the sounds and other Latin rhythms that animate the vast majority of the Caribbean region.
Here are some excellent places to discover the alternative culture of Barranquilla:
Bunt: it is a must, especially if you want to find a little known place in Barranquilla (and that's good).
Fierabras: the best craft beer in Barranquilla. The place is a little small, but the atmosphere is very nice. Concerts are regularly organized there. I
Barcraft: it is a lounge bar for rockers, gamers, and other nerds. A video game console accompanies each table. The music is more metal, rock, rap, or even reggae.
Are you looking for the best bars and clubs in Barranquilla? With Riviera Bar Crawl & Tours, you will get all the insiders' tips, head to the best places, get free drinks and shots, party with other travelers and locals, and find the best addresses to enjoy the real Baranquilla's nightlife.
With a vast network of local guides and local inhabitants, you can finally get to know the city like a local and skip the usual tourist spots.
You will also find a full selection of walking tours, private city tours, and other day trips around town and many other cities worldwide.
For further enquires and information, don't hesitate to get in contact with us via our email: info@rivierabarcrawltours.com