Phoenix is big! With 4.5 million inhabitants, including 1/3 Hispanic, it starts to make the world!
Once you arrive in Phoenix, you will quickly realize that it is not the far west … There, we are far from the cliché of the city in the middle of the desert populated by cowboys drinking in saloons.
Instead, with Riviera Bar Crawl & Tours local guides and Phoenix pub crawl experts, you will find a multitude of small pubs and bars with drink specials and original concepts worthy of the avant-garde and hipster cities of this world.
Phoenix Pub Crawl- What to do in Phoenix at night?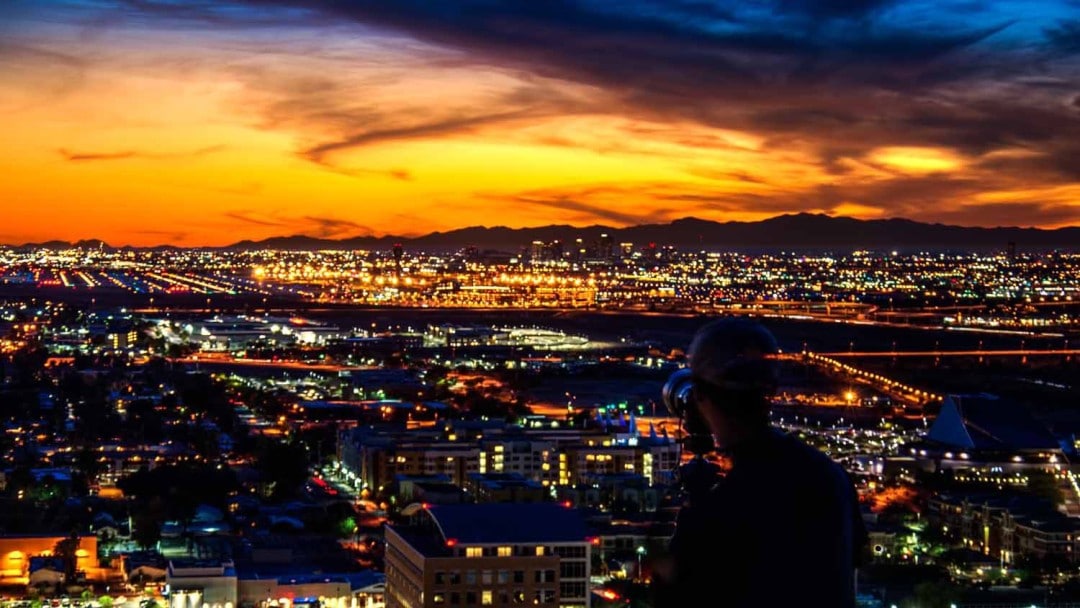 You'll have fun in Phoenix! It is a city where a lot of students from the region and the four corners of the United States converge since it is there that the ASU (Arizona State University) is located, recognized as being the best party university in the United States. United … Just in case you are looking to party at some point!
Near the university and a few minutes from the city's central point, you will arrive at the artistic district of Phoenix invaded by street art. There are all kinds of them: from photo studios to art galleries, including huge murals, houses covered in graffiti, cafes, restaurants, and bars, each with more surprising concepts than the next!
There are surprises around every corner in the neighborhood around Roosevelt Row, and every little alley has its sweet touch that's worth the detour!
We also recommend this neighborhood on Fridays for its Food Truck Fridays concept, which brings together all the food trucks in the city where the Phoenix market was taking place at the time.
Walk from bar to bar and drink with a bunch of friends. Anyone who has experienced a great pub crawl knows that orchestrating an excellent pub crawl is no easy task. If you don't feel like it, you can always call on an organization such as Riviera Bar Crawl & Tours to organize your pub crawl in Phoenix.
Nightlife in Phoenix – Where to party in Phoenix? 
The purpose of the pub crawl in Phoenix is to bring people together to celebrate. The bar crawl with local experts can bring together students from various countries. An opportunity to meet party people from Phoenix and around, as well as fellow travelers, to live an unforgettable moment.
Bitter & Twisted Cocktail Parlor has excellent drinks and food, and it is a nice bar with a great atmosphere.
UnderTow is a great hidden place with a great drink list.
Tim Finnegan's Irish Pub is a great place to mingle with locals.
Cobra Arcade Bar is often crowded and fun.
Valley Bar is a funky bar with a great atmosphere, great drinks, and exciting happy hours.
The Phoenix Ale Brewery offers a wide choice of excellent beers.
Here are some other great pubs, bars, and clubs from our local pub crawl guides:
Hanny's
SideBar
Joe's Grotto
Little rituals
The Phoenix Ale Brewery
Rosie McCaffrey's Irish Pub
Bullock's Cocktails
Bar Bianco
Majerle's Sports Grill
The 9 Lounge
Cj's Talley's Pub
Steel Horse Saloon
The Wandering Tortoise
Start your Phoenix pub crawl tours 
Are you looking for the best bars and clubs in Phoenix? Find out all about the best party districts and maximize your night out with Riviera Bar Crawl & Tours' pub crawls in Phoenix.
With a unique and comprehensive network of local guides and local party experts worldwide, Riviera Bar Crawl & Tours brings you unique private guided tours, walking city tours, and other pub crawls options in Phoenix and other cities worldwide!
Our local pub crawl experts in Phoenix tip: To maintain momentum, don't stay in one place for too long.
You should have time for a drink or two at a reasonable rate of consumption in a given establishment. You can slow it down as the night progresses, but remember that by deciding to "stop and stay awhile," you're probably at your last bar.
Find out about the best bars and the best clubs in Phoenix, meet new people, locals, and fellow travelers while partying in the best venues and the best party districts in town.
For further enquires and information, don't hesitate to get in contact with us via our email: info@rivierabarcrawltours.com