Pub Crawls in Oakland
Weekly markets, culinary delights worldwide, impressive Art Deco architecture, and a great zoo make Oakland an attractive destination in the San Francisco Bay Area.
Visit Oakland to see one of the most beautiful theaters in the United States and the country's first protected wildlife habitat. Jack London Square is ideal for shopping and dining right on the water, and many bars in the city offer entertaining evenings with live music.
At night, the best way to fully enjoy the city is to join our Riviera Bar Crawl & Tours local guides for the best pub crawl in Oakland!
The best way to discover Oakland's nightlife is to meet locals and other fellow travelers in the best bars in town, famous clubs, and iconic party places without struggling with transportation. Get ready for free drinks and shots, free entrance, and VIP treatment in the best party spots in Oakland.
Oakland Pub Crawl- What to do in Oakland at night?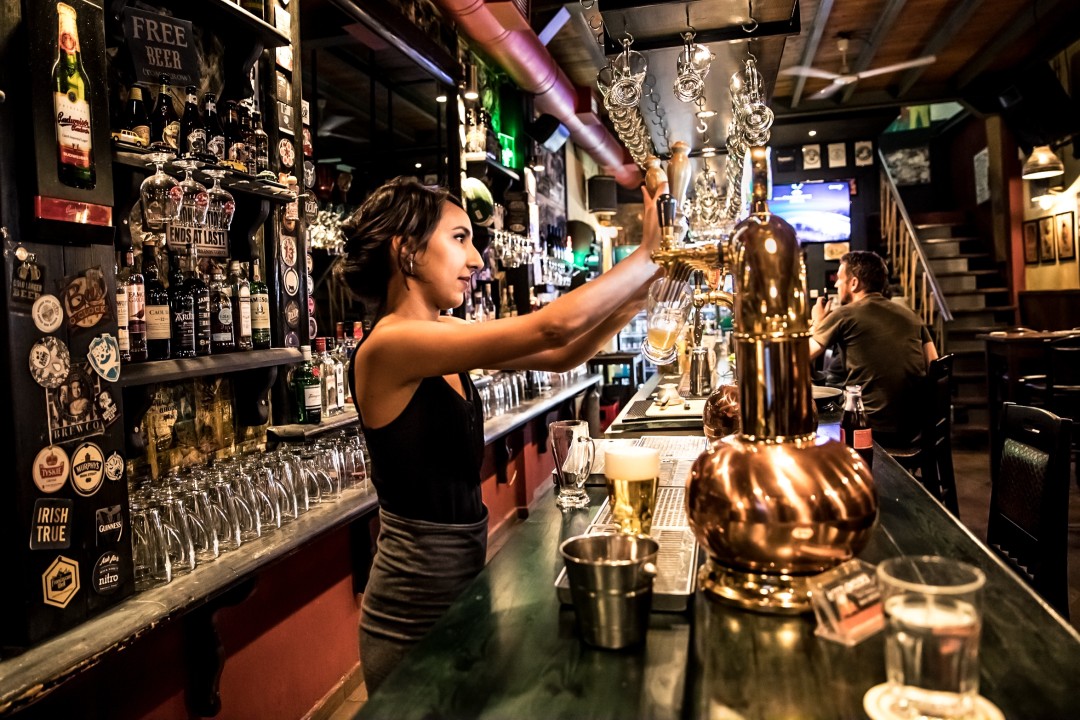 The night is not just for sleeping! Of course, Oakland doesn't live on the past alone.
The city has made a name for itself for its exciting nightlife. Most of this takes place in Jack London Square, which is full of bars, cinemas, restaurants, and music clubs.
Every style has its home here, and you are always welcome to dance. No wonder that quite a number of famous American musicians come from Oakland.
There is already something going on here during the day, but the area only develops its authentic flair after dark.
As a tourist, should you mingle with the people alone? In principle, this is possible, but unfortunately, one of Oakland's downsides is the high crime rate. While most violent crimes stem from disputes between residents, but caution should always be required.
Therefore, in a group, you are safer, and alcohol consumption should also be kept under control.
Theaters, art galleries, and concerts are just some of the attractions that make Downtown Oakland unique. During your stay, also plan to visit one of its exceptional sites: Jack London Square.
In Downtown Berkeley, take the time to visit two exceptional sites: Berkeley Repertory Theater and UC Theater Taube Family Music Hall. You will probably also enjoy its many restaurants and bars!
If you are in Chinatown, take the time to soak up the atmosphere of its gourmet restaurants. Another interesting site to go out and party.
When visiting West Alameda during the day, stop off at some places, like Pacific Pinball Museum and Frank Bette Center for the Arts. At night, it is a great area to find excellent pubs and bars.
When in West Oakland, visit its unique sights, including Old Oakland and the arty area.
Nightlife in Oakland – Where to party in Oakland? 
Plum Bar & Restaurant is an "all-American" bar to have a taste of Oakland.
The Graduate is a neighborhood bar and the right place for fun parties and college talks.
The Hatch Oakland is a small downtown bar with a relaxed atmosphere.
Tamales Unicos De Cuernavaca for excellent food and snacks and great parties
Lanesplitter Pub is all about excellent pizza and calzones with great beers.
Lounge 3411 is right in the nice bar in the party area.
Oakland Tavern is an excellent place for beers and early parties.
Era Art Bar & Lounge for s surprising bar in Oakland
Smitty's Cocktails is an excellent dive bar.
Moxy Beer Garden offers a great happy hour and bar food.
The Starry Plow Pub is comfortable and easygoing.
Fieldwork Brewing Company is well-known by locals for its choice of beers.
The Albatross Pub is an excellent pub with a lively atmosphere.
The Trappist: Here, the specialty is Belgian beer, but you can also drink excellent cocktails.
Oasis Bar & Club is renowned for its reggae nights on Wednesdays. The Oasis also plays excellent DJs' sets.
Heinold's First and Last Chance is a small plank saloon that has a unique vibe.
Jupiter is located in front of the Bart station, a brick building where people come to drink and party all week long.
Brewing Faction is a small brewery that is one of the best pubs in town.
Start your Oakland pub crawl tours 
If you want to understand what a city is about fully, you need to discover its nightlife and party scene through locals' eyes.
With Riviera Bar Crawl & Tours, you can now join the best pub crawls in Oakland with our local party experts and inhabitants that will take you to the best pubs, bars, and clubs in Oakland and show you what in Oakland's nightlife!
Besides, you can also join private guided tours, group tours around the city of Oakland, and even custom and organize your own private pub crawls and tours in Oakland.
With a comprehensive network of local tour guides and party experts around the world, you are sure to enjoy the best pub crawls and tours in major cities worldwide.
For further enquires and information, don't hesitate to get in contact with us via our email: info@rivierabarcrawltours.com