Bangkok has always had a reputation for being a city with diverse nightlife. However, the city tries to get rid of its image as a metropolis of sin by introducing new rules, and unfortunately, many night bars and clubs have to close at one at night … 
However, with the best local party guides from Riviera Bar Crawl & Tours, you will find the best venues and the best clubs open until the early hours for the perfect pub crawl in Bangkok.
The red-light districts are still there, of course, but Bangkok has a lot more to offer than massage parlors and chrome bar palaces. A sizeable upscale bar and club scene have established itself in recent years, and new rooftop bars open every year with spectacular views of the city.
What to do in Bangkok at night?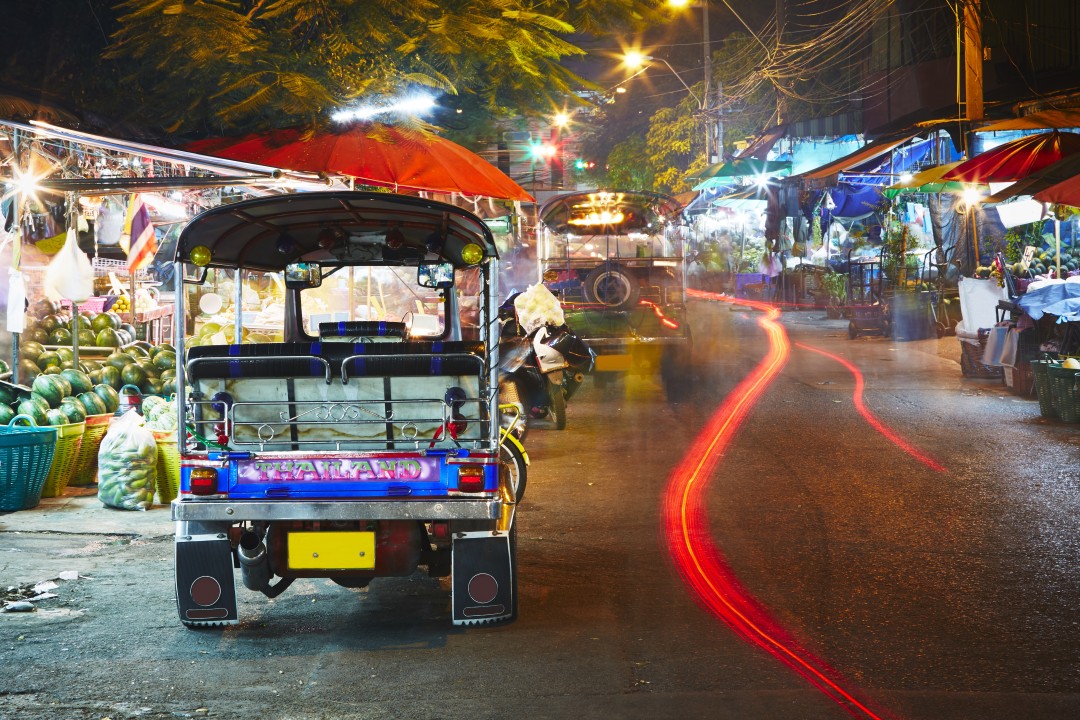 Every district has its own charm in Bangkok, and there are plenty of opportunities to party in the southeast Asian metropolis:
In general, the nightlife on the river is quieter but offers excellent rooftop bars such as the Sky Bar in the Lebua State Tower or the Three Sixty Bar in the Millennium Hilton.
On Khaosan and Rambuttri Road in the old town, there is more going on with many pubs and live music venues. 
The larger clubs with electro sound are more likely to be found on Sukhumvit Road or newer districts. 
The famous red-light district and bar mile Patpong and the vast night market are located on Silom Road. On Siam Square, there are locations such as the Hardrock Cafe or the Rooftop Bar Red Sky.
While the sidewalks are folded up in Patpong at one o'clock, the party on Khaosan Road continues throughout the night with people from all over the world. 
Many restaurants there are open 24 hours a day, and mobile bars are even set up on the sidewalks at night. Here you can find a certain similarity to other party areas in the world, but the hippie backpacker romance of ancient times can hardly be found here. 
There are so many bars, pubs, shops, and young people who start or end their Asia tour here in Bangkok. 
By choosing the best pub crawls in Bangkok, you can enjoy the best of the local nightlife and meet fellow travelers and create new friendships.
Nightlife in Bangkok – Where to party in Bangkok? 
Here are the best and most famous nightlife spots and a few tips from our local tour guide and party experts in Bangkok:
High-end Rooftop bars
There are now over 20 rooftop bars in Bangkok. Those who prefer to go to a bar near the hotel are sure to find what they are looking for in town.
Bangkok has excellent rooftop bars and is even home to the highest rooftop bar globally, which was chosen as the spectacular location for the movie industry.
Skybar on the Lebua State Tower: it is the best rooftop bar in Bangkok. The open-air bar on the roof takes your breath away. When you step down the huge stairs under the dome to the bar, all of Bangkok is at your feet. Bradley Cooper and Co were in front of the camera for Hangover 2 here. 
Vertigo Grill and Moon Bar: THE perfect view of Bangkok. The former helipad at the Banyan Tree Hotel on Sathorn Road has been converted into a great restaurant and rooftop bar with a view of the sea of ​​lights. You should definitely make a reservation.
Three Sixty Bar: On the Hilton Hotel roof, a bar in a UFO-like architecture sits enthroned over Bangkok and the Chao Phraya.
Besides, there are the famous and world acclaimed "red light" and pub districts and well-known party streets …
The main party districts and go-go bars
Patpong
Even if many turn up their noses at Patpong, the 500-meter long street simply belongs to Bangkok like the Reeperbahn to Hamburg.
The Patpong district consists of two small parallel streets, Patpong 1 and Patpong 2, in which go-go bars and massage parlors are lined up. 
A night market is set up every evening in the center and around the streets. The market is open around 7 p.m., or from then on, almost all traders have set up their stands. 
Patpong really doesn't convey the charm of an erotic center but rather a mishmash between tourists, scantily clad girls, and street vendors.
Now and then, you can catch a glimpse of the chrome bars when the bars have their doors open. And one is also often asked whether one would like to attend a ping pong show. These bars are becoming fewer and fewer, and live open-air music bars and pubs are opening up, where you can sit with a view of the street and watch the goings-on.
If all this is too much for you, we recommend Convent Road. There are also many pubs and bars here, but without any red light aftertaste. Convent Road is a few streets away, even a side street from Silom Road.
Soi Cowboy
You cannot experience Bangkok's nightlife without going to Soi Cowboy. It is a less aggressive area compared to Patpong. 
About 40 go-go bars are lined up in a small street, and there is no night market similar to Patpong. If you feel like it, you can also dare to take a "stroll" as a tourist here, but you won't miss anything if you don't do it.
Nana Entertainment Plaza
Nana is the name for a three-story entertainment complex in which only red light pubs and bars are located. This area is not particularly interesting for a tourist. 
Opposite Sukhumvit is Soi 11 with bars, clubs, and restaurants, which some are more recommendable … no worries, our local pub crawl guides will show you the best party spots!
The club scene in Bangkok
I have to admit that I am not a club-goer. I prefer bars, music bars, or jazz bars, like Brown Sugar. Or even a pub-like Khaosan Central. Still, a few tips on club life in Bangkok.
Soi 11, Sukhumvit Road is one of the top addresses. It is a side street off Sukhumvit Road. After the Bed Supper Club and the trendy Q-Bar opened here, more and more locations and many restaurants have been added along the street. There is a large selection of Indian restaurants, several beer pubs, Italian and even a German restaurant (Old German Beerhouse).
It is a prominent club in the city with a crowd of local hipsters and travelers partying every night. The bed at the supper club was always full and attracted an upscale audience. You had to have a passport with you to be admitted and an appropriate cloakroom. Electro is played.
Just around the corner from Soi 11. It is an excellent bar with a party atmosphere
Across from the Q-Bar in the Fenix ​​Hotel, there is a nice lounge rooftop bar called Nest.
A little off the beaten track is RCA Avenue, where club after the club is lined up. Route 66, Slim & Fix, 807 Club, to name a few, all pretty crowded and a very young crowd. 
Thong Lo and Ekkamai Clubs: The two streets are already quite far to the east on Sukhumvit Road, a lively nightlife with many clubs has established itself here.
Some big hotels also have excellent clubs such as:
Spasso at The Grand Hyatt, located directly at the Chidlom Skytrain Station.
Baru at the Sheraton Sukhumvit. It is a popular noble bar with jazz, funk, and soul music.
MIXX is a lavish nightclub in the Intercontinental Bangkok. It is a large club with hip hop, house, and dance music.
Party all night on Khaosan Road
In the old town district of Banglampoo, a veritable trendy district has emerged in the many small side streets around Khaosan Road. There are many small restaurants, pubs, and cookshops, especially on the roads between Khaosan Road and the Phra Arthit jetty. 
Soi Rambuttri 
It's even more beautiful here than on the bustling Khaosan Road with a modern backpacker charm. Here you feel a bit like being transported back to the "old" Khaosan Road times. 
There you can eat and drink particularly well in the many small restaurants. There are even city tours through this part of the city with guided tours at the food stalls, which are among the best in Bangkok.
Start your Bangkok pub crawl tours
With Riviera Bar Crawl & Tours, you will find one of the best international pub crawls and tours experts. We have years of experience providing unique and original pub crawls around cities in Europe and worldwide (Asia, USA, Australia, South America, and more).
Our local guides and arty experts worldwide are the best way to experience Bangkok's local nightlife fully. You can either join our pub crawls in Bangkok or design your own night out for a stag party, a bachelorette evening, or a private party with friends guided by our local tour and party guides.
Check out our options, tours, and pub crawls and designs a unique holiday and an original way to discover the city of Bangkok!
For further enquires and information, don't hesitate to get in contact with us via our email: info@rivierabarcrawltours.com