Travelers often use the capital of South Australia as a gateway to the outback or for Kangaroo Island. But Adelaide is more than that, and a stay in this beautiful city is definitely worth it!
The city of Adelaide is home to just 17,500 inhabitants, and with its metropolitan area, it has a population of 1.23 million. It makes it the fifth-largest city in Australia. With around 75,000 students at three state universities and a few colleges, Adelaide rightly calls itself a student city. The student atmosphere can be found in numerous bars and cafés and the lively district around the campus in the north of the city center.
Adelaide has an excellent nightlife that both tourists and locals celebrate. While it is rather cozy during the day in South Australia's metropolis, the city wakes up in the evening and becomes a popular contact point for many night owls. Going out is particularly good in North Adelaide and Hindley Street.
Join Riviera Bar Crawl & Tours through the South Australian Adelaide bar hopping with local guides and party experts, and meet new people along the way with drinking games, free shots, and more.
Adelaide Pub Crawl– What to do in Adelaide at night?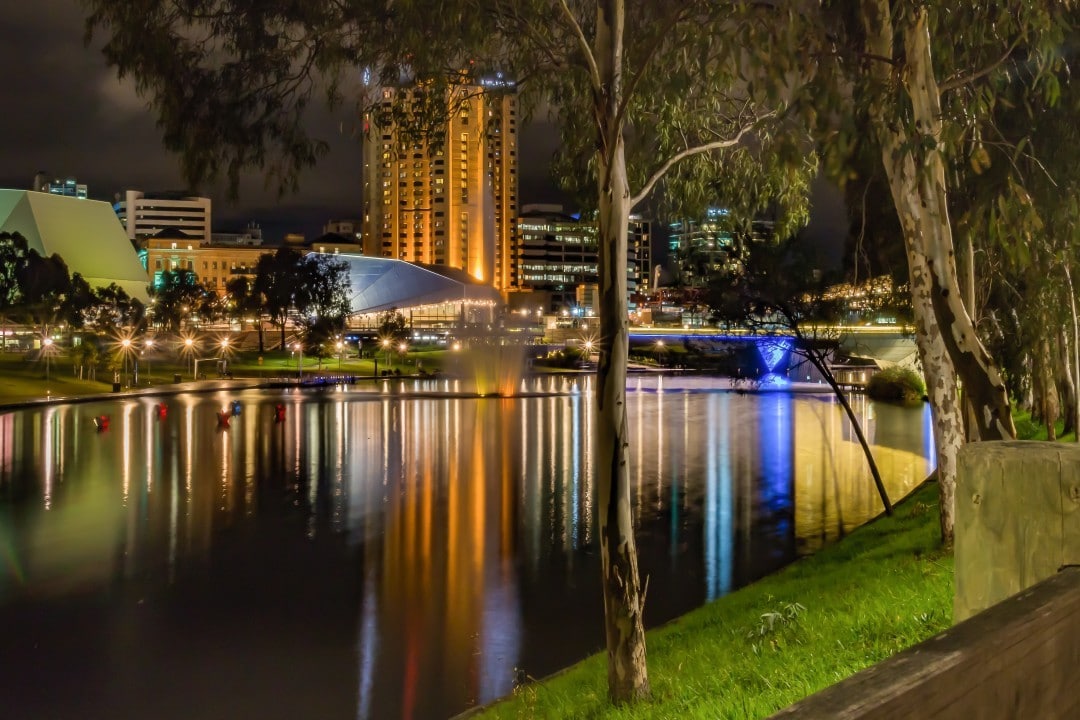 The nightlife in Adelaide is definitely impressive, as everyone will indeed find something here. 
No matter if great restaurants, friendly pubs, lots of discos or establishments where women wear even less than in the night clubs of Adelaide, the northern part of the city and North Adelaide are just the thing for night owls. 
While North Adelaide has more neat bars and restaurants, those who love to dance can let off steam in the nightclubs located on the western part of Hindley Street to the north. But the casino is also worth a visit, as it stands out as a former North Terrace train station.
Glenelg is a suburb of Adelaide ( South Australia ) about 10 kilometers south-east, not far from Adelaide International Airport. Due to its lively beach with old houses, lovely guest houses, countless bars, cafes, pubs, restaurants, and shops, Glenelg has become Adelaide's most popular bathing resort. It is probably also why Glenelg is now very popular with night owls, surfers, and backpackers. In any case, making contacts is not particularly difficult in the daytime and nocturnal locations.
Besides, no beer lover should miss out on a tour of the Coopers Brewery and learn all there is to know about South Australia's number 1 beer on a guided tour.
Nightlife in Adelaide – Where to party in Adelaide? 
A lively and exciting pub, nightclub, restaurant, art, and live music scene has now established itself in South Australia's capital, which also has a lot to offer to night owls.
Adelaide is a party town. Very dynamic, Backpackers mix with tourists and locals to set the mood. As soon as night falls, night outings multiply, and bars and discos fill up quickly. There is a multitude of bars where groups perform, from small to larger nightclubs. Everything is there to spend pleasant festive moments. 
As just mentioned, Glenelg is known for its beach and nightlife. Therefore, it should be apparent that sun worshipers, water sports enthusiasts, beach fans, and night owls get their money's worth here. 
But the popular suburb of Adelaide isn't all about beach and party. Sipping a cold beer or coffee in one of the excellent bars or cafés is a welcome change with a sea view and a relaxed atmosphere.
Adelaide also calls itself the "Festival State". No wonder, because there is something to celebrate here almost every week. The most famous events are the Adelaide Fringe and Adelaide Festival (both in February / March).
Here are some party places from our local guides where to go out in Adelaide:
Black Bull Bar

Maybe Mae

Hennessy Rooftop Bar

Casablanca

Swish Bar

The Mars Bar

The Garage Bar

Shotz Pool Lounge

Electric Circus

Bank Street Social

The Playford Lounge Bar
Sugar is probably the best club to party in town, but you should also check out the other best nightclubs in Adelaide:
Adelaide Entertainment Center

HQ Complex

Fumo Blu

Zhivago

Mockingbird Lounge

Nineteen Ten

Jive

Red Square
Some of the best festivals in Adelaide:
The city is known throughout Australia for its many festivals. The advantage: an incredible choice of concerts, street shows, plays, film screenings… The downside? Everything takes place almost at the same time, so you have to make a choice! Here is a list of the main festivals:
The Fringe Festival: can be translated as "on the sidelines," which defines it very well. The Fringe Festival, which occurs between February and March, is excellent, and quite simply Australia's biggest arts festival. He metamorphoses Adelaide and the schedule of its inhabitants for a month.
The WOMADelaide: the WOMAD (for World of Music, Arts, and Dance) takes place in early March and lasts 3-4 days in the Botanic Garden, with a program of traditional and contemporary world music and social debates.
The Adelaide Festival: this festival, which is held simultaneously as the Fringe Festival, is distinguished by its programming focused on opera, theater, dance, and literature.
The Cabaret Fringe Festival: cabaret atmosphere in Adelaide for this festival created in 2009 which takes place in June and which offers the opportunity to many artists to provide their shows in clubs, bars, and venues in the city.
Riviera Bar Crawl and Tours is a massive network of local guides, party experts, and local inhabitants worldwide who know all about the best party spots in the city.
Join our local team members to discover and experience Adelaide fully. We have private and group tours around the city or join the best pub crawls in Adelaide and find out about the best bars, pubs, and clubs in Adelaide to party with locals and other travelers and be part of the local nightlife and party scene in Adelaide.
Join our local tour guides and nightlife experts, party all night long with fellow travelers and locals in some of the best bars and clubs in town, and create unique and unforgettable memories while meeting new people and local party-goers!
Keep up to date about any new tours and pub crawls worldwide by registering for our weekly newsletter!
For further enquires and information, don't hesitate to get in contact with us via our email: info@rivierabarcrawltours.com