An introduction to Nice
Tucked away on the eastern side of the French Riviera, Nice is a large city in the Provence-Alpes-Côte d'Azur region of France. It isn't far from the principality of Monaco or the Italian border and is a major attraction for visitors to the Riviera. If you're exploring Nice during your stay in the south of France, then you may want to consider hiring a private driver to transport you around the city. Chauffer services are amongst the safest and most exclusive ways to explore the Riviera. In this article, we'll tell you a bit more about the attractions in Nice and the benefits of hiring a private driver to show you around. We'll also tell you what sort of costings you can expect if you did decide to hire a private driver in Nice.
There are numerous places to visit and things to see during your stay in Nice. As well as hitting the beach, you may well want to enjoy a dose of culture. Nice Cathedral is reminiscent of a Russian Orthodox church, including the resplendent onion domes you're likely to associate with St Basil's Cathedral in Moscow. If you enter inside the cathedral itself then you'll be greeted by an array of timeless paintings, beautiful sculptures and much more.
No trip to Nice would be complete without soaking up the coastal views along the Promenade de Anglais. The tree-lined walkway is decorated with the ocean on one side and a host of boutique shops, bars, restaurants, and hotels on the other. If you're feeling fit enough then you are welcome to walk the entire 7km stretch of the promenade, or you could have your private driver pick you up at one end and ferry you to the other?
To enjoy more sumptuous views over the city of Nice, you'll want to bead to Parc de la Colline du Chateau, on the eastern side of the city. The park can be reached on foot or by using a free elevator. Once you arrive, you can admire a beautiful waterfall and watch the sunset over the city.
Hiring a private driver in Nice, France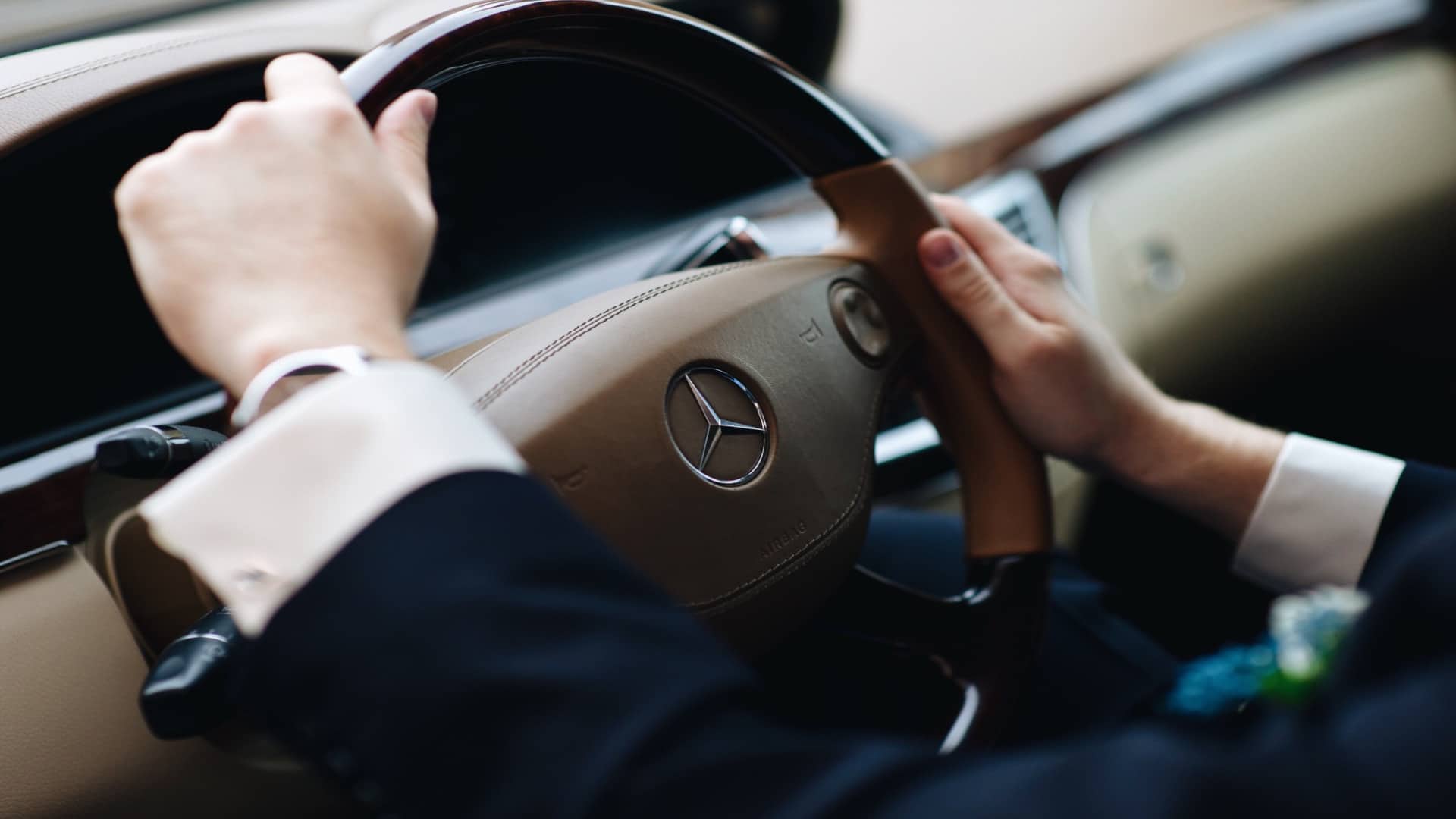 Now you know a bit more about what to expect from your trip to Nice, and the places you should visit, lets discuss some of the reasons that hiring a private driver could be perfect for your trip. Here are some of the many benefits of hiring a chauffeur in Nice.
#1 Driving standards
If you're visiting Nice for the first time then there is a good chance you won't know your way around. And it can be quite intimidating trying to navigate an unfamiliar city. A private driver solves this problem for you. Your chauffeur will know all the best routes to your destination and will be able to resolve any issues if you are involved in a car accident, it won't be on you to deal with the French authorities!
#2 Planning
Maybe you're flying into Nice for a big event, such as a wedding or anniversary party? You may have important timings that cannot be missed. Your private driver will be able to meticulously plan your journey, ensuring you don't arrive late to any of the events you have planned during your stay in Nice.
#3 Sit back and relax
Nice is a beautiful city. But if you're driving yourself around the city and getting stressed, then you won't be able to appreciate the beauty of your surroundings. With a private driver, you won't need to worry about getting lost, you can simply sit back and enjoy the ride, and the view. Alternatively, if you have work to do then you can use the journey to catch up on emails or make a call. Or if it's been a late night the night before, why not have a quick sleep? The options are endless, whatever you decide to do during your journey, it will be much more productive than if you were having to drive yourself!
#4 Helpful technology
Like all cities, Nice can get very congested, especially if there are roadworks, or there has been a traffic accident. This could disrupt your plans if you are driving yourself around – you could be late because of trying to find another route. Your private driver will almost certainly have satellite navigation and traffic monitoring apps within his or her car. This means such incidents can be avoided more easily, and your journey can be completed without any problems.
#5 Alcohol
If you're visiting Nice for leisure, then it is possible you'll want to enjoy a few drinks in the evenings, probably at some of the city's glamorous restaurants, or maybe at your own private event. It goes without saying that drinking and driving is a no no, so what other options are there? Well, a private driver solves all of your problems, they will be able to pick you up and take you home after your event, meaning you can continue to enjoy the evening with a few drinks, without having to worry about driving back to the hotel.
Now we've established why you may want to hire a private driver for the duration of your stay in Nice, you may be wondering how much such a booking would cost? Allow us to explain.
Hiring a driver: The figures
Riviera Bar Crawls offer a range of different private driver packages to their customers visiting Nice. If you are travelling with a large group, such as family or friends, then you may wish to hire a private mini-van. Seating up to eight people, the mini-vans cost 490€ for a 4 hour half day, or 790€ for a full 8 hour rental. If you need extra hours added to your booking then this can be done for you, at a cost of 90€ per hour. And it is worth bearing in mind that there is an additional 20% charge for any nighttime hours.
Maybe you are travelling alone, for business or pleasure? Or just on an exclusive romantic getaway with your partner? If you'd prefer to travel in luxury then Riviera Bar Crawls can also cater to this. Rental of a luxury car seating up to three people costs 650€ for 4 hours and 900€ for 8 hours. There is an additional 120€ charge for each additional hour and the 20% nighttime surcharge also applies.
All of these numbers may be a bit confusing, so if you'd like to discuss a quote with the team at Riviera Bar Crawls then feel free to send them an email to info@rivierabarcrawltours.com. Someone will be back in touch with you as soon as possible to discuss your enquiry.
To summerize in bulletpoints:
*Price includes private chauffeur
Price 8 Seats Minivan :
Half day 4 Hours 490€
Full Day 8 Hours 790€
Extra Hour 90€
20% Extra at Night
Luxury Car 3 Seats :
Half day 4 Hours 650€
Full Day 8 Hours 900€
Extra Hour 120€
20% Extra at Night
Private driver services from Nice to the French Riviera
Riviera Bar Crawls offer a range of transfer services from Nice to destinations along the French Riviera. Here are some examples.
Private driver to Nice airport
Nice is home to the only major airport along the French Riviera, so if you are flying to the region then you are likely to arrive and depart from here. Riviera Bar Crawls can arrange a private transfer to and from the airport, taking you to your hotel in Nice and back to the airport at the end of your trip.
Private driver from Nice to Monaco
If you'd like to combine your stay in Nice with a visit to the glamorous principality of Monaco then this can also be arranged for you. Private transfer services can ferry you between the two destinations on a one off basis or multiple times as needed. Get in touch with Riviera Bar Crawls if you would like to discuss this option.
Private driver from Nice to Cannes
Similarly, if you'd like to spend some time in nearby Cannes, then private transfers can be arranged to enable you to do this. Perhaps you are attending the glitzy Cannes Film Festival or other event in the city?
Private driver from Nice to Antibes
Located halfway between Cannes and Nice on the French Riviera, Antibes is yet another destination that you may wish to visit. A private driver is a great option for travelling between these cities, making the relatively short journey comfortable for you.
Private driver St Tropez to Nice and Nice to St Tropez
And finally, return transfers between Nice and the popular holiday destination of St Tropez can be arranged, to ensure your holiday is relaxing from start to finish.
If you'd like to discuss any of these options, then please don't hesitate to get in touch with Riviera Bar Crawls.
Get 10% lifetime discount for your French Riviera private driver service
Now is a fantastic time to be making your first private driver booking with Riviera Bar Crawls. When you make your first booking with the company, you will be guaranteed a 10% discount on all future travel for life. So whether you visit the French Riviera every month, every year, or every decade, you'll be able to travel in comfort and style for less, for the rest of your life. This deal won't last forever, so contact the team at info@rivierabarcrawltours.com now!
Private security driver in Nice
Nice is a wonderful city to explore, but like any other destination, travelling around can be daunting, especially if you have never visited before. Riviera Bar Crawls can put your mind at ease with the hiring of a private driver, making sure you get where you need to go safely, promptly and in maximum comfort.
Riviera Bar Crawls have loads of different packages available for private drivers. The best way to discuss your options is to get in touch with the team via email – they will be able to talk you through all the possibilities.