Bar crawls kunnen een super leuke manier zijn om een stad goed voor de eerste keer te leren kennen, ook al hangen je gevoelens de volgende dag af van hoe erg je gedronken hebt en een kater hebt. Een bar crawl is gewoon samenkomen met een groep mensen om te drinken en feesten in meerdere pubs of barren. Het is een geweldige manier om het nachtleven te ontdekken en om nieuwe mensen te ontmoeten, en interessante mensen tegelijkertijd.
Dus als je van plan bent om de stad Nice te leren kennen in je vrije tijd. Ben je op zoek naar de beste barren in de stad om langs te gaan of wil je deze twee dingen tegelijkertijd behalen dan is het een geweldig idee voor jou om wat structuur toe te voegen aan je plannen.
Je kunt een hele hoop uren besparen die je anders besteed zou hebben aan het alleen lopen over straat, iedere bar checken (ook de slechte) door een groep te vergezellen in een van de beste thema bar crawls in Frankrijk – De Riviera Bar Crawl. Het is de ultieme bar crawl ervaring op de Franse Riviera, en je kunt veel nieuwe mensen ontmoeten van over heel de wereld die hetzelfde idee als jou hebben. Jij, samen met andere interessante, levende mensen en een handjevol geweldige tour gidsen met heel veel kennis over de locaties staan garant voor een nachtleven ervaring die je nooit gaat vergeten voor een hele lange tijd.
De manier waarop de bar crawl is ingedeeld, je gaat vier barren en een club langs op een avond. Er zal gedanst, gefeest, gedronken (natuurlijk), gespeeld (de legendarische Franse Paquito en body shots) worden en je maakt nieuwe vriendschappen met de mensen die je ontmoet.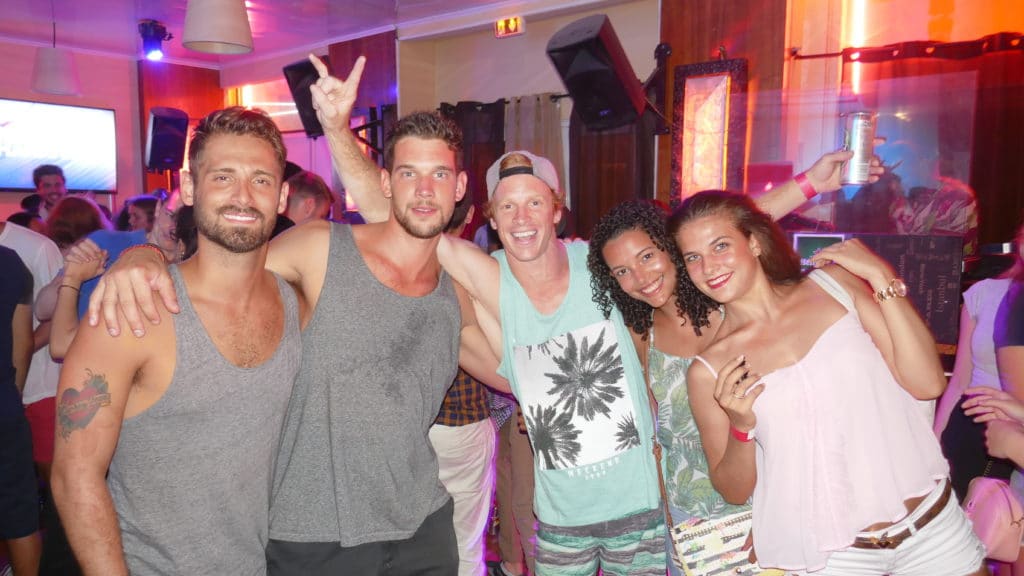 Wat moet je weten?
Tours zijn er iedere maand van het jaar, bar November. Er zijn specifieke dagen verbonden aan de tours van de maand, en de kalender ziet er ongeveer zo uit.
Januari,februari,November:zaterdag
Maart,Aprilenoktober:dinsdag,donderdagenzaterdag
Mei,junienSeptember:dinsdag,donderdag,vrijdagenzaterdag
Julienaugustus:maandagtotzaterdag
December: speciale NYE gebeurtenis
Er zijn speciale leeftijdslimieten voor de tour en je moet tussen de 18-77 jaar zijn om deel te nemen. Natuurlijk, geldige legitimatie is verplicht om ervoor te zorgen dat de regels worden nageleefd. Ook moet je een beetje netjes gekleed zijn (slippers, wandelschoenen, trainingspakken, voetbalshirts, zwembroeken en tanktops mogen niet. Er zijn heel weinig regels – we willen dingen niet voor je verpesten, maar er zijn een paar die heel streng nageleefd worden om te zorgen dat niets fout gaat.
Om teleurstelling te voorkomen wil je je tour van tevoren boeken, er zijn namelijk een beperkt aantal plekken beschikbaar per tour. Als je vroeg aankomt dan herken je de gidsen aan hun rode t shirts met "sansa bar", 4 Avenue des Phoceens, 06300 Nice naast de Massena Square fontein, van 21h00 tot 22h15. Dit zal het startpunt zijn van onze tour en als je moet proberen om tijd aan te komen om zo ons niet in te hoeven halen in plekken die niet bekend staan bij jou. Echter mocht je wel te laat zijn dan kun je de groep tegenkomen bij de tweede bar.
De gidsen die je ontmoet zullen je het hele proces uitleggen, dat is een andere reden waarom je zo vroeg moet arriveren, aangezien je anders informatie mist die je niet mag missen. Ze vertellen je over de plannen voor de avond en ze introduceren je aan de rest van de groep.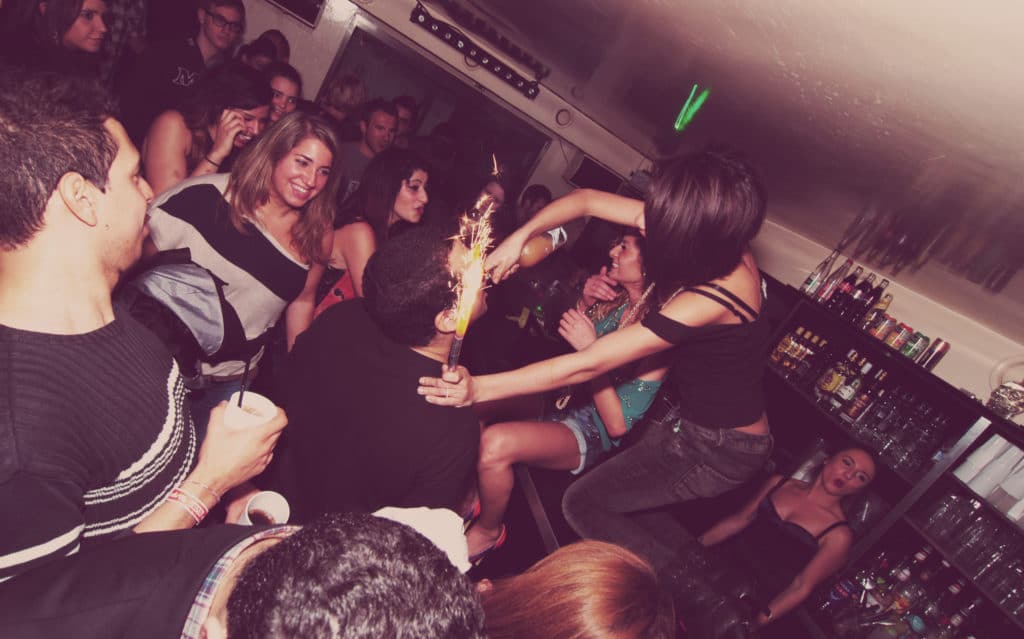 Wat krijg je?
Drie woorden –Nachtleven. Feest. Plezier
Krijg een plaatje voor die drie woorden en je hebt een algemeen idee over het doel van de Riviera Bar Crawl. Het is ongelooflijk veel plezier! Als eerste krijg je gratis shots bij iedere bar die de groep bezoekt, welke ten minste 4 gratis shots op een avond zijn. Ook krijg je gratis intree voor de nachtclub, en je zult versteld staan over hoeveel rijen je kunt skippen op de plekken, mogelijk gemaakt door afspraken van te voren voor de bar crawl.
Iedere bar die de groep bezoekt geeft een hoop korting op hun drankjes – deals die niet gemaakt worden voor klanten die alleen zijn. Een fotograaf zal alle nodige foto's maken die je nodig hebt, inclusief een groepsfoto en persoonlijke foto's. Hij zorgt ervoor dat de avond voor altijd in je geheugen zal blijven. Het is echt fantastisch.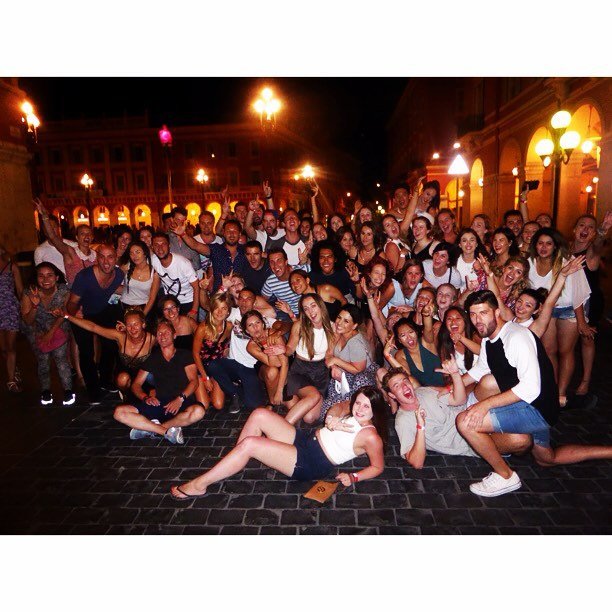 Wat gaat het kosten?
De standaard prijs voor een ticket is 15 euro per persoon. Echter zijn er uitzonderingen. Voor beginners, als je een groep hebt tot 15 mensen en als je de tickets allemaal in een keer koopt (misschien ben je met een vriendengroep), dan betaal je 12 euro per persoon, 20% korting op de standaard prijs. Bijkomend, Haan of Stag feesten zijn gratis voor de bruid en bruidegom, al betekend een privé Haan en Staf feest wel een betaling van 70 euro voor een nachttour. Als laatste, een Haan en Stag Feest Stripper Showtime geeft je 200 euro terug, en elke euro is het waard. Onze ratings op TripAdvisor laten dit zien, samen met de geweldige reviews die we regelmatig krijgen. Hier is een recente:
 "De Riviera Bar Crawl was een ervaring die ik zo leuk vond dat ik de volgende keer als ik weer in de stad ben nog een keer neem. Ik wil het allemaal over doen. Ik heb zoveel leuke mensen ontmoet van over heel de wereld en veel plezier gehad met gekke drank spellen en andere spellen. Ik heb het nachtleven van Nice ontdekt met deze groep mensen. Ik raad de bar crawl aan iedereen aan van elke leeftijd die een ervaring wilt om niet te vergeten."
-Olivier
Klink goed, of niet? Jij weet wat we gaan doen, begin met boeken!